Photoshop brushes let enhance your artwork and designs with custom styles and themes. There is an abundance of free brushes online, but the vastness of the interwebs makes it hard to find exactly what you're looking for. This article attempts to bring together all the best places for Photoshop brushes, all in one nifty page.
Here, you'll find 15 resources for building your Photoshop brushes collection.
1. Blendfu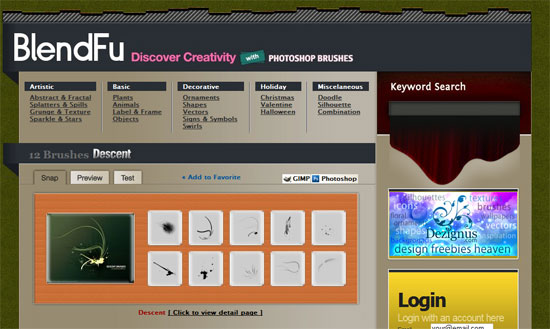 Blendfu is a unique site for obtaining Photoshop brushes: the site allows you to preview and test individual brushes in a brush set, saving you a ton of time in having to install them. Blendu has plenty of categories, so you won't have a hard time finding exactly the theme and look that you're searching for. Besides Photoshop brushes, Blendfu also provides GIMP brushes.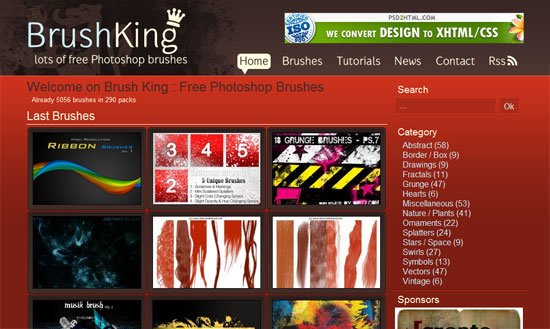 BrushKing is a gallery-style Photoshop brushes showcase. Hovering over a brush set's thumbnail will reveal more information about it such as how many downloads it has, who the brush designer is, how many brushes are in a set, and licensing details.
3. DeviantArt: Photoshop Brushes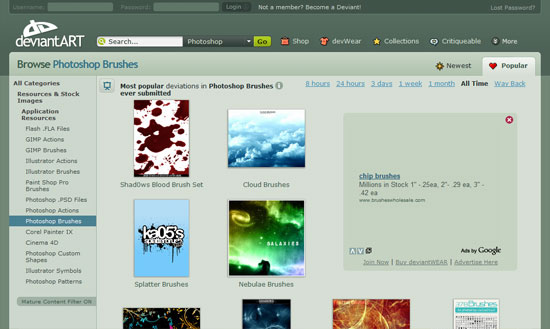 DeviantArt, the leading online graphic design community, has a great quantity of high-quality, user-submitted Photoshop brushes. There are many brushes to peruse and download, including popular themes of fractals, splatters and flourishes, as well as kitschy and unique sets like angel wings and anime eyes.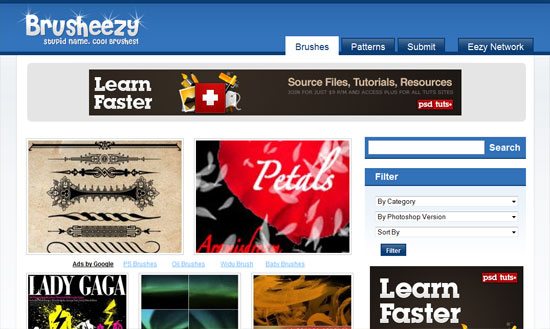 Brusheezy indexes a lot of Photoshop brushes gathered from all over the internet. You can filter brushes by category, Photoshop version (for compatibility), or sort them by Downloads, number of comments, user ratings and the date they were added. Apart from Photoshop brushes, Brusheezy also presents Photoshop Patterns.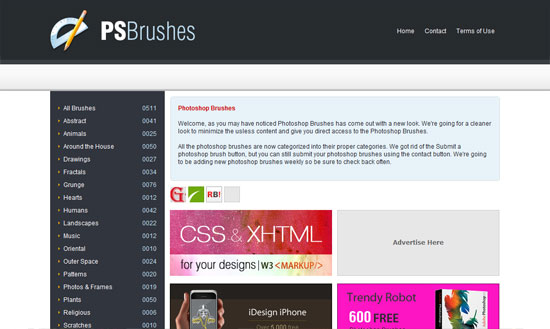 PS Brushes.net currently archives over 500 brush sets. What's great about PS Brushes.net is that they provide previews of each brush in the set so that you can see precisely how each brush looks, as well as what their dimension (in width) is. PS Brushes.net has many categories to select from, making it easier to navigate through the site.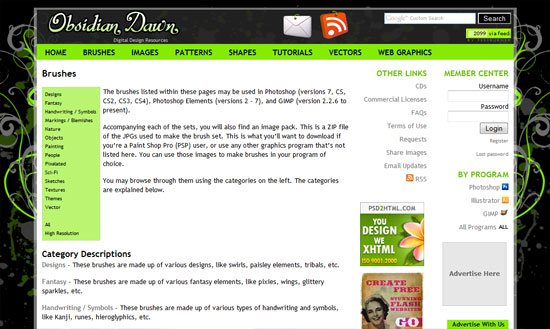 Obsidian Dawn is a resource for free Photoshop brushes, patterns, and tutorials. The Photoshop Brushes section contains many useful and attractive Photoshop brushes sorted into useful categories like Designs Brushes and Nature Brushes.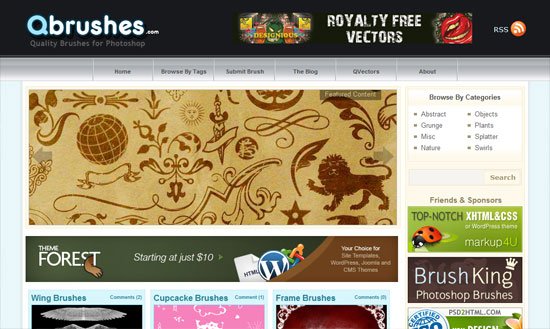 Qbrushes.com is a Photoshop resource site displaying high-quality Photoshop brushes from different talented designers. There are many findability features on the site, making it easy for you to hunt down the exact types of brushes you need. For example, you can browse by tags, or browse by categories like Abstract or Grunge.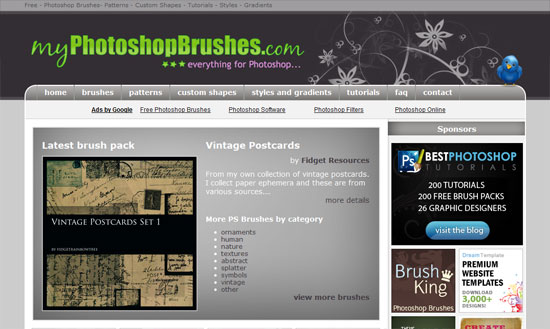 myPhotoshopBrushes.com aggregates and shares Photoshop brushes from various designers and artists willing to share their wonderful creations. Besides quality brushes, the site also offers other Photoshop resources, such as Photoshop patterns and custom shapes.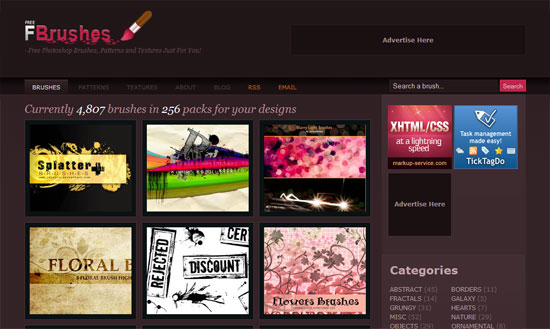 FBrushes currently showcases over 4,000 individual Photoshop brushes and over 200 brush sets. The site groups brush sets in an intuitive manner, into themes such as Vintage and Splatters.
10. Designers brush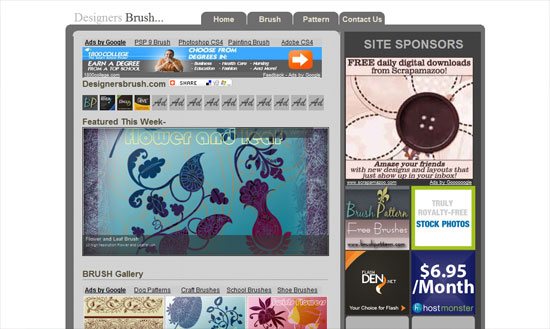 Designers Brush is a collection of high-quality Photoshop brushes. If you're looking for Photoshop patterns, well, they have that as well.
11. Gfxfever.com:Photoshop Brushes
Gfxfever.com is dedicated to web designers, and is aimed at sharing graphic and web design freebies and resources. The Photoshop Brushes section has a ton of beautiful brushes for you to download freely. Just as with many other brush sites, you are able to rate brush sets so that others can know the quality of a particular set.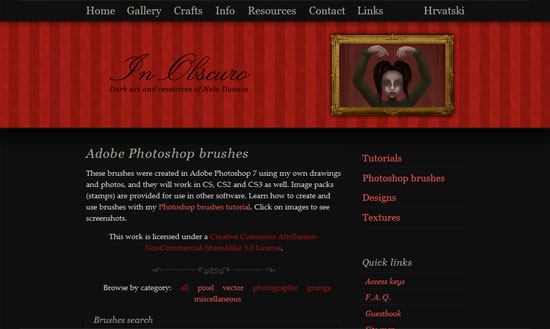 In obscuro provides plenty of free brushes in various themes. They're all available with the Creative Commons Attribution-Noncommercial-Share Alike license so that you can download and use them freely under the stipulations of the license. There are many types of brushes to choose from, such as Photographic brushes and Grunge brushes.
13. GetBrushes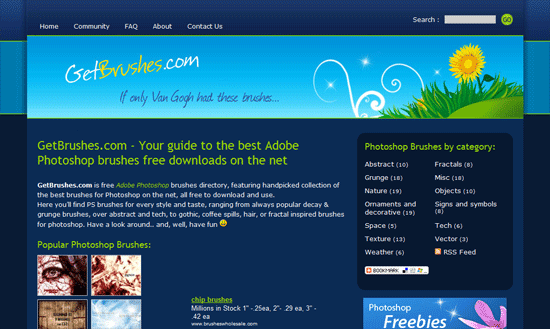 GetBrushes is your guide to top-notch, downloadable Photoshop brushes online. GetBrushes has a forums section for discussing topics related to Photoshop and graphic design.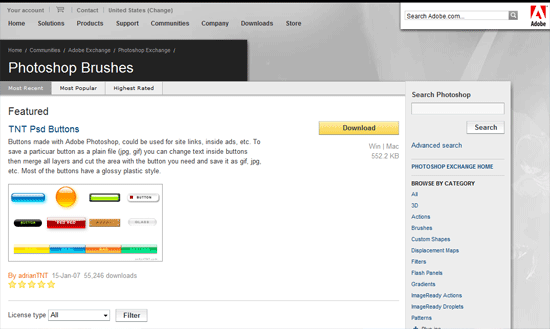 The maker of Photoshop, Adobe, has a section that few people know about: the Photoshop brushes section. At Adobe, you'll find close to 1,000 brush sets to download and choose from. Check out the Most Popular section to see what people are downloading the most.
15. Design Blogs and Sites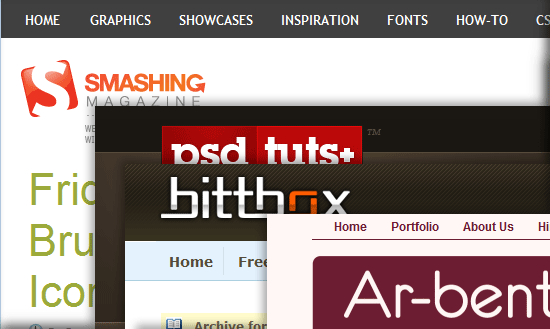 Websites and blogs dedicated to discussing graphic and web design often give away freebies that readers can download. Here are a few sites that offer them:
Some sets they offer
Some sets they offer
17 Cloud Vector Brushes
Hi-Tech Brush Set
Swirl Brushes
Some sets we offer
Some sets they offer
15.5. Arbenting Freebies
Some sets they offer
Kaleidoscope Photoshop Brush Pack
Grunge Texture Pack 1
Some sets they offer
Scrubbed Prime
Dotted Neon Lines
What's your favorite spot?
Where do you go to obtain your Photoshop brushes? Why is it your favorite site? Share your thoughts in the comments.
Related articles
WebFX Careers
Join our mission to provide industry-leading digital marketing services to businesses around the globe - all while building your personal knowledge and growing as an individual.