Today, artists use a multitude of color, texture, custom die-cuts and even non-traditional materials to make their designs as creative and memorable as possible. Business cards don't have to be something you thoughtlessly stuff into a Rolodex — many are works of art created by some of the most talented designers in the world.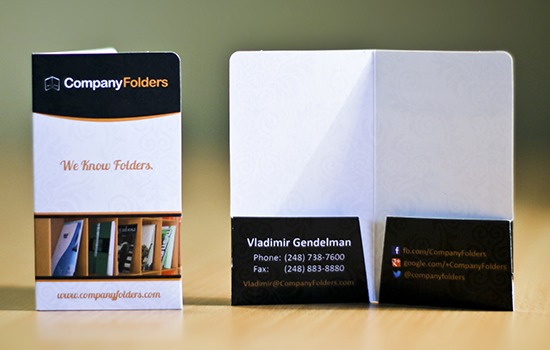 Source: companyfolders.com Before you start your next business card design project, take some time to find out what your fellow designers have been coming up with to help get the creative juices flowing.
These inspiration sites feature the best of the best in business card designs.
Business Card Inspiration Sites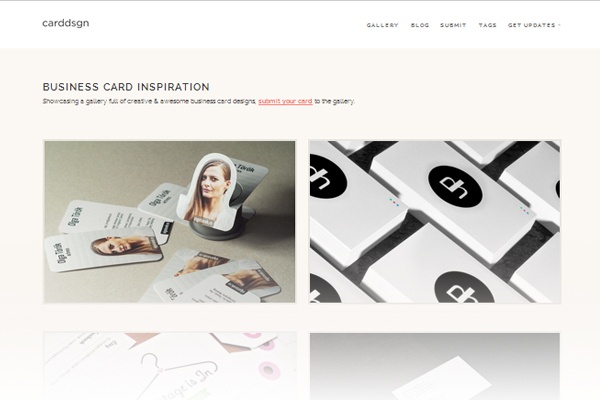 CardDsgn has a lot to offer—from a clean-looking design to an easy-to-use tagged organization system. Get even more inspiration from their business card design blog, then take all that newfound creative energy and put it to good use by downloading one of their many print templates to get you started.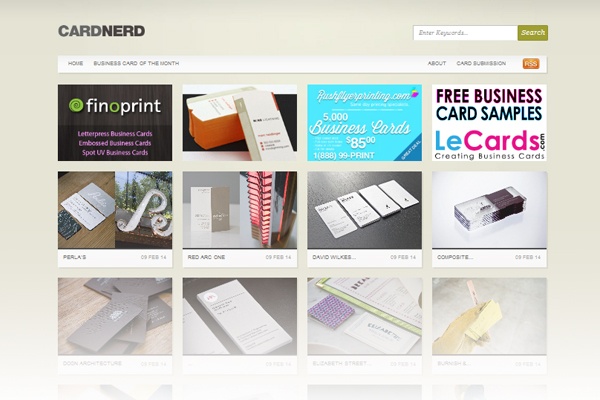 CardNerd has a giant collection, making it one of the largest business card repositories on the web and a must-have resource for business card designers. It also features a "business card of the month" blog, showcasing the best and brightest in card design.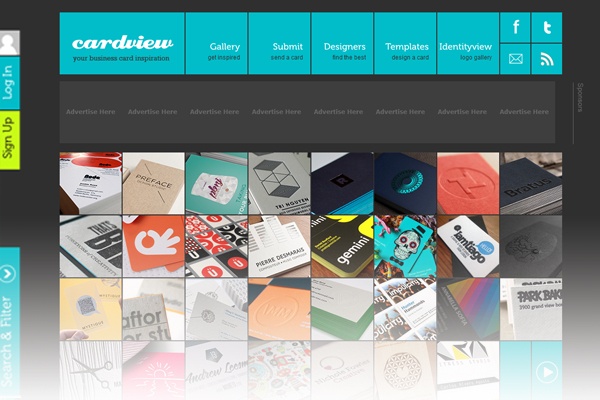 CardView provides you with great card design inspiration, but actually allows you to get in touch with the people who designed them with their searchable designer database.
The collection includes a star rating system, allowing you to easily find the most popular 5-star designs.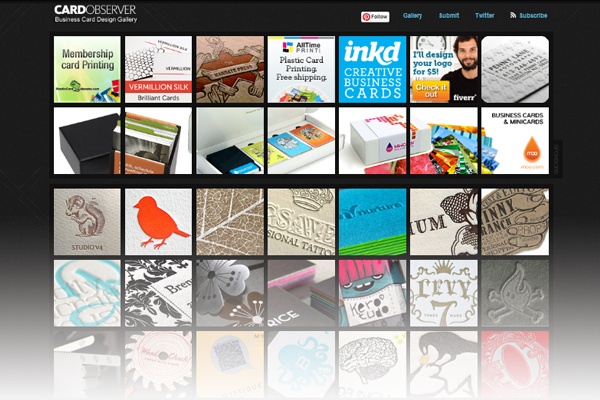 One of the most interesting features of CardObserver is that every business card design is accompanied by html code that allows you to easily share your favorite designs on your website or blog. With a large database and several helpful articles on business card-related topics, CardObserver has much to offer any designer.
CardGala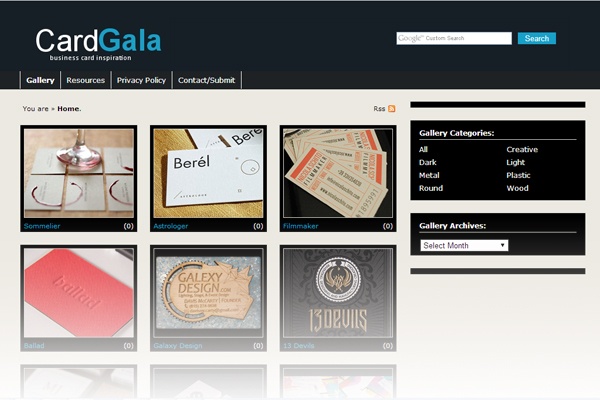 CardGala seems modestly sized compared to other business card galleries, but they feature inspiring designs that you might not see anywhere else. The site features a large selection of business cards made from materials other than paper, such as wood and metal. It also allows you to filter the cards using some pretty unique metrics, such as shape and tone.
Cardonizer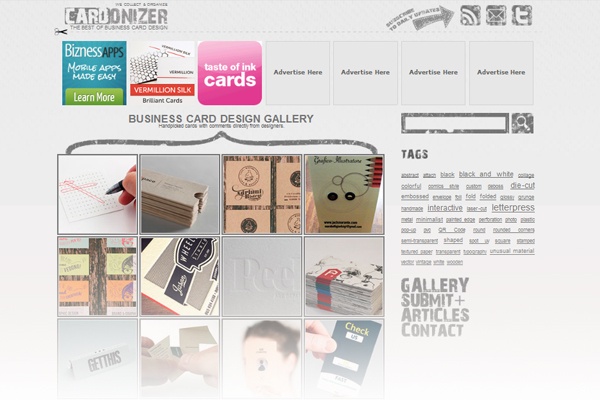 Cardonizer has near-daily updates to their gallery and a simple interface that's practically designed for binge browsing. The site uses popular tags to help filter through selections, and each featured business card includes information about the creative process behind the design.
Comprehensive Design Inspiration Sites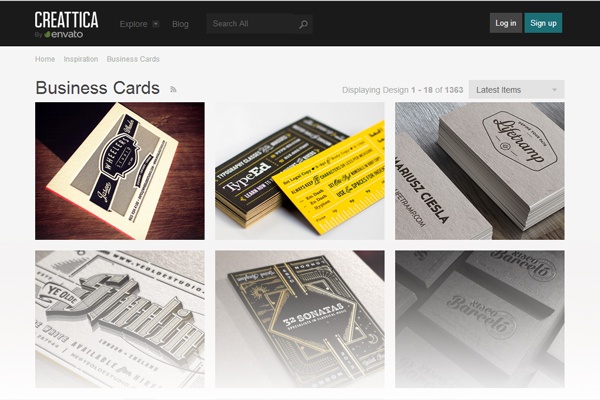 Creaticca has a huge gallery with over 14900 designs total, including thousands of business card designs.
The size is thanks in part to Creattica's large user community, which provides the opportunity to network with designers and vote on designs. Even more inspiration can be found on Creattica's design blog.
From Up North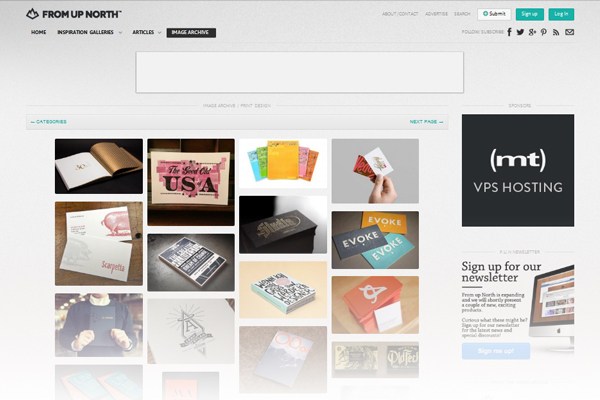 From Up North has a large selection of print designs, including copious numbers of business cards.
Be sure to browse through and see what catches your eye. You'll also find plenty of business card designs posted as part of From Up North's blog articles and design round-ups. If you have a Tumblr account, you can follow From Up North's inspirational Tumblr, Serial Thriller.
Designspiration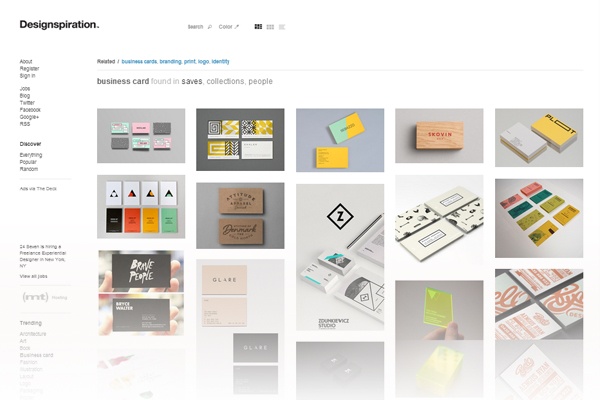 Designspiration is like an all-you-can eat buffet of creative business card designs. Not only is there a large selection, but it's easy to find what you want, using the site's intuitive search engine. Just start typing and the site will provide you with a list of suggested search terms so that you might dig up something you wouldn't have thought to look for.
You can also choose up to five colors to search for designs fitting a particular color scheme. There's also plenty of resources, like a design blog and listings for design job opportunities.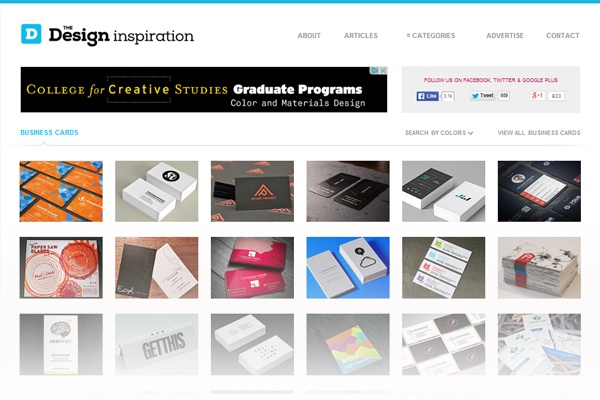 The Design Inspiration has a giant collection of designs, with more added on a regular basis.
Plus, a huge percentage of them are business card designs. If you can't find anything to inspire you in this sizable gallery, then you might find what you're looking for in their database of over 700 articles, spanning a variety of design topics.
The Beauty of Letterpress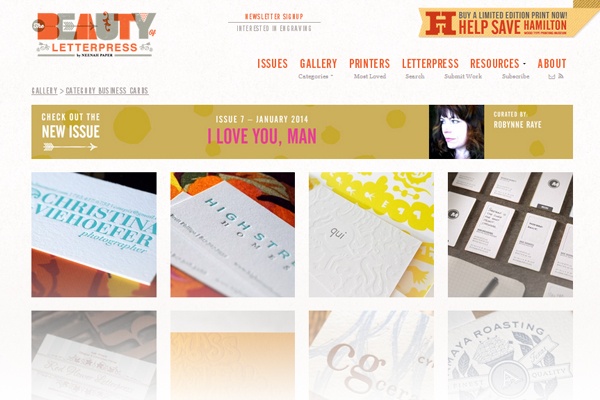 Although The Beauty of Letterpress has a smaller business card selection than most sites, it offers a focused and detailed look at letterpress designs that you just can't get anywhere else.
Sponsored by Neenah Paper, The Beauty of Letterpress has a considerable library of resources for embossing, debossing, engraving and other letterpress techniques. Thet also have an online magazine, which you can view right in your browser.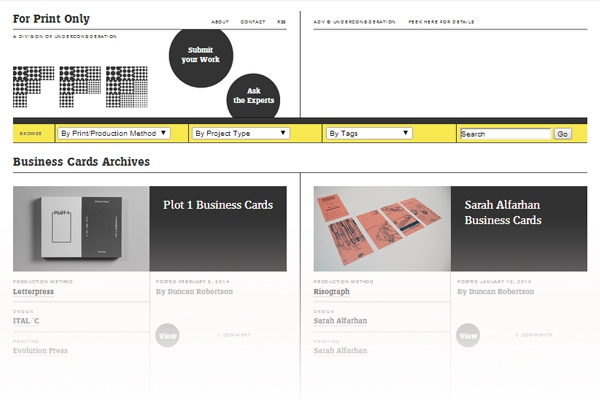 For Print Only is part of the Underconsideration network of design sites, and features both inspiring business card designs and helpful advice in their "Ask the Experts" blog.
They categorize their designs by print method, making it easy for you to find those foil-stamped, die-cut business card designs you're looking for.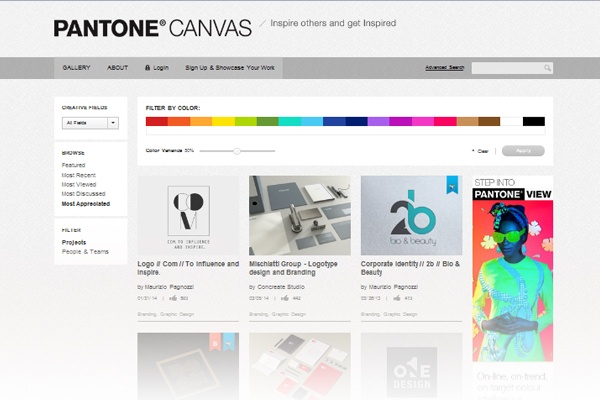 Pantone Canvas is a portfolio site run by the Pantone printing company, so as expected, many of their designs feature spot printing. You can search for designs by Pantone color or, if you prefer, you can filter them by different industries.
Design:Related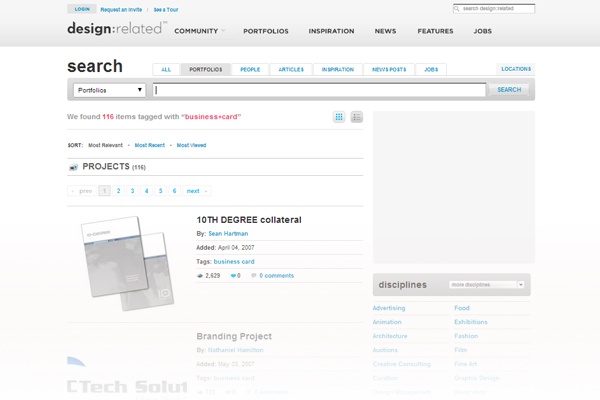 Design:Related might not have the biggest selection of business card designs, but it does feature a large community of designers and plenty of networking and job opportunities. Additional resources include a database of informative articles related to design.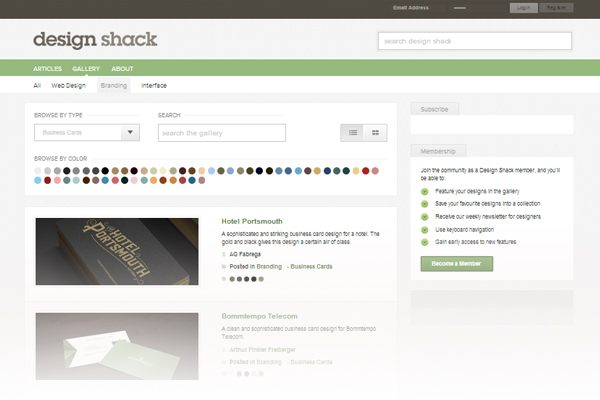 Design Shack has a moderately-sized collection, but there's plenty of special features that make the site worth your time.
Each design is broken down into the colors used in the project, letting you quickly find designs with a particular color scheme or even reverse engineer a color scheme you like. There's a substantial design community present, and Design Shack makes membership worth your while with special features like keyboard navigation and early-access for new content.
Business Cards on Portfolio Sites
DeviantArt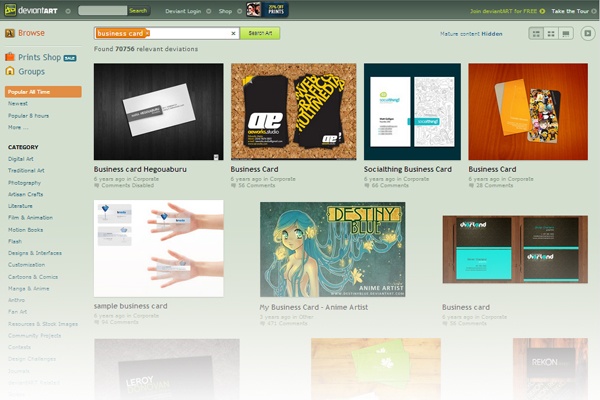 DeviantArt is one of the largest online communities of artists, so there's a considerable amount of business card designs to find using the "business card" tag.
The one drawback is that the community is so large that the talent ranges from professional level to teenagers just starting out, so the quality can vary wildly.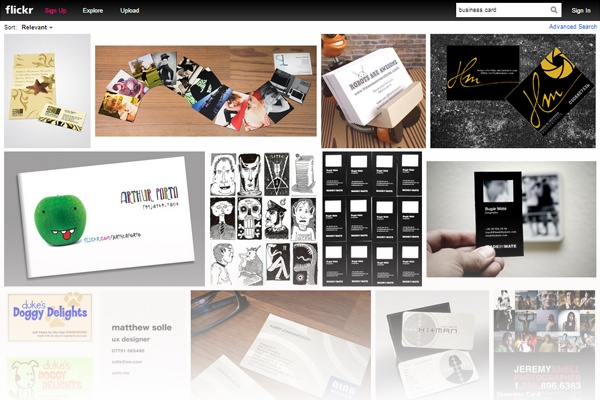 Although Flickr is primarily known as a photography site, it's no secret that photo-based business card designs can only get better when you incorporate expert, high-quality photography. If you're willing to dig through the "business card" tag, then you'll be treated to an abundance of great designs.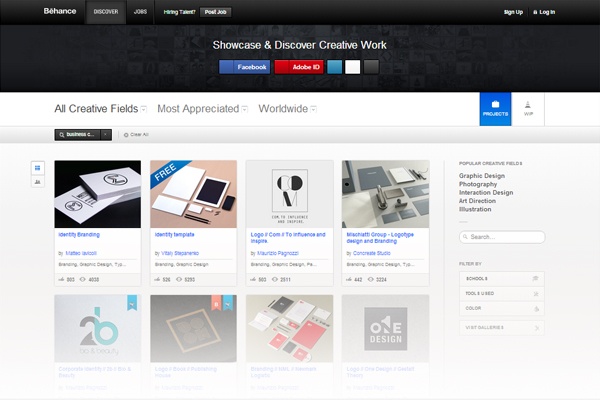 Behance is one of the most popular portfolio sites for professional designers, so you'll find lots of amazing-looking business card designs. You'll also find complete brand identities, which feature business card designs amongst other matching materials.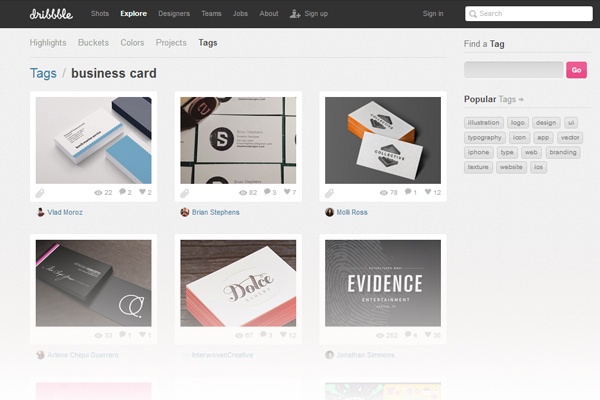 Since Dribble encourages its users to post works-in-progress, you can often dig up business card design inspirations that you won't find on other sites until they're completed.
You also have a better chance of finding incomplete business card designs, which might help jog your creativity in a different way than looking at finished works.
Business cards on Social Media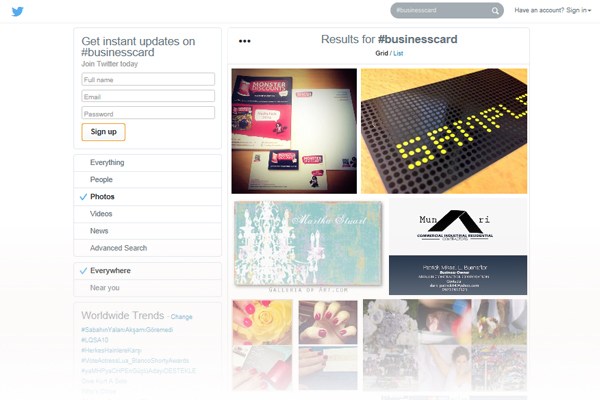 Twitter is a social media giant, so there's an abundance of designers using the site who post their business card designs using the #businesscard hashtag combined with their newly integrated photo search. You'll also see pictures from happy clients who may have hired a designer to make a card for them, allowing you to see work not always shared on other inspiration sites.
The only drawback is that you may periodically find plenty of pictures that have nothing to do with business cards.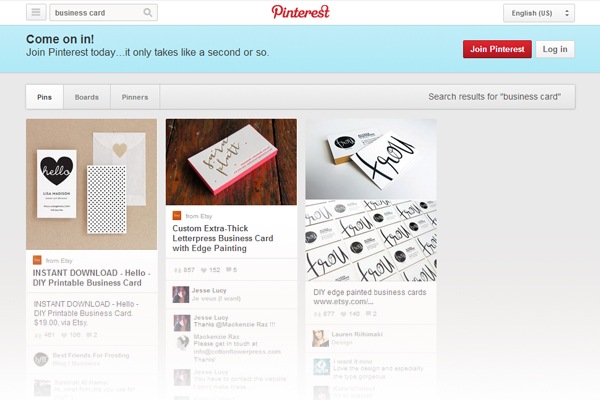 Pinterest was practically made for finding inspiration, with several Pinterest boards dedicated entirely to business cards. Once you make an account, you can pin your favorite business card designs from most sites, upload images, and make your own business card inspiration board to keep you focused when working on a new creation.
A lot of designers like to show off their work on Tumblr because it's easy to share and reblog pictures, which makes for a wider audience. Tumblr is filled with great business card designs, but like any popular social media site, you will often find unrelated content in the "business cards" filter. The upside is that Tumblr makes it easy to just keep scrolling endlessly until you find the designs that inspire you most.
Summary Table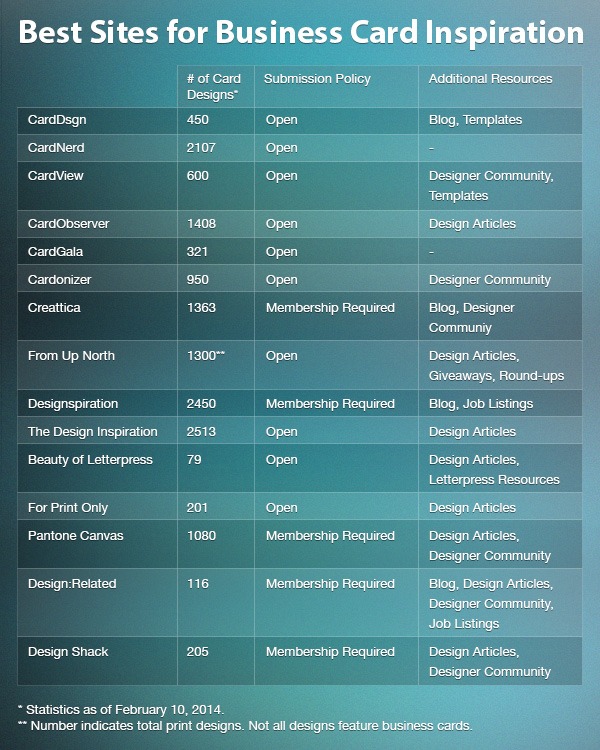 Conclusion
Always keep in mind that there's a difference between inspiration and infringement—your final business card design should only pay homage to the work you admire. You can learn new techniques and find ideas you might never have thought of, but at the end of the day, your designs need to display your own creativity rather than somebody else's. Is there another business card inspiration site that you think deserves to be mentioned?
Do you have a business card design you want to share with the world? Leave your comment below!
How is your website's SEO?
Use our free tool to get your score calculated in under 60 seconds.
Get posts by email
Join 200,000 marketing managers and subscribe to Revenue Weekly!
"*" indicates required fields
WebFX Careers
Join our mission to provide industry-leading digital marketing services to businesses around the globe - all while building your personal knowledge and growing as an individual.