52 New Year's Resolutions for 2014
The start of every new year brings about feelings of hope, optimism, and the chance for new beginnings. We make proclamations of things we want to get done, things we want to "get right," and things we want to change.
With that in mind, we created a list of 52 different New Year's resolutions to help you improve your lives as designers, artists, or just as people.
You might be thinking, "why 52?" Well, that's because we know that the success rate for keeping up our New Year's resolutions is very low. Most of us forget about them in just a few weeks. Therefore, we created a resolution for every single week of the year, just in case. *wink.
We even created a desktop wallpaper so you'll never forget them.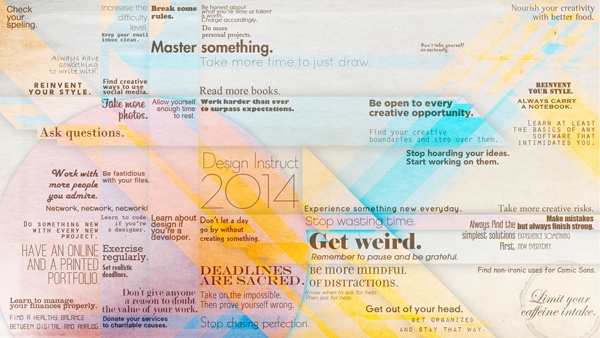 2014 New Year's Resolution Wallpaper.
Here they are:
Check your speling.
Nourish your creativity with better food.
Ask questions.
Find a healthy balance between digital and analog.
Break some rules.
Find your creative boundaries and step over them.
Learn to manage your finances properly.
 Work harder than ever to surpass expectations.
Take more time to just draw.
Learn more about design. (Developers)
Learn to code. (Designers)
Keep your email inbox clean.
Have an online and a printed portfolio.
Deadlines are sacred.
Get organized and stay that way.
Always find the simplest solutions first.
Take on the impossible then prove yourself wrong.
Reinvent your style.
Increase the difficulty level.
Be mindful of distractions.
Get weird.
Stop hoarding your ideas. Work on them.
Stop wasting time.
Be fastidious with your files.
Set realistic deadlines.
Limit your caffeine intake.
Remember to pause and be grateful.
Know when to ask for help. Then, ask for help.
Work with more people you admire.
Learn at least the basics of the creative software that intimidates you.
Be honest about what your time or your talent is worth. Charge accordingly.
Discover non-ironic uses for Comic Sans.
Always carry a notebook.
Always have something to write with.
Take more creative risks.
Be open to every creative opportunity.
Read more books.
Don't let a day go by without creating something.
Experience something new every day.
Stop chasing perfection.
Don't give anyone a reason to doubt the value of your work.
Master something.
Take more photos.
Exercise regularly.
Allow yourself enough time to rest.
Reinvent your style.
Find new ways to use social media.
Do something new with each new project.
Don't take yourself so seriously.
Network, network, network!
Do more personal projects.
Allow yourself to make mistakes but always finish strong.
Finally…
To our dear readers,
We want to take this opportunity to tell you how grateful we are for everyone who has visited our website throughout the years!
As 2014 approaches, we can't help but reflect on another great year on Design Instruct. We published more articles than ever before in 2013. We were able to provide great content to the most people than ever before. And we have all of you to thank for that!
From the beginning, all we've wanted was to be able provide our readers with the best design content to help get you through your days as hard-working creatives, students, and freelancers. And while we know it hasn't always been perfect, we're grateful for the chance to keep working on Design Instruct every single day – to make it better; to give you what you all want and need; and to be a part of your lives.
Thank you all. Happy New Year from your friends as Design Instruct! Cheers!
Sincerely,
Isaac and Jacob Gube.