Personal outsourcing isn't quite the hot topic that it was two years ago. With virtual assistant firms available left and right, could-be assistants have become less of a unique work accessory and much more of a sustainable, ubiquitous business addition. What was once a quirky but useful tool for the digital age has become standard — nowadays it's rare to find a small design firm without a personal outsourcing strategy.
But while personal outsourcing has become popular, it's certainly not a process that's loaded with security and simplicity. Virtual assistants are notorious for packing up at random and leaving employers with projects in a state of limbo. While thousands turn to personal outsourcing as a way of simplifying their workday, many find it achieves the exact opposite.
Managing your online assistant(s) doesn't need to be a painful exercise, particularly with the right staffing strategy on your side. Apply these eight tips and you'll see a noticeable increase in how efficient, effective, and worthwhile your outsourcing endeavors are, no matter how small or large your team is.
1. Never Rely on Just One Service Provider
For most people, one full-time outsourced employee is enough to complete basic tasks and manage extra work. Regardless, it's important to keep a backup planned, especially if your work is subject to deadlines and urgent "complete by" dates. Online assistants are known for disappearing at the worst possible times, particularly when they're contacted through a semi-anonymous contract bidding website.
So keep a backup provider ready, whether through a loose email connection or by switching through providers for different tasks and projects. By splitting your workload across multiple assistants, you'll end up less exposed to fallout from failed projects and mystery disappearances. Use Elance or another outsourcing service to build a database of prospective full-time assistants.
2. Increase the Duties of Your Assistants Gradually
Three years ago, 43 Folders carried an excellent article on the psychological barriers surrounding personal outsourcing. Not surprisingly, one of the most common objections to outsourcing basic tasks is the trust factor — people are largely skeptical that a low-cost employee can manage their workload effectively. The obvious solution to this is rarely taken, largely because people are opposed to outsourcing entirely out of fear. Guide your assistants into the position slowly by gradually increasing the importance of submitted tasks and you'll end up with a small stable of effective, trustworthy remote employees.
For example, you could start with simple tasks such as booking an appointment, searching for a hotel, or tracking down a piece of software. Assign the same job to multiple employees and you'll gain an understanding of who among them are proficient enough for the position — and who aren't. With just a week of testing and a small budget, you can put together a team of assistants that are stress-tested and capable of taking on the work you need completed.
3. Sort Your Tasks by Importance
It's tempting to send your assistants a hundred-item list of tasks to complete, asking them to report back at the end of the month for the next chapter in a project. While this strategy can work well on long-term employees and experienced providers, it's unlikely to mesh well with new hires. Mistakes become more apparent without direction, and when communication is cut down, it's much harder to eliminate errors and refine the type of work you need completed.
Work on a day-by-day basis with new employees, offering new tasks and providing feedback after they're completed. By cutting your major projects into smaller action-related groups, you'll be able to focus on efficiency and eliminate mistakes before they become a liability. Start by requesting a daily progress report from assistants, and expand the reporting period as mistakes are ironed out.
4. Be Specific and Detailed with the Tasks You Assign
Ask an assistant to rent a car in New York and you could end up with a two-seat compact car conveniently located fifty miles away in New Jersey. Of course, that's no use to you — what you wanted was a family van available for pickup from the airport. The damage is obviously greater when applied to offline tasks, but online projects can easily go just wrong when essential details are overlooked.
Instead of asking your assistants to complete a task, ask to have a task completed according to a detailed set of instructions. Offer unspecific instructions and you'll be met with work that's equally inaccurate. It may seem like an anti-productivity move at first, but offering more detailed instructions will lead to more accurate and effective output from your assistants and outsourced staff.
5. Separate Emails for Outsourced Tasks
Using your regular email address to manage staff will lead to disaster. With just a few remote assistants, messages will quickly pile up and make it near impossible to read correspondence from other contacts, let alone respond to them. Collaborating on work requires a surprising amount of back-and-forth communication, giving you a good reason to separate outsourcing-related emails from other email.
We recommend communicating with assistants via email; the vast majority of collaboration suites out there are too bloated and ineffective to work for small, one-off tasks. Set up a secondary email address or have your current email account automatically sort messages from assistants into a new folder or label; not only will this lead to a better ability to focus on important tasks without distraction, but you'll also be able to automate task recording and build a separate history of communications with your staff.
6. Shop Around and Be Patient
Post an advertisement on any leading assistant website and you'll be inundated with applications, most of which just aren't very good. From spelling mistakes to nonsensical sentences, it's far from uncommon to find that your first attempts at personal outsourcing are met with a questionable set of replies. Resist the temptation to pack in the towel and stick at it — finding good assistants takes time. Allow for at least a month when searching for a long-term online assistant, just as you would when hiring offline staff.
Cutting the process short may lead to short-term productivity gains and a quick search, but it'll inevitably result in long-term losses due to missed opportunities and rash choices. Spend the first few weeks trialing several different assistants and you'll end up with a high quality hire — someone who is likely to generate long-term results and reduce your outsourcing stresses.
7. Be Nice and Professional
The employer/virtual assistant relationship is similar to the client/freelancer relationship. Whether you opt for a long-term hire or simply choose to outsource to assistants on a per-project basis, remember that you're working on the other side of the transaction this time. In essence, be the type of client that you like working with — your assistants will appreciate it, especially if they work with other people too.
If you plan on working with an assistant for an extended period, go out of your way to keep work efficient for them too. The goal of personal outsourcing is to increase your efficiency, and as unusual as it may sound, the greatest way to increase your efficiency is to ensure that your staff are able to work efficiently too. Put the hours in and work out a strategy with your assistant(s); it'll save you time and increase the amount of work they can complete for you.
8. Use Productivity Tools and Resources to Help You
Have you experimented with personal outsourcing? Before you take the plunge and hire your own online assistant, use these resources and productivity tools to ensure you go about it the right way. The International Virtual Assistants Association has its own code of ethics, information for freelancers, and a directory of qualified virtual assistants – the perfect hiring resource.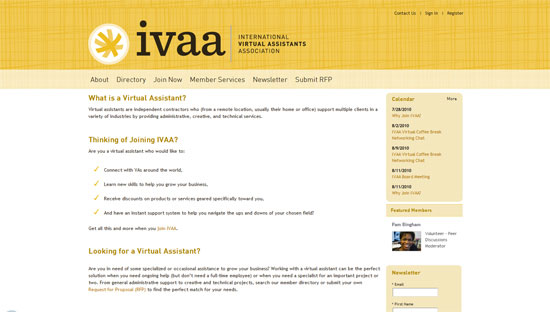 Elance and oDesk claim thousands of virtual assistants and task-specific freelancers. Indian outsourcing firm GetFriday has a staff of over 150 personal assistants from $15 hourly. A.J.
Jacob's piece on personal outsourcing from Esquire offers a humorous look at the possibilities of personal outsourcing. Productivity expert Tim Ferriss compares fourteen different personal outsourcing companies and virtual assistant providers.
Related Content
Website Features That You Can Easily Offload
How is your website's SEO?
Use our free tool to get your score calculated in under 60 seconds.
Get posts by email
Join 200,000 marketing managers and subscribe to Revenue Weekly!
"*" indicates required fields
WebFX Careers
Join our mission to provide industry-leading digital marketing services to businesses around the globe - all while building your personal knowledge and growing as an individual.