A Designer's List of New Year's Resolutions
Like most people around this time of year, I've been silently proclaiming that 2010 will be my year. I've been thinking about new goals, and I even thought about reading The Secret and creating my own vision board to help me achieve those goals.
Then I thought there must be a less humiliating way to ring in the new year.
So, instead of a vision board, I decided to simply write a good old fashioned list of New Year's resolutions.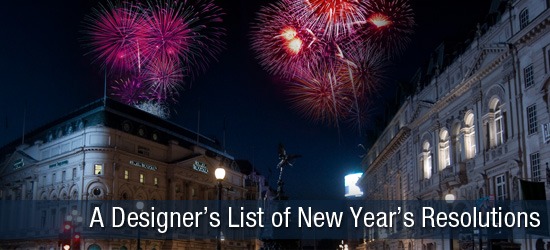 1. Keep your workspace clean
This should be easy. The definition of a clean workspace is different for everyone. Some people like everything on their desk to be at 90-degree angles. Some people would rather just have "a place for everything." Regardless of how you like to keep your workspace, there's no doubt that being organized in some way is beneficial.
So get rid of all the Twinkie wrappers you've been hiding in your desk drawers, shake out all the Hot Pockets crumbs in your keyboard, and then take some industrial-strength solvents and wipe down your workspace. You'll feel refreshed and ready for the next year at work.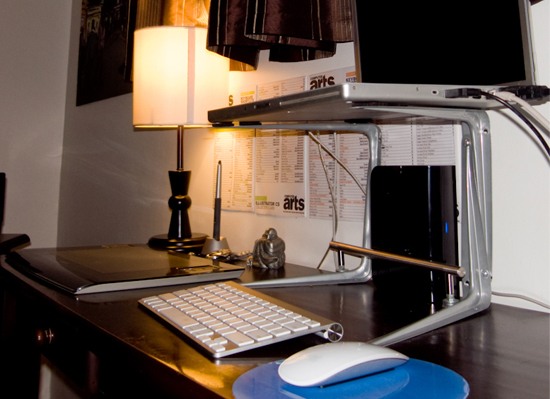 But the trick is, you have to keep it clean throughout the year.
2. Get some exercise
This one seems to always slip by me year after year – but it's important to keep fit. Exercise has been shown to elevate endorphins (which I assume is a good thing) and increase brain function (which is essential for creativity).
If you put those two facts together, you'll inevitably come to the conclusion that physical exercise is good for creativity.
Besides, sitting in front of a computer or at your desk the whole day is just plain terrible for your health (see: mirror).
Join a gym, find a jogging partner, walk the dog, or play some stickball – whatever keeps you active and away from the computer for an hour or two a day.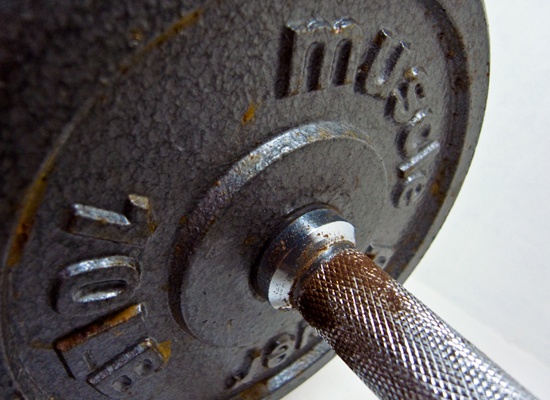 For the upcoming year, aim at designing your body into a beautiful and well-chiseled work of art. Wait… what? I can't believe I just said that. Whatever. Let's move past it.
3. Live beyond your workspace
Please stand up and examine your work chair. Does the seat cushion have a perfect imprint of your behind?
Don't answer that. Just get out there. Do something out of the ordinary in this upcoming year. Gain some new experiences. It's easy to get stuck in front of the computer monitor and forget that there's a whole world that exists beyond your desk.
You must actively seek out new adventures and new experiences because you will not find them while sitting on your chair (World of Warcraft does not count).
As long as your new chosen activity doesn't involve traumatic blows to the head or non-stop consumption of alcoholic beverages and hallucinogens, you will surely gain some new tools to put in your creative arsenal. But, such activities did work for Hunter S. Thompson and Jack Kerouac, so maybe…
The bottom line is that you have to live beyond your desk and take your experiences into your designs; that's the only way you'll grow as a designer.
4. Don't be scared of the dark side, take more risks
Taking risks is all a part of a designer's job. Granted, design is a profession with a history and many traditions for many people so it's understandable that some designers may find it hard to take bigger risks, or even convince clients to take bigger risks when formulating a new design. That's because great design is design that stays.
However, it must be said that great design is also design that is fresh – and fresh is risky. We can even argue that taking risks is one of the biggest traditions of the design industry. Sure, the rules are comforting because they've been shown to work in the past, but that's exactly where you'll stay if you always choose the path of "righteousness."
Don't be scared of the dark side. Take more risks. If Darth Vader didn't move to the dark side, we wouldn't have the original Star Wars!
5. Work on stuff outside your comfort zone
Work on a design that you never thought you'd do. Take on a project that you don't think would fit your "style" and adapt to the situation. Not only is this good for adding variety to your portfolio, but it'll also give you a chance to test your limits as a designer and see what you're truly capable of. Maybe you can even reinvent yourself in the process.
6. Read more
Working in digital media can be really great. It can also make you forget that there is other media out there. Did you know that they still print newspapers? On real paper… even when there are sites like this! Shocking, I know.
Visit your local bookstore and browse the Design section. Or if leaving your computer is too much of stretch at the moment, you can order books off the internet and wait a couple of days (just in time for the new year).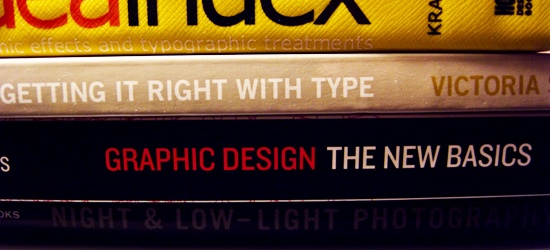 Regardless of how you choose to add to your library, the fact is there's always something interesting coming out in print and other traditional media that you can definitely take advantage of. Make a resolution to pick up and read more good old fashion books in 2010.
7. Make time for personal design projects
Personal design projects are a great way to boost creativity and get out of a rut. Not only will personal projects enrich your portfolio with new self-initiated work, you'll also keep the Boring Monster at bay by periodically focusing on your passions and reminding yourself of why you got into this business in the first place.
It's easy to neglect projects that are for ourselves; the paid jobs always come first because we all have to eat. But personal design projects have many benefits that, in the long run, will result in better quality work (which in turn, equates to higher-paying projects – it's simple arithmetic).
Commit to at least one personal design project next year, even if it takes the entire year to finish.
8. Network and connect with people (it's part of the job)
You don't have to act like a high-priced escort at a company picnic to get paid like one.
However, surely this new year will bring new gallery openings, art exhibits, conferences and other gatherings pertaining to your life as a designer, and you mustn't let these prime networking opportunities pass you by.
You have to demonstrate your value to prospective clients. So look through your portfolio and think about your work and how to best talk about what you can do.
Networking with prospective clients is not unlike talking to someone you find attractive at a party or a bar. You talk about yourself, you listen to the other person's needs, you make yourself attractive to them, and then you ask for their phone number or you leave them yours.  Pretty soon you'll find yourself in meetings with new people you never thought you could get.
9. Get some business cards made
Of course, you can't network properly if you don't have the right tools. If you don't already have business cards tucked in your jacket pocket/back slot of your Moleskine, or if your business cards are out of date, break out some card stock and design and print them yourself before you even step out tonight. It's not that hard.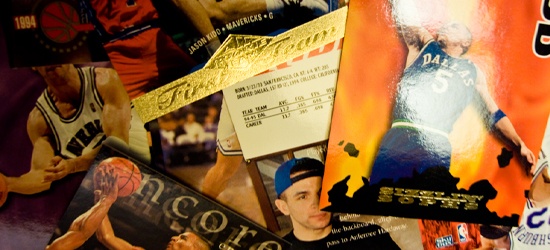 Business cards are like grown up trading cards. It has your name on it, your position/title, and a bunch of numbers and information about yourself, not unlike the trading cards you used to collect as kids. They're also like mini promotional flyers that people actually keep instead of using them for to fold paper airplanes. Although there's this thing, which, given that last sentence, is very ironic.
10. Work smarter
You know what works for you. And you know what wastes your time when you're working. Focus on the things that work.
We have to distinguish busy work from important work. Busy work is work just for the sake of working. Important work is the things that we have to accomplish in order to get our work done.
Do you really need that 2-hour conference call with the main agenda being a discussion about whether to use #FFF799 versus #FFF568 on the masthead of a web layout? Do you really need to check your emails and respond to them every hour? Do you really need to calibrate your monitor three times a day?
Being a designer means that your time and energy is a valuable resource. The more time you spend on things that don't matter, the less time (and energy) you have on doing what you do best: designing and creating creative solutions.
For the New Year, identify busy work, and then do something about them.
11. Use the internet to make your life easier, not harder
Twitter and RSS feeds are great tools for designers to raise their online profile. They're also crucial in order to stay ahead of the curve and be up to date with events, new techniques, and emerging trends.
However, with so many people to follow and RSS feeds to subscribe to, sometimes it can get a little messy. By the end of the year, I'm almost certain that your RSS feed reader must be working overtime because of the number of feeds that you managed to acquire throughout the year.
Devote some time early in the New Year to trim the fat and organize your internet stuff. Unsubscribe to RSS feeds that you don't really need or read regularly. Do the same with trivial email newsletters that clutter your inbox every day at 6:30am in the morning (Amazon.com and Newegg, I'm talking to you). Close internet accounts that aren't essential or are redundant (goodbye Plurk and Hotmail), and reduce your "Web 2.0" website usage to the bare minimum.
Doing this not only diminishes the amount of things that you have to keep up with, but will also have the effect of you having more time to devote to stuff that matter more to you as a designer.
12. Work with more clients you actually like
In the upcoming year, commit to stop working with clients that only raise your stress levels or waste your valuable time. Waste is a thief. If all you hear from your client is a constant stream of criticism and demands for adjustments, then most likely, it means they don't trust you to do your job well. And most likely, they won't be great references in the future, anyway.
Focus on clients that you enjoy working with. If you wake up every morning, fearing to see another email from one of your clients – that's a sign that you should wrap up the current project, and move on. It may mean a pay cut. It may mean that you got to go out there and network and hunt for jobs harder. But in the long run, it'll be better for your career (and your blood pressure… you can't design things when you keel over and die of cardiac arrest).
Some parting words
Do not try to resolve yourself to doing the things on this list. Trying is for those who do things with the intention of allowing failure. And if 2010 really is your year, then failure is not an option, is it? So let's all follow that old shoe maker's motto and "just do it."
Happy New Year to everyone!
What are your New Year's resolutions? Share them with us in the comment section below.
Related Content