Do you find that many of your web design projects start with great energy and clarity, only to slow down and get hairy a few weeks in? I will discuss the typical problems that arise in web design projects, common solutions many of us have tried, and what actually worked for my company after 8 years of business: the Action Register.
What is the Action Register?
The Action Register is a spreadsheet that my web design company uses. This simple spreadsheet is a listing of tasks that need to be done to complete a web design project.
For each task, the Action Register spreadsheet tells you:
What the task is
Who is responsible for completing the task?
When will the task be done?
How many hours are required to finish the task?
How much will the task cost to complete?
What is the status of the task?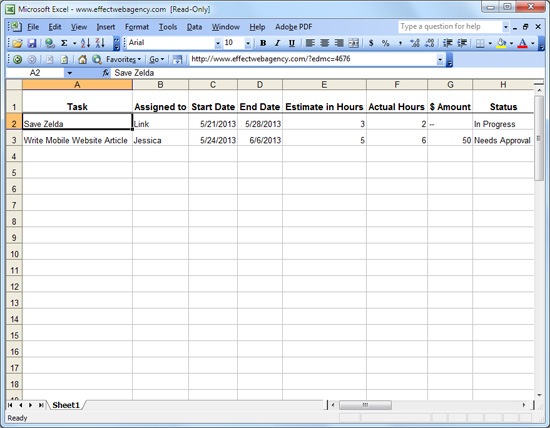 You can download a template of the our Action Register spreadsheet here. In my web design agency, we use the Action Register for clients down the street and across the planet. It has kept our web design projects running smoothly, even when unexpected things happen.
Before you decide to use the Action Register, you probably want to learn about it first. So, allow me to go over how the Action Register is going to save you time, money, and drama. We will look at how the Action Register helps us prevent common web design project problems.
Then we'll pull it all together by showing you a simple process you can use to manage project execution and client meetings.
What the Action Register Solves
Projects depend on people taking actions in order to move the project forward.
The client may need to give images, text, answers, and task approvals
The developer may need to learn about a new web technology or create a JavaScript library for custom website features
The designer might need to create website wireframes
When someone doesn't do what they're suppose to do on time, it can affect other project tasks, causing the whole project to stall. We want to avoid that. As quickly as possible, we want to complete the project, have the client benefit from what we built, and get paid. A regular web design project bottleneck is when the designer or developer is waiting on the client to provide certain things in order for his work to proceed.
Usually, clients are pretty excited to start the project at the kick-off meeting. It's the weeks after the meeting that things tend to slow down or even stop. Why?
Did the client not understand what they needed to do? Not usually. Clients get busy, and their day gets filled up quickly, just like ours.
A similar situation is when you're working with a subcontractor who doesn't take action on time. No one wants to be late, but it does happen.
What Have We Tried Before?
At my company, we've tried a number of things to try and solve the issue of projects stalling because of the lack of action.
These things didn't work well by themselves:
Adding a clause on commitment/accountability to our standard project contracts. This usually only serves to "scare" new clients, but it doesn't really truly motivate them to take action.
Reminder emails and phone calls. It takes time to remind yourself to remind other people. On top of that, it's just not a call or email that people like to get or send.
Waiting for action. Waiting for the client to provide what you need without being in sync on when that was going to be, we've discovered, doesn't work.
Greater Accountability
It's one thing to verbally agree to do something at some date, but to have your name on a task with a clear deadline you've agreed to, is completely different — it motivates people tremendously to get the task done. Everyone wants to save face and look good. We might as well work with human nature rather than against it.
Improve Client Meetings
Having a kick-off meeting that goes through the Action Register gets you and your client in sync from the get-go. Related content: Read about how to get your web development projects off to a good start if you want to learn about kick-off meetings. Come to your kick-off meeting with the tasks in the Action Register filled out as much as you can. If you and the client have already agreed on a target completion date for the project, make a task for "Launch" or whatever the final task is, and assign it that date.
Then, work your way backwards through the necessary tasks needed to get the project to this point. Doing this with the client will not only show them that you care about the success of the project and about serving them well, but if they are part of this process, they will be more likely to buy into the website production plan and take ownership of the tasks they need to fulfill in order to complete the project. Through this simple process, you may realize that there are a few other tasks that must be done in order to really complete the project.
Now is the best time to identify those tasks and assign them to whomever should do them.
Get What You Need from Your Clients
Should you use the Action Register to list what you need from the client? Yes!
At my web design company, we put the items we need from the client into the Action Register as tasks that are assigned to the client. It's really clear what is needed, what has been provided, who needs to provide it, and when we should be expecting it from them. Plus, we have minimized how many project management docs we have floating around.
At your kick-off meeting, you would review what needs to be done by going over the Action Register with your client.
Better Project Management
Every client we have done this with has been impressed by our organization, attention to detail, and determination to make it a smooth experience by taking the time to set up this process. You need to review every task item with the client and confirm who is doing what and by when. The client may ask you to make a few adjustments if they are afraid of not being able to meet a task's deadline.
This is actually good. This means that the client is carefully considering how they can realistically make good on their commitments to you and the success of the project. Once you're in agreement on these tasks, you're ready to start the work because you've laid the foundation that facilitates and promotes commitment for the rest of the project.
Manage Expectations Better
After the kick-off, you need a way to continue to manage expectations on the project execution.
Even though you worked on an initial schedule at kick-off, it probably becomes irrelevant as soon as something unexpected happens. I will list out the different types of expectations and identify how the Action Register handles them for us. Timeframe Because the Action Register shows a Start Date and End Date for every task, it's crystal clear when a task should start and when it should be completed by.
If something affects the start and end time of a task, it can be changed, with agreement from the client.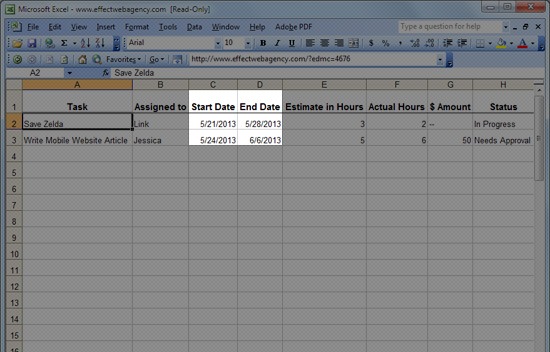 Priority Every project has a limitation of resources — whether it's money, time, people, a combination of a these things, whatever. When it comes down to it, you need to prioritize tasks whenever unexpected events happen. In the Action Register, you can easily adjust start and end dates to prioritize tasks.
You can also use the Actual Hours and the $ Amount columns to tally up how much work you already have, to show you and the client if or how to factor in a new task.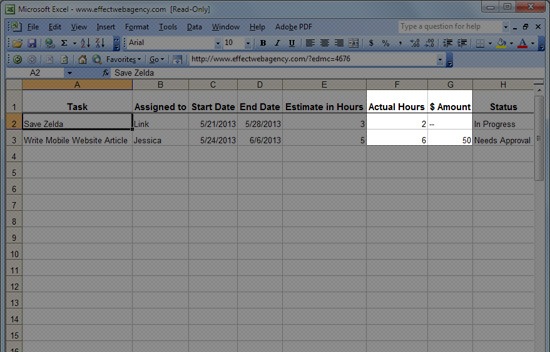 Scope It's inevitable that the client or your team will discover a need to add some new tasks beyond what has already been agreed upon and approved. Related content: Do you want to know how to minimize the addition of new tasks in your projects (in project management terms: scope creep)?
Read about how to avoid unscoped work from unreasonable clients. By listing these as new line items in the Action Register, they become separate tasks to be handled. If you need approval from the client to do the task, you can put the Estimate in Hours (or $ Amount) in and set the status to "Needs Approval", and make sure to review at your next meeting.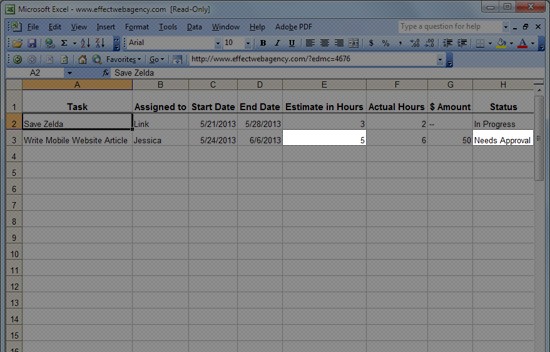 The client then has the opportunity to fully understand the effect of adding the new request.
We have had clients that have a tendency to add more and more tweaks to the project and expect the same deadline to happen. Once we started putting in estimated hours and how much it would cost them for us to be able to complete the new tasks, our clients would make these requests more carefully since they saw how it could affect the project's completion time, require them to do additional work, or add cost to the project. Invoicing Ever had a client say "I didn't know I was going to be billed for this" or "I didn't realize it would cost this much".
It happens. Maybe you weren't clear. Maybe the client doesn't remember.
Whatever the case, you can avoid this — and we have — by using the Action Register as the backbone of the project execution and by reviewing it regularly with the client. The Estimate in Hours and/or $ Amount columns make it totally clear what the cost will be. The Status column makes it clear if something was approved or not.
Responsibility Like we talked about above, by assigning every task to a person, it is clear who should do what. There's no more, "Well, I thought Jessica was doing that" and "I didn't know I was suppose to do that."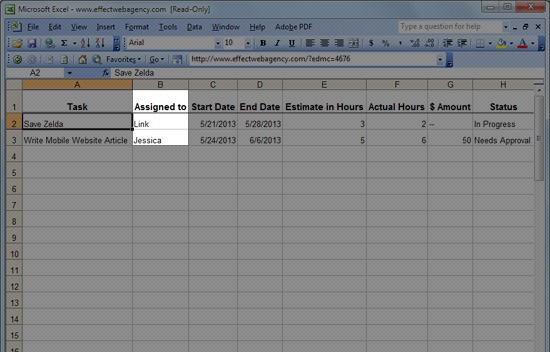 If someone isn't doing their work or has left the team, their tasks can be reassigned to another person. Tracking the Details There is also a Comments column for adding details on the task items.
Use this column for any additional details about what you and the client specifically agreed upon.
You can avoid or minimize the "I thought it would work differently" situations by adding clarifying comments to the Action Register. Case in point: We have a few clients that are perfectionists.
It's easy for them to come up with a new idea to tweak something about their project without realizing these ideas may require plenty of hours of additional work. That scenario happened frequently and it weighed us down. Once we employed the Action Register into our weekly meetings, it became obvious to the client that these new tasks don't always fit into the project agreement.
The client would then agree that some of their new requests weren't really that important, or at least they would be OK with doing them later on. What happened? By fleshing out all the desired tasks into the Action Register, we made it clear as day what was on the list to be done and as well as the needed resources to do them.
The client could plainly see when there's a problem and offered a solution to prioritize some over others. Related content: Learn how to decline new task requests by reading about the most powerful word known to mankind.
How to Implement the Action Register
Using the Action Register really begins to help you when you use it to run your regular client meetings and schedule your work week. Let's go over a simple process which you can use to cater to your own situation and style.
Weekly Review of the Action Register
On Monday, or whatever day of the week works best for you, block out time to sit down and review all your active tasks in your Action Register. This is your time to fully understand the status of each of your projects. If you or your team members are responsible for a particular task, get it on your/their calendars.
If you are unsure of the status of a task, now is the time to find out. You will save time by knowing for sure, rather than kinda thinking it's done and then finding out later that it really isn't. Once you get into the habit of doing this weekly Action Register review, you will find that your head is much clearer and you won't worry where you are in terms of the project's progress.
Update the Action Register Whenever You Complete Tasks
As you and your project team members complete tasks throughout the week, update the Action Register. If the task needs tweaks before really being complete, request the tweaks. If a task is actually complete, update the appropriate task item with the Actual Hours and set the Status column to "Complete".
Schedule Regular Client Meetings
Schedule regular meetings with your active clients. Having a quick phone meeting every week or every other week can make projects go more smoothly. These regular meetings have an agenda that goes like this:
Go through the list of tasks in the Action Register and review their statuses and whether or not each task is on track.

If a task is not on track, identify why and what needs to be done by whom to get it on track.
Adjust the Action Register accordingly. If this causes other tasks to be pushed back, clearly state why and agree on new dates with the client.

If a task was marked "Complete", show the client that the task is complete and get their sign-off on the completed task if necessary.
Move completed tasks to the bottom of the spreadsheet, or create a new sheet in the spreadsheet to move the completed tasks to. This way, you have a record of what was done and when. This can be very helpful if you ever need to look back and verify something.

It's a documented record of how the project went.

If a task was recently added, and the estimated hours of completion or cost of the task is ready for approval, explain it to the client and ask for approval to begin work.
If a task needs something in order to continue working, this is a good time to sync with the client on what you need and decide together how to continue.
You can save many back and forth emails by having the client bring observations, ideas, and questions to the meeting to discuss rather than emailing on a whim. Unless of course it's something urgent.
Final Thoughts
Doesn't it all just seem like common sense?
Like with anything else, the more experienced we get, the more we see things in a simpler, more straightforward way. The results of using the Action Register:
Your clients will feel in sync with what is going on with the project
You will minimize surprises
You and the client will be collaborating together to get the project completed
In the end, you'll get to focus more time on the part of your work that you love the most: Building websites.
Related Content
How is your website's SEO?
Use our free tool to get your score calculated in under 60 seconds.
Get posts by email
Join 200,000 marketing managers and subscribe to Revenue Weekly!
"*" indicates required fields
WebFX Careers
Join our mission to provide industry-leading digital marketing services to businesses around the globe - all while building your personal knowledge and growing as an individual.