Giveaway: Adobe Online Training Videos for a Year
** Update: The Giveaway Period Has Ended **
About Train Simple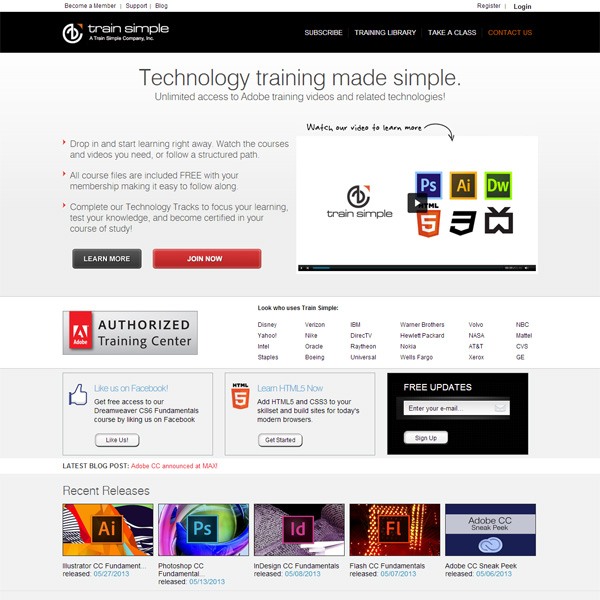 Train Simple offers courses on Adobe software and web technologies like HTML5, CSS3, JavaScript, and WordPress. The courses include exercise files and certificates of completion.
Their library is full with a wide range of product offerings from Adobe, like Photoshop, Illustrator, InDesign, Dreamweaver, and others.
As a Train Simple member, you'll have complete, 24/7 access to all of their current courses, as well as all new courses released throughout your membership.
Train Simple is an Adobe Authorized Training Center. The company got started by offering hands-on courses through public and private consultation and training to many Fortune 500 companies and universities.
Train Simple has worked with Disney, Yahoo, Verizon, MIT, GE, Boeing, Harvard, and many, many others.
Sign up for an account on Train Simple.
** Update: The Giveaway Period Has Ended **
How to Win
For a chance to win a membership, simply answer this question in the comments below:
How would a membership to Train Simple courses benefit you?
Giveaway Details
This giveaway ends on Tuesday, June 11, 2013 after which the comments section on this post will be closed and you will no longer be able to leave a comment. Please leave a valid email address when filling out the comment form so that we can contact you if you have won. The winners will be announced on a separate post. Please note that comments are moderated and your comment may not show up right away. Comments that don't follow the instructions on how to participate (described above) may not be published, or may be removed later on.