Are you looking for a content management system (CMS) that will help you create the digital content you need? With so many options on the market, it's challenging to know which one is the best CMS software for your business. On this page, we'll take a look at the six top CMS platforms for website development for your business and share the pros and cons of each.
If you'd like to learn more about content management systems and marketing your content, subscribe to our newsletter, Revenue Weekly!
1. WordPress
WordPress is the most popular CMS software on the Internet. This platform dominates the CMS market share, holding over 58% of the market. So, is WordPress the best CMS software for small businesses?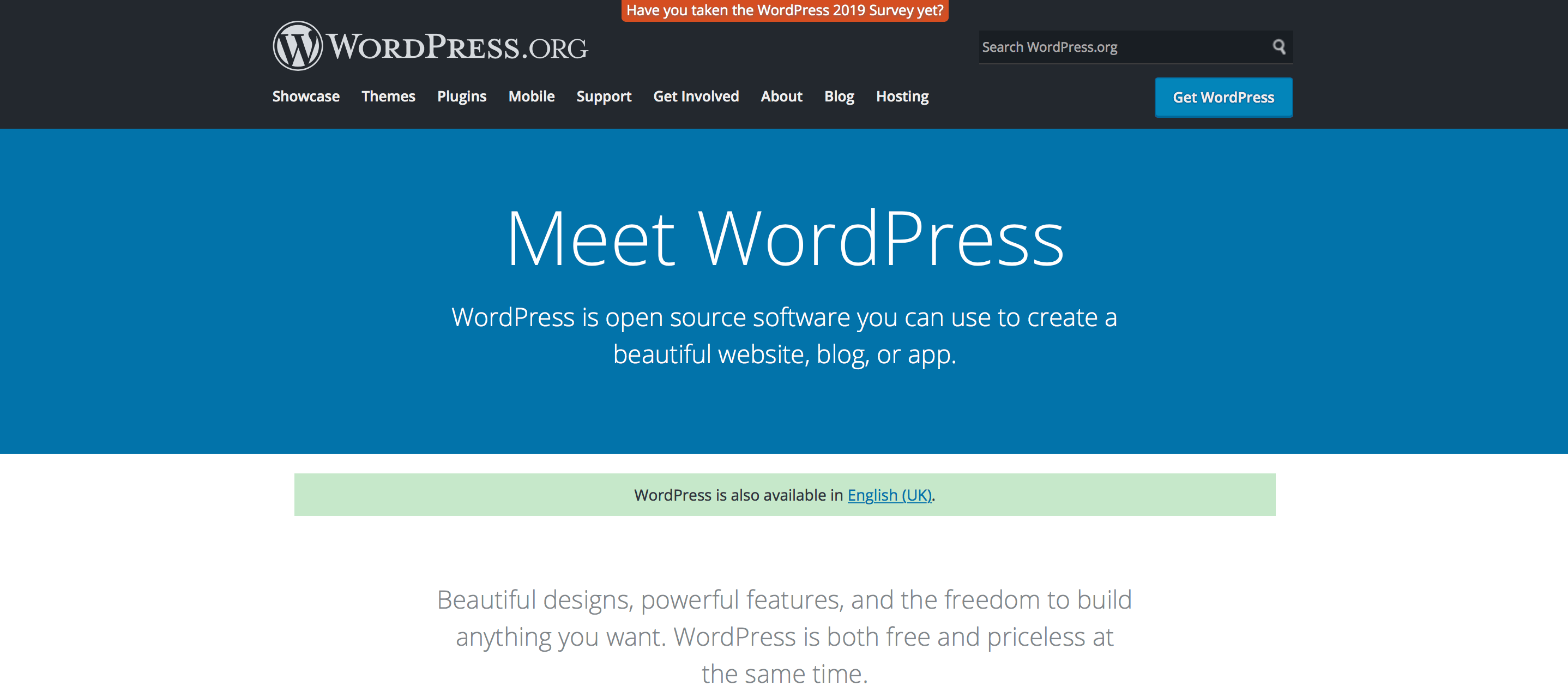 Let's take a look at a few pros and cons of this software.
Pros
WordPress has a lot of great features to offer, including:
Highly customizable: WordPress gives you all the tools you need to create a customized site. With thousands of themes and plugins, you can build the best CMS for your small business. You choose the right elements for your CMS to help you create a management system tailored to your business.
Versatile: Whether you own a restaurant or run a construction company, WordPress works with all industries. You don't have to have an ecommerce company to set up a CMS with WordPress. It's easy to use, no matter your industry or what you're selling.
Regular updates: WordPress continuously improves its software, making it one of the best website CMS options. From security updates to plugin improvements, you'll always have a version of WordPress that works best.
Helpful community: If you have issues with setting up your CMS, WordPress has an active and large support forum. You can turn to that community if you have questions or concerns about building, maintaining, or customizing your system.
Search engine optimization (SEO) friendliness: SEO is a crucial part of content creation, so you need an SEO-friendly CMS. WordPress helps you quickly optimize your content for search. For example, with the help of a plugin, it can report your keyword density to ensure you're using keywords enough (or not too much).
WordPress offers numerous benefits, making it an excellent tool for people new to CMS software.
Cons
Even though WordPress has several positive features, there are some pitfalls, including:
Plugins get complicated and pricey: While the ability to choose your plugins makes your site customizable, it comes at a price. You must add numerous plugins to your site to make it operational the way you want, and some of these plugins cost extra money. Not only does it add additional costs, but the process proves difficult when you're trying to mix and match plugins while getting them to work with your site.
Target for hackers: Since WordPress is well-known and accessible, it's a target for hackers. Plugins with security gaps or insecure sites can leave your site vulnerable and prey to hackers. You'll have to follow best practices to protect your WordPress site, which requires more work from your team.
2. Drupal
Drupal is an open-source CMS for developers, marketers, and agencies. This CMS software works with different industries like travel, healthcare, and higher education. Let's take a look at the pros and cons of using Drupal as your CMS software.

Pros
If you use Drupal as your CMS software system, you'll experience a few great features:
Offers control over your site: Drupal gives you control over your website. From managing custom posts to controlling permissions, you'll have the control you need to make your site work for you and your team.
Provides multilingual capabilities: If you serve more than one language market, Drupal is the best CMS for your small business. This CMS software handles sites that use multiple languages with ease.
Offers numerous extensions: Drupal boasts over 36,000 extensions for your site. These extensions create an excellent opportunity for customization and designing the website you want.
Operates as open-source: Drupal is open-source software. Anyone can use it or download it. This set up makes it an excellent option for people who want an open and free CMS software.
Provides a great community: Like WordPress, Drupal has an active community to rely on for help. With people always contributing to this open-source platform, you have a community of people you can always reach with questions or concerns.
Cons
Even the best website CMS for small business will have negative aspects. Here are two disadvantages of using Drupal for your business:
Steep learning curve: The biggest issue with Drupal is that you need web development experience to use it. This software isn't intended for beginners, which creates a steep learning curve. If you don't have a web development background, this tool isn't for you.
Complex configuration: Drupal has a weak backend that makes it difficult for users to maintain the coding on their site whenever Drupal sends an update. So, every time you have to update your website, you have to re-do the coding on your page.
3. Shopify
Shopify is a popular CMS software for ecommerce businesses. This platform enables you to set up your store and manage it in one place.

Let's look at a few reasons why Shopify might be the top CMS platform for website development.
Pros
When you use Shopify, you'll experience a few great features:
Payment processing system: Shopify supplies you with a built-in payment processing system. While you can integrate any third-party apps as your payment system, Shopify's integrated system doesn't have additional transaction fees.
Plugins: Shopify offers a variety of plugins to customize your online store.
Inventory tracking: Shopify makes it easy for you to keep track of your product inventory. You can track whichever products you're selling, as well as restock and alter your listings as necessary.
Extended functionality: With Shopify, you have access to thousands of third-party apps to extend the functionality of your online store. This feature helps you create a better customer experience by building a better ecommerce site.
Search-friendly: Shopify makes your ecommerce site SEO-friendly. Your store will rank in search results on different search engines, like Google and Bing. Shopify helps optimize your website's structure and product listings to appear in more search results.
Customizable templates: When you build your store on Shopify, you get fully customizable templates that you can use. It allows you to create a unique site that fits your needs.
Cons
Shopify has a few pitfalls that you'll notice when you use this CMS software:
Only sell from certain countries: Shopify enables you to sell to and from specific countries. If you need to sell outside those countries, you must use a third-party payment system. Adding a third-party payment system comes at an extra cost to your business.
Scaling product images: When you add pictures of your products to your site, there is no way to scale them to the right size automatically. If you don't pre-crop the images yourself, you'll have pictures of varying sizes all over your site. You will need to dedicate time to fixing your photos before uploading them to Shopify.
4. WooCommerce
WooCommerce is the ecommerce plugin for WordPress. It operates similar to WordPress but adds in ecommerce functionality to make your site shoppable.

Let's take a look at a few reasons why WooCommerce may be the best website CMS for small businesses.
Pros
WooCommerce offers numerous benefits to your company, including:
Control over your site: Just like WordPress, you have complete control over the way you build your website. You choose the design, plugins, and widgets you want to use. It makes it easy for you to create the website you want.
Sell anything you want: WooCommerce gives you the flexibility to sell whatever you want. Whether it's physical products or digital downloads, you can sell almost anything. Plus, it's easy for you to upload and sell any product.
Operates as open-source: Open-source CMS software means that you can modify and customize as you need. You can take as many orders as you can handle, as well as list as many products as you want.
Contains built-in blogging: Publish content and build your store all in one place. WooCommerce is the best website CMS for small businesses that want to keep everything together. It makes it easy for you to manage your online presence.
Built-in payment system: WooCommerce makes it easy for you to sell products. It takes payments via PayPal and Stripe. Additionally, users can pay with credit cards, direct bank transfer, check, or cash on delivery.
Cons
Though it may seem like WooCommerce is the top CMS platform, there are a few drawbacks:
Learning curve: WooCommerce can be challenging to learn. If you haven't used WordPress before, you'll be at even more of a disadvantage. It's always great to invest in CMS software that gives you the ability to customize how you want, but that will always come with its own set of challenges.
Requires work to maintain: If you use WooCommerce as your CMS software, it will take work to maintain. You have to take on web hosting, implementation of extensions, and site security. Again, full customization is excellent and can make WooCommerce the best CMS software, but it does require extra work.
5. Magento
Magento is an ecommerce platform that lets people build their store online. They service all types of companies, from small businesses to enterprise-level companies. So, is Magento the best CMS software for your business?
Let's find out!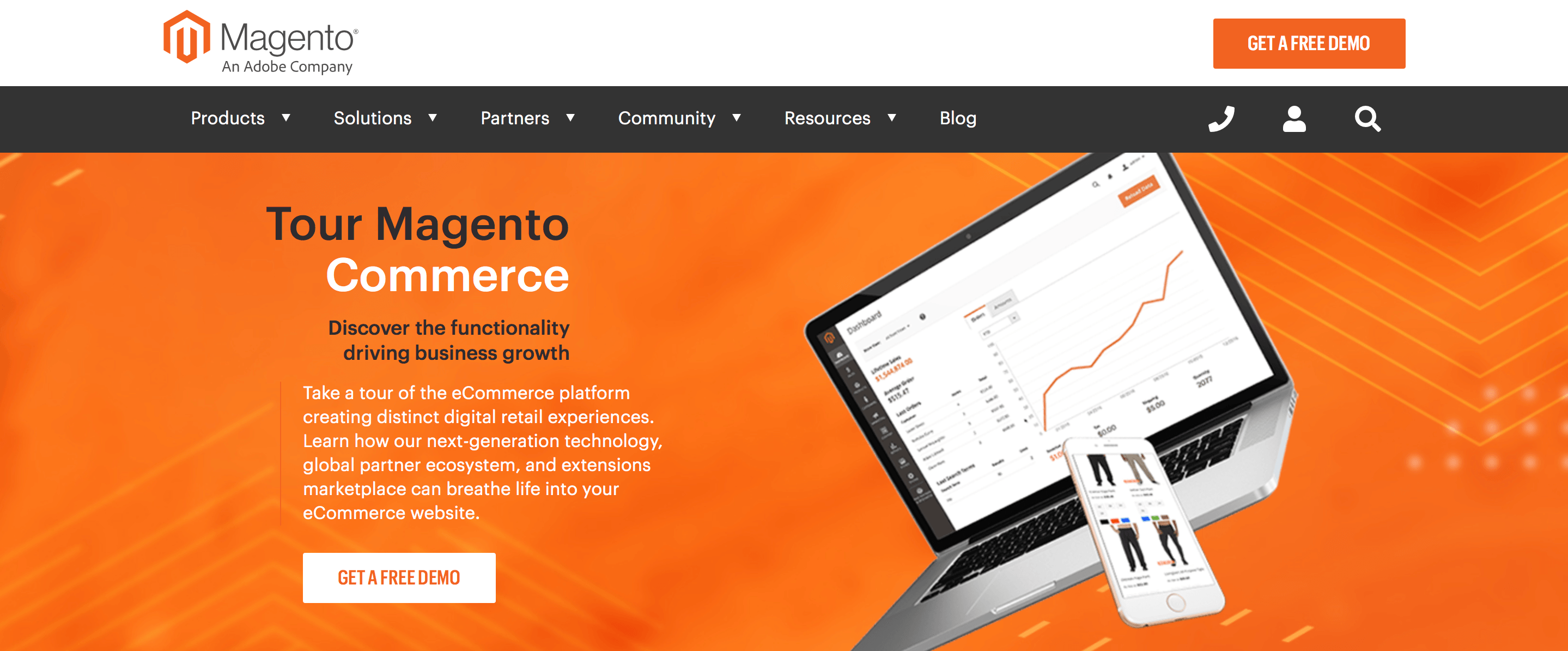 Pros
Magento offers many positive features for your business, including:
Operates as open-source: Open-source makes Magento one of the best CMS software options. When you have an open-source CMS system, you can customize templates and functionality on your site. It gives you control over your content and how you want it to look.
Offers features other ecommerce platforms lack: Magento lets you manage multiple stores, currencies, pricing, and more. Additionally, you can set prices on your products for specific groups, like staff members and VIPs. This level of customization doesn't appear in other ecommerce platforms, which makes Magento stand out.
Gives you mobile-friendly content: Mobile-friendliness is a core component of a successful site. Magento ensures that your website is mobile-friendly, so your audience has the best viewing experience on your site.
Scalable: As your business expands with more products and more content, Magento scales your site. You can continue to grow your website as your business grows. This top CMS platform can easily handle an increase in visitors and orders.
Contains vast community: If you have an issue with your site, you can get help fast. With so many people using the platform, you can turn to the community for questions. You have numerous resources to help you with any issues.
Cons
Just like any CMS software, Magento has some drawbacks, including:
Paid version is costly: While access to the community version is free, the paid option comes at a steep cost. If you need more than what the free version offers, you're going to shell out money to get what you need. It's a one-time fee, but it can cost tens of thousands of dollars.
Complicated to use: Customization isn't as easy on Magento as other CMS platforms. If you want to post products or content, it's going to be time-consuming to set up your site and get it how you want it because the CMS software is intricate and difficult to understand. Customization is a bonus, but it's not easy to manage on Magento.
6. BigCommerce
BigCommerce is one of the best CMS software options for ecommerce businesses. This platform gives you complete control over selling physical and digital products, as well as your shipping rates. Let's look at a few perks of this CMS.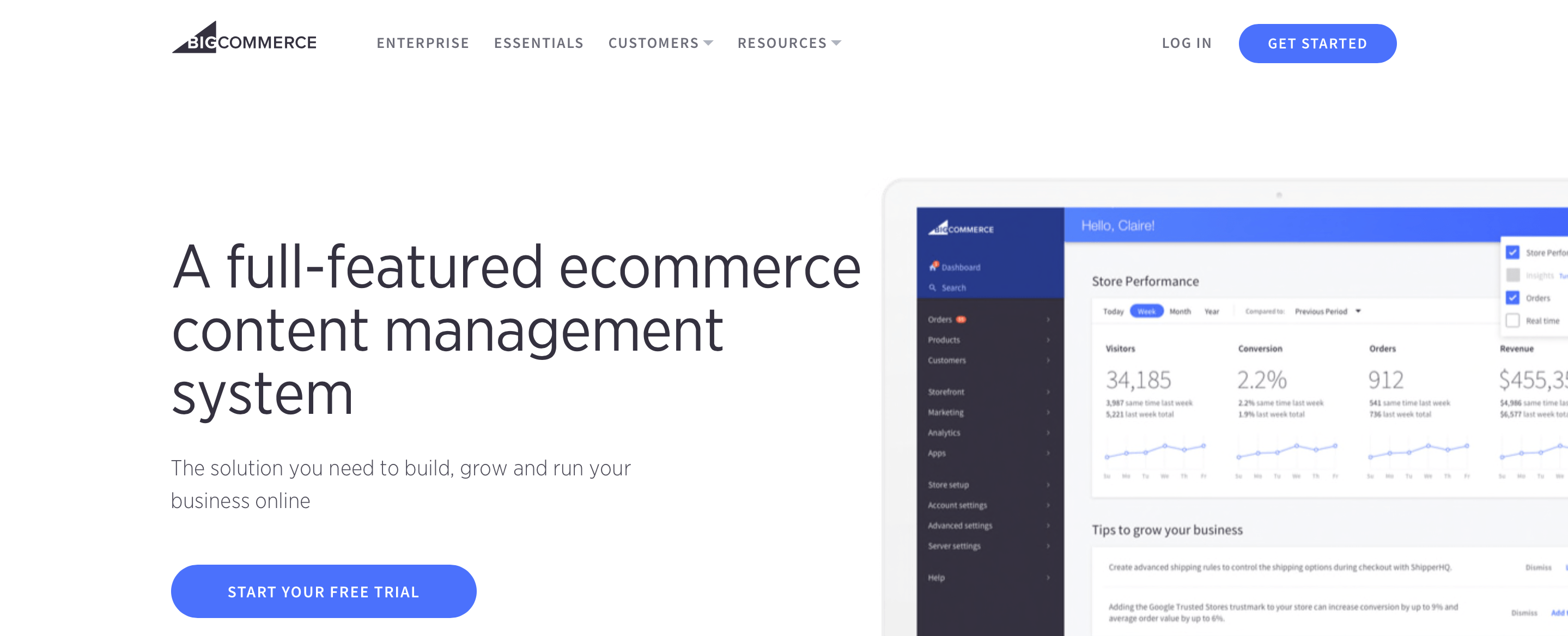 Pros
When you use BigCommerce, you'll find it has several great features:
Native blogging: BigCommerce enables you to write about your business straight from your website. This platform allows you to find relevant customers and increase brand awareness through content about your products. You can easily publish posts to drive more traffic to your ecommerce store.
Built-in SEO: If you want people to find your content, you must optimize for search engines. BigCommerce is the best CMS software because it contains built-in SEO that enables you to optimize your site to appear in more relevant search results.
Email integration: If you want to send promotions and content about your products, BigCommerce makes it easy. With email integration, you can send relevant emails about your products to interested leads and get them to consider buying.
Shipping support: With built-in shipping support, you keep customers happy and keep them coming back to your business and content. BigCommerce makes it easy to calculate shipping rates, print labels, and more.
Sell where you want: BigCommerce is the top CMS platform for businesses that want to sell from more than just their website. With this CMS software, you can sell on eBay, Amazon, and more. The Square integration feature syncs inventory automatically, so you never oversell.
Cons Like any other CMS software, there are drawbacks to BigCommerce.
Limit on annual sales: The biggest drawback to BigCommerce is the limits on annual sales. If you exceed your allotted amount of sales, you have to pay an additional fee and upgrade your plan to a more expensive monthly option.
Limited template choices: When you build your site, you don't have many options for free templates. You have access to less than 10 free templates. If you don't like any of those templates, you'll have to shell out some money for a premium theme, which means more expenses for your business.
Get the best CMS software with the right team
As you can see, you have several excellent options for the best CMS software. While great software can set you on the right foot, having the right team and resources to set it up will help you see success. At WebFX, we offer content management services that make setting up and managing your CMS a breeze.
Our team of over 500 experts will deliver what you need. From set up to maintenance, we're with you every step of the way. To learn more about our CMS services, contact us online or call us today at 888-601-5359 to speak with a strategist.
WebFX Careers
Join our mission to provide industry-leading digital marketing services to businesses around the globe - all while building your personal knowledge and growing as an individual.