About the Apps
The main criteria for choosing these specific apps are that: 1) they had to be easy to use; 2) offered a lot of control; and 3) without being unnecessarily complicated.
All the apps chosen for this post are available for free (add-ons can be purchased but are completely optional) and are available in the Apple Appstore and in the Google Play Store.
More often than not , photos taken with your phones or tablets aren't going to be printed in large poster sizes and hung on the walls of fancy galleries (with a few exceptions). In fact, most of the photos you take with your phone will never be printed at all and will only be shown online. This means that you don't need the precise pixel-manipulating abilities of the likes of Lightroom or Photoshop on your phone or tablet.
What you do need is an easy and fast way to get creative with the photos you take on your mobile devices. For more serious photographic editing or editing in batches, it's best to stick to your PC.
VSCO Cam
It's no secret that we are big fans of this photo app at Design Instruct. Its ease-of-use and simple workflow allows you to create some great images that can easily be shared on social media.
Like most photography apps, VSCO comes with a bundle of presets (aka "filters") that give your photos a certain look. VSCO Cam also has some great editing tools so you may manually adjust the levels and other parameters of your photo.
VSCO Cam's edits are non-destructive which means that any adjustments you make can always be changed if you are not satisfied or if you want to make a new version of your photo.
In our experience, we found that using the included presets or buying VSCO Cam presets aren't necessarily required in order to produce some great images. We've been able to get some tremendous results just by importing photos into the VSCO Cam editor and manually adjusting all the parameters until we were satisfied.
Of course, the VSCO Cam presets make short work of all of that. VSCO Cam presets are possibly the best "filters" on any photo app we've had the opportunity to use. They are subtle and distinctive and give your photos a film-like, premium quality, albeit at a price (preset packs start at $0.99 USD for 3 presets). However, again, just making manual adjustments in the VSCO Cam photo editor can also yield tremendous results so you shouldn't feel like you need to buy more presets just to get the most of this app.
Basic VSCO Cam Workflow:
1. Open the VSCO Cam app on your phone.
2. Tap on Library which will take you to your VSCO cam photo library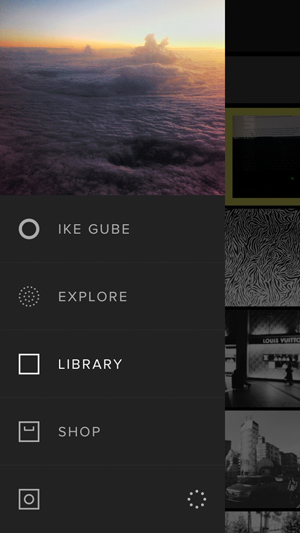 3. Import a photo by tapping on the large plus sign (+) at the top of the screen.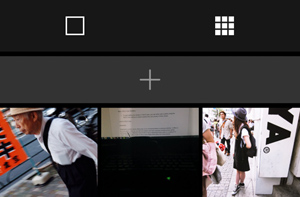 4. You will be shown all of your photos in your phone's photo library. From here, you can choose all of the photos you want to import into your VSCO Cam library for editing.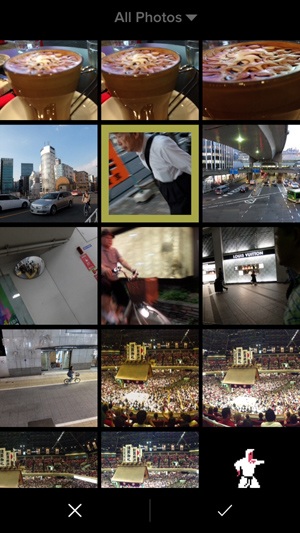 5. To start editing, go to the VSCO Cam library and tap on the image you want to edit. You can only edit one photo at a time. A row of icons will appear along the bottom edge of your screen. Tap on the middle icon that looks like a wrench and a paintbrush.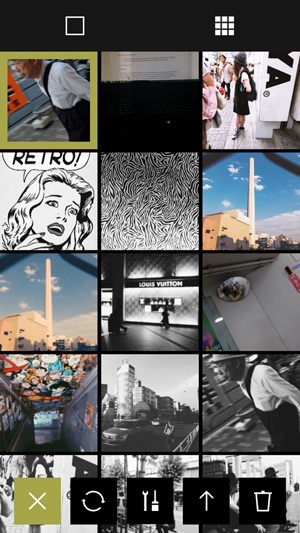 6. You may choose one of the presets available on VSCO Cam at this point. When a preset is chosen, you can adjust the strength of that preset by tapping on it again.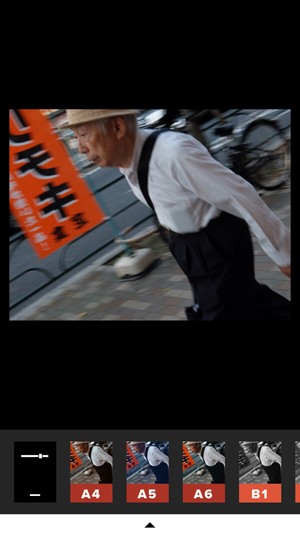 7. Or you can choose to just manually adjust your photo by tapping on the white bar at the bottom of the screen and then tapping on the wrench icon that appears.

8. When you click on the wrench icon, VSCO Cam's editing tools will appear in a single row along the bottom of the screen.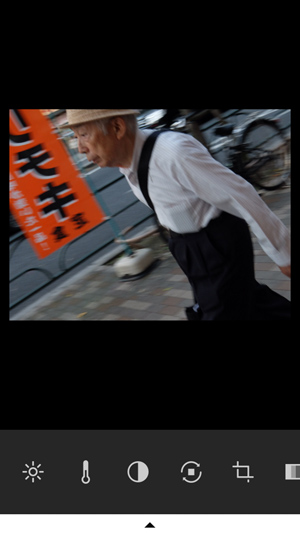 9. To make an adjustment, tap on the tool you want to use and adjust the slider to an appropriate value. Then tap on the check mark to verify your changes.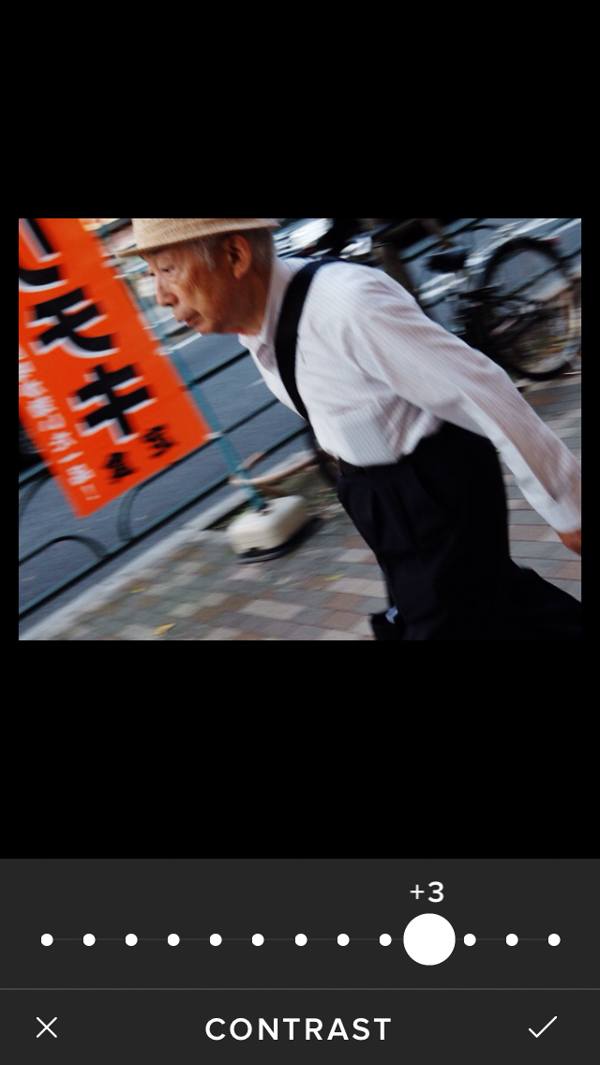 10. Once all of your adjustments are done, tap on the check mark at the bottom of the screen to save your image to your VSCO Cam library.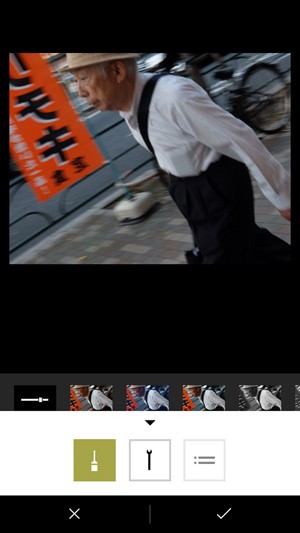 11. Share or save your photo to your phone's photo library by tapping on the photo you want to share and then by tapping on the arrow icon at the bottom of your screen.
12. Your sharing options will appear.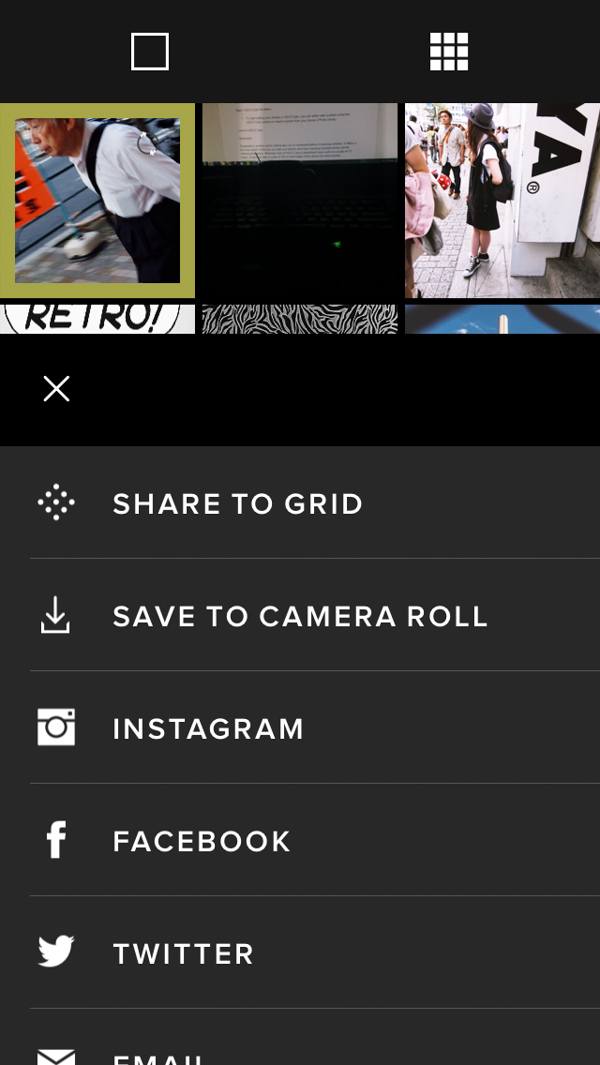 Snapseed
Snapseed is another photo editing app we've mentioned before in previous articles. It offers a bit more depth in the way you edit your photos and more nuanced controls across all the editing parameters. Whereas most of VSCO Cam's adjustment tools work on a scale of 12 steps, Snapseed uses a scale of 100 or more steps which allows for more precise adjustments on your photos.
Snapseed's adjustments, however, are destructive which means that when you save the changes to your photo, those changes are permanent and you will not be able to revert to its original state. However, this also allows you to "layer" your adjustments which gives another dimension of creativity.
Apart from Snapseed's very capable and easy-to-use image editing tools, Snapseed also has some filters included in the app but are used in a very unique way that offers a lot more control and opportunities for creativity than any other free photo editing app we've seen. Anything from textures to borders and tilt-shirt effects to grunge effects can be applied to your photo. All you really need is to spend some time tinkering with the app.
Basic Snapseed Workflow:
1. Open the Snapseed App. Then click on the plus sign (+) at the top left corner of the screen.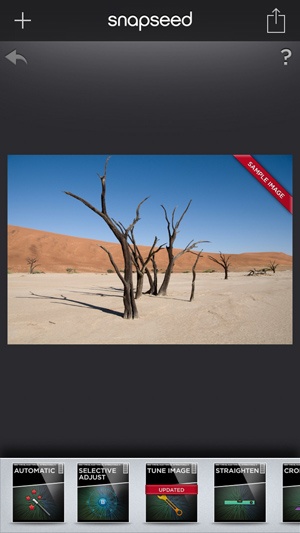 2. You will be taken to your phone's photo library. Tap on the photo you wish to edit to preview your photo and the tap "Use" located at the top right corner of your screen.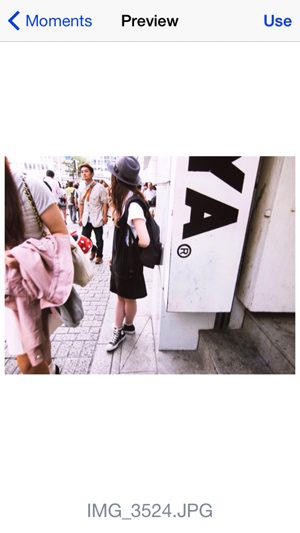 Tap on "Tune Image." You will be taken to the adjustment screen.

Swiping up or down allows you to choose which adjustment you wish to make.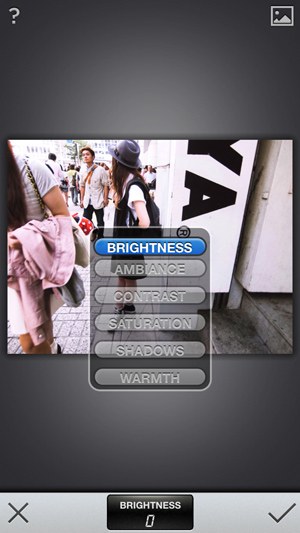 Swiping left or right adjusts the values of your chosen tool.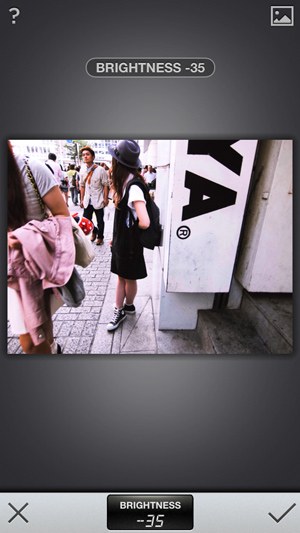 When you're done making adjustments to the photo, tap on the check mark at the bottom to save your changes.
There are more tools at your disposal such as the black and white tool, and the many filter effects you can apply under the "Vintage," "Drama," "Grunge" tools. These tools are complex and allows for some very interesting edits to your photos. It is best to just play around and make adjustments as you go. Just tap on the "X" on the lower left corner of the screen if you do not wish to save your adjustments.
Once you are done making your edits, tap on the icon located at the top right corner of the screen to bring up your saving and sharing options.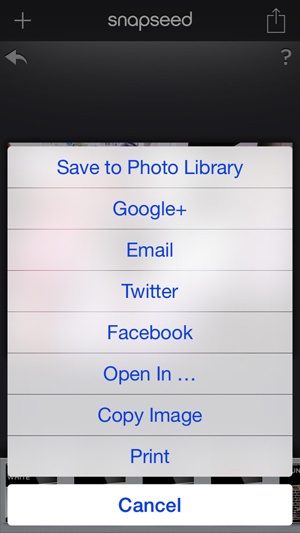 Photoshop Express
Possibly the most versatile photo editor of the 3 apps in this article is Photoshop Express. The interface is simple like VSCO Cam while also offering a more precise and nuanced way to edit photos on your phone like Snapseed.
Photoshop Express also comes with a few filters called "Looks" much like VSCO Cam's "Presets." Just like VSCO Cam, there is an option in Photoshop Express to purchase "Premium Looks" although we couldn't find any compelling reason to do so with our experience using the app.
Basic Photoshop Express Workflow:
1. Open the Photoshop Express App.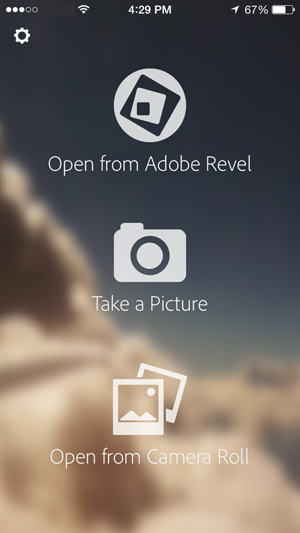 2. You can either choose to open a photo from Adobe Revel (Adobe's cloud storage service), take a photo, or open a photo from your phone's Photo Library.
Open a photo from your photo library.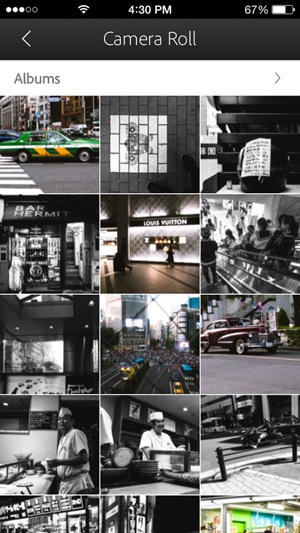 3. Once a photo is chosen, you can start making your edits. You can choose to apply a "Look" at the point. Tap on a "Look" and adjust the slider to change the strength of the look.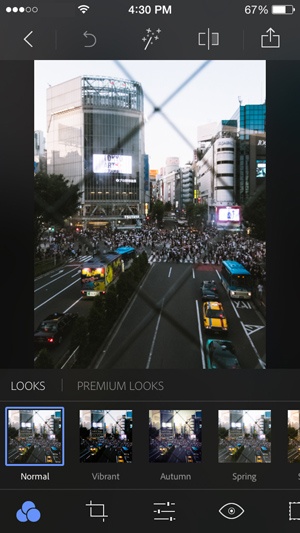 4. To make more adjustments to your photo tap on the third icon that appears at the bottom of the screen. Here you can make adjustments to your photos levels such as exposure, contrast, and saturation as well as clarity, sharpness, and noise levels.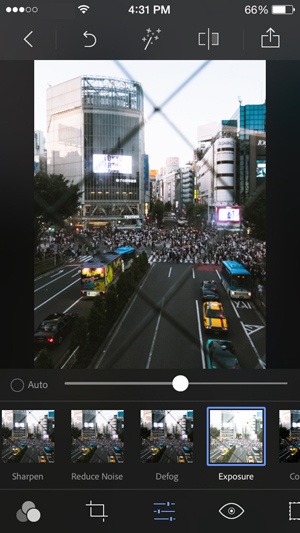 5. Once you are done making adjustments to your photo, tap on the icon located at the top right corner of the screen to bring up your saving and sharing options.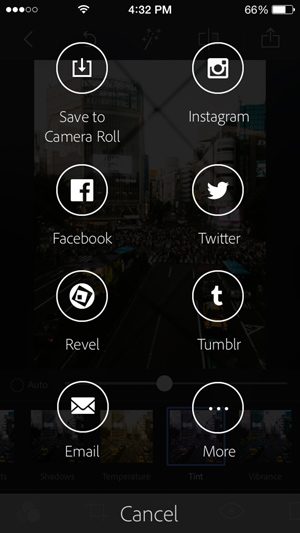 Final Thoughts
So which app should you use?
It really depends on what you're looking for in a photo editor on your phone or tablet. VSCO Cam is able to produce very good images with its simple workflow and really great presets. Snapseed is perhaps the most capable in terms of very precise adjustments and editing options. Photoshop Express is able to offer a simple workflow and some very capable editing tools. Therefore all three apps have their own strengths. Indeed, you might even find that want to take the best features of all three apps and incorporate them in your next photo editing session on your phone.
We've used dozens of photo apps (both paid and free) but  we think these 3 apps are currently the ones that offer the best and easiest workflows on mobile devices for producing great images on iOS or on Android. We encourage you to try them out if you haven't already done so.
If you'd like to see more in-depth tutorials on how to use these apps, let us know in the comments section below.