Now that you've been appointed to this senior position, you not only have to fend for yourself and your many deliverables, but also those of others. You're now getting dragged into more business-oriented pitches. You also now have to manage a team of creatives — something you might not have had formal training in.
Meetings now consume your days. Time spent in front of a computer is probably used up directing others via email, Skype, IM, going through your flooded inbox, and trying to find time in your calendar for yourself and your deliverables. The days of knocking out client work quickly without distraction have sailed.
Welcome to creative management. As a manager, you are now responsible for more business-oriented metrics than ever before. Profit and billability of your direct reports become a constant concern.
With these metrics, comes a need for a heightened sense of efficiency that's grounded in process. Sound difficult? It is.
Here are some tips to expand your creative management chops.
Learn From the Best
Look for the top people in your field that share your role. Make a list and follow them on social networks (Twitter, LinkedIn, Facebook, etc.).
Put their blogs in your RSS feed reader. Look for them in professional Q&A sites like Quora and the Stack Exchange network. Many creative directors have incorporated thought leadership into their role, which involves blogging, speaking engagements and attending key seminars.
Thought leadership is as much about self-promotion as it is a resource for others. Dribbble, Pinterest and Behance may be where you go for design inspiration, but learning the business side of the creative process isn't going to be found staring at visual inspiration.
Study the Business Side of Creativity
Like I said before, you've probably already become close with the magazines and blogs. But it's also a must to read great books on marketing, the business side of design, and advertising.
It's ironic that after all of these years after college, you're diving right back into scholarly research and printed works, but it's worth it. Understanding things from your client's perspective is key to driving the creative that fuels their business.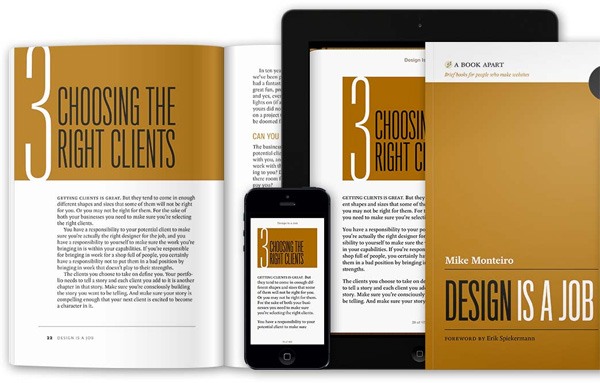 Image source: abookapart.com Here are some books I recommend:
Learn to Write. Now.
Great creative is all about telling stories. The written word is one of the oldest forms of self-expression and there isn't an app or Photoshop effect that will ever replace it.
Learn to think deep and write small. The better you can articulate yourself, the more you can shape the story. Whether that story consists of writing ad copy, creating a brief for your team or simply conveying yourself effectively via email — the written word will always be of utmost importance.
Self-Reflect Often
Introspection is a critical part of self-improvement. Look at yourself and evaluate your strengths and weaknesses as a manager. Challenge yourself to think differently.
Introspection is beneficial to your managerial role and to your creative role. Reflect on the content that you put your seal of approval on: Does it measure up to the standards of today? For example, with so many channels to syndicate creative content on, it's not about creating more content.
It's about creating content that can adapt to the channel or device its being viewed on. Rapid growth in mobile is forcing designers to think in terms of design systems instead of screen sizes. The creative director must lead the charge and make this idea of a flexible design framework a priority for their teams.
You Need to be Adaptable
As a director, your job is to synthesize, inspire and innovate. You should inspire change and growth in your team and your agency's creative product. Challenges will come from all angles: internal resources, clients you're currently working with, clients you want to work with, and clients you used to work with.
Your ability to adapt to these challenges will make the difference between success and failure. No pressure.
Trial and Error
Like most problems of the world, trial and error is the only way to find the solution that works.
If you aren't reinventing yourself and your processes on every assignment, you are doing everyone a disservice. It would be nice if the creative process was as formulaic as tax laws or accounting rules, but that's just never going to happen, and you shouldn't try to force it.
Creative Direction: In a Nutshell
Your role as the creative director is to sit between the client and your team to deliver the best creative with the most impact within the constraints of the project.
Focus on improving your processes and mentoring your team. The more you lead and inspire, the better your team will get. Make optimization a priority so that you can work smarter, faster and get back precious hours of your day.
Your Turn
There is no manual to this. I only write based on my own experience being a creative director and I am a mere mortal. I'm always open to learning new things, so don't hesitate to teach me a thing or two.
Drop me a line @petesena and please share your thoughts and opinions on this subject in the comments below. * Image in thumbnail "Author and ex-creative director, Bryce Courtenay took a seat in Yahoo!'s Big Idea Chair" by Yodel Anecdotal.
WebFX Careers
Join our mission to provide industry-leading digital marketing services to businesses around the globe - all while building your personal knowledge and growing as an individual.