We know what you're thinking, "It's already the 2nd week of the year! You're late!"
We think we're right on time. The holidays are REALLY over now. There are no more holiday leftovers in the fridge, the Christmas trees have been taken down, and the twinkly lights are all in storage (for some of us).
This second week of the year is when you dig in. It's back to work and back to school for most of us.
In that regard, we won't waste your time with a ridiculously long list of New Year's resolutions that you won't ever do. Instead, we thought a few mantras and motivational words would be more helpful in making 2015 your best year ever. We've also included a couple of desktop calendar wallpapers to keep you inspired all year long.
Know that you might fail at a few things this year. However, you might also get everything you've ever wanted. Take that risk and find out.
Work towards achieving balance in everything you do.
Trust your instincts. It only feels stupid until you make it work. Then you become a genius.
Stop waiting for "it" to happen. "It" is waiting for you to happen.
Invest your energy, time, and money in new experiences. That is where inspiration comes from.
You do not need permission to be successful.
Don't hold anything back.
Doubt is the cancer of ideas. If you don't fight it, your ideas will die before you can even work on them.
Make your mistakes, ctrl/cmd-z, then make it better.
Don't waste time not making/creating something good.
Stop punishing yourself for things you can't control. Just learn and be better next time.
Make your own fun.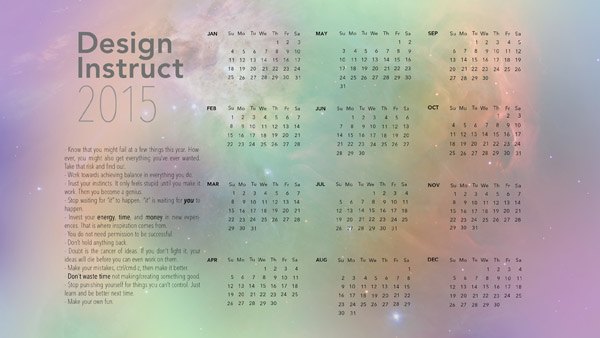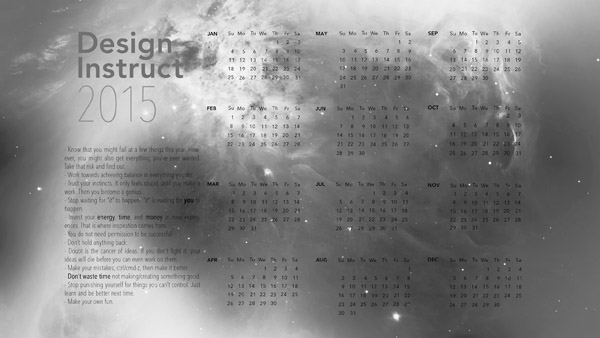 Download B/W 4k (3840 x 2160px)