Free Ebook on Getting Your Clients to Always Pay You
A lot of times, non-payment isn't intentional.
Maybe the client got busy with other things, and has inadvertently let the due date of your project fees slip . Unprofessional? Sure. But ill will? Probably not. In this case, a gentle email reminding them about their outstanding balance could do the trick.
Sometimes, it's because the client never had any intention to pay you. This is a tough situation to be in.
In his free ebook, Pay Me Or Else, Lior Frenkel, co-founder of nuSchool (an educational platform for creative professionals) shares his advice for making sure you get what you're owed.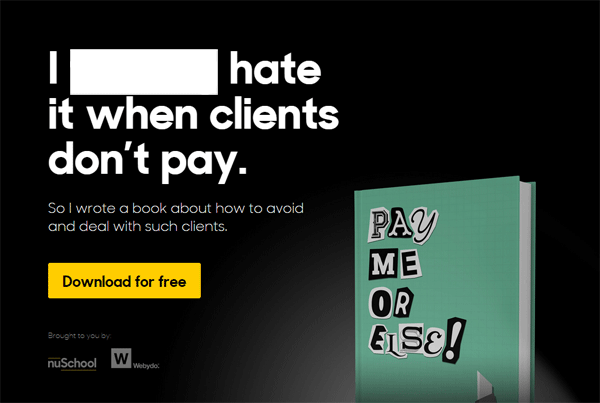 Frenkel has been a freelancer for years. He built websites. He shares his stories about non-paying clients in Pay Me Or Else. He also equips the reader with valuable tips and tools for dealing with non-payment situations.
Frenkel's a great writer. You'll be engrossed in his ebook right from the start. And it's a quick read. The ebook is only 73-pages long (the text-size is huge) in PDF format.
Maybe right now you're having issues getting a client to pay you. Or you want to be proactive and avoid non-payment before it happens. Perhaps you just want to learn more about the not-so-awesome side of the freelance industry. In any case, this ebook is a worthwhile read.
Full disclosure: I contributed my own advice to the bonus chapter of Pay Me Or Else.
Getting your copy of Pay Me Or Else requires that you enter the email address you want the ebook to be sent to.