A large-scale design project will have many moving parts, and creating wireframes will make sure all of its components will fit well together right from the start.
When and why should you use wireframes?
How do you adopt the process into your workflow?
What are the techniques, best practices and tools-of-the-trade employed by user experience design/UI design professionals?
Those questions (and more) will be answered after you read the free e-book called "The Guide to Wireframing".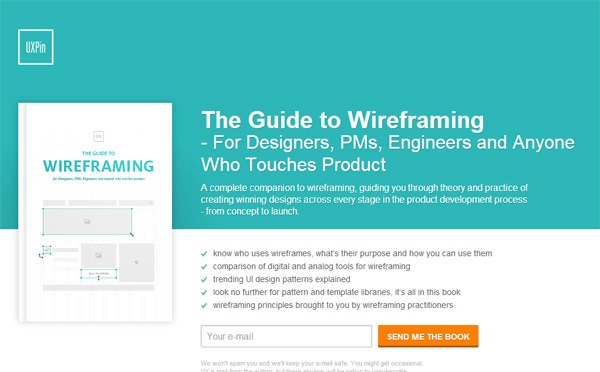 The 118-page e-book has these 9 chapters:
Introduction
A Practical Look at Using Wireframes
50 Shades of Wireframes
4 Non-Digital Wireframing Weapons
4 Digital Wireframing Weapons
The Design Pattern & Wireframe Libraries Guide
Fresh UI Design Patterns
Design Principles for Wireframing
About UXPin
The e-book is in PDF format. Though it's free, you'll need to provide your email address to access the book's download link.
"The Guide to Wireframing" is by Chris Bank, who has worked on the growth of tech startups such as Lettuce, Epostmarks, Kaggle and MyFit, Inc.
UXPin, a company that develops online UX design tools, is the publisher of the book and is also the book author's employer. The book was made publicly available for download on May 22, 2014.
What I like about "The Guide to Wireframing" is it's practical.
Instead of bogging you down with theories and non-essential background information, it goes straight to the heart of the subject by supplying you with a ton of useful information about the techniques, tools, standards and best practices that you can readily apply in the real-world.
One more thing that makes this book great for would-be wireframing practitioners is it's loaded with lots of visuals that help the reader more quickly understand the concepts being discussed.
This guide is written in a way that all professionals who are involved in the production of user interfaces (designers, project managers, software engineers, and so forth) can understand and appreciate.
Whether you're a designer tasked with building your first wireframe or a manager who needs to explain to your client what wireframes are, this book will serve as a handy how-to guide and reference material.
I did manage to catch a couple of typos in the e-book; for example, in the table of contents, chapter 9 is mislabeled as chapter 8, giving the book two chapter 8's. But one of the benefits of e-books is that these things can be quickly corrected.
Read These Next
WebFX Careers
Join our mission to provide industry-leading digital marketing services to businesses around the globe - all while building your personal knowledge and growing as an individual.