Win a Lifetime Membership to Webydo Online Web Design Software
Note: Giveaway Period is Finished
About Webydo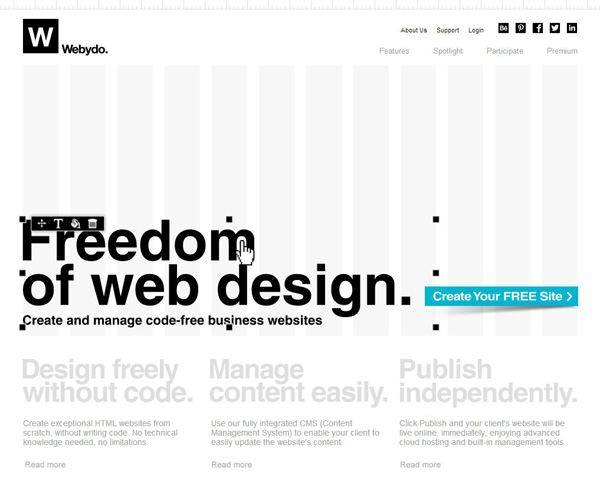 Webydo enables designers to create and manage cross-platform business websites, without writing code. Using this sophisticated WYSIWYG online software, designers can bring their design to life and with a click of a button, an advanced HTML website is published online, including a built-in CMS for the website owner.
This cloud platform is empowering designers around the world, eliminating all technical barriers and helping designers focus on the creative side of website design.
Every feature in the system was developed with designers' needs in mind. Webydo's community of designers participates in the development of the platform, suggesting and prioritizing the development of new design features.
Experience Webydo for Yourself
Sign up for a free Webydo account!

Note: Giveaway Period is Finished. You Won't Be Able to Leave a Comment.
How to Win
For a chance to win a lifetime subscription to Webydo's Premium plan ($7.90/month), just answer this question in the comments section:
What is your favorite feature of Webydo and how would it help you in your web design projects?
Giveaway Details
This giveaway ends on Tuesday, July 23, 2013 after which the comments section on this post will be closed and you will no longer be able to leave a comment. Please leave a valid email address when filling out the comment form so that we can contact you if you have won. The winners will be announced on a separate post. Please note that comments are moderated and your comment may not show up right away. Comments that don't follow the instructions on how to participate (described above) may not be published, or may be removed later on.