Great Ways to Find Visual Inspiration for Your Next Big Idea
Our senses heavily inform the ideas we have and the work that comes from those ideas. That's why we love listening to music, eating good food, touching interesting textures, smelling nice things, and seeing wonderful sights. That's because feeding the senses is what leads to great ideas. Our experiences with the world influence our intentions to add to it and enrich it.
Creatives often to refer to this as "inspiration" — that thing that compels us, that stimulates us to create something; to add to the world in some way.
For creative professionals, having a constant flow of visual inspiration can lead to some great ideas and thus, great work. Therefore, with this in mind, we looked into some of the best visual inspiration websites we could find. After some time with each of these platforms, here are some of our thoughts.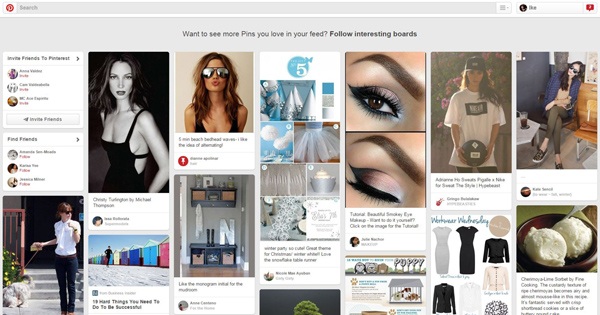 Let's start off with an easy one. For those of you who haven't been to the internet in the last 3 or 4 years, Pinterest is now a gigantic image bookmarking tool. At its core, Pinterest allows you to collect or "pin" images from the web into your Pinterest boards. In essence, Pinterest allows you to create mood boards that contain images of things that inspire you or things you find interesting, complete with links to their original sources in one place.
Our first impressions: It's impressive how widespread Pinterest has become but its ubiquity also means that there's a lot of noise that isn't always relevant to your creative needs. Also, there's a lot of recipes.
What is it like to use: There's no question that there's a lot of content on Pinterest to keep you interested. There are a lot of design and creativity boards available for you to follow as well. If you limit the boards you follow, then Pinterest can be a very good tool to use for finding visual inspiration for your work.
As a tool for creatives… it may not be the most efficient way to find visual inspiration related to what you want to work on but rest assured that you will probably find it on one of the many Pinterest boards. All you have to do is look.
Twibfy

Twibfy is another image bookmarking site (and app) that allows you to browse interesting images from creatives and create mood boards to help facilitate the creative process.
First impressions: This is a very interesting site. This could definitely work for a lot of people. The images are pretty impressive.
What is it like to use: The great thing about Twibfy is that a large majority of images that show up are curated by the Twibfy staff. This means that you will only encounter truly useful images to fuel your search for  visual inspiration. Their search tool works like a charm as well, searching tags, collections and relevant terms simply by typing on your keyboard.
As a tool for creatives… Twibfy has an app in the Apple Appstore available for free, making it an invaluable tool for creatives who want to do their soul searching on their phones and tablets.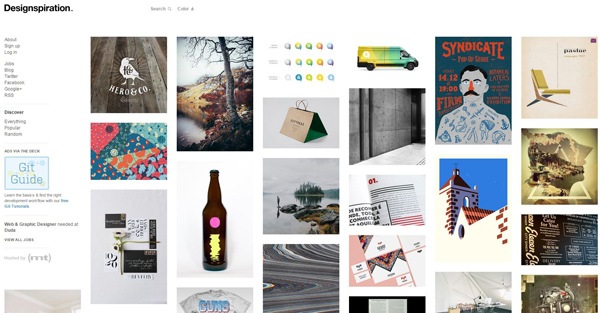 Designspiration is very similar in function to Twibfy and Niice in that the images that are saved and displayed on the site are all creatively focused with the added benefit of being the simplest to use.
First impressions: Wow, that was easy!
What is it like to use: Much like Twibfy, Designspiration's search tool is activated simply by typing on your keyboard. The images that appear are all very relevant to your search. You also have the ability to search a whole spectrum of colors for the color addicts out there. We are also very happy about how easy and intuitive it is to "save" images to your collections.
As a tool for creatives… we are big fans Designspiration. It feels very polished and the least bogged down with unnecessary features.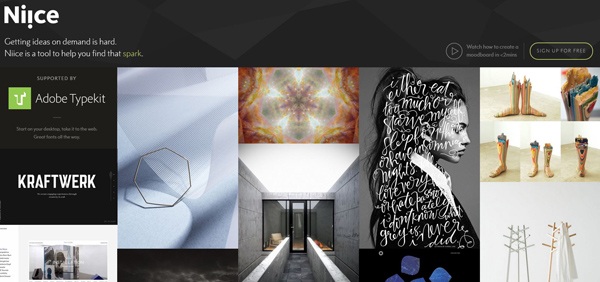 Niice has this knack of always showcasing amazing work that truly make great additions to your inspiration/mood boards. The sources Niice uses for its search are all hand-picked so your searches always turn up great results. In fact, Designspiration is one of the sources used in their search.
First impressions: That's not just a clever name, is it?
What is it like to use: Creating moodboards is easy and simple and offers a lot of flexibility on what you can do with them (if you opt to pay for the added features). The standout feature of Niice is that it has browser extensions (for Chrome and Safari only, at the moment) which allows you to browse images online and save them to your mood boards in the cloud. This makes Niice the closest — in terms of functionality — to pinboarding giant, Pinterest without all the unwanted noise from sources that you don't want or need.
As a tool for creatives… Niice is great even if you don't pay for their "Pro" or "Premium" services. Searching for images that inspire you is easy and the sources that are searched are all very relevant to designers and creatives.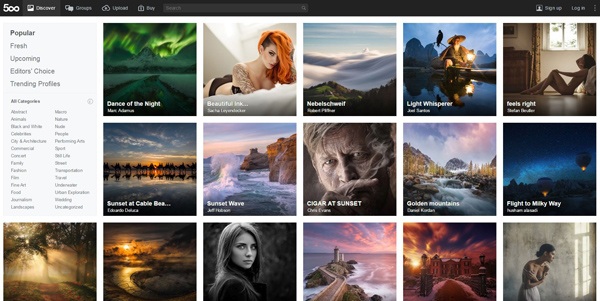 For photographers and photography enthusiasts, 500px is definitely one of the best ways to find some visual inspiration. It is very different from other photo sites in that the community is comprised almost entirely of photographers (from every skill/experience level) who take their photos seriously and thus the images that are displayed are very, very good.
First impressions: Are there any "bad" photos in 500px? We can't find any.
What is it like to use: The discovery tools at your disposal is easy and intuitive to use. Furthermore, it's almost impossible not to be impressed by the images that flash before your eyes since every photo that is displayed is very well done. It doesn't matter what kind of photography inspires you, you're more than likely going to find a good example of it here.
As a tool for creatives… if you're a photographer and you're serious about your photos, then 500px is not only a great place to find some visual inspiration but it's also a great place to participate and showcase your photos. The beauty of 500px is that anyone — regardless of experience level — can get featured on the front page as long as your photo is good. If that isn't enough motivation to get out there and start creating something awesome, then we don't know what is.
Final Thoughts
So which one should you use?
By all means, use them all if you find them useful. We encourage you to try them. We think all of these sites are great tools to use when searching and compiling your thoughts for your next project. The images contained in each site are unique and interesting so it's just a matter of time before you've compiled some great ideas for you to start working on.