Are you looking to market your company on the Internet? If so, you need to build a website — and to do that, one of the first things you'll need is a domain name.
Keep reading to learn how to buy a domain name and get answers to questions like:
Don't have the time to learn how to purchase a domain name? Then consider partnering with WebFX for our web design and development services. Just call 888-601-5359 or contact us online to get started today!
Time to Level Up Your Sales
Our long list of services helps you grow every aspect of your business with marketing strategies that are proven to increase bottom-line metrics like revenue and conversions.
In the past 5 years, we've managed more than 12.9 MILLION transactions across our client base.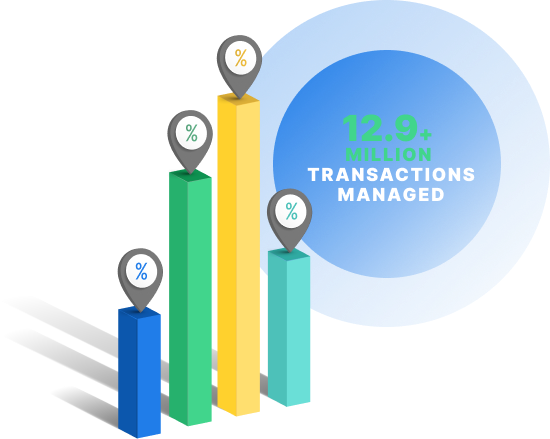 What is a domain name?
Before we answer your main question, "how do you buy a domain," let's first explain what a domain is. A domain name is a website's URL. Every website is denoted by a particular IP address, which is a series of numbers (e.g., 573.8.5.3).
Since remembering the IP address of every site is difficult, sites also use domain names to represent their online location.
Domain names have two parts: The second-level domain (SLD) and the top-level domain (TLD).
The SLD makes up the bulk of the domain name, and usually consists of a word or series of words that represent that website's brand. The TLD, meanwhile, is the extension that appears at the end — .com, .org, and .net are common TLDs.
For example, the domain name for Barnes & Noble is barnesandnoble.com.
The purpose of a domain name is to give users an address to visit when they want to find a website. If you wanted to buy something on Amazon, for example, and you didn't have it bookmarked, the easiest thing to do would be to simply type "amazon.com" into your address bar.
How to buy a domain name in 5 steps
Now that you know some background information about buying a domain name, you're ready to learn how to buy a domain name.
Just follow these steps to get started:
1. Choose a domain registrar
A domain registrar is a company that registers and managers domain names, like GoDaddy. You'll want to be sure to pick a reliable registrar to ensure you don't encounter any hidden fees or scams.
To find the best registrar for your needs, consider the following:
Pricing: Take a look at the registrar's pricing plans to find one that fits within your budget.
Domain expiration policy: It's essential to renew domain name before it's expiration date to prevent anyone else from using it. Considering choosing a registrar that sends you periodic reminders or automatic renewals.
Domain transfer policy: Check the registrar's domain transfer policy to ensure you won't encounter any hidden fees if you even need to transfer your domain to another registrar.
2. Compile domain name options
You can only choose a domain name that's not already taken. To avoid crafting the perfect domain name only to find out that's already in use, make a list of several domain name options that you like.
3. Find available domain options with a domain checker tool
The next step in our hot to buy a domain name guide is to use a domain checker tool. A domain checker tool, like the one from Mailchimp, can help you easily check if your chosen domain name is available.
Simply run your domain name through the tool to narrow down your list of available options.
4. Choose an available domain option that meets your brand and requirements best
The fourth step in our how to buy a domain name guide is to choose a domain name that best suits your brand.
Now that you've narrowed down your list of available domain name options from the previous step, you can finally select one as your chosen domain name.
5. Buy the domain name
The fifth step in acquiring a domain name is to finally purchase it. When purchasing a website domain, follow the directions from your registrar to complete your purchase. You'll likely need to fill in some additional details, like your email address and physical address.
Then, add your payment details to complete your purchase! And voila, you've now bought your domain name!
Keep in mind after buying your domain name that you pay each year to keep your domain name — there's no one-time domain payment. Most domain registrars allow you to turn on an auto-renewal feature, ensuring that you won't lose your site after a year by forgetting to make your next payment.
Domain name pricing: How much do domain names cost?
Before you begin the process of buying a web domain, you might want to learn how much it could cost. Purchasing a domain name costs $0.95-$12 per domain — though high-value domains, like hotels.com, can sell for millions of dollars. Besides purchasing a domain name, you'll also need to renew your domain registration annually, which costs between $2 – $20 per year.
How to choose a domain name
Every walkthrough on how to buy a domain name should discuss how to choose a domain name.
While you could pick one at random — don't. Instead, there are several things you need to consider when making your choice. In particular, you need to pay attention to branding, simplicity, and availability.
1. Choose an on-brand domain name
The first thing to consider before buying a website domain is how it will fit in with your branding.
Whatever domain name you pick will be what shows up in the address bar every time someone visits your site, so it should represent your business. The most obvious approach to take is to use the name of your company. Walmart, for instance, uses the domain name walmart.com.
Variations on your company name work too, though — Houghton Mifflin Harcourt's site is hmhco.com.
2. Choose a simple, to-the-point domain name
In addition to representing your brand, your domain name should be simple and easy to remember. You want users to easily recall your URL whenever they want to visit your site, so you should use a domain name that's short and succinct.
In some cases, that may mean shortening your brand name. To return to the above example of Houghton Mifflin Harcourt, the company used "hmhco.com" because "houghtonmifflinharcourtcompany.com" would be too long and difficult to remember.
3. Choose an available domain name
The final factor in choosing your domain name is availability.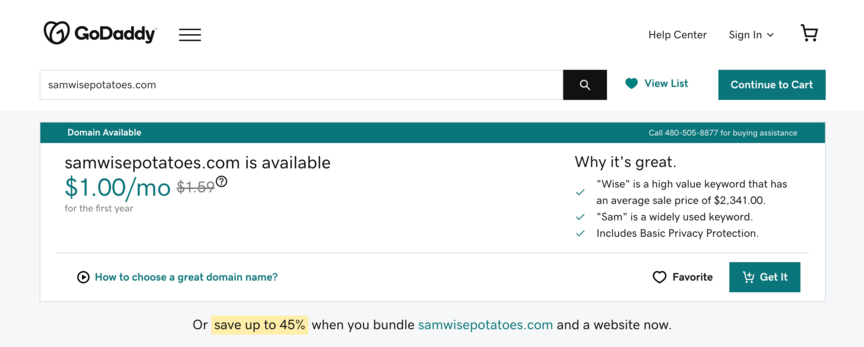 You can't use the same domain name as another website — that'd be like your home having the same address as another house on your street. So, if another site has already claimed the domain name you want, it won't be available to you.
When it comes to acquiring a domain name, you need to be prepared to come up with new names if your original preference doesn't work out. It won't be as much of a problem if your business has a unique name, but if it's something common like "Main Street Diner," you may want a backup plan.
Keep in mind that when it comes to how to register a domain name, you can also approach owners of existing domains. In some cases — and for a price — they will sell the domain to you.
If you must change your name to find something available, keep it as short as possible and ensure it reflects your brand.
You can find a way to make a domain name using a variation of your company's name — for example, "johnsonelectronics.com" for a company called "Taylor Johnson Electronics."
How to buy a domain name FAQs
Get answers to common questions about buying domain names here!
1. When should I buy a domain name?
You should buy your domain name as soon as possible. There are hundreds of people purchasing domain names every day, so it's likely that your desired name may be chosen by the time you decide to purchase.
2. What do I do after I buy my domain name?
Once you have your domain name, the next step is to choose a web host.
Web hosting is slightly different from a domain — if your domain is your street address, your web host is the actual building located at that address.
It's where all the files that make up your site are stored. Fortunately, the two elements often go hand in hand. Most domain registrars also offer web hosting services, allowing you to get them both in one place.
If for some reason you want to host your website elsewhere, you can do that too. You can get web hosting from sites like:
However you do it, web hosting and domain registration are the two key components of getting a website.
3. Does a domain name registration expire?
Yes, every domain name expires at some point. When you purchase your domain name, you'll see your domain's expiration data as well as its registration date. Make a note of this date and be sure to renew your domain name before it expires.
4. Who sells website domains?
A cornerstone to learning how to purchase a domain name is understanding who sells them.
Domain registrars sell domains. When registering or buying a web domain, you do it through a domain registrar. One of the oldest and most well-known registrars is GoDaddy.
Others include:
Instead of using one of the above registrars, you can also start the process of purchasing a website domain through your content management system (CMS), if you use one. In that situation, your CMS — WordPress, for example — will handle the registration for you.
We don't want to tell you about the work we do, we want to SHOW you.
View Our Portfolio

We've built over
Websites
in a variety of industries.
You know how to buy a domain name. Now, let's build a website.
Now that you know the answer to the question "how do you buy a domain name," you're probably ready to get started on your domain purchase and then begin building your site. WebFX has your back!
With over 25 years of web design experience, we know how to buy a domain name and set up web hosting — and that's just the beginning.
With our web design and development services, we'll help you do everything from buying a domain name to fleshing out your web pages. We'll also assign you a dedicated account representative to keep you informed of all that we do for you.
To get started with us, just give us a call at 888-601-5359 or contact us online today!
Get posts by email
Join 200,000 marketing managers and subscribe to Revenue Weekly!
"*" indicates required fields
WebFX Careers
Join our mission to provide industry-leading digital marketing services to businesses around the globe - all while building your personal knowledge and growing as an individual.