So your web design company is ready to roll. You've got happy customers and more people coming to the door every day. But where do you go from there?
This article shares a handful of strategies for growing your web design company.
Partner With Other Businesses
Who else do your customers interact with? Identify those companies and organizations, and approach them for ways you can work together to better serve clients together. Here are some types of organizations your clients may already be interacting with:
IT solutions
Accounting services (surprisingly a lot of referrals come from here)
Marketing agency
Graphic design
Web hosting
Local chamber of commerce
Industry groups (not necessarily your industry)
Implement a Referral System
Set up your own referral program to give people and other organizations incentive to refer business to you. Give them a discounted rate or commission in exchange for sending you more business. At its most basic form, all you need is to set up a web page about your referral program and then track it manually by asking potential clients how they found you.
If your website has an e-commerce component — for example, along with development services, you might also be selling premium WordPress themes — look into integrating a referral system into it. To make this easier, check out systems such as Google Affiliate Network or Commission Junction. Here are some simple rules to keep in mind as you craft your referral system:
Keep it simple. No one wants to deal with tiers and weird conditionals for commission. Don't make it complicated.
Make payouts easy. This applies to both paying out commission on referrals and, if you have a reseller program, making it easy for others to pay you. No one wants to have to pick up the phone or send in a fax to cash out or pay you.
Give potential referrers information about what makes your service great. That can mean providing them with web copy they can use on their site, print materials, stickers, t-shirts, vector versions of your company logo, etc.
Stay in touch. Relationships take time to develop. Even if you don't see a lot of activity from them, it always pays to cultivate your relationship. Oftentimes, there are other opportunities to work together that you wouldn't have uncovered if you didn't check in with your referrers occasionally.

Consider sending out an email newsletter once in a while. Keep them updated with what's new with your company.
Resell or Refer Products and Services
Every time you purchase a product or service on behalf of your client (such as web hosting) or refer them to another service (such as content-writing services) you have a potential to generate commission. You can make more money per client by becoming a reseller or affiliate and getting a percentage of the transaction as commission. Remember that you're adding value with every component you sell to your customer.
Your other value is that you know what's good because you use the product or service yourself; or at least, you should be, because if it's not good enough for you, it's not going to be good enough for your clients either. Some examples of products and services you can be reselling:
WordPress or Drupal themes
Web hosting
Shopping cart software
SSL certificates
Affiliate vs. Reselling
Affiliate programs are attractive to those getting into the habit of making money off referrals because it's typically hands-off and really simple to implement. Reseller programs, on the other hand, have more potential for generating revenue through negotiations with the seller, contracts, and flexibility. The difference often comes down to the margins or commission you will get.
Resellers typically make higher margins and are based on volume. Affiliate programs tend to be fixed and will produce lower margins. Some things to watch out for in reselling programs:
Minimums: You don't want to get burned if suddenly no one wants their product. Sometimes this comes with better margins, but if the volume they are looking for is a stretch, it may come back to bite you.
Bad marketing support: they should be helping you sell to your customers with content and ideas.
Poor customer support: Even if it has nothing to do with you, it will still reflect poorly on you, since you vouched for the company.
Organize and Host an Event
Events, meet-ups, conferences, seminars, and activities that bring industry professionals together are a great way to reach more potential customers. They can be expensive to run, but you can share costs with other companies (by partnering up with other companies or by getting event sponsors). By combining forces with other companies, you can get more people to come and have other people raise awareness for your company.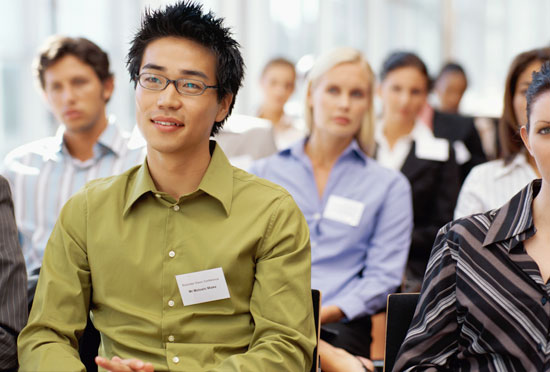 Make it newsworthy and invite the right people to speak. Don't try to do it alone; the point here is to increase your reach by working with other companies that will expose you to their customer base. Webinars work too, just make sure it's useful and not a long advertisement about how awesome your company is.
For instance, check out what Carsonified is doing with FOWD to see how to host an event effectively.
Some Parting Thoughts
It's important to know what you want before you start implementing your business development strategy, otherwise you won't have a unified and consistent approach. Treat business development just like any other parts of your business — invest time, effort, and human resources as needed. When it comes to partnering up with other companies and services, treat it like any other relationship.
People have been burned before. A partnership is a two-way proposition, and the moment both parties are not benefiting, things will get tense. Be good and be honest, and you'll see just how eager other companies are to team up with you.
Business karma, so to speak. Share some of your favorite tips to growing your company in the comments below!
Related Content
How to Grow a Community: Insights from Experts
WebFX Careers
Join our mission to provide industry-leading digital marketing services to businesses around the globe - all while building your personal knowledge and growing as an individual.