The Only WordPress Plugins You Absolutely Must Have
But, if you are new to WordPress, choosing which plugins to install on your site can be scary because there are more than 30,000 plugins available in the WordPress plugins directory.
Don't worry, you don't have to install them all.
In fact, I will argue that you only really must have 6 WordPress plugins. And they are all free!
The plugins featured below are needed for the growth, improvement, security, and maintenance of your WordPress website.
This plugin is spectacular and a must-have. It gives you ultimate control over your website's SEO without any technical knowledge needed.
It is quite shocking that this plugin is free because it gives your website a lot of value.
This plugin has many features, and you will need to install it and play around with it to experience it yourself, but let me just highlight some great things about this plugin:
Page Analysis: This feature gives you an SEO score for each blog post so you can optimize them before you publish. It also reminds you of things you might have missed, such as meta descriptions, focus keywords, duplicate content, etc.
Sitemaps: Sitemaps XML is a standard file that any search engine worth its salt — e.g. Google, Yahoo, Bing, and company — uses. A Sitemaps file gives search engine bots meta information about the content and structure of your website. This file is required for good SEO. However, Sitemaps XML files are, to understate the matter, quite laborious to manually create, update, and manage yourself. WordPress SEO by Yoast takes care of this burden in the background, and it will even automatically tell the top search engines whenever your Sitemaps XML file is updated.
Social media optimization: Facebook, Google+ and Twitter have their own sets of meta data to help their users share and find content on their social platforms. The WordPress SEO by Yoast plugin takes care of all this for you. It also integrates with Facebook Insights so you can get that data right inside your WordPress admin panel.
Easy to use: There is even a built-in tour that will help you quickly get oriented with the plugin.
Those are just some of the useful characteristics this plugin has.
In a similar list of WordPress plugins at HuffPo, the WordPress SEO by Yoast plugin is top on their list too (and #4 on this post at Forbes.com).
WordPress SEO by Yoast Resources
The W3 Total Cache plugin is indispensible.
In short, it makes sure your WordPress site loads faster.
We all know website speed is very important; there are many studies that tell us a website's speed has a huge impact on usability.
W3 Total Cache will play a crucial role in speeding up your website. And just like WordPress SEO by Yoast, it's unbelievable that such a great plugin is free and well-maintained.
This plugin is packed of must-have site features like:
Page cache
Minification
Database caching
Browser caching
CDN integration
And much, much… much, more.
Don't worry if you don't understand the technical terms listed above because the plugin's interface has good in-line documentation explaining their significance. And it won't be hard to find tutorials and help online because W3 Total Cache is a popular plugin.
W3 Total Cache Resources
W3 Total Cache Plugin Review
Ask any seasoned WP site owner what things they hate most about running a WordPress site, and what will probably be topping their list is spam moderation.
For WordPress, spam comes in the form of comments. Spam comments ruin the experience of your readers, and make it hard for them to have genuine discussions.
Installing and setting up the Akismet — a plugin developed Automattic, the creators of WordPress — is a must.
Is Akismet really effective in combating the scourge of all WordPress sites that is comment spam? See for yourself. Here is a screenshot of Design Instruct's Akismet stats for the past 6 months: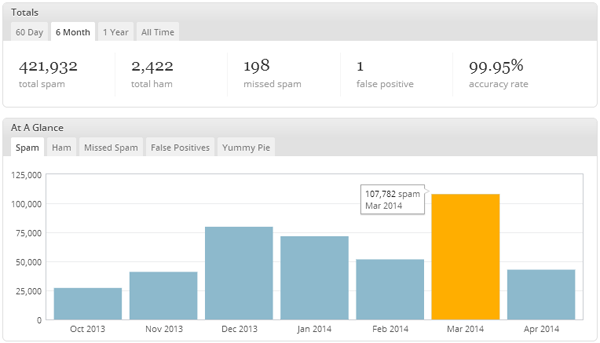 In the past 6 months alone, Akismet has protected the site you're on right now from 421,932 spam comments with 99.95% accuracy.
It will be tough to find enough time to manually moderate that many comments. And even if you do have enough time to moderate over 420 thousand spam comments, your time is better spent on more important things such as writing posts and engaging with your site users.
Akismet Resources
In the month of February alone, hijacked WordPress sites were the source of 12% of all phishing and malware on the Internet.
One report claims that over 70% of all WordPress sites are vulnerable to hacker attacks.
There are many horror stories about WordPress sites being compromised and WordPress.org even has a dedicated FAQ page for hacked WordPress sites, presumably because it's a common question by its users.
Nip security concerns in the bud by installing Wordfence Security, an unbelievably free (but they also have a paid version with more features) enterprise-grade plugin for securing your WP site.
It's like your computer's antivirus software, but it works for your WordPress site.
Some features of Wordfence:
Real-time blocking of known attackers
Security improvement for WordPress logins
Scanning of WordPress files to make sure they are not already compromised
Wordfence Security Resources
Video: Wordfence explainer
Video: Installing and Configuring Wordfence WordPress Security
One of the biggest fears of WordPress site owners is a catastrophic failure that leads to losing their data. That means all that time and hard work they have put into writing posts, comments, growing their site traffic and audience, etc. is gone in a split second.
Backing up your WordPress files and database regularly is a must.
But, it's easy to forget to back up your site. Also, it can be tricky to do if you are not comfortable managing your own website yet.
Leave the worrying to BackWPup Free, a plugin that automates your WordPress backup.
In addition to its core feature of backing up your WordPress site, it also has these features:
Optimization and repair of your database: It scans the integrity of your WordPress database as well as optimizes it so that your site's content can load quicker.
Integration with popular cloud platforms: Offsite backups, which means your files aren't stored in your computer or your web host/web server, gives you redundant safety in case you lose your computer or your web hosting server crashes.
BackWPup Free Resources
JetPack, a plugin developed by Automattic, is a bundle of extremely useful plugins. The fact that it's by Automattic, the company that created and maintains WordPress, ensures this plugin's quality.
You need not install all the plugins in Jetpack. Choose only the ones you truly need. More plugins means more possible issues with website speed as well as security vulnerabilities.
Installing the Jetpack plugin not only makes it easier to install and update plugins included in the Jetpack bundle, but also gives you a centralized interface for managing them.
Here are some of the most notable plugins in Jetpack (there are 32 plugins to pick from, you must not install them all):
As mentioned earlier, there are 32 plugins bundled in Jetpack at the time of writing. It's easy to be tempted to install many of them. Please only install the ones you truly need.
Jetpack Resources
What Must-Have WordPress Plugins Do You Use?
Which WordPress plugins do you rely on? Share it with us in the comments.