Introduction to Pinterest
If you haven't heard about Pinterest by now, let me give you a short intro. Pinterest is a free website that allows you to classify and share images or ideas you find on the Web. The website has been used to plan weddings, generate cookbooks, create reading lists, throw parties, decorate houses, and so much more.
Pinterest offers a myriad of practical functions, especially for designers.
Its clean-cut grid layout lends itself well to image organization, making it easy for the creative mind to catalog thoughts and ideas.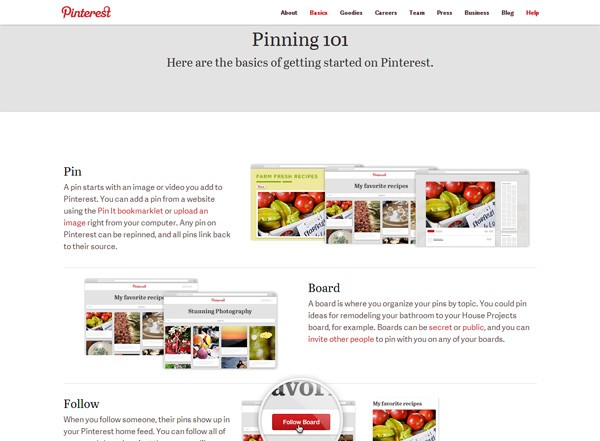 Pinning 101: Learn the basics of Pinterest at their illustrated Help page.
A Pinterest board is a category of images created by Pinterest users. Since a majority of the boards are public, it's also a great tool for learning new processes, showcasing your own work, or simply absorbing inspiration from others' designs.
Since the 2010 launch of the online image bulletin board, the website's popularity has skyrocketed. In fact, in just nine months — May 2011 to February 2012 — Pinterest's total unique visitors increased 2,702%.
Below are some top notch Pinterest boards for designers organized into several categories.
Typography Pinterest Boards
Free Fonts (By Veronica Blaylock)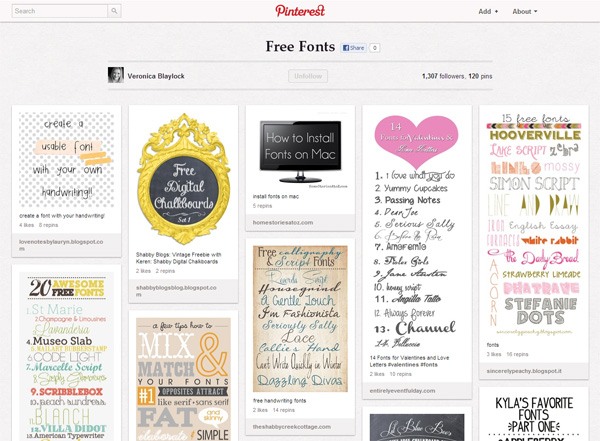 Veronica Blaylock is a blogger and mother of nine who shares plenty of unique fonts that can be downloaded free of charge.
If you've been searching for just the right font for your design, you may find it here!
Typography (By David Schwen)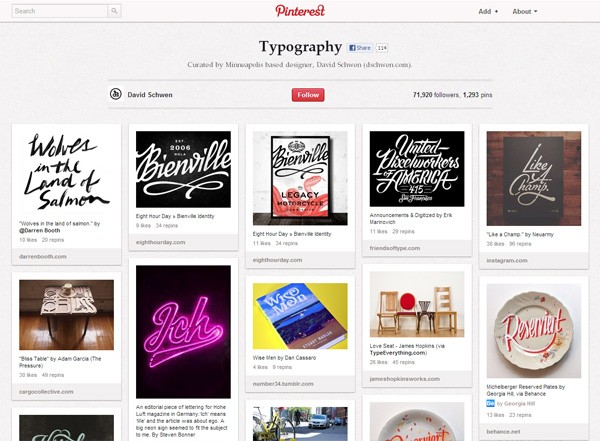 David Schwen is a Minneapolis-based designer who has filled this Typography Pinterest board with his favorite typography examples. With more than 1,200 images, typography enthusiasts could spend hours perusing through this stunning collection.
Typography (By Joy Cho)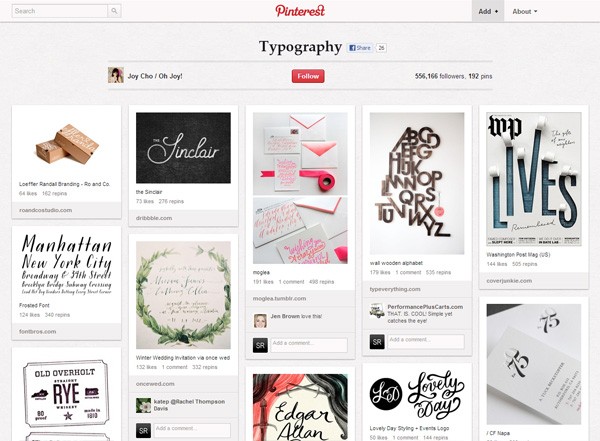 Joy Cho is the founder of Oh Joy! Studio.
Specializing in surface pattern, identities and packaging, she has a natural eye for seeing the beauty in typography. Don't believe me? Just ask her followers — there's more than half a million of them!
Logo Design Pinterest Boards
Logos (By Jeremy Pruitt)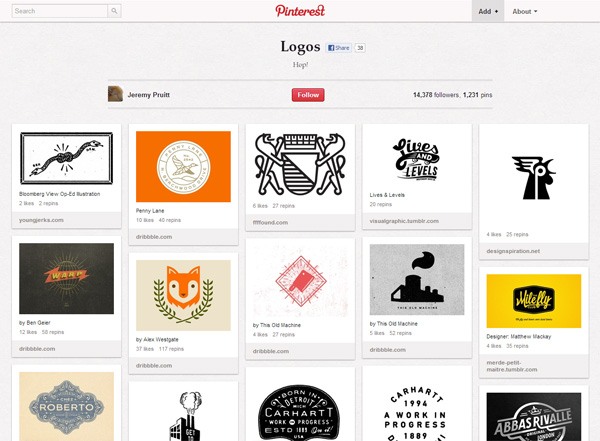 A Colorado native, Jeremy Pruitt is the founder of Think Mule, an "art and design movement." It's clear that he knows an effective logo when he sees one, making this a great platform for logos of all types.
Lots O' Logos (By Lisa Fargo)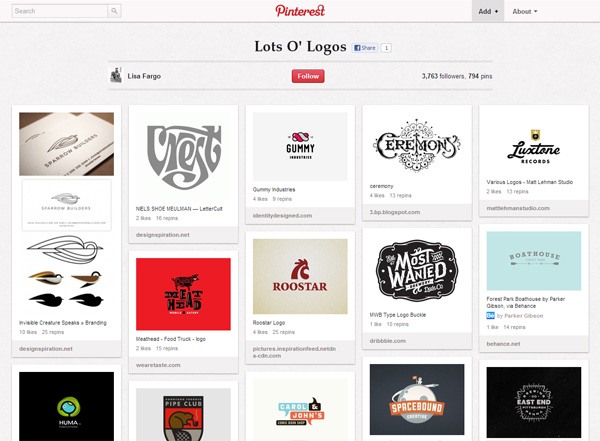 Lisa Fargo owns Fargo Design Co., a company that's designed beautiful logos for countless clients.
So it's no surprise that her Pinterest board features nearly 800 gorgeous logos to browse at your leisure. From simply basic designs to brilliantly intricate ones, you can't help but enjoy the variety in this collection.
Design Inspiration: Logos (By COULOURlovers)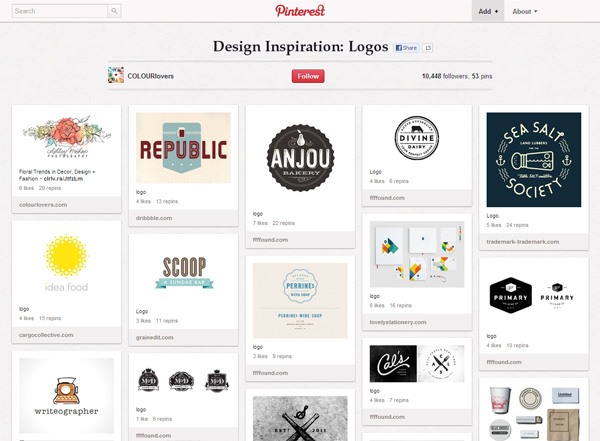 COULOURlovers, a self-proclaimed "color + design community," maintains this board that offers stunning logos of every shape and size. You may notice a classical, vintage theme as you skim through this timeless collection.
Packaging Design Pinterest Boards
Graphic Design/Packaging (By The Cool Hunter)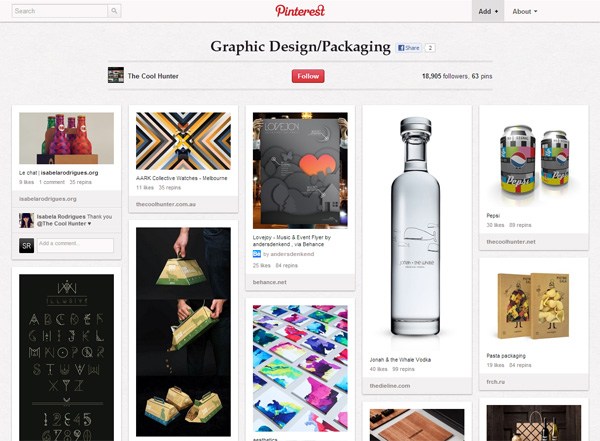 The Cool Hunter has developed a reputation of finding the trendiest, most modern examples of everything from design to food.
So it's no shock that this Pinterest board reflects that reputation. If their name didn't sell you already, this cool collection of unique package designs will!
The Dieline's Pinboard (By The Dieline)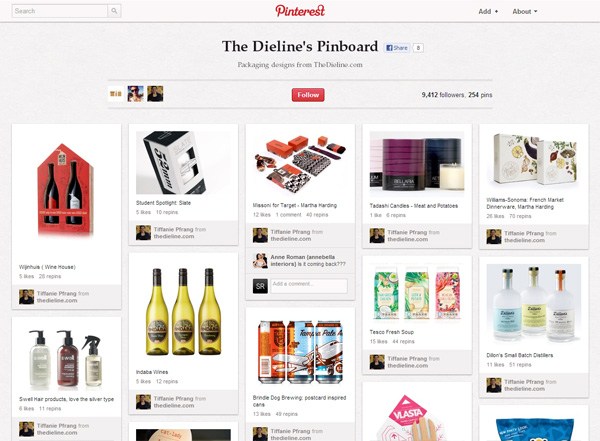 This pinboard focuses on innovative packaging designs. The Dieline is the first of its kind — an entire website dedicated to the evolution of the package design industry and its practitioners, students and enthusiasts.
If you're at all interested in package design, you should follow The Dieline pinboard.
Packaging Design (By Kristina Miletieva)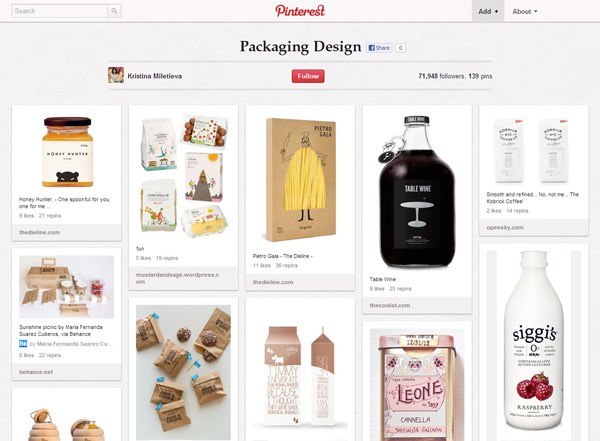 Boasting more than 150,000 followers, Kristina Miletieva's wide variety of pinboards make her a great follow for just about anyone. This particular board features all sorts of inventive package designs, mostly in the food and drink sector.
Infographics Pinterest Boards
Infographics (By Mashable)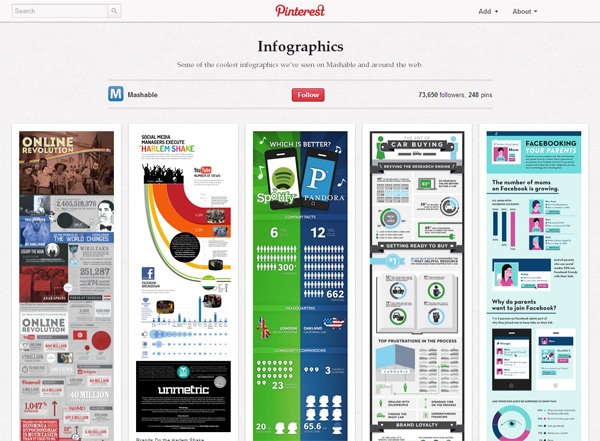 There's a good chance you're already familiar with Mashable, one of the largest independent websites dedicated to news, information and resources for the connected generation. They provide the latest and greatest news for their tech-savvy audience, allowing them to scour the internet for the best infographics around.
Info Shminfo (By Mike Jones)
Mike Jones is a graphic designer who is passionate about all things creative.
This is no secret to his Pinterest followers, who are constantly exposed to the images and ideas that inspire him. This pinboard is a collection of his favorite infographics.
Infographics (By Infographic Board)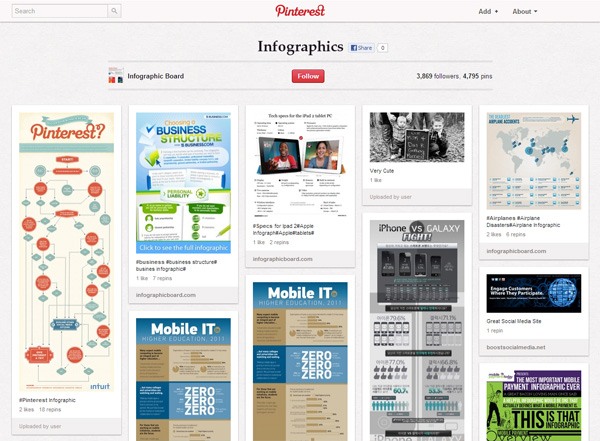 As its name implies, Infographic Board is a website devoted to nothing but infographics. Members of the site can submit their designs to be featured.
This pinboard highlights the best of the best infographics from the website.
Colors and Textures Pinterest Boards
Color Inspiration (By LLY Designs)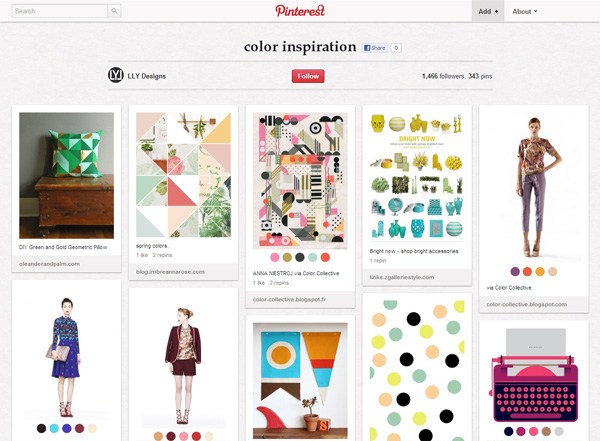 All designers can use a little color inspiration once in a while. LLY Designs provides just that to its followers, displaying striking color combos that designers will drool over. You won't have a dull moment browsing through this Pinterest board.
Pattern/Texture (By Annie Johnson)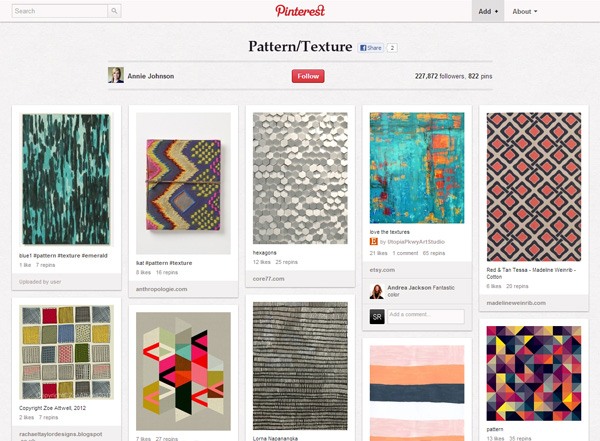 Annie Johnson is a mother/designer who has compiled a stunning assortment of patterns and textures of all kinds.
With more than 225,000 followers and counting, her pins are sure to feed the appetite of designers everywhere.
Free Textures (By Carolynn)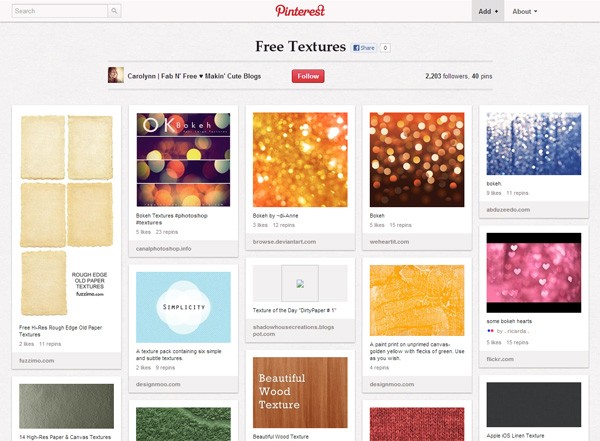 Carolynn's mission is to round up the most fabulous, free stuff on the Web and keep it in one, organized place for her followers. You can find these freebies on her blog and her Pinterest boards. This board in particular highlights some great free textures for designers to download.
Illustration Pinterest Boards
Illustration (By Jeff Andrews)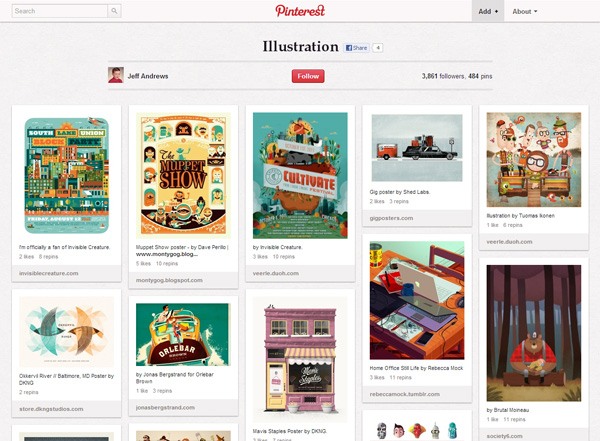 Jeff Andrews is a graphic designer and illustrator in Oregon who enjoys a great illustration.
This pinboard is a collection of his favorites, which includes mostly those of the cartoon nature. From classic cartoons to modern animation, this board is sure to intrigue illustration fanatics everywhere.
Artwork and Illustrations (By Maia McDonald)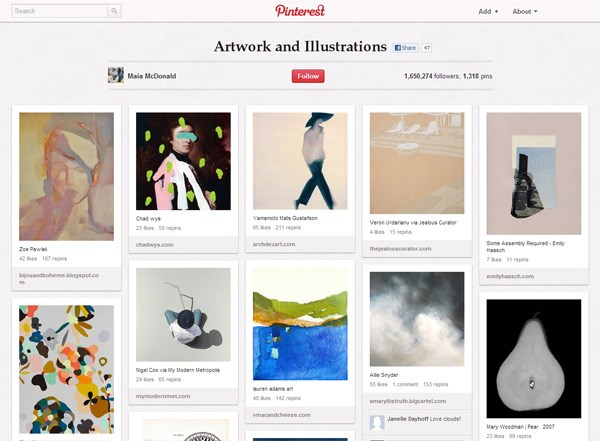 A graphic designer based in Oakland, California, Maia McDonald enjoys sharing aesthetic and inspiring illustrations with other passionate designers. With more than 1,650,000 followers, it's clear this collection is one of the finest of its kind.
Illustration (By Lisa Welding)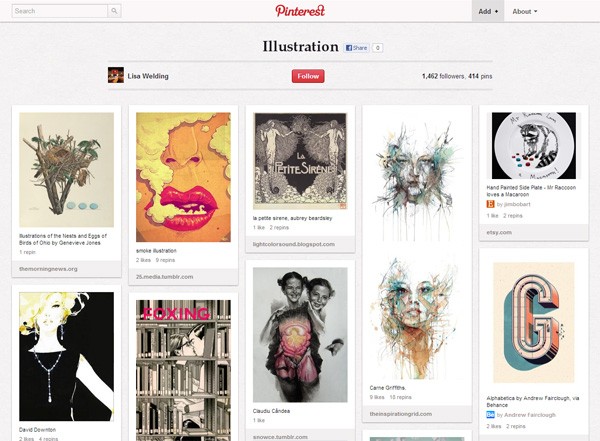 This pinboard is home to more than 400 examples of gorgeous, intricate illustrations.
A majority of the pins feature striking portraits that exhibit the beauty of the human form.
Web Design and Web Development Pinterest Boards
Web Design (By Paula Cevasco)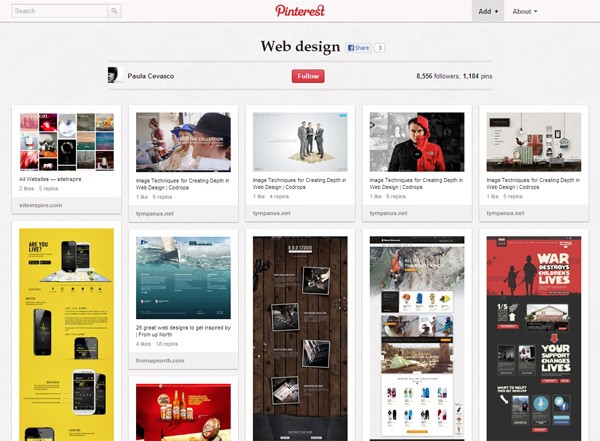 Paula Cevasco is a user interface designer from Argentina who is constantly seeking trendy, geeky and exciting stuff online. A self-proclaimed Web addict, she uses this pinboard to keep tabs on all her favorite web designs, allowing her followers to do the same.
UX/UI Innovation (By multiple contributors)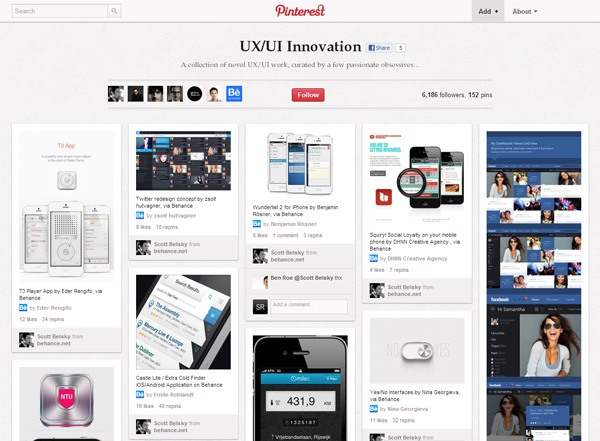 Seven passionate creatives have teamed up to bring you this fabulous collection of user experience and user interface design innovations.
Its multiple contributors provide a fresh variety of pins to keep followers educated and inspired.
UI & UX Design (By Chad Syme)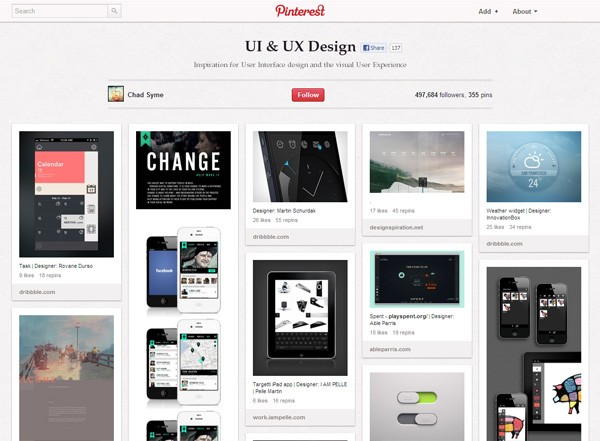 Chad Sym is a visual designer and photographer based in Seattle. He's collected nearly 500 inspiring images displaying some of the most effective instances of user interface design and the visual user experience. He's also followed by Oprah Winfrey!
Education Pinterest Boards
Design Tutorials (By Niki Bivona)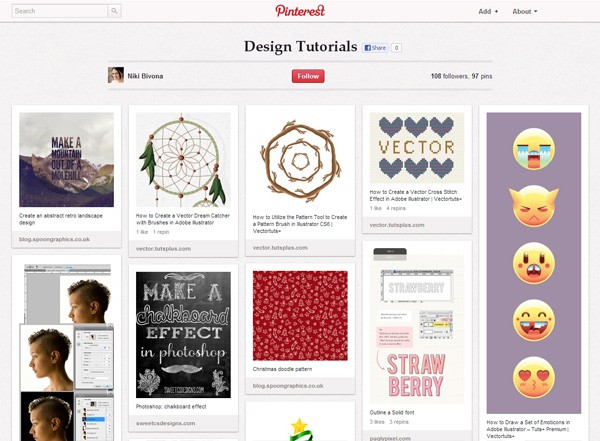 This Pinterest board by designer Niki Bivona contains images from awesome design tutorials.
Subscribe to this board if you'd like to find fresh online tutorials to do.
Graphic Design Tutorials (By Morgan Rindlesbach Rapp)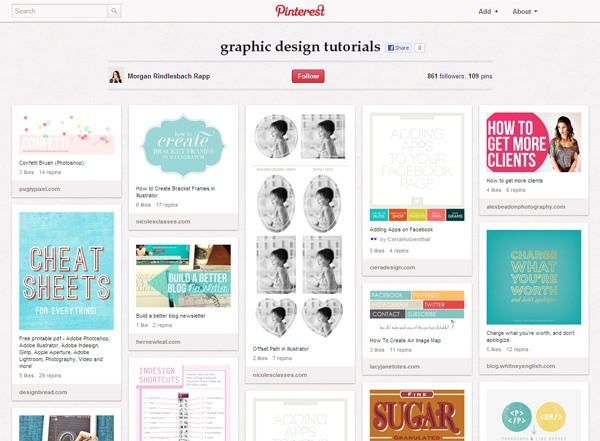 Morgan Rindlesbach Rapp is a graphic/web designer from Salt Lake City. On this pinboard, she has assembled a fantastic assortment of free tutorials for those wanting to brush up on their graphic design skills. This is a great follow for fresh designers just breaking into the industry.
Design: Tutorials (By Shannon Pierce)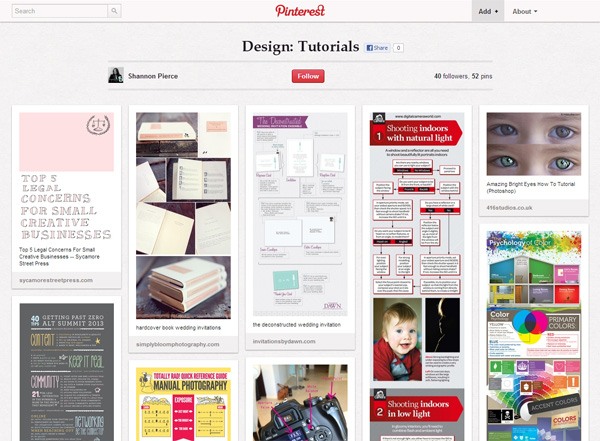 Curated by design enthusiast Shannon Pierce, this board is filled with inspiring tutorials and other educational content about design.
So, there you have it — 24 of the best Pinterest boards for designers to follow.
Each of these boards has something unique to offer designers of all experience levels.
Once you've subscribed to these — don't stop there! Keep perusing Pinterest, and before you know it, you will have a virtual library of resources right at your fingertips.
Feel free to share your own favorite Pinterest boards for designers in the comments below.
How is your website's SEO?
Use our free tool to get your score calculated in under 60 seconds.
Get posts by email
Join 200,000 marketing managers and subscribe to Revenue Weekly!
"*" indicates required fields
WebFX Careers
Join our mission to provide industry-leading digital marketing services to businesses around the globe - all while building your personal knowledge and growing as an individual.