There's no question that mobile device use is continuing to rise. Smartphone usage in the United States is growing rapidly, topping 148 million users at the end of 2013. The majority of smartphone activity doesn't involve phone calls, though: according to Search Engine Watch, 85% of total time spent on mobile devices now takes place within apps.
Mobile apps are now used to perform nearly every task that was once limited only to computers. We use apps to browse websites, pay bills, do research, and make purchases. Many business owners seem to be wondering if they need an app for their website or business. How else can you make the browsing or shopping experience on mobile easier for their customers?
Not every online store needs an app equivalent. Sometimes a website with responsive design is the best way to go. In this post, we'll explore the difference between responsive design and mobile apps, and help you sort out which is right for your business. 
What is Responsive Design?
Responsive web design refers to the creation of a website that responds and adapts to its environment. Basically, a responsive website will load to fit any screen size, whether it's a mobile phone or a widescreen computer monitor. This means that only one version of your website is needed, rather than a separate mobile version that must be developed separately.
John Polacek has a great presentation on this subject called "What The Heck Is Responsive Design?" There are some images in the presentation that show how The Boston Globe loads the same content on mobile phones, tablets, and computer monitors. Some small changes take place on mobile: for example, the search bar is hidden, but tapping the magnifying glass icon will allow you to search.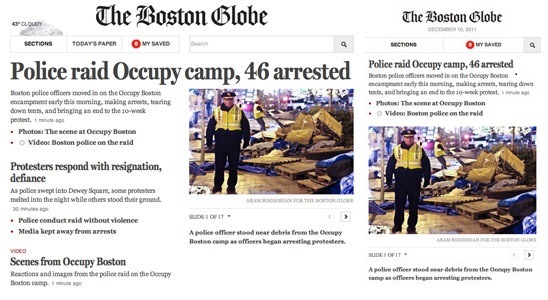 Pros and Cons of Responsive Design
A responsive website can drastically improve ecommerce conversion rates, or keep users on your site longer.  State Farm reportedly bumped up their conversion rate by 56% with responsive design – not a bad jump! Since pinching to zoom and constantly scrolling can make the mobile browsing process fairly annoying, not to mention lengthy, reducing the amount of hassle it takes to perform tasks on your site can result in huge gains for you.
It can also be difficult to convince your website visitors to download an app. Many smartphone owners are adverse to "clutter," and unless your website or online store is one that they visit daily or weekly, they probably won't want to download an app. So opting for a responsive website is one way to improve the browsing experience without the need for app development.
Responsive design can involve a huge investment, however. Websites may require a complete redesign to go responsive, and that can potentially be costly. Instead of leveling your entire design and starting over, you may find that it is more cost-effective to opt for a mobile version, or simply to have an app developed.
Pros and Cons of Apps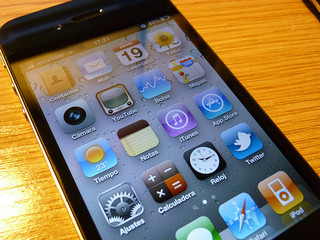 As previously mentioned, it can be tricky to get your visitors motivated to download an app. Unless you have one of their favorite sites on the internet, you're going to have a hard time motivating anyone to take the step to download your app. Application development can be costly, too, depending on how much functionality your app requires and how many platforms (iOS, Android, Windows) you want to target.
However, for some businesses and websites, apps can give you a big advantage over the competition. If you can streamline your reading, viewing, or buying processes in an app, users may choose your business simply because they know how much time they will save. Also, if your site has a number of complex tasks or tools that you can successfully duplicate in an app, this can be enough motivation to get users to click that "download" button.
Does My Website Need an App?
If you have a small business website or ecommerce store that only sells a few niche items, you probably don't need an app. If you have a lot of mobile visitors, and want to avoid the cost of developing a mobile version, you should instead invest in responsive design. This will help make the most of your traffic and offer a better user experience to everyone – not just cell phone users.
You might want to consider app development if your site has one or more of the following features:
Several thousands of items available for sale that may be difficult to locate via menus
A lengthy checkout process with a high abandon rate on mobile
Lots of news, data, or reading material
Complex tasks or tools that are difficult to perform in mobile browsers, like forms, data entry, or record keeping
Special interactive functionality, like a designer that allows you to pick and view different carpet colors in rooms
Potential benefits from access to smartphone or tablet features like the camera, email, or other apps (for example, Evernote's mobile app integrates with the camera to create picture notes, something it can't do on your desktop!)
The Bottom Line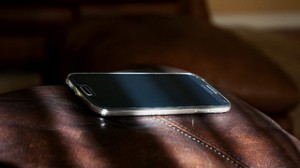 As more Americans integrate smartphone usage into their daily lives, the usage of mobile devices for a variety of tasks from shopping to reading news is only going to increase. If your website isn't mobile friendly, you risk losing impatient visitors to your competitors.
Consider your options and needs carefully before investing in either responsive design or an app. No matter what choice you make, remember that it's all for the sake of your customers. Think about what they might want – or better yet, ask for their opinion using a poll or survey. Having a clear picture of their needs will help you determine what action you should take next.