The Trouble with RFPs (and Dating Sites)
This is how dating sites usually work. One side writes a profile, the other responds. Communication is limited, information is incomplete, and emphasis on certain things is misplaced.
Here's a few of the problems with RFPs, and why they are like those you would find in a dating site.
RFPs Prevent Dialog
Dating websites are tools for quick disqualification and are designed to save people the time (and awkwardness) of ending up on bad dates.
But they do so by limiting communication, which ironically makes that great date harder to find.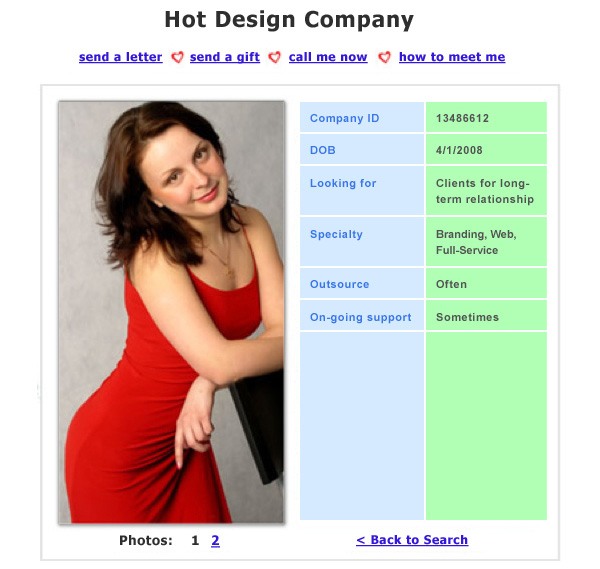 RFPs have the same problem.
In the quest to keep the process fair, they keep design companies and potential clients at arms length.
Yes, limiting conversation helps keep the game fair in many situations where equality is important — such as in the case of the public and government sectors when multiple contractors are bidding on a design project — but also, this makes the process inadequate for selecting the best fit for the project.
Creative services like web design and graphic design are very high-touch and consultative in nature. Communication is crucial.
When the selection process restricts communication, it is far more difficult for both the design agency and the client to qualify each other.
Is everyone listening?
Will everyone get along?
Is everyone on board with the objectives of the project?
With no dialog, you'll have no idea.
The Content of RFPs Don't Contain Enough Info About the Project
The web development and design firm I co-founded, Orbit Media, sees a lot of RFPs.
What we did was take the last ten RFP examples, combined them, and organized their content into three groups to understand what the average request for proposal contains.
Here are the contents of a typical RFP:
Company background and contact info
Proposal requirements and RFP process
Information about the project you're supposed to propose (budget, timeline, etc.)
You can see that RFPs don't focus on the project. They're mostly about other things.
In fact, what we've seen is that the typical RFP has more requirements for the proposal than for the actual project itself.
This reminds me of my old Match.com profile.
Very little of it was relevant to relationships. It was mostly anecdotal information about myself.
Too Much Emphasis and Focus on Superficial Things
I'm 6′ 2″, played football in college, and have a law degree from Stanford.
Not really. But it sounded good, right?
Throw in a picture of a guy with dark eyes and great hair, and pretty soon I'm someone's soul mate.
The RFP process does the same thing.
If the responding proposal lets the client check off enough boxes (budget, timing, experience, technology), it starts to feel like a match.
But, in truth, it might not be a match at all since all the important stuff — philosophy, company culture, company values, internal processes, and other hard-to-quantify but essential factors — aren't captured effectively in a proposal.
The company issuing the RFP wants to compare all the participants against the same criteria. But in the world of creative services, every company has a different approach.
They want to select a design company that understands subtlety and nuance, but they're selecting them using absolute, black-and-white criteria. See the mismatch?
An RFP is a Beauty Contest for Writers
Aside from price, all that's left is the words.
Some companies will have better writers than others that know how to include more focused examples, align better with the clients' mission, and be more organized with prettier formatting.
Obviously, there's a risk in picking partners this way. Writing a great dating profile doesn't make me a good boyfriend in the same way as writing a great proposal doesn't make a great service provider.
Mismatch and Request for Problems
RFPs and dating profiles are both well-intended ways to help people start a meaningful relationship. But they're both flawed.
Next time you consider sending or responding to an RFP, take a moment to ask if you're doing justice to yourself and the selection process.
I'm in a happy relationship that didn't start on a dating website.
And I'm glad for anyone who met Mr.
or Miss Right online.
But you won't find me on Match.com or responding to RFPs anytime soon.
WebFX Careers
Join our mission to provide industry-leading digital marketing services to businesses around the globe - all while building your personal knowledge and growing as an individual.