Your website is the heart of your digital marketing efforts, so crafting a beautifully designed site is paramount to helping your company grow online. You can use a platform like Shopify to build your ecommerce site. So, how can you get the most from your Shopify site?
We've got six Shopify website design tips to help you get started with designing your site:
Keep reading to learn more!
1. Choose the right theme for your business
If you want to know how to design a Shopify store, start by choosing the right theme (for bonus points, choose one of the best converting Shopify themes) for your business.
The theme is the backbone of your website and determines how your site appears to your audience. Considering that 94% of first impressions relate to web design, you want to ensure you choose the right theme to make a good impression. Shopify offers numerous templates you can use for your site.
They offer free and premium templates that cost anywhere from $100 to $180.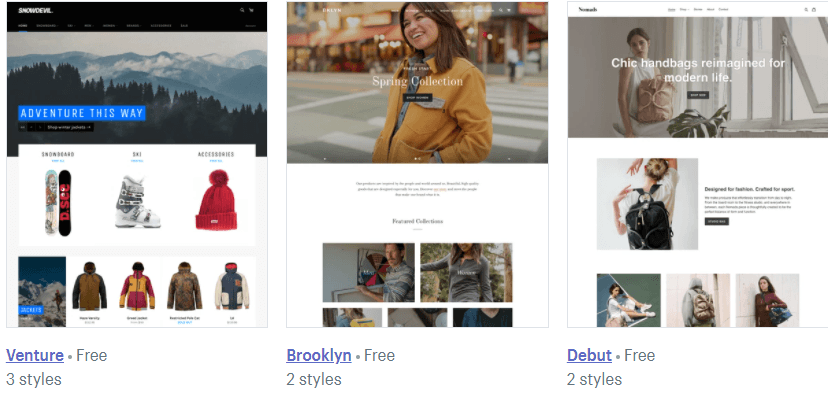 So, how do you choose the right theme for your website?
When you're trying to craft your Shopify store design, you'll want to ask yourself questions like:
How do I want my products displayed on my site?
What features do I need for my store?
How do I want users to shop on my site?
What type of experience do I want to deliver for my audience?
How much can I spend on my design?
By asking these questions, you can determine which design is best for your ecommerce business.
P.S. When you customize your Shopify store, make sure you choose one that's mobile-friendly! A mobile-friendly theme is crucial if you want to deliver a top-notch browsing experience on your site. You can check in the description of the theme to verify it's mobile-friendly.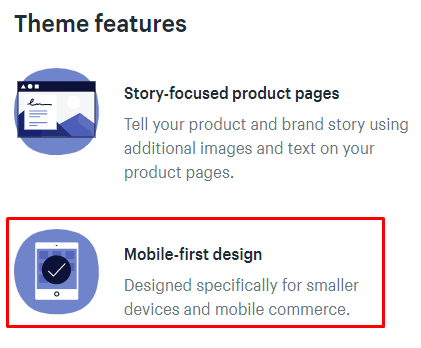 2. Use apps to build your site
Next on our list of Shopify store design tips is to use apps to build your site. Like WordPress's plugins, Shopify utilizes apps to help you add features to your site that enhance the audience's experience. You can use dozens of apps to build your site.
App categories include:
Finding products
Places to sell
Store design
Marketing
Sales and conversion
Orders and shipping
Inventory management
Customer support
Trust and security
Finances
Productivity
Reporting

Whether you're looking to optimize your sales process or manage your inventory, you can add an app to help build a better ecommerce site.
3. Make sure your site loads quickly
One of the most critical Shopify website design tips is to make sure your site loads quickly.
Users won't wait for slow-loading sites and will abandon them if they take too long to load. In fact, slow-loading sites cost businesses $2.6 billion in revenue loss each year.
When you use Shopify as your site builder, you want to check your site load time to ensure that you deliver the best experience for your audience. You can use a tool like Google PageSpeed Insights to help you see your site's current load time.
If your site loads too slow, you can improve your site load time by:
Avoiding third-party themes: Shopify enables you to use third-party themes on your site. The risk with this is that they can have additional features that bog down your site. It's best to stick to Shopify's themes, since you know what you're getting with them.
Compressing image file sizes: Adding product photos to your site is a great way to provide a great user experience, but it can also slow down your site. You may need to compress the image file sizes to help your site load faster.
Analyzing your app and widget usage: When you build your site, you'll add tons of apps and widgets. If you find your site running slow, you might have too many of them. You'll want to comb through your apps and widgets to ensure you only use essential ones on your site.
You can also get help with your site load time by investing in page speed services. Since page speed can affect search engine optimization (SEO), it's also worth looking at Shopify themes for SEO since they can help you build an SEO-friendly site.
4. Use visuals on your site
Next on our list of Shopify website design tips is to add visuals. Since people can't see the product in person, they need to get as close as possible to seeing it "in person" through your visuals.
You can use both photos and videos to help showcase your products online. When you upload these visuals to your site, you want to ensure you use high-quality visuals that showcase every angle of your product.
5. Add elements to connect with leads
When you do your Shopify store design, you want to create opportunities for leads to link up with your business. You need to customize your Shopify store with elements that enable you to connect with prospects.
One element you'll want to include is social media buttons. These buttons provide your audience with an opportunity to follow your business on the social media platforms you use.
It's a great way for prospects to connect with your company.
Another element you can add is an email sign-up bar. You can use an email sign-up bar to capture leads for your business. You'll want to design this bar with a call to action (CTA) button that pops off the page so users see and sign up for your emails.
6. Don't overdo it
If you want to know how to design a Shopify store, follow this tip: don't overdo it.
One of the biggest mistakes companies make is overloading and over-designing their site. When you have tons of information to share with your audience, you want to include all of it on your site.
The problem with this approach is that it can easily lead to overcrowding on your site.
When you do your Shopify store design, make sure that you utilize whitespace throughout. Whitespace enables you to keep your audience focused on your text and photos while scrolling through your site.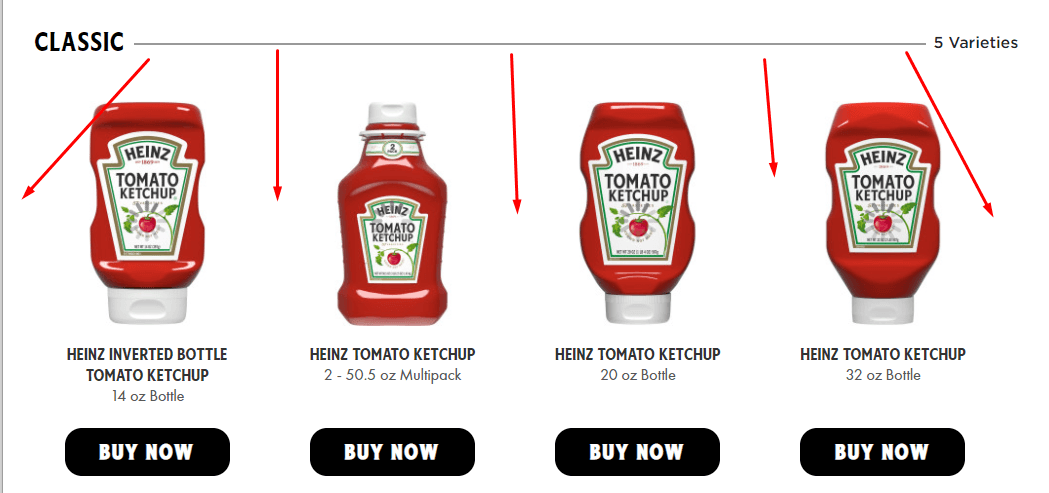 As you add design elements to your site, make sure they don't make your site look disorganized or overcrowded, so you don't overwhelm your audience. You can use A/B testing to help you test elements on your site to ensure they're enriching the audience's experience.
We don't want to tell you about the work we do, we want to SHOW you.
View Our Portfolio

We've built over
Websites
in a variety of industries.
Get started with your Shopify store design today
Now that you have a list of Shopify website design tips, it's time to get your Shopify store into shape! With a custom Shopify store, you can drive more revenue for your business.
But if you're feeling overwhelmed, WebFX is here to help.
With our Shopify web design services, we can help you craft a site that fits your business and enables you to boost your revenue. We've won over 50 design awards, so you can feel confident that we'll craft an award-winning site for your business. Want to drive more revenue for your business?
Contact us online or call us today at 888-601-5359 to speak with a strategist!
How is your website's SEO?
Use our free tool to get your score calculated in under 60 seconds.
Get posts by email
Join 200,000 marketing managers and subscribe to Revenue Weekly!
"*" indicates required fields
WebFX Careers
Join our mission to provide industry-leading digital marketing services to businesses around the globe - all while building your personal knowledge and growing as an individual.