Six Revisions Mobile Version Officially Live!
With today's increasing demand for mobile device compatibility of websites and web applications, it's imperative to make a site as accessible and friendly to a wide range of mobile technologies as possible.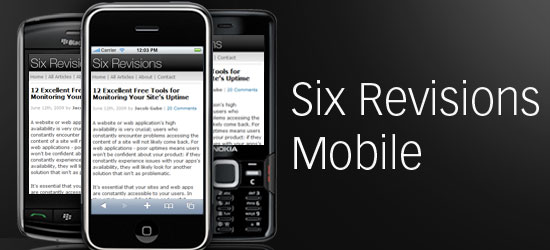 With the help of Mobify, a service for creating and hosting mobile versions of websites and web applications, I'm happy to announce that the Six Revisions Mobile version is now officially live.
The Six Revisions Mobile version is designed specifically for readers accessing the site through a mobile device such as an iPhone or Blackberry.
Twitter users rejoice: when you receive a tweet linking to a Six Revisions article or tutorial, you don't have to wait until later to view it on your computer, simply check it out in your mobile device!
Mobile device users should be auto-redirected to the Six Revisions Mobile version at m.sixrevisions.com.
Preliminary Statistics
After some live testing late last month, we saw a large amount of people accessing the site through their mobile devices. It was clear that this was a much-needed site feature so that you – the readers – can have the best experience possible when reading articles and tutorials on Six Revisions through your mobile device.
In the following figure, you can see a graph of the number of mobile device users who viewed the site during our testing period.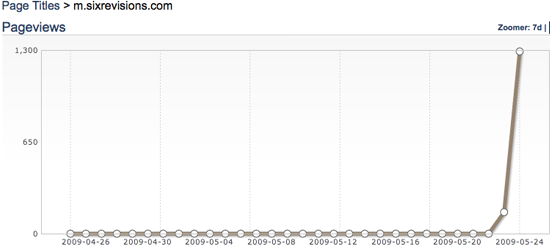 We'd Love to Hear Your Feedback
Please share your experiences (positive or negative) with the Six Revisions Mobile version so that we can tweak it and provide you with (an even) better experience. If you find issues or ways you think we can improve, don't hesitate to leave a note in the comments!
Thank You Mobify!
I would like to thank the Mobify crew for working with me to get the Six Revisions mobile version up and running.
I would also like to personally thank Igor Faletski, my Mobify contact, who was very patient with me as we worked through this project, which was two months in the making. Be sure to keep up with them through Twitter by following Mobify on Twitter: @Mobify.