The Best CSS Preprocessors (Right Now)
CSS preprocessors can drastically speed up your web development workflow. They supercharge your stylesheets with useful features like mixins, variables, auto-vendor-prefixing and much more (depending on the one you use).
Would you like to know which CSS preprocessors to look into? I reviewed the top open source CSS preprocessors in an article published on SitePoint.
The SitePoint article is called 6 Current Options for CSS Preprocessors.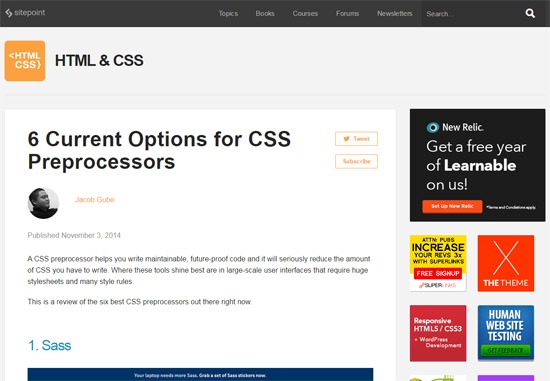 Louis Lazaris — a long-time contributing author here on Six Revisions (check out his first article on Six Revisions way back in 2009) — was my SitePoint editor for this article. I'm glad to be working with Louis again!
I thought I'd post about the SitePoint article here on Six Revisions because I feel that many of you will find it useful.
You can see more articles I've written for other Web publications in our Elsewhere on the Web category.
Related Content