One of Google Chrome's best features is its minimalist interface. The browser also already has many built-in features that satisfy even the most advanced web users. In order to keep Chrome's uncluttered user interface, it's best to avoid installing too many extensions.
Here are the five essential Chrome extensions you should use for a better browsing experience.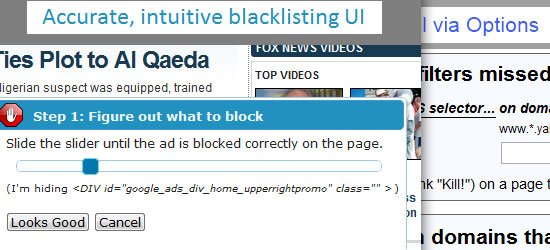 AdBlock removes advertisements on web pages. The extension is configurable and can even selectively block just certain advertisements on a website that you visit with its blacklisting wizard interface. The extension is open source (released under the GNU General Public License), very optimized, and well supported—the developer, who goes by Michael, dropped to a part-time job just to develop and support the extension.
If you're looking for even more ad blockage action, also check out FlashBlock. Update: When this article was written, Adblock Plus — arguably the most popular ad-blocking browser extension at the time, and a plugin I wanted to include in this article — wasn't available for Google Chrome yet. I was recently informed by a representative of the Adblock Plus open source project that the Google Chrome version is now available.
It can be downloaded here. It's worth checking out.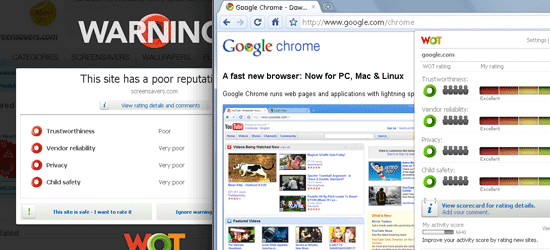 Chrome already has plenty of built-in browsing security features, and is regarded as one of the most secure web browsers to use. If you're the paranoid type and you want to up the security of your web browsing experience, check out the WOT (which stands for Web of Trust) extension for Chrome. Other users of the extension (there are millions of them) rate websites they've visited, making it a socially collaborative approach to browsing security.
Ratings show up on search engine results and popular website links and just for the fun it, they also protect your web-based email accounts.
3. FastestChrome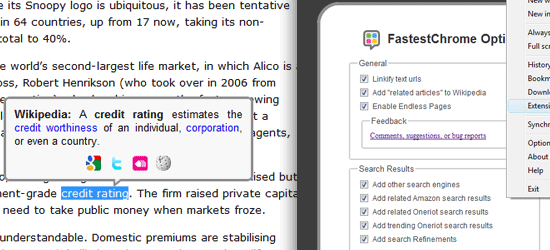 FastestChrome is an extension that improves page-rendering speed and provides the user with features that increases their browsing efficiency. Some features include preloading of pages that you'll visit next, looking up the definition of a word just by highlighting it, improved Google search results with real-time search, and more. FastestChrome is a Chrome port of the popular Firefox add-on, FastestFox (which has 10 million users).
4. TooManyTabs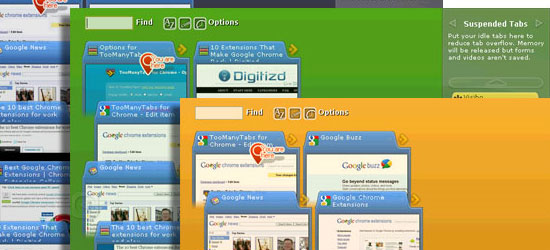 Tab management for heavy Internet users is essential for efficiency. TooManyTabs improves and extends Chrome's tab management user interface with features such as instant tab search, a bird's eye view of all your open tabs (which is helpful when you have 20 or more tabs open in Chrome), tab sorting based on date, domain and page title, and more. Another worthwhile extension for tab management to check out is Tab Menu, which gives you a vertical menu for searching and navigating to your open browser tabs.
5. Xmarks Bookmarks Sync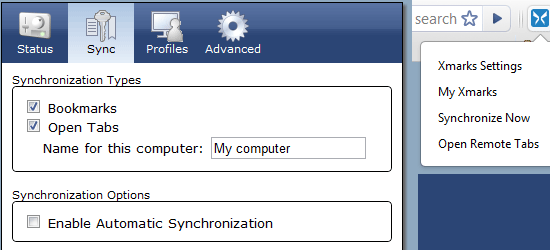 Nowadays, it's rarer that a computer user only has one computer. It's always frustrating to forget the URL of a web page you need, and then realizing that you bookmarked it with your computer at home. Xmarks, a free web service that syncs your bookmarks, has a Chrome extension that will change the way you manage your favorite links.
Xmarks for Chrome synchronizes your bookmarks, gives you an intuitive feature for searching your bookmarks, backs up your bookmarks on the Web in case of a computer failure, and even shows you the popularity of a link or search engine result based on the number of bookmarks in their service. For Delicious users, you can use the Delicious Tools Chrome extension instead. What other Chrome extensions do you find to be essential to your web browsing experience? Share your favorite Chrome extensions in the comments.
Related Content
How is your website's SEO?
Use our free tool to get your score calculated in under 60 seconds.
Get posts by email
Join 200,000 marketing managers and subscribe to Revenue Weekly!
"*" indicates required fields
WebFX Careers
Join our mission to provide industry-leading digital marketing services to businesses around the globe - all while building your personal knowledge and growing as an individual.