5 Free Subscriptions to a User-Friendly Time Tracking App
Note: Giveaway Period is Finished
Sometimes, we'll have short periods where we're very diligent tracking our time. Then when things get hectic and stressful we fall off the wagon.
The act of time tracking shouldn't be a burden.
It should be easy.
It should be worth doing.
Tracking our time shouldn't waste our time.
I'd like to introduce you to Timeneye, a newly-launched web app that's trying to solve the problem of time tracking: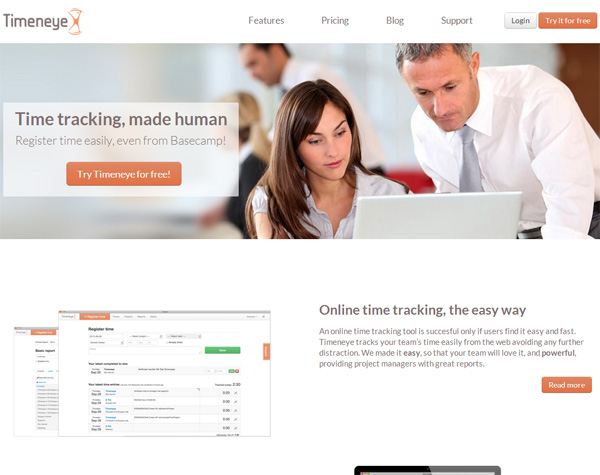 Timeneye's goal is to create a time-tracking tool that's so easy to use that you'll have no reason not to track your time.
Daniele Grassi, the CTO of Timeneye, emailed me a little over a week ago.
99.99% of the time, I get emails like this because the sender wants me to post a link to their website on here or on Six Revisions (and about 0.01% of the time, I'm actually able to do it).
But Daniele's email was different.
Daniele surprisingly didn't ask me to post about Timeneye.
Daniele emailed me to see if I could provide feedback on how to make time tracking easy for people.
Even in an email, I could really tell how passionate they are about figuring out the best way to make time tracking so simple that you'd actually want to do it.
Here's what I said in one of my emails to Daniele:
Here's my opinion:

Time-tracking should be simple. Instead of a lot of features, focus on the core feature of time-tracking… which is time-tracking.

For example, I do time-tracking using a Pomodoro app. The reason I use it consistently is specifically because it is very simple. It's easy to add things to track. All I need is a list of things I need to do today, and a button to press that starts the time. If it can provide interesting reports and categorization, that's a bonus, but not essential. That's all there is to time-tracking, at least for me.

To me, the problem with most time-tracking apps in the market today is they're trying to do too much. They are trying to "innovate", often unsuccessfully, in the hopes of standing out or being different, which often leads to convoluted, complex interfaces. A time-tracking app whose unique value proposition is "time-tracking as simple as possible" would get a lot of use.

One factor that doesn't directly tie into "not a hassle", but does matter in terms of user adoption, is aesthetics. This matters if you're specifically targeting web professionals and creatives. It has to look good. It has to be designed well.

Hope that helps Daniele!
Tl;dr: I have no clue how to make tracking time easy. I wasn't able to provide any feedback the Timeneye team didn't already know.
The Timeneye team would be much better off if they asked a bunch of smart, awesome web professionals.
And so this is where you come in.
I asked Daniele to run a giveaway here on Design Instruct to get your thoughts on how to make time tracking easier and worth doing.
Let me tell you about this giveaway and Timeneye.
What's Timeneye?
We're giving away 5 subscriptions to Timeneye that will last you 5 years — this means each subscription we're giving away is worth $720.
Timeneye is a time tracking and reporting app made with usability in mind. One of the ways Timeneye achieves this goal is by keeping its user interface simple. It only has the essentials and it's non-invasive.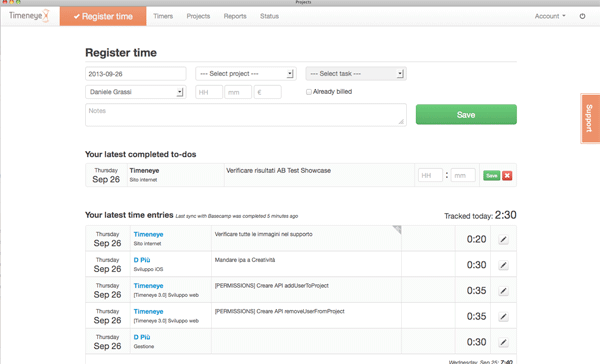 Also, by providing you with multiple ways to track your time — there's a Chrome extension and an Android app, and iOS and Windows Phone native apps are coming soon — you can use a time tracking method that's most convenient for you at any given time.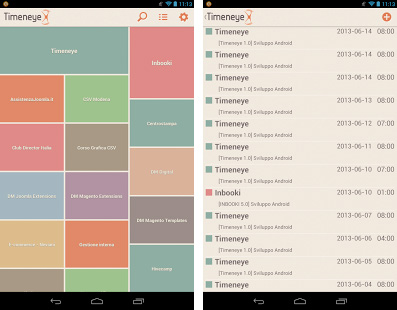 Timeneye integrates with Basecamp. Which is awesome for a lot of people.
Timeneye allows you to track your time within Basecamp simply by adding the time spent on a to-do item as a to-do comment. Easy peasy. It then syncs with Basecamp and pulls your time entries making them readily available for your time reports.
Timeneye is free for 15 days.
Note: Giveaway Period is Finished. You Won't Be Able to Leave a Comment.
How to Win
To participate in this giveaway and get a chance to win 1 out of 5 Timeneye subscriptions, just answer the following question in the comments:
What would make time tracking hassle-free and worth doing?
That's the same question Daniele asked me. I know you'll do a much better job answering it.
Giveaway Details
This giveaway ends on Tuesday, November 5, 2013. Please use a valid email address when leaving your comment so we can send you an email if you win. The winners will be announced in another post. Comments are moderated so your comment may not show up right away. Comments that don't follow the instructions on how to participate (described above) will be removed.