Some Useful Cheat Sheets for Web Designers
Cheat sheets are also extremely useful as references for when you're just starting to learn a design tool.
Looking for a handful of handy cheat sheets? Well then let me bring to your attention Cheetyr, an open source project featuring cheat sheets and shortcuts for design tools such as Photoshop, Illustrator and CSS.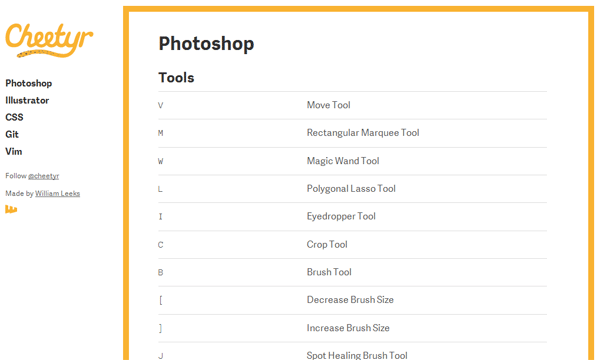 Cheetyr's Photoshop cheat sheet
Currently, there's not a whole lot of cheat sheets on Cheetyr — there's just five of them right now — but the project's still in its infancy and "very much a work in progress," according to the website. "I hope in time to make it as comprehensive as possible," says the owner of the site.
Cheetyr is a project by designer/developer William Leeks. You can view its source code, as well as help out, over at the project's GitHub repo.
If you're looking for more ways to speed up your workflow, check out my list of books that will improve your productivity.
Do you use cheat sheets? Share your favorite cheat sheets and shortcuts in the comments.