The Winner
Here is the winner of the 1-year subscription to the Unlimited plan of Shopify.
Congratulations to the winner! The winner should've already received an email from the folks at Shopify with information regarding their prize.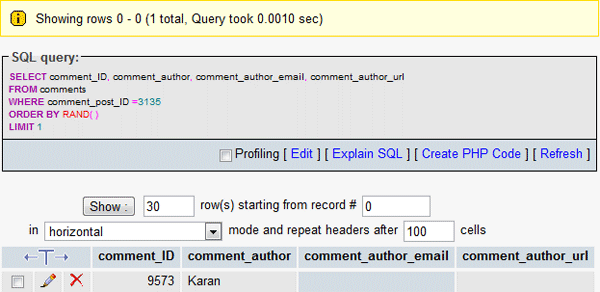 SQL query result that selected the winner at random. The email address of the winner was removed in the above image for privacy purposes.
Special Bonus!
The folks over at Shopify wanted to thank all the practicipants of the giveaway by giving them all a free 2-month
subscription to Shopify.
About Shopify
Shopify is a powerful and very easy-to-use e-commerce platform that makes it dead simple to sell products online. Shopify helps over 20,000 individuals and businesses run beautiful online stores.
Among their users are Amnesty International, Tesla Motors, the Foo Fighters, LMFAO and Epic Meal Time. See more e-stores that have chosen Shopify via their Examples gallery page.
Shopify has a free 30-day trial that lets you sign up and create your very own store. It literally takes seconds to sign up, no credit card required.
Tags: censorship, Internet