If you don't yet have a customer relationship management (CRM) platform for your business, it's definitely something you should look into. CRMs are designed to help you manage your interactions with your audience, so you can close more sales and drive more revenue.
With a solid CRM, you can bring all your customer data together in one place and use that data to improve your marketing performance. Best of all, you can integrate your CRM with your WordPress site to better collect actionable information from visitors.
But there are quite a few WordPress CRM plugins out there, and it can be tricky to determine which one you should choose. If you want help narrowing down your options, just read on — we've laid out the best WordPress CRM plugins below.
Once you've read through our list, be sure to sign up for Revenue Weekly — our email newsletter — to get more digital marketing tips from the agency with over 1020 client testimonials!
What is a WordPress CRM plugin?
A customer relationship management (CRM) system is a tool businesses use to manage their lead and customer data. CRMs collect all of this data in one place, allowing you to track and manage your interactions with leads and clients. With a WordPress CRM plugin, you can easily add CRM capabilities to your WordPress site.
6 best WordPress CRM plugins available for your site
There's not necessarily one single CRM plugin that every business should use, because the best option for you depends largely on your business's individual needs. That said, we've laid out some of the best options below for you to pick from.
Here are six of the best WordPress CRMs available!
1. UpiCRM
Price: Free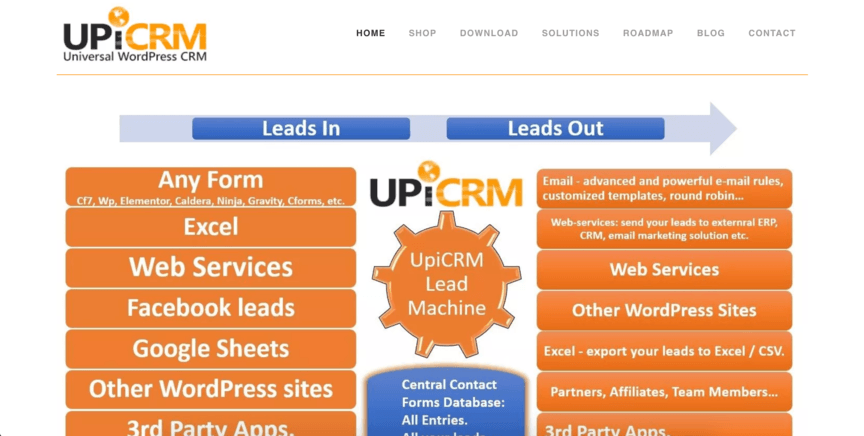 Not everyone wants a CRM that's packed to the gills with features and tools. Sometimes you just want a simple, intuitive platform, especially if you're not yet very familiar with CRMs. If that's the case for your business, UpiCRM might be a good choice.
In addition to being free, UpiCRM is built specifically to be as simple as possible. It focuses on providing the essential components of a CRM in the most user-friendly way possible, doing so with an intuitive interface and simple functionalities.
In short, UpiCRM doesn't bombard you with features — it gives you what you need in the simplest form possible.
2. Presspoint
Price: $550 per year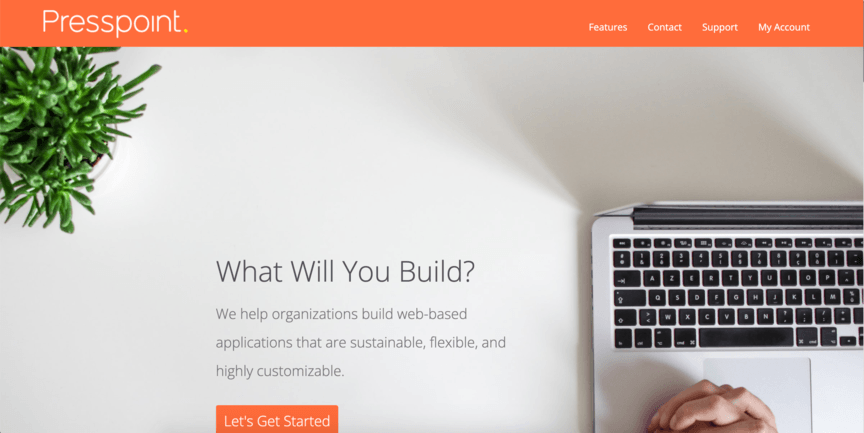 At its core, Presspoint offers the same features as most other CRMs — it lets you track user activity on your site, centralize user data, and better manage your marketing campaigns. But it also offers another major set of features: Ecommerce functionality.
This means you can use Presspoint not only to market to users and track their activity on your site, but to optimize your site to sell products to those users. You can create carts, track purchase history for each user, and more.
It does cost significantly more than many other plugins, but if your ecommerce could use a boost, it may well be worth it.
3. WP ERP
Price: Free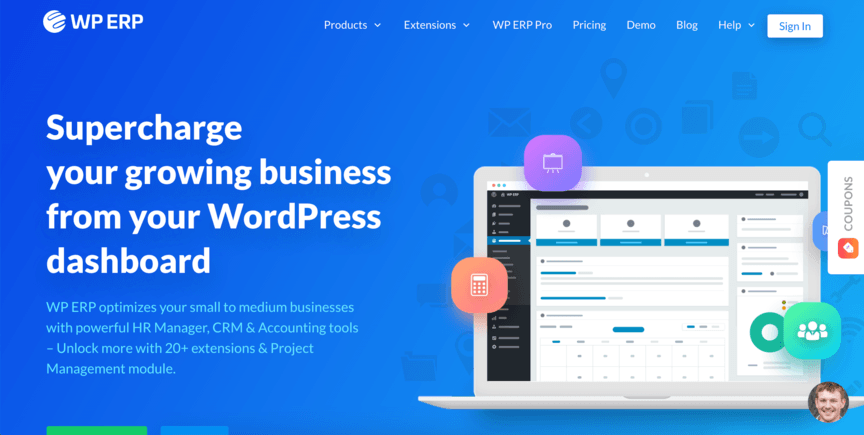 Like Presspoint, WP ERP offers more than the usual range of CRM features. That's because WP ERP isn't technically a CRM — it's an enterprise resource planning (ERP) platform that includes CRM functionalities.
ERPs are tools designed to help businesses manage their various internal processes. ERPs allow you to centralize all your company data in one location, and they can also help you automate basic functions like updating product inventory and reconciling budgets.
In the case of WP ERP, you'll also get a set of features designed to handle CRM tasks like acquiring user data and managing marketing. If you're in need of an ERP as well as a CRM, WP ERP might be the perfect solution.
4. Jetpack CRM
Price: Free (with purchase options for additional add-ons)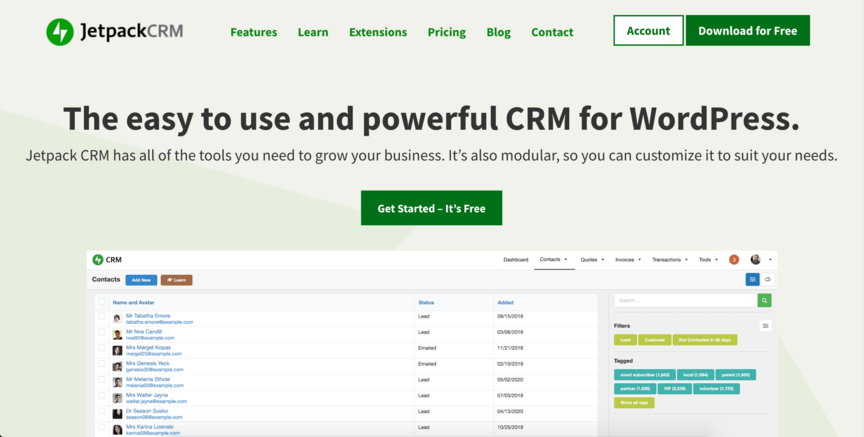 Jetpack CRM offers essentially the same benefits as UpiCRM. To start with, it's free. But more than that, it's extremely simple and intuitive. If you're looking for a very lightweight solution, at least to start out with, Jetpack is an excellent choice.
One of the advantages of Jetpack is that it offers a client portal where you can easily manage all your customers and leads. It also integrates with Zapier and is accessible on mobile devices as well as computers. That means you can manage your campaigns there, no matter where you are.
5. FluentCRM
Price: $129+ per year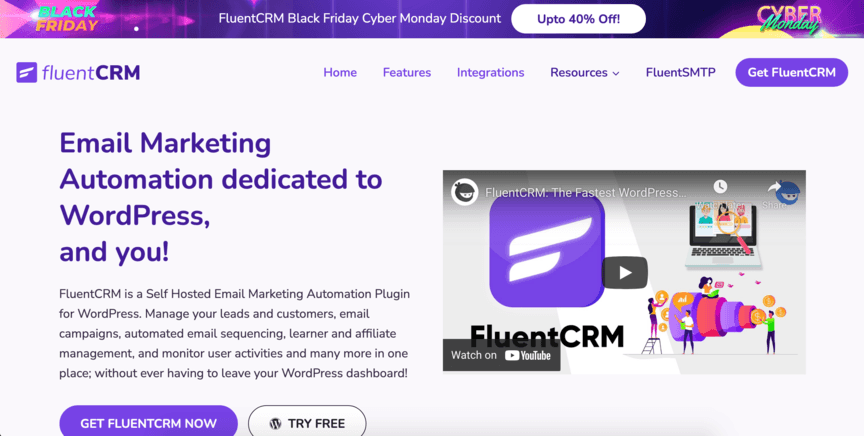 WordPress CRMs typically offer various ways of reaching leads who visit your site. But what if your business wants to focus specifically on email marketing to reach your potential customers? In that case, FluentCRM is unquestionably the best option for you.
FluentCRM is designed specifically to handle email marketing. It lets you personalize and automate your email campaigns, targeting users based on the data it gathers from your site visitors and those who sign up for your email lists.
FluentCRM even has its own email builder to help you put together high-quality email campaigns. That means you can use FluentCRM to determine your email marketing audience, put together your emails, and send them out — all in one place.
6. Nutshell
Price:

from

$16+ per month

Every CRM for WordPress comes with its own advantages, but you probably won't find one better optimized for your company than Nutshell, WebFX's own CRM platform. That's because Nutshell is designed specifically for small to medium-sized businesses (SMBs) like yours.

You can use Nutshell to track lead sources, plan lead routing, sync email campaigns, and more. Ultimately, Nutshell has all the tools you need to run a successful marketing campaign for your business, and it's perfectly optimized to reach your target audience.

On top of everything else, you can manage individual contacts all in one place, saving you the trouble of keeping up with multiple lead spreadsheets.
Our digital marketing campaigns impact the metrics that improve your bottom line.
See More Results

WebFX has driven the following results for clients:

$3 billion
In client revenue

7.8 million
Leads for our clients

5.2 million
Client phone calls
Let WebFX help you optimize your CRM for WordPress
Whatever plugin you choose as your CRM for WordPress, WebFX would love to help you get the most out of it. We can apply our expert marketing knowledge — honed across more than 25 years of experience — to maximize your leads and conversions.
With our digital marketing services, you can get help improving all your marketing campaigns, from search engine optimization (SEO) to email marketing. As a full-service digital marketing agency, we offer a wide variety of services you can take advantage of.
To get started with us, just give us a call at 888-601-5359 or contact us online today!
WebFX Careers
Join our mission to provide industry-leading digital marketing services to businesses around the globe - all while building your personal knowledge and growing as an individual.