Beginners Guide How to Track Content Marketing
Measuring the Effectiveness of Your Marketing
The majority of what we'll be doing in this chapter is evaluating the effectiveness of your content marketing program using data found in Google Analytics. However, as your program will be different than ours, you may need to use different tools to reliably retrieve the same data for your content.
For this portion of the guide, you will need to have access to the following:
A link research tool—we'll be using Ahrefs
Your social media pages/dashboards
Any proprietary tools or analytics programs associated with your content (ex. WordPress, any other CMS you might use to publish custom content, paid analytics tools, etc.)
The majority of what we'll be doing in this chapter is evaluating the effectiveness of your content marketing program using data found in Google Analytics. However, as your program will be different than ours, you may need to use different tools to reliably retrieve the same data for your content.
Before we get started, one thing should be made very clear: content marketing is one part of the customer journey, and on its own does not always directly lead to sales, leads, or purchasing decisions. If you cannot directly tie any sales to your blog posts, but you have seen a 15% increase in sales since starting your blog with no other changes to your marketing, you can probably make a safe assumption that your blog "assisted" with those sales. But it is up to you to use the data available to make these determinations.
You can measure the effectiveness of your content marketing in two ways: specifically or broadly. A specific measurement involves looking at individual pieces of content to see how effective they have been in generating awareness, creating leads, and contributing to your website's success. A broad measurement involves looking at the overall increases in sales, leads, and other website metrics to see the impact your content may have had on them.
We'll start by showing you how to use Google Analytics and our CMS (in this case, WordPress) to measure the specific effectiveness of one piece of content, using a sample post from the WebFX blog.
Measuring the Effectiveness of an Individual Piece of Content
To start, access Google Analytics and click Behavior -> Site Content -> All Pages. Before proceeding any further, you will want to immediately do the following:
Change the date in the upper right to the period you want to measure, and
Use the search function (near the middle right) to locate the specific page you want to examine
The specific piece of content we're going to be measuring for our example is a blog post titled Is Email or Social Media More Effective for Engaging with Customers? This post was published on July 3, 2014, and we're going to be evaluating its first three months of performance.
Here's how the initial view of this blog post's performance in Google Analytics looked: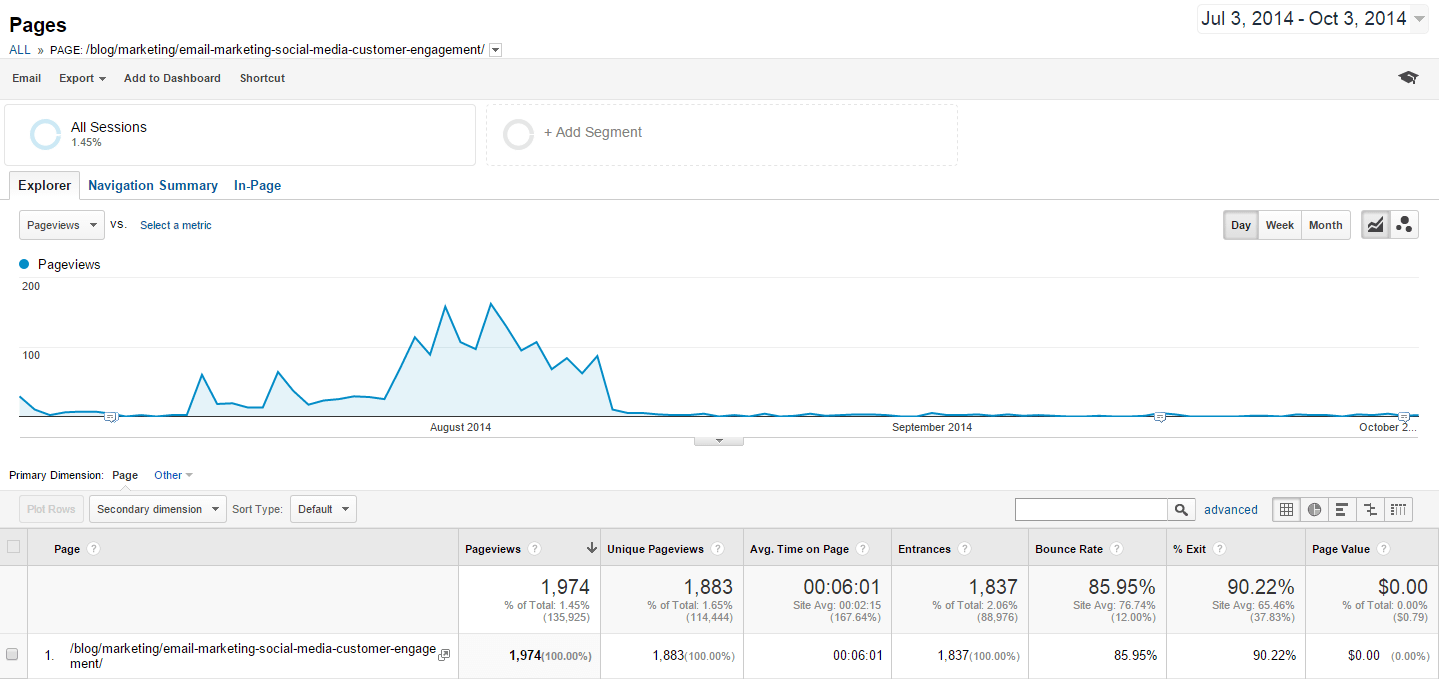 This presents some pretty interesting data for us. Here are the metrics you should take a look at, when you're reviewing an individual piece of content like this one:
Pageviews and Unique Pageviews—How many people looked at your content? What percentage of your total site views went to this content? In this case, 1.45% of our site traffic in this three month period went to this one blog post.
Avg. Time on Page—How long did people spend reading your content? On average, visitors to this post spent six minutes reading it.
Bounce Rate—Bounce rate tells you what percentage of visitors to your content hit the back button without visiting any other pages on your site (not necessarily whether or not they read the content in its entirety first). For this post, it's close to 86%.
Page Value—Finally, Page Value tells you the approximate value of your content based on how many people completed a Goal because of it. If your Google Analytics account is set up to track Goals, this may include purchases, email signups, form completions, and so on. For this page, it's $0.
What can you make of these metrics? Well, they probably won't mean much unless you compare them to something else. You could compare them to your site averages, or to other similar content you've already produced.
In this case, we know that 1,883 Unique Pageviews on an individual blog post in a 3 month period is actually fairly high. We have some posts that performed far better, but also some that didn't perform quite as well. It's also worth noting that there was a large spike in activity a month after this post was published, and that requires some additional digging.
Let's look a little closer at this piece of content. At this point we have two questions: is the page value really zero, and what caused such a big spike in activity?
We'll try to answer that second question by looking at the link and social activity surrounding this blog post. We'll first use Ahrefs to take a look at any incoming links pointing at the post.

Ahrefs gives us a big table of information on this link, including the number of social shares (which we'll come back to shortly):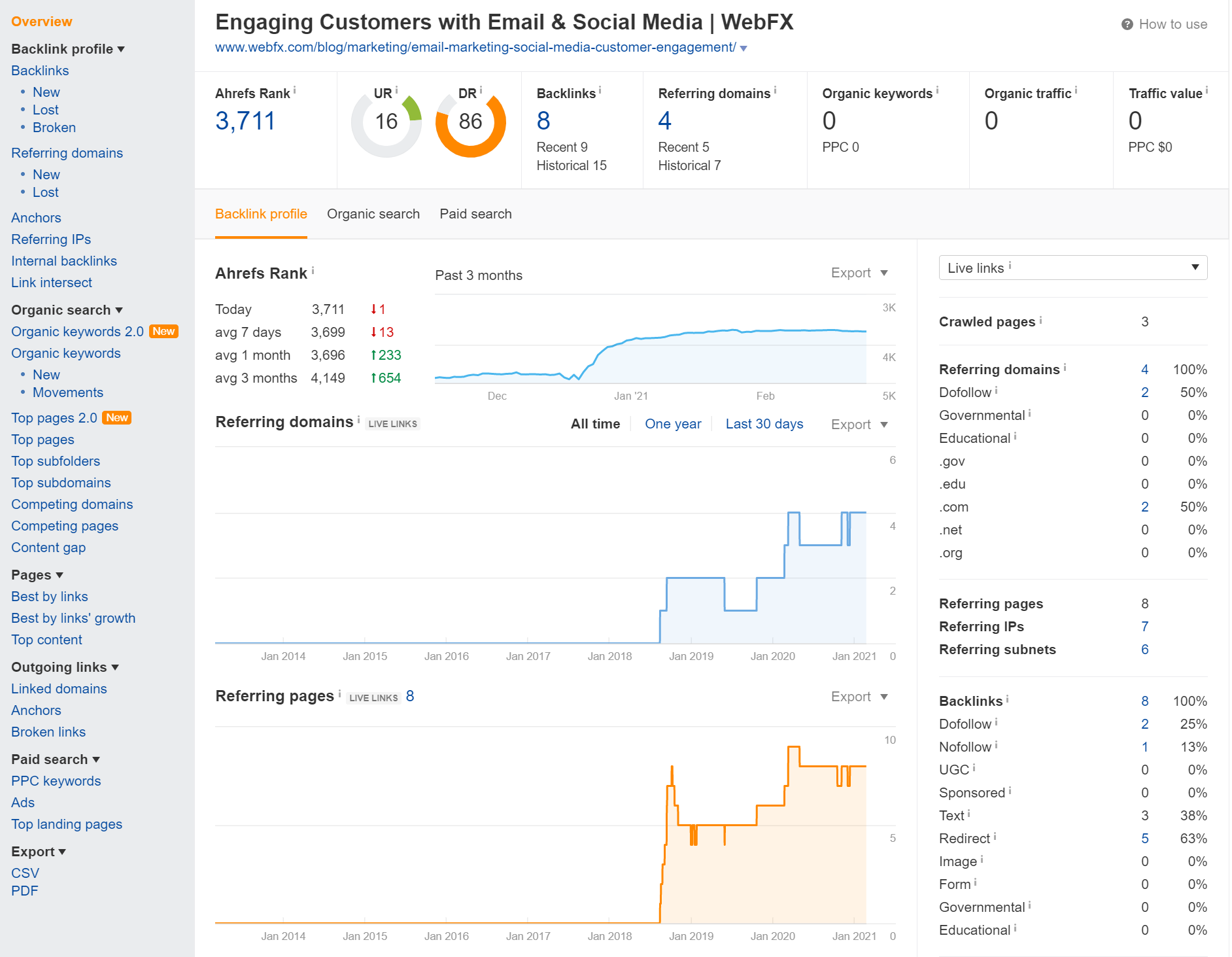 Click "Links" under "Inbound Links" on the left menu to see which sites have linked to your content. In this case, there are two links pointing at our blog post:

Neither of these links line up with the spike in traffic in August, however. So what else could have caused such a big jump in views?
Let's go back to the social media metrics. We use a social media plugin on the WebFX blog that both allows visitors to easily share content and gives us the ability to quickly check on the number of shares for each item we post. Ahrefs didn't indicate a lot of social media activity for this post, but here's what our plugin had to say:

Aha! Bingo. It looks like we may have our answer. The total number of StumbleUpon stumbles for this post is over 2,600. So we can make a safe assumption that a large majority of the traffic to this post came from StumbleUpon.
You can confirm this by taking a look at the traffic sources to your site in Google Analytics. Head back to Analytics and select Acquisition -> All Traffic. Click on the traffic source (in our case, StumbleUpon). Then select "Destination Page" as your Secondary dimension in the drop-down menu on the left.
Our page is #2 in the results:

Great! So now we know that StumbleUpon was a huge source of traffic for this post. We've also learned a few more things as a result that we can take into consideration (StumbleUpon sends a lot of traffic, our posts can go viral long after they're posted, but readers don't spend a lot of time on the page). But there's still one more question we have to answer: was the value of this post really zero?
Whether or not you consider a piece of content valuable can (and should) depend on much more than its ability to net you a sale or lead. That's what content marketing is all about: helping you move people through the funnel by filling in gaps and adding value.
To determine the value of this particular post, we might look at a number of things, including:
The number of visitors—people who might now be familiar with our company
The number of links—which can help improve our authority and overall ranking
How well this post ranks for the keywords it targeting
The number of comments
Social media activity, including both shares and interactions
How this post led visitors who didn't bounce/exit to other pages on our site
Let's explore that last bullet point a bit more. In Google Analytics, head to Conversions -> Goals -> Reverse Goal Path. This will allow you to look through all of your completed goals in this time period to determine if your content played any part in them.
This is what we found:

As a result of reading this blog post, two people signed up to receive our blog posts via email (as we can tell by the completion location of the "thank you" page). That's great! So that on its own means this piece of content has a lot more than zero value. Since we also know that our blog subscribers have gone on to download guides, read additional content, and contact us for information about WebFX services, this is a great sign.
You can repeat these steps for as many pieces of content as you like to determine how effective they are on an individual basis. There are other metrics you can use as you like, but the information we looked at above should be enough to get you started.
Measuring the Effectiveness of Your Content Marketing Program as a Whole
One of the ways that you can determine the effectiveness of your content marketing program as a whole is to do a lot of individual evaluations. But if you're producing a lot of content, this can take up a large amount of time, and you still may not be able to draw any broad conclusions from it.
In our case, we're producing roughly 40 new blog posts a quarter, not to mention the articles, guides, and other content we create for our site. So we need to find some way to reliably determine their effectiveness without spending hours looking at individual pieces in Google Analytics.
There are a few ways you can do this. If all your content is housed in the same folder (or multiple folders) on your site, you can search for these folders in Google Analytics to check out their metrics. Just go to Behavior -> Site Content -> All Pages and enter the folder name in the search bar. We entered /blog/.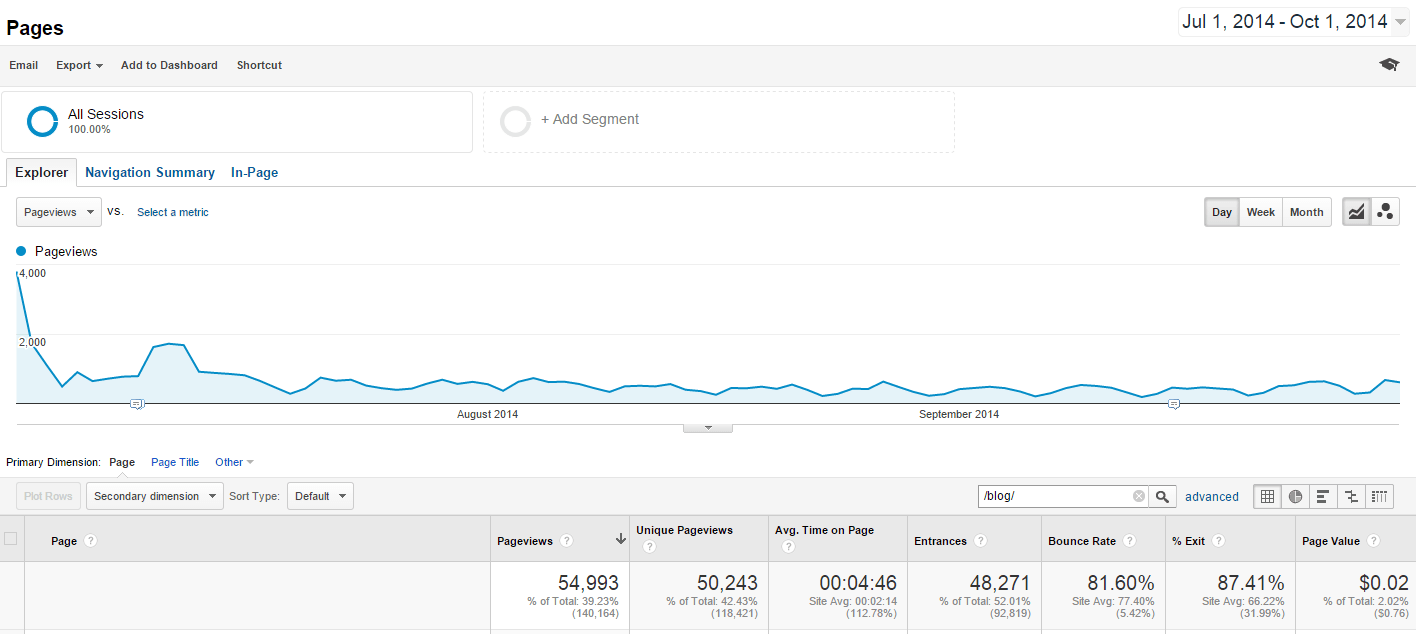 From here we can take generally the same approach as we did for evaluating individual content—that is, taking a look at the pageviews, bounce rate, page value, and so on.
We can also look at how anything in the /blog/ directory that may have led to a Goal (like a purchase, new lead, or in our case a download or contact form completion) by looking at the Conversions -> Reverse Goal Path screen.
Another way that you can use Google Analytics to review the effectiveness of your content is by looking at the Conversions -> Funnel Visualization screen. This will show you the top pages that contributed to your preset goals. In our case, our blog signups in a set period came from a lot of individual pages, but some trends did emerge:

How else can you measure the effectiveness of your content marketing? Without using Google Analytics, there are some fairly basic ways you can determine this. As long as you have not made any significant changes in the same time period, you can look for the following changes since starting a content marketing program:
Increase in sales, leads, or forms filled out
Improved ranking, especially on keywords targeted by your content
Improved website metrics (ex. reduced bounce rate, longer time on site)
Higher social media shares—these can almost always be directly tracked back to the individual pieces of content
Additional links to your site—again, these can be tracked to the individual content pieces
If you have made additional significant changes in the same time period, you should rely on individual hard data as much as possible (that is, try not to generalize or assume your sales are up because of your blog, when they could really be up because of the major redesign you did).

Finally, one additional way that you can measure the success of your content marketing is by asking. It may sound a little strange, but you can directly ask your customers, website visitors, fans on social media, and email subscribers for their feedback.
Whether or not you get a response from these questions, and how helpful these responses may be, will probably depend on how your customers or leads feel about you. But even if you're a new business owner, try to ask probing questions that will return honest, helpful answers you can use to examine and perhaps improve your efforts.
You might want to ask questions like this:
"Did you read/watch (content piece)? How could we have made it better?"
"How did (content piece) help you? Did it give you all the information you needed to solve your problem?"
"What did you learn after reading/watching (content piece)?"
"Did anything confuse you about (content piece)? What could we make clearer or easier to understand?"
"How did you find (content piece)? Did you share it with anyone after you read/watched it?"
"Have you found anything comparable to (content piece) anywhere else? If so, how did ours compare?"
Don't be afraid to ask questions. After all, the point of content marketing is to give your customers helpful content—if your content isn't helping them, you need to know.
We've reached the final chapter of our guide! In this last section, we'll offer you some additional resources you can read and try at your convenience to learn more about content marketing, strategy, and online content promotion. We'll also be giving you links to some tools you can use to create, improve, and examine your content for success.
Previous Chapter: How to Promote Your Content