How to Create Content That Will Move Your Leads Through the Sales Funnel: BOFU Content
By this point in the funnel, your leads should know exactly who your company is and what you provide. The final step is to show them why your version of your product or service is the right choice, and encourage them to take the plunge and become a customer.
Table of Contents: How to Create Content That Will Move Your Leads through the Sales Funnel
So what kind of content does that?
Free trials
The easiest way to show someone that your product is the best is by letting them use it for free – at least for a while. This is most commonly done with software, as it isn't difficult for companies to create a version that expires after 30 days. Some companies also choose to use a model where users get a discounted rate on their first few weeks or months of service, like Spotify: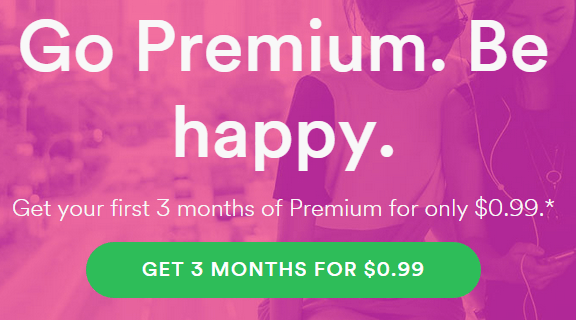 If your company provides something other than software, you may need to come up with a different approach. For example, let's say you work with clients on a weekly or monthly basis. Can you give them the first week or month for free? There's really no better way to build trust in potential clients than giving them a test run of your product.
If your business sells tangible products, on the other hand, it probably isn't going to be cost-effective to give away free samples all the time. Instead, you may want to consider giving discounts or added perks to first-time customers, like fitness brand Fabletics: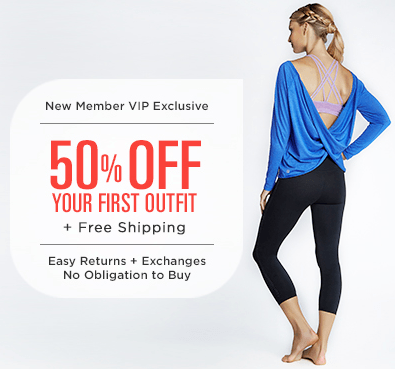 Potential customers are much more likely to make a purchase if they know they're getting a great deal. And if they are happy with the product they buy, there's a much higher chance that they'll be willing to pay full price next time.
Contact pages
If your business works directly with clients, the obvious goal of your site is to get people to contact you. Although most site visitors won't do this during their first visit, your contact page should ultimately be where your funnel leads.
Make these pages as simple as possible, and don't require too much information. The more fields you have, the less likely people are to want to fill them all out, and even one or two pieces of information are better than none at all.
Promotions
If you sell specific products and run an ecommerce site, your product pages are the ultimate bottom-of-funnel content. Site visitors can become customers within seconds, and promotions are a great way to make that happen.
If you were successful in capturing leads in the middle of the funnel, this should be no problem. Simply send out a promotional email with a coupon code or limited-time offer with a link to one of your product pages. This makes it as easy as possible for people who are already interested in your products (demonstrated by the fact that they signed up for your mailing list) to become customers – and get a discount!
So now that we've gone over a bunch of different types of content, you might think you're ready to get started. And that's great! But before you get started, you'll want to do some research and planning.
Earn a 20% greater ROI with WebFX