How to Promote Your Site Content
Many of today's consumers use the Internet to find answers and information about everything from health issues to what movies are showing at their local theater. They go to their favorite search engine, type in a few words or short phrases, and skim through the results for the best option.
Although search engine optimization, or SEO, can help your site rank for some industry-related searches, sometimes users are looking for more than topical information about a certain company. Sometimes, they want in-depth pages that help them resolve an issue or learn more about a subject. With a strong content marketing strategy, you can provide this content and use it to reach new potential customers.
However, you shouldn't rely on search engines to bring all of your visitors to your site. If you want to make the most of your content (and make sure all of your hard work doesn't go to waste), you need to actively promote it. On this page, you'll learn three of the best ways to do so.
You can also contact us online or call 888-601-5359 today for your free evaluation!
1. Share on social media
If your company doesn't have accounts on all the major social media platforms like Facebook, Twitter, and—if you're a B2B company—LinkedIn, you're missing out on a huge opportunity to reach readers quickly and easily. With a few clicks, you can broadcast your content to a significant number of people.
Then, you can continue benefiting from your content by re-sharing it several times over the following weeks or months. Although you may be concerned about overloading your followers with the same content, Twitter in particular is great for sharing brief updates with links to your content. New followers (or followers who missed it the first time around) may enjoy the content, and long-time followers can simply scroll past it.
2. Send it directly to readers
If you regularly publish content on your site, you should have a subscription system set up. Allow readers to subscribe to your newsletters or updates, and send out automated emails every time you publish something new. This way, subscribers get all of your content directly in their inboxes, and they won't have to spend the time (or remember) to check your site for new content.
Subscribers are extremely valuable to any company, so you should encourage signups as much as possible. Place a noticeable call to action on your site, and consider offering some sort of incentive for their information (like a free download).
As readers get used to seeing your name in their inboxes, they'll become more comfortable and familiar with your brand. And even if they're not immediately read to become a customer or client, this regular contact increases the chances that they'll eventually convert.
3. Outreach your content
Although the primary goal of your content strategy is to attract and inform potential customers, you can also use it to become an authority within your industry by consistently showing your expertise. And as you create the kind of valuable, in-depth content that will help you do so, other site owners may find it interesting as well.
Get to know the other content creators in your industry (and related industries) and build relationships with them by sharing and commenting on their posts. Then, if you create something you think they'd appreciate, send them a link and ask them to check it out.
If you've correctly matched your content to their audience, they might choose to follow your blog, share your post on social media, or even link to it from their own site. And if they have a strong following, this could be all you need to reach hundreds of new readers.
But if you try this strategy, it's important that you take the time to write personalized outreach emails for everyone you contact. This will require more time and energy than a simple mail merge or copy-and-paste approach, but is definitely worth the time if you're serious about building relationships and reaching new audiences.
If you want to take things a step further, you can also include these industry influencers in the content creation process. If you're writing about a topic that one of them specializes in, consider reaching out for a quote. When you publish the article (and reference them as an expert), they'll be happy to share it with their followers and get you the visibility you want.
Time to Level Up Your Sales
Our long list of services helps you grow every aspect of your business with marketing strategies that are proven to increase bottom-line metrics like revenue and conversions.
In the past 5 years, we've managed more than 12.9 MILLION transactions across our client base.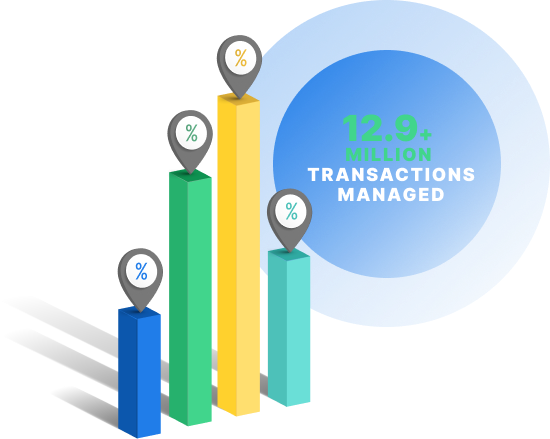 Want to reach more readers with your content?
Whether you already have a content marketing strategy in place or you're just getting started with your first blog, growing your online audience can be difficult. But if you want to promote your content more effectively, WebFX can help.
Contact us today to speak with a strategist about how our team can create a custom strategy for creating and promoting content that connects with your potential customers.