Today's consumers turn to the Internet for all of the information they need, from quick tutorials to in-depth guides on subjects they want to learn more about.
With a strong content marketing strategy, you can reach your target audience as they seek information and show them that you're a leader in your industry.
If you want to learn more about content marketing, you're in the right place. On this page, you'll get an introduction to content marketing and links to free content marketing resources so you can learn more about the topics that interest you most.
What is content marketing?
Content marketing is a marketing strategy centered around creating content that is valuable to users who may eventually become your customers.
When you use this marketing method, your goal is to become a trustworthy resource that users can go to find answers to their questions. If the content you create proves to be helpful to users, you'll see more traffic on our site and, eventually, more leads and customers.
Why use content marketing?
Simply put, to grow your business! Content marketing is crucial to growing your business in today's Internet-focused age. Having a content marketing strategy allows you to:
Reach your target audience
Increase brand awareness
Convert interested site visitors into customers
Learn more about the basics of content marketing
Content marketing basics resources
Content marketing benefits resources
More content marketing tips and ideas
Want more content marketing tips and ideas? Explore these free content marketing resources.
How to measure content marketing results
Measuring the results of your content marketing is crucial to ensuring you get the most out of your efforts. Tracking results allows you to see what's working and what isn't so that you can improve your strategies.
In addition to tracking your return on investment (ROI), you'll want to track various metrics that relate to the specific goals of your content marketing campaigns:
A few examples of goals and metrics to track from them include:
Goal 1: Brand awareness
If your main goal is to increase the number of people who know about your brand and understand how it's defined, you'll want to track metrics like:
Website traffic
Page views
Video views
Unique visitors
Goal 2: Engagement
If you want to increase the number of users who interact with your brand online, such as on social media, track metrics such as:
Goal 3: Lead generation
Another common goal is to generate leads — users who express interest in your business and are likely to become customers. Metrics to track for this objective include:
Form completion
Content downloads
Email subscribers
Blog subscribers
Goal 4: Sales
If the main goal of a campaign is to directly increase sales, track metrics like:
Measuring the metrics that affect your bottom line.
Are you interested in custom reporting that is specific to your unique business needs? Powered by MarketingCloudFX, WebFX creates custom reports based on the metrics that matter most to your company.
Leads

Transactions

Calls

Revenue
Learn More

Learn more about measuring content marketing results
Content marketing analytics resources
How content marketing works with other digital marketing methods
How does content marketing fit into your overall digital marketing strategy? It works incredibly well with various other marketing methods, and using content marketing together with other strategies can improve your marketing's overall effectiveness.
Your content can rank in search engines, enhancing your search engine optimization (SEO) efforts. You can also share your content via various channels, including social media and email newsletters.
To learn more about how content marketing works with other digital marketing methods and fits into an overall marketing strategy, take a look at these content marketing resources.
Outsourcing content marketing
One of the best ways to get the most value from your content marketing is to partner with a professional content marketing agency.
Content marketing agencies have extensive knowledge, experienced teams, and advanced tools they can use to create and implement your content marketing strategy.
Because of these advantages, content marketing companies can:
Get optimal results quickly
Improve your ROI
Save you time so you can focus on other areas of your business
What services do content marketing agencies offer?
Most content marketing agencies provide a wide variety of services spanning the entire content marketing process. Agencies can:
Develop a content strategy
Create and optimize content
Promote and distribute content
Measure content performance
Use data to improve strategies
The best content marketing agencies create custom plans that meet your business's unique needs because they understand that no two companies are alike. To develop these custom strategies, they take the time to get to know your business and your goals.
A good content marketing agency will focus on driving meaningful results for your business rather than just producing content. They'll align their strategies with your objectives and continually refine your campaigns to improve their results.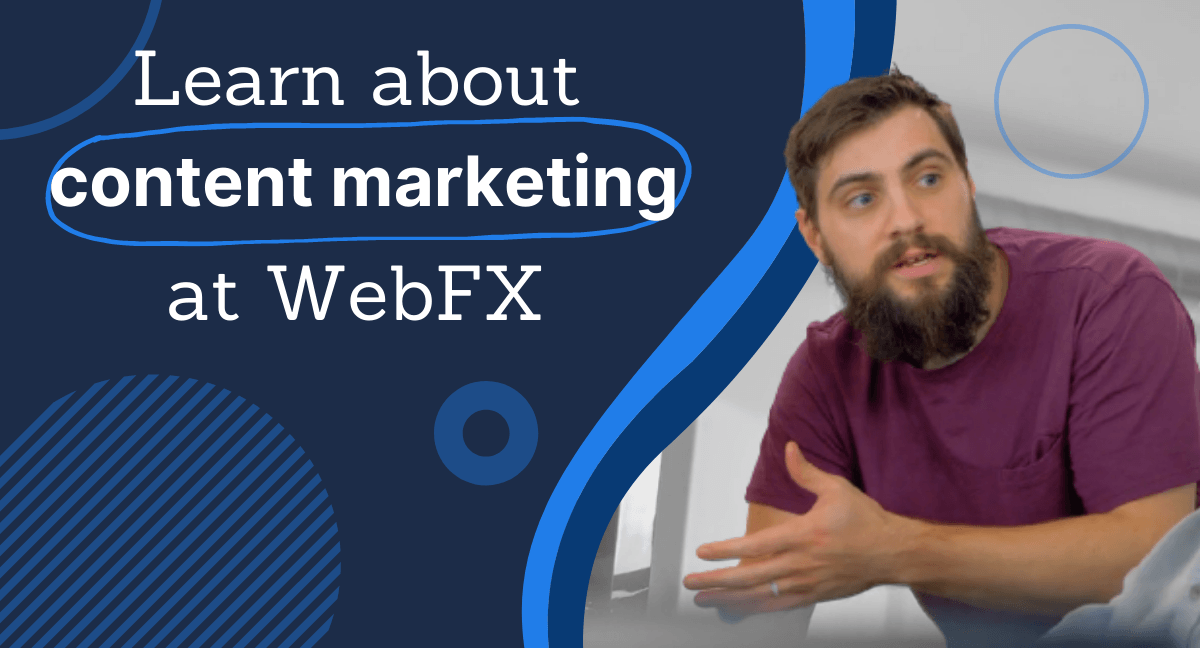 Learn more about outsourcing content marketing
Content marketing agency resources
Content marketing pricing resources
Our content marketing services
Additional channels and strategies
Learn more about content marketing
Want to learn more about content marketing? Join more than 200,000 smart marketers in subscribing to our email newsletters for the latest tips and advice!
If you're ready to get started with a custom content marketing strategy for your business, contact us online or at 888-601-5359. Our team of 500+ digital marketing experts is here to help.