Grow conversions and revenue with a conversion optimization agency
When you work with a leading conversion optimization agency, not only do you have the ability to increase the number of conversions on your site, but you'll also grow your confidence that your business has what it takes to thrive.
If your business is lacking in sales, it's easy to lose confidence in your brand, but conversion optimization services can make you think twice.
Hiring a trusted conversion rate optimization (CRO) agency is one of the best possible decisions you can make for your business.
What can a conversion agency like WebFX do for my business?

If you're curious about what exactly a conversion agency can do to better your business, we've got the lowdown. Read on to learn how a conversion optimization agency can help you make more money.
To give you an idea, here are a few strategies that you should look for when hiring a CRO agency:
A/B testing capabilities
Money-saving features
Top-notch software
Time-saving features
Process-oriented strategy
Monthly CRO reports
A/B test site elements
How can A/B testing help improve your website? It essentially puts two different versions of the same site element next to each other and determines what version gets better results.
When you work with a conversion rate optimization agency like WebFX that performs lots of A/B tests, you can rest assured that you are utilizing the best version of each site element, which means you're set up to receive more conversions than ever before.
We'll save you money
If you already have a marketing campaign in place, a conversion optimization agency like WebFX can help you make the most of your existing campaign without spending money to revamp it.
Often, if an element on your site, like a button or a landing page, isn't driving conversions, it simply needs to be optimized. Very rarely is it necessary to reinvent the wheel — although some agencies will suggest that you do so, just to entice you to spend more money on their services.
At WebFX, we'll run A/B tests as we talked about earlier in order to help you determine how to optimize your existing strategy in order to save money and drive more conversions.
We'll use top-notch software
You might want to think twice about performing conversion optimization on your own. Although the principles are relatively simple, hiring a conversion optimization agency like WebFX to do the job ensures that your campaign is backed by industry-leading software.
WebFX conversion rate specialists will use heatmap software, A/B testing software, and even our proprietary software like VisitorRecorderFX to ensure that your website has all the features that entice conversions.
This IBM Watson-powered technology can help better your campaign by providing data that you wouldn't otherwise have access to.
We'll save you time
Do you have someone on your team that is familiar with conversion optimization? If not, you'll likely spend a lot of time training them, or training yourself, to handle what WebFX can already do.

When you hire WebFX as your conversion optimization agency, you'll be able to free up your time to take care of your business in other ways and execute on other objectives.
Conversion rate optimization takes time but working with us will save you time, so you can focus on running your business.
We'll implement a killer CRO process
Conversion rate specialists that work at WebFX know the ins and outs of conversion rate optimization. Although every business is different, we have a process in place that stays the same across all of our client campaigns.
Because of our process, you can rest assured that your conversion team at WebFX is making the most of every minute that they have to work on your campaign — and the process is allowing them to drive the greatest results for you.
Having a process means that we'll also be able to keep you up to date with your campaign since we're well aware of where your campaign is at in the CRO process.
We'll provide custom data reports
A conversion agency like WebFX bases all of their decisions on data and analytics that they pull from tests that they've run on your site.
We'll share this data with you so that you can fully understand the information behind our decisions.
For example, we'll provide website conversion path tracking reports for your leads when you opt for the MarketingCloudFX suite, as well as site visitor reports, lead reports, traffic reports, and so much more. This information will not only help us craft the best campaign for you, but also give you peace of mind that your campaign is driving results.
In addition, we'll analyze the results of the changes that they've implemented in order to show you progress on your campaign and monitor your SEO closely.
How to choose the right conversion optimization agency for you

With so many conversion rate optimization agencies out there, it can be hard to find one that fits your business perfectly. Here are a few tips:
Always talk to them on the phone: Talking on the phone is more important than you may think it is. Not only can talking on the phone allow you to ask all of your burning questions, but it also helps you get to know an agency's personality and give you an idea of what it would be like to work together. If you only opt to contact an agency via a contact form, you don't have a chance to get to know them on a more personal level before hiring them to be your conversion rate specialists.

If you'd like to speak with a conversion rate specialist right now, feel free to give us a call at 888-601-5359.

Always talk about the results they've driven: Conversions are a results-based metric, and in order to decide if an agency is right for you, it's crucial that you know their track record. A truly amazing conversion optimization agency will be able to tell you the amazing results that they've driven for customers just like you.

Consider how long they've been in the business: CRO takes a lot of testing to dial in on the perfect, most successful campaign for any given client. That's why conversion agencies who have been in business longer tend to be a better fit. The longer they've been in the business, the more campaigns they've run — which means the more knowledge they've been able to pick up from previous campaigns.

Determine your budget and stick with it: Nobody likes to set budgets, but it's crucial that you decide on how much you'd like to spend on CRO and stick to it. Setting a budget early on in your search allows you to cross off any agency that is too expensive.
Some of our client Successes
Ready To Talk to a real CRO agency? Get Your
Free Quote

Today:

Our CRO experts have put together successful Internet marketing campaigns for businesses ranging from local coffee shops to publicly traded companies. They'll do the same for you. Request a free quote and experience why WebFX is rated as the world's best SEO agency.
Choose a conversion optimization agency that knows the industry
WebFX is a full-service digital marketing agency that has been in business for over two decades. We have a team full of specialists that are some of the best in the industry, and we've worked with a wide range of industries to better their businesses with digital marketing.
When it comes to our conversion optimization services, we offer everything you need to take your business to the next level.

We take pride in the CRO services that we offer because we know they're effective. When you work with WebFX for your conversion optimization needs, you'll receive the following:
An initial report that outlines what optimizations we would like to make
Initial CRO campaign with A/B testing
Project management and reporting
Web video capture of all converted leads
Initial heatmap and clickstream testing and analysis
Conversion tracking code setup
Goal funnel setup
And so much more
We've come up with the secret sauce when it comes to conversion optimization, and every part of our CRO package is crucial to the success of your campaign.
We take our time to get to know your business, your competition, and your goals so that we can ensure that your campaign is always moving in the right direction.
You'll have a dedicated account representative who can share the results of your campaign, as well as answer any questions that you may have.
We use only the best of the best in terms of technology and reporting so that we can drive the very best results for our clients. Speaking of clients, did you know that we have over 420 gleaming testimonials from clients just like you who loved WebFX?
At WebFX, we're the real deal. In the past five years alone, we've generated more than 4.6 million leads and over $1.5 billion in revenue for our clients.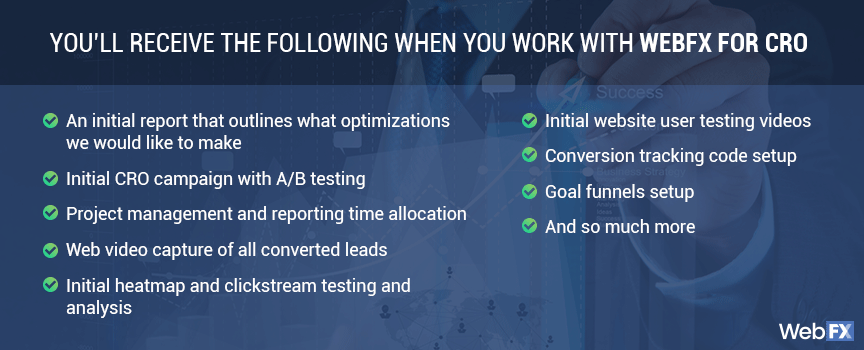 Start converting more customers today!
If you're ready to work with a top-notch conversion optimization agency to start driving real results for your company, WebFX is here for you.
Contact us online for a free quote, or give us a call at 888-601-5359!
What Our Clients Say
Manufacturer
"Since we've started using WebFX, we have seen a huge growth in exposures on search engine sites, web referrals, and overall growth in customer base...The SEO monitoring is our greatest investment yet. For a small fee each month, WebFX continues to monitor our site -- they will make revisions to the site, help with the addition of new products, create new copy, increase visibility, the list goes on and on. This has been a huge help for us and has had huge returns."
Promotional Product Provider
"WebFX has been able to achieve what no other SEO company has. Communication and understanding of our goals are not only met but exceeded. Their team produces results which is all that matters with SEO. We appreciate their hard work and plan on using them indefinitely. Our business growth has been 'off the charts' since working with WebFX. We could not ask more for what they have done for our company."
Ready to create a SEO plan that drives results?
Call 888-601-5359 or contact an expert to learn more about world-class SEO campaigns by.
Talk to an expert