Hiring a Search Marketing Agency — Why It's a Decision That's Solid Gold
If you own a business, you know how important it is to advertise and market yourself. But with so many advertising platforms and marketing strategies out there, how do you know which will yield the best results for your company? We're here to tell you that search marketing is one of the best strategies for making your business visible online, and we're here to help. To learn more, give us a call at 888-601-5359!
A world of possibility — hiring a search marketing agency
Choosing a marketing strategy that works for your business generally comes down to your industry, your goals, and your competition. One approach that works regardless of your industry is search marketing.
Google receives over 63,000 searches per second, every day — and people are searching for anything and everything.
And guess what?
Searchers are likely searching for the products and services that your company offers.
Hiring a search marketing agency is your best option for getting the best search marketing results possible. Not only are SEM agencies home to experts, but they can help you set long-term marketing goals for your company.
You might find it a bit dramatic that we consider hiring a search marketing agency a portal to a world of possibility, but it couldn't be truer.
When you hire an SEM agency, you can accomplish goals that were previously impossible.
For example, here are a few goals you can accomplish when you hire a full-service marketing firm:
Increase traffic to your website
Increase qualified leads
Increase revenue year over year
Increase the number of phone calls to your business
Increase lead form submissions
Increase ad clicks
And we're just getting started!
The world of search marketing is vast and powerful and can help you reach your loftiest business goals. But what strategies does a search marketing agency employ to drive these incredible results? Let's jump in.
Search marketing agency services that make your business dreams come true
Not only does a search marketing agency like WebFX offer all of the following services, but they can help you fine-tune your campaign to ensure that it works for your unique business.
Search engine optimization (SEO)
SEO is an umbrella term for a variety of smaller techniques that allow you to appear in search engine results for keywords that mean the most to your business.
Consider this, without SEO, you can spin your wheels for months and might never see your website on even the deepest pages of search results.
Not only does your brand suffer, but your business will fail to make sales — decreasing your overall revenue. When users can't find you in Google — where 63,000 searches happen per second — they'll find a competitor that does.
It's crucial that you use a strategy like SEO to help you gain invaluable real estate in search results.
Here are a few ways that search marketing agencies will help you use SEO to your advantage:
Keyword research
Keyword research involves using tools like KeywordsFX to help you determine what keywords your target customers use to find the products and services you sell. Without keyword research, you won't reach your target audience because you won't speak in a language they understand.
Title and meta description updates
Your title tag is what users see when they find your website in search engines.
Meanwhile, the meta description is — you guessed it — the description below.
Both are crucial to earning clicks because they can show users that your content is just what they're looking for. Not only that, but when you include your target keywords, they have ranking benefits as well.

Content creation
Content is one of the biggest and most essential components of great SEO.
Without content, Google has nothing to rank in search results. Your content, of course, should use the keywords that you found during your keyword research phase and can take the shape of written content, infographics, or even videos.
Internal linking
Internal linking is essential to SEO for a few reasons.
First, when you link to other pages on your website from your content, you keep users on your site for longer. This decreases bounce rate, which is a great signal for Google.
Not only that but when you link to other site pages in your content, it makes it easier for Google to crawl and locate those pages on your site.
Local SEO
Similar to SEO, local SEO allows you to rank highly in search results if you're a local business. Though the strategy is the same, your search marketing agency will likely target more location-based keywords so that local shoppers can find you when they're in your area.
There are also some additional action items that your search marketing agency can take when optimizing your website for local SEO.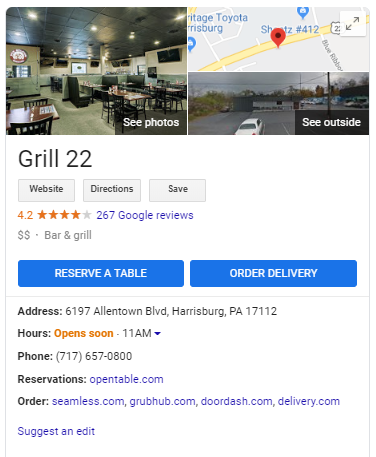 Claim your business on GMB
GMB, or Google My Business, is one of the best ways for users to find your local business in Google.
When you claim your business on the platform, it provides users with a pull card of information that makes it easier for them to find and visit your company.
For example, when your claimed business shows up in search, the card will provide information including your hours of operation, your address, customer rankings, and more.
When your search marketing agency claims and optimizes your business on GMB, it gives you top-notch, first-page real estate in search results, which helps you get more site traffic and more visitors to your brick-and-mortar location.
Locally optimized keywords
Similar to SEO, keywords are a huge part of local SEO.
When you work with a search engine marketing agency, they'll help you cultivate a list of locally optimized keywords that help you target users in your geographical area.
For example, instead of using keywords like "hibachi steakhouse," your SEM agency will help you find keyword opportunities like "hibachi steakhouse in Harrisburg," so that you can target your local audience.
Citation management
Citation management is a massive part of local SEO that your search marketing agency can help you manage.
There are tons of citation sites like Apple Maps, Facebook for business, Yelp, and Bing that can bring a ton of local traffic to your brick and mortar location.
When you work with an SEM agency, they can help you ensure that your citations are consistent across platforms and that they're optimized to increase traffic.
Paid advertising
Paid advertising, often known as PPC, or pay-per-click advertising, is another excellent way to ensure your website shows up in search engine results pages.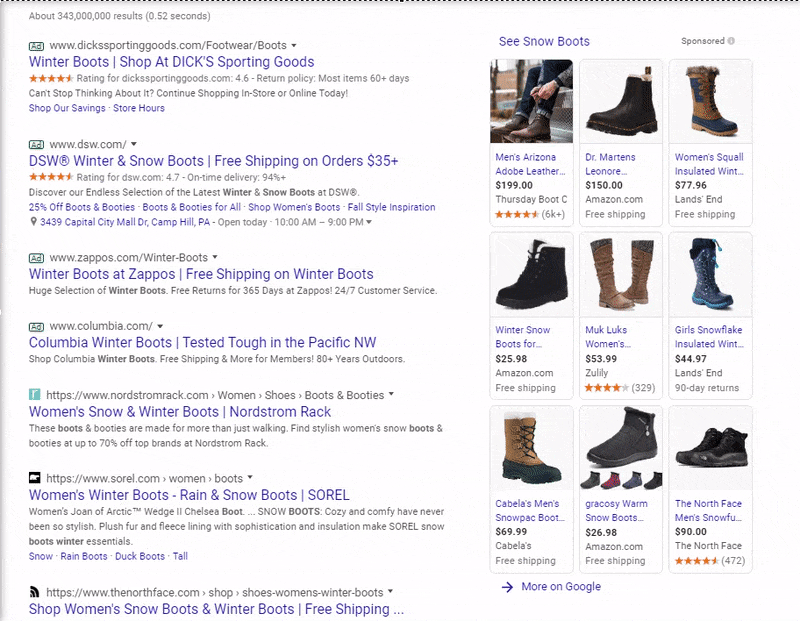 It's an extremely cost-effective strategy that goes live as soon as you set up your ads, and helps to create real results, real fast. Typically, you'll have to wait a few months for SEO to start producing results, but with PPC, you don't have to wait more than a day!
Paid advertising works on a bidding system and involves keyword research like SEO. You'll want to have a good idea of the keywords that your target audience is interested in so that you know which keywords to bid on.
You'll start by choosing your top keywords and placing a bid for how much you're willing to pay every time someone clicks your ad. If you win the auction, your ad will go live in Google search results, and you can watch the clicks pour in.
Ready to Grow? Get your FREE Quote Today!
"We measure our success by how much we WOW our clients."

Bill Craig
WebFX President
5 benefits of hiring an SEM agency
If you're on the fence about hiring an agency, let's talk about the benefits.
1. A search marketing agency saves you time
You're not wrong to think that you can likely take on search marketing on your own, but the question is, why would you?
When you run your own business, you have a laundry list of to-do items to complete every day — and it's unlikely that you have enough time to spend on search marketing.
A search marketing agency can save you time by taking care of your SEO and PPC initiatives for you and leaving the business side of things up to you. You won't have to sacrifice the quality of your business for a great marketing campaign.
2. A search marketing agency saves you money
An alternative to hiring a search engine marketing agency would be to take on another employee to market your business in-house. The only issue? This can add up and become expensive quickly.
Here are a few things you'll have to pay for when you onboard an in-house marketer that's good at SEO, PPC, and other strategies:
Training materials
Computer set up
Payroll
Benefits
These expenses add up quickly, and hiring an in-house marketer probably isn't your best option.
When you opt for a search marketing agency, your work will get done quicker than if done in-house. Simply put, there are more people available to work on your project at an agency than your one-person, in-house team.
3. A search marketing agency has more to offer
Not only can a search marketing agency save you time and money, but a full-service marketing firm provides a wide variety of services, which means they boast a variety of departments.
That means that when you work with a search engine marketing agency, they'll have countless resources and ideas that get contributed by departments across the agency.
With tons of shared ideas across the board, you'll end up with the most well-rounded marketing campaign since professionals in multiple areas developed it.
4. A search marketing agency has the necessary resources
When you partner with a search engine marketing agency, you're working with a team that has access to all the resources needed to create an incredible campaign.
They have access to ebooks and whitepapers on SEO, as well as PPC case studies, training programs, and even tools that are only available to agencies.
Not to mention, they have access to all the latest and greatest in marketing tools and platforms, which means they'll be able to offer you the best solutions.
5. A search marketing agency is good at what they do
When you opt to work with a search marketing agency, you can rest assured that they're good at what they do. In an agency setting, employees are trained with the most advanced technology and have access to tons of resources.
Not only that, but they learn from the best in their industry, who pass down strategies and tactics.
If you're considering an in-house marketing campaign, keep in mind that though you can learn how to market your business with SEO and PPC, nothing compares to the years of experience that agency employees boast.
How to choose the right search marketing agency for your business
With so many search marketing agencies out there, you might feel overwhelmed at the thought of selecting one for your business. After all, how do you know who will drive results?
Research is key, and we recommend that you do a lot of it before deciding on your SEM agency.
Here are a few things you should look into as you're researching search engine marketing firms:
1. Have they worked with your industry before?
You may not think it's important, but working with an SEM agency that has worked in your industry before can give you a huge leg up. When they're familiar with your market at the start, they'll have the knowledge to help steer you in the right direction as far as goals and strategy.
Since they have experience with your industry, they'll also know how to drive specific results, who your competition is, and what strategies work the best.
2. Have they been in business for over a decade?
A decade seems like a long time to be in business — and it is.
That's why we recommend finding a search engine marketing agency that's been in business for over 10 years.
In those 10 years, they've likely been able to establish themselves in the marketing industry, outrank their competition, and serve tons of happy customers. There's a reason they're still driving results after 10 years, and it's because they drove amazing results since their start.
3. Do they fit your budget?
Budget is an integral part of hiring — you should set a budget when you start the search for a search marketing agency and stick to it.
There is an SEM agency for every budget, and you should hold out until you find the right one. If you find an agency that charges drastically less for their services, it's essential to keep in mind that you get what you pay for.
Although some firms might be more expensive than others, it's likely because they can drive real results.
4. Do they rank well themselves?
The best SEM agencies will practice what they preach. If they show up highly in search results on Google, it's a good bet they can provide the same results for you.
If you find that an agency doesn't show up high in search results, or anywhere in Google, it's time to keep looking. You want to find an agency that practices what they preach to prove that they can drive real results for your business.
WebFX is a leading search marketing agency
At WebFX, we're a full-service digital marketing company that's been in business for over a decade. We serve clients in a wide variety of industries, from farming to restaurants.
We've been able to drive over $3 billion in revenue for our clients in the past five years, and we don't plan on slowing down any time soon.
If you want to work with a search marketing agency that values your goals, works with your business like they're family, and implements strategies that work, WebFX is for you.
Did we mention that we offer more than just SEO and PPC? We also provide the following services:
Start your search marketing journey with WebFX
Ready to get started with your custom search engine marketing strategy?
If you're ready to get started, contact us online for a free quote or give us a call at 888-601-5359!