How You Can Use Native Advertising for Your Small Business
There is a lot of buzz around the term "native advertising" right now, and whether you realize it or not, there's a good chance that you already see it every day. This streamlined form of online advertising is familiar to consumers and effective for brands, making it an ideal option for many platforms.
So how can your small business start utilizing this technique? Let's start with a basic overview of native advertising.
Keep reading if you want to learn more, and give us a call at 888-601-5359.
Want to market your business online?
Good agencies have more than 50 testimonials.
Great agencies have more than 100 testimonials.
WebFX has over 1000+ glowing client testimonials.
See What Makes Us Stand out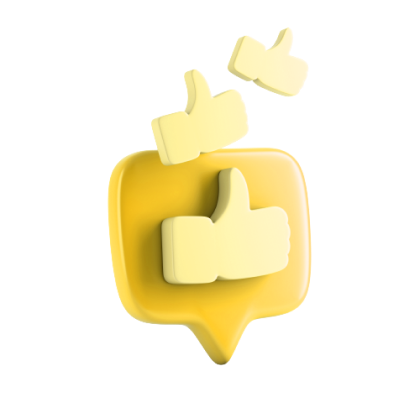 What is native advertising?
Native advertisements are pieces of sponsored content that have the same format as the non-sponsored content that they are displayed with. The exact format varies from site to site, but native advertising in its ideal form should be a seamless addition to the content that is already on the page.

These advertisements can appear on news sites as suggested articles or additional reading at the bottom of the page, and in some cases, as entire sponsored articles. Ford's sponsorship of GOOD Magazine's Cities Project is a great example of this. For five months, GOOD is inviting writers to "pen love letters to their city," and writes on the Good Cities page that they are "embarking on this journey in collaboration with Ford." None of the published letters specifically mention Ford, but each one has a small box above the title that reads "Presented by Ford."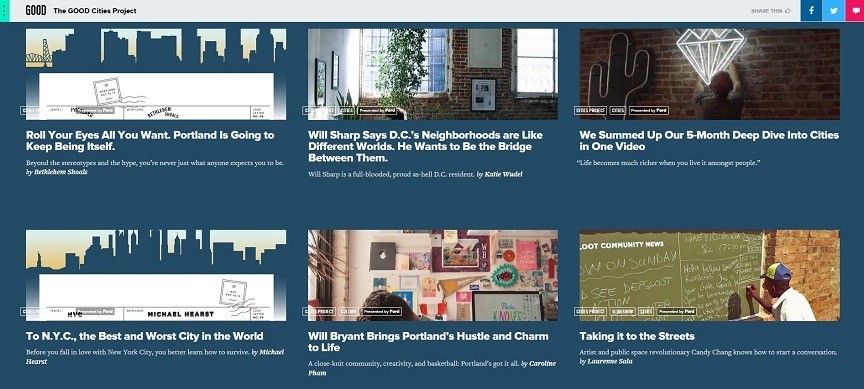 This is a great way for Ford to get their name on the site without placing a traditional advertisement or interrupting readers' experiences in any way.
Native advertisements can also exist on social media in the form of promoted tweets on Twitter, sponsored posts on Facebook and Instagram, featured videos on YouTube, and even custom branded playlists on Spotify.
On Twitter, Facebook, and Instagram, sponsored posts appear right in users' feeds, and are only distinguished as advertising by the words "sponsored" or "promoted" somewhere on the post. Most brands use conventions similar to regular users in order to make their posts fit into users' feeds, so Rad's tweet that includes a photo, hashtag, and emojis is pretty typical of a Twitter advertisement: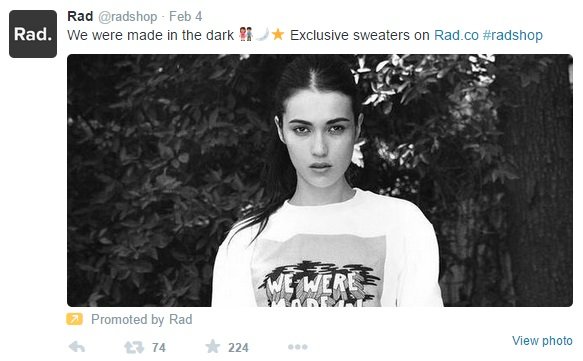 Why is native advertising important?
Native advertising is unique in that it is beneficial to both consumers and businesses. It gives readers a natural way to read content that may interest them, and gives businesses the ability to target and engage potential customers.
For consumers
One of the best aspects of native advertising is that it is very well-received by Internet users. It is integrated in a way that feels natural for readers, and is much less disruptive than traditional banner or pop-up ads. It also eliminates the cluttered feeling that too many ads on a page can sometimes create.
Consumers appreciate this less abrupt approach to advertising. In a survey by HubShout, 85% of Internet users said that it did not hinder their browsing experience at all. In fact, 66% of respondents said that they found links to suggested content at the end of articles they read helpful. In these cases, the sponsored content felt complimentary to the non-sponsored content.
For businesses
The advantages of native advertising are not limited to readers who do not want their browsing experience interrupted. By targeting ads to the right users and formatting them in a way that feels natural, businesses can greatly increase their advertising success. In the same survey by Hubshout, 67% of users said that they were more likely to click on a sponsored article than a banner ad. This increased click-through rate could be a huge source of profit for any business.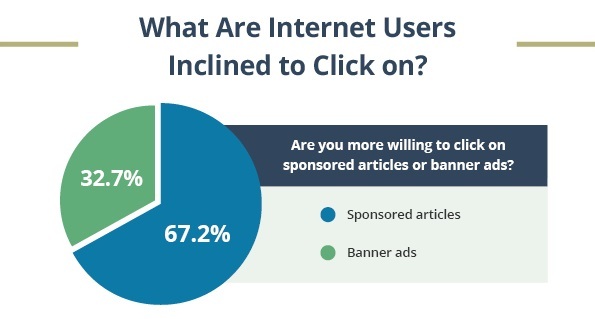 Much of this success stems from the ability to target specific audiences. When content is relevant to a user, they are much more likely to engage with it. For your business, this means you can spend less time and money on advertising to audiences that are not interested, and more of those resources on attracting people who could potentially be customers.
In a study conducted by ShareThrough, eye-tracking software discovered that consumers look at native ads 53% more frequently than display ads. When asked about these ads, 32% of respondents said that they would share them with friends and family members. Only 19% said the same for traditional ads.
Native advertising is also a great way to approach the increasingly mobile Internet. As more people browse on their phones than on their computers, it is important to consider how this affects ad placement. In many cases, users consume content in feeds like Facebook and Twitter, so posts and tweets are the only things they see. If advertising is not placed on these platforms, there is a good chance that they won't see it.
Our digital marketing campaigns impact the metrics that improve your bottom line.
See More Results

WebFX has driven the following results for clients:

$3 billion
In client revenue

7.8 million
Leads for our clients

5.2 million
Client phone calls
How can my small business utilize native advertising?
When done properly, native advertising will engage your audience in a way that doesn't even feel like an advertisement. So, how do you create native advertising for your small businesses that is both attractive to consumers and beneficial to your business?
Choose the correct platform for your audience
The key to successful native advertising is to know your audience well. If you are targeting a demographic that uses Facebook heavily, that is where you should start. If they tend to use Twitter, go there. Make sure that you do not waste your resources on platforms that your audience is not using.
Once you've chosen the platform, get very familiar with it. Articles, tweets, and Facebook posts are all very different, and you are not doing your business any good if you simply take the same content and use it on every medium. Everlane, for example, uses very different approaches for its Facebook and Twitter accounts. On Facebook, they create posts that explain what the company sells and invite users to learn more by clicking a link to their website. They use this account to reach potential customers who may have never heard of the brand.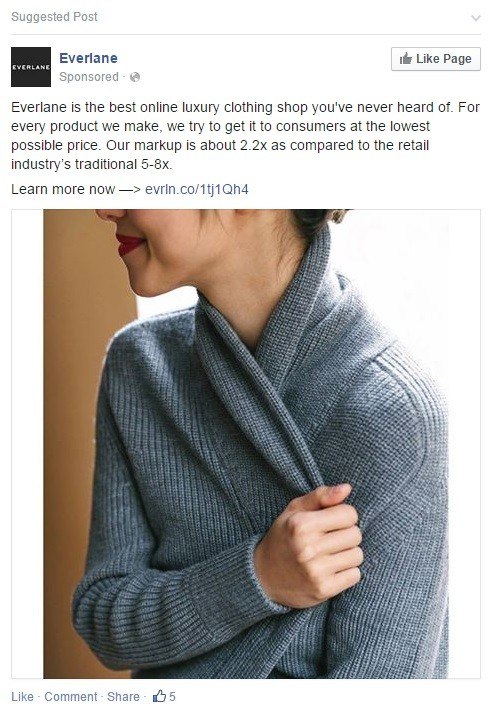 Their Twitter account, on the other hand, is full of behind the scenes photos of employees, customers, and clothing, and is not nearly as informative. The text is more personal and informal, and the account seems to be used more to convey brand identity than drive sales.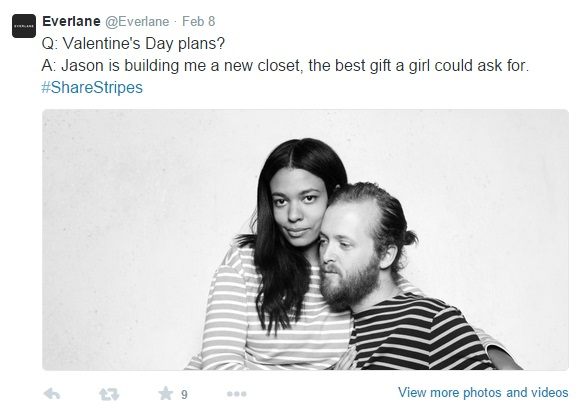 Create content that your audience will like
After you feel comfortable with the way that your chosen platform works, put yourself in the mindset of your ideal customer. Spend some time browsing as a user, and think about the types of content you'd like to see. Keep that in mind when you start creating ads, and you'll be much more successful.
If you already have content that has been popular with consumers in the past, you can repurpose that content to create native advertisements. Instead of starting from scratch, you can take photos, graphics, and other non-advertising content and adapt them into formats that match the mediums you want to advertise on. That way, you can be confident that when your ads appear on users' screens, they'll be inclined to click on them.
Be clear about the fact that your content is sponsored
One issue that some audiences have expressed with native advertising is that it can be misleading. Do not try to pass your content off as unsponsored. Even though it should be displayed in an unobtrusive way, it should be clear that it is an advertisement.
By disclosing that content is paid for up front, users have the choice to learn more about your brand—or not. This may seem like a disadvantage, but it can help filter out users who are not interested. If someone is aware that the content that they are viewing is sponsored and still click it, they are engaging with your brand positively.
Start small
If you are completely new to the concept of native advertising, it can seem somewhat overwhelming. Creating content on several channels is no small task, so do not attempt to launch an entire campaign overnight.
If your brand is already active on social media, promoted posts can be a great way to reach a larger, targeted audience. They can also allow you to get a feel for native advertising and test its effectiveness. While promoted posts are a great start, they only reach a small percentage of your fans or followers.
You can start by sponsoring one or two of your posts and monitoring their reach and engagement to see how they perform. Then, compare them to your previous, organic posts. This will give you a sense of what native advertising can do for your small business.
Still not sure how to get started?
If the idea of increased reach, user engagement, and brand awareness sounds promising, but you aren't sure that you are up to the task of creating content for multiple channels, WebFX can help. Reach out to us today to find out how an Internet marketing company like ours can set up native advertising that converts more website visitors into leads or paying customers.