How B2B Companies Can Use Account-Based Marketing
One of the most popular B2B marketing strategies today among B2B marketers is account-based marketing. It's easy to see why—it can lead to higher revenue per dollar, greater customer satisfaction, and a great competitive advantage over similar companies.
It's also tailor-made for marketing B2B products and services, and 96 percent of B2B marketers say account-based marketing is a key to their success.
Unlike B2C companies, which can have millions of individual customers, B2B companies typically deal with a much smaller customer base. Each client could be worth thousands or even millions of dollars over a lifetime, though, so it's important to craft the right offers before, during and after the first sales transaction.
By using account-based marketing (ABM), B2B companies can close more deals and get more value out of the sales cycle. On this page, you'll find just a few of the many benefits of account-based marketing.
Learn About Account-Based Selling Here!
Better targeting
As a B2B company, your potential market can be made up of a variety of industries and company sizes. It can be tough to determine the most viable prospects, even with the best segmentation strategies.
Account-based marketing takes away a lot of this uncertainty. You're targeting existing customers, who are already confident in your ability to deliver value, and you're able to craft offers that are truly relevant to them.
The process starts as soon as you decide to implement account-based marketing, because the first step is to identify customers with the most potential value. Maybe they've already purchased a lot in the past. Perhaps they've expressed an interest in new or upcoming products. Or maybe they're avid advocates for your brand.
However you go about selecting these accounts, you make your marketing efforts more likely to have high returns.
Greater brand consistency
When sales, marketing, and PR departments are doing their own thing, the company runs the risk of sending mixed signals to the marketplace. Each of these teams has their own sets of goals, so they may craft messages that help them reach their goals without helping other departments reach theirs.
With account-based marketing, everyone is working towards the same goal, which means a more consistent brand position.
Customers are looking for a seamless experience from the businesses that sell to them. This doesn't happen when, for instance, a sales team is touting low prices and the marketing team is highlighting added value.
Under an account-based marketing model, everyone is on the same page. They may approach the account with different offers, but because they're all part of a larger plan—and trying to reach the same goal—they have greater continuity than if the teams are working independently.
Higher return on investment
Your customer base may be smaller than it is for a B2C company, but that only makes every customer more valuable to your bottom line. Even so, some customers generate more revenue than others. By adopting an account-based marketing approach, you devote more resources to the customers most likely to make a purchase, ensuring a higher return on investment.
For one thing, it costs far less to market to an existing customer than to attract and convert a new one. Every sale to an existing customer yields more profit. What's more, the customers chosen for an ABM model are already your most profitable, so each strategy is intended to upsell or cross-sell based on past transactions. This doesn't mean account-based marketing is cheap, but it does mean the potential return is higher.
Greater efficiency
No matter how much revenue a traditional marketing campaign generates, it can still involve a lot of work for little return. Response rates can be stubbornly low, and lots of time is spent qualifying leads or selling to potential one-time customers.
This isn't the case with account-based marketing. Even if you don't generate a sale with every message, you can be sure your message is getting through and will pay off later.
Take any marketing tactic, and you'll see it generate better results in an ABM strategy. Phone calls are never cold calls, since they're made to people with whom your company already has a relationship. Emails and direct mail aren't generic messages, as they're personalized to a handful of recipients and targeted to their particular needs.
There's less guesswork in account-based marketing, which means less wasted time and effort.
Competitive advantage
Because account-based marketing requires extensive research into the customer, teams are walking into every meeting with ample knowledge of the business. And in today's competitive marketplace, customers are expecting businesses to approach them with more personalized offers.
This means a company that implements account-based marketing will arrive with more relevant messages—and a better competitive advantage as a result.
When you choose a business for your account-based marketing strategy, you commit to reaching out to that business frequently using the channels and the approaches they prefer. In essence, you're committing to a relationship with the account, creating a level of intimacy not possible in traditional marketing.
Once you implement an ABM approach, your competitors will have a tough time getting your customers' attention.
WebFX specializes in B2B client success.
Wheeler Machinery Co., saw 82% higher average time on site after partnering with WebFX for SEO, CRO, web design and development, and website content services.
See Case Study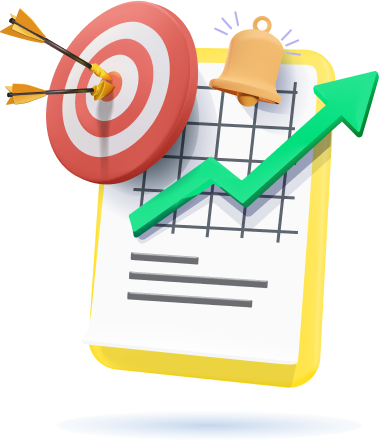 Does your company have an account-based marketing strategy?
In many ways, B2B companies are the perfect places to implement account-based marketing. B2B customers are rarely one-time customers, and their revenue streams can generate thousands or even millions every year.
Account-based marketing can bring in even more revenue from these customers by giving them the experience they want. And at WebFX, that's exactly what we help our clients do.
If you're interested in using account-based marketing to grow your existing client relationships and generate more revenue, contact us today! One of our experienced Internet marketing strategists is more than happy to discuss your company's goals.
Bonus video! More benefits and how ABM works
Earn a 20% greater ROI with WebFX