B2B Digital Marketing: Read the Guide & Explore the Library
If you run a company that provides products or services to other businesses, digital marketing is essential for you to drive revenue. That's because without it, people can't discover your business, and you'll miss out on sales. Keep reading to learn more about B2B digital marketing with our resource library and beginner's guide!
B2B
Home 5 Steps to Find a Great B2B Marketing Agency Good B2B marketing agencies are hard to find. View Our Digital Services
B2B
Home B2B Demand Generation Strategies For B2B companies, attracting new clients is essential for growth and success – but maintaining a steady stream of new business can be challenging. View Our Digital Services
Running a successful B2B company depends entirely on your ability to persuade other businesses to buy from you. Marketing helps you make those businesses aware that you exist, and it also persuades them that they can benefit from buying from you.
With all the complexity and variety offered by the Internet, there are various digital marketing strategies you can try. But what is B2B digital marketing, and how can you optimize it for your business? We'll answer both of those questions below, so read on to learn more.
Then consider partnering with WebFX — the agency with over 1020client testimonials — for our top-rated digital marketing services. Just call us at 888-601-5359 or contact us online today to get started!
What is digital marketing for B2B companies?
Digital marketing refers to any type of promotion that takes place through a digital outlet. That includes:
Websites
Mobile apps
Texts
Emails
And more!
In the case of B2B companies like yours, digital marketing targets other businesses interested in your products or services.
Find out how your digital marketing works with our four easy steps digital marketing starter tool kit.
Why do you need B2B digital marketing?
Digital marketing is essential to any B2B business for the simple reason that without it, people can't find you while searching for products or services like yours online.
Think of the last company you bought from, whether they were B2B or B2C. How did you find out about them? In all likelihood, you found them through some form of online marketing.
So, if you want people to discover your B2B company, you need to use online marketing to help them find you (one way you can do this is by finding a good B2B marketing agency). Then, once people find you, your marketing continually works to convince them to buy your products or use your services.
In other words, B2B Internet marketing is critical to driving conversions and generating revenue for your company.
The B2B online marketing funnel
If you haven't heard of the digital marketing funnel, it's a handy tool for visualizing how online marketing works.
The B2B marketing funnel is a representation of a B2B customer's journey from discovery to conversion.
Picture a funnel — wide at the top and narrow at the bottom. The top of the funnel represents the people who just discovered your business, while the bottom represents people who are ready to convert.
The job of your marketing is to move people from the top to the bottom of the funnel. That process manifests in six major stages:
Awareness: People in the awareness stage just discovered your brand. Your job is to introduce yourself to them and help them learn about you.
Interest: People in the interest stage want to learn more about your business to figure out if you're a good fit for what they need. At this stage, you want to help prospects learn more about your products or services.
Consideration: This stage is about getting people to consider buying from you. Start educating them about your products and services to increase their engagement.
Intent: At the intent stage, you want to get people to actively pursue the possibility of buying from you. Offer free trials and product demos to sell them on your product or service.
Evaluation: People in the evaluation stage intend to buy, but they still have to choose between you and a few competitors. Your marketing at this stage should promote all the unique benefits you have to offer.
Purchase: The final stage is the purchase stage, where you take the final step of persuading people to convert.
Each of the six stages in the funnel requires you to market to people in a particular way, so it's good to keep this model in mind.
When you create a particular ad, for example, ask yourself: Am I just trying to introduce my business with this ad, or is this meant to convert people? The answer will determine the format and content of your ad — and that goes for your other marketing as well.
It's also worth noting that not everyone will move through every stage of the funnel in a clear order. Some people will skip stages or backtrack at various points, particularly when there's more than one decision-maker in a company, and that's to be expected!
WebFX specializes in B2B client success.
Wheeler Machinery Co., saw 82% higher average time on site after partnering with WebFX for SEO, CRO, web design and development, and website content services.
See Case Study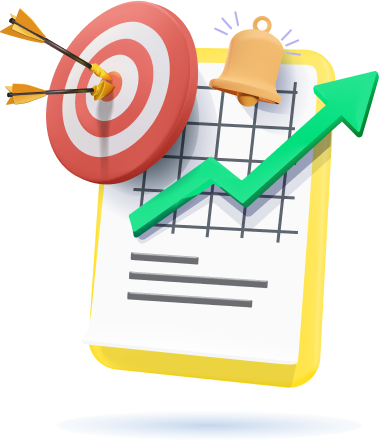 6 B2B digital marketing strategies
In addition to there being different stages in the marketing process, there are also different channels you can use to do B2B online marketing.
There are six major strategies that you'll want to use to market your business:
1. Search engine optimization (SEO)
One of the best strategies to use in your B2B Internet marketing campaigns is search engine optimization (SEO). A type of B2B search marketing, SEO is the process of optimizing your web content to rank in Google search results. The goal is for people to find your site in response to their queries.
An easy way to get started with SEO is to include relevant keywords in your written content, which will help it rank in Google for those searches. You can also implement tactics like:
When you successfully optimize your site for search engine rankings, your content will start appearing in Google results for relevant queries. As people encounter your content, they'll visit your site to read it, where they can learn about your products or services.
2. Pay-per-click (PPC) advertising
Pay-per-click (PPC) advertising is another way to get your business to appear in Google results. Rather than writing content and getting it to rank organically, PPC involves displaying paid ads at the top of search results pages.

To launch a Google PPC campaign, you can set up an account in Google Ads. From there, you can create ads and target relevant keywords. You then bid on your target keywords, and whenever someone searches for them, Google will display ads based on:
Bid amount
Ad Rank (how Google ranks your ads' quality)
With an optimal bid strategy and a high enough Ad Rank, you can earn top placements in Google search results. The best part is, you only pay for your ads when people click on them — at which point they'll be taken to landing pages where they can convert.
3. Social media marketing
Online marketing often requires you to go where your potential customers are. That makes social media one of the most optimal marketing spots, with the average user spending 28% of their Internet time there.
You can start your social media marketing campaigns by choosing the platforms where you want to market. Aim to find the ones where you think your audience will be — for example, LinkedIn is well-known B2B social media marketing platform.
On your chosen platforms, create an account for your business and begin posting engaging content to draw in users. Your posts can contain videos, infographics, and more.
You can also launch paid social media ads that target users based on features like age and location.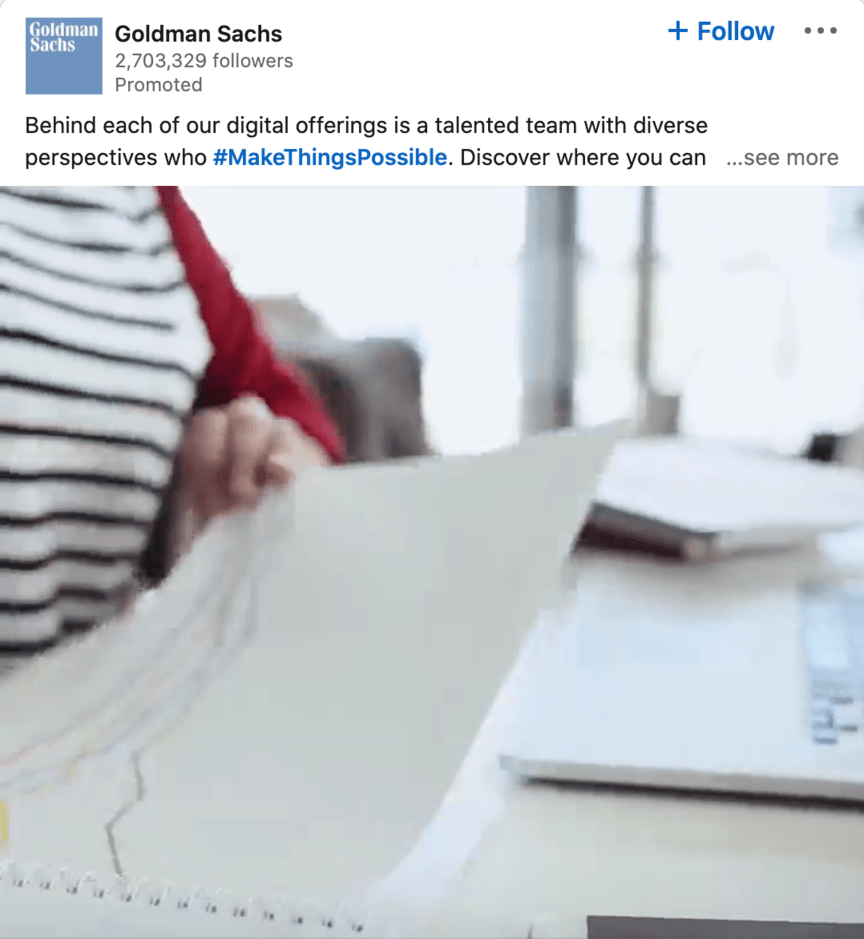 These ads appear right in their social media feeds and encourage them to buy your products or services.
4. Web design and development
Ultimately, all the B2B online marketing you do elsewhere on the Internet brings users back to one place: Your website. Your site is the spot where the conversions happen, so everything from your SEO to your social media should lead back there.
For that reason, it's critical to have high-quality web design. You want your site to look amazing and function smoothly so you don't drive away any traffic. Some excellent ways to improve your web design include:
When users find it easy to visit and navigate your site — and find that it looks visually compelling — they'll be much more likely to stick around and eventually convert!
5. Content marketing
We've already discussed the value of appearing in Google and drawing people to your website. But the only way to do either of those things is if there's something on your site for people to find in the first place. That's why it's vital to include content marketing in your marketing strategy.
Content marketing is a strategy that focuses on creating informational web content on your website. That content might take the form of videos, blog posts, or something else altogether. However, all of it should aim to inform users about your business or your industry.
As you might imagine, content marketing is closely tied to SEO. You start by writing the content on your site, and then use keywords and other tactics to get it ranking in Google where people will find it. People will come to learn from your content and see you as an authority in your field, which builds trust that can help you earn conversions later.
6. Email marketing
A final B2B digital marketing strategy is email marketing, which is exactly what it sounds like — sending people emails to market to them. People sign up to join your email list voluntarily and in exchange, you send them valuable information and content they want.
To build your email list, start by creating some email forms on your website. Try to make the process as easy as possible, so more people sign up.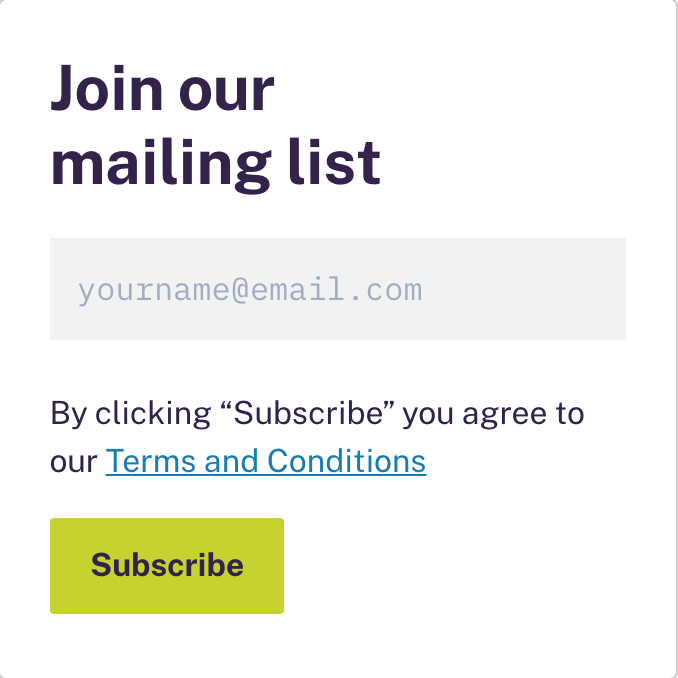 As people sign up for your emails, you can start segmenting your email list to send tailored content to your subscribers. Then you can send the promised materials to your subscribers and get them to engage with your business.
To make your email marketing extra effective, try personalizing your emails. Something as simple as addressing each recipient by name can do a lot to make them feel connected to your business.
Measuring the metrics that affect your bottom line.
Are you interested in custom reporting that is specific to your unique business needs? Powered by MarketingCloudFX, WebFX creates custom reports based on the metrics that matter most to your company.
Leads

Transactions

Calls

Revenue
Learn More

WebFX knows how to optimize your B2B Internet marketing
Ready to get your marketing campaigns off the ground? WebFX would love to help! With over 25 years of experience, we know digital marketing for B2B companies, and we know just what it takes to drive stellar results.
With our digital marketing services, you'll get help getting started with each of the strategies listed above. You'll also receive a dedicated account representative to keep you in the loop about everything we do for you.
To get started with us, just give us a call at 888-601-5359 or contact us online today!