Ecommerce

The Complete Ecommerce Startup Guide: Picking an Ecommerce Platform
The Complete Ecommerce Startup Guide: Picking an Ecommerce Platform
In this next chapter of our ecommerce startup guide, we'll explore how to pick an ecommerce platform.
Table of Contents:
The Complete Ecommerce Startup Guide
Sign Up for Your Merchant Account Now!
Before we start looking at ecommerce platforms and picking the best solution for your new business, this is the point at which you should sign up for a merchant account. Although it's not a very complicated process, acquiring a merchant account can take a few weeks, and it's best to get one secured early so you're not waiting around for it with a completed (but non-functional) store.
To acquire a merchant account, check with your bank to see if they offer this service. Many large chains do, but some smaller credit unions may not. You can also find a list of merchant account providers on the Authorize.net website.
Types of Ecommerce Platforms
There are a few options for new businesses who want to sell products online. You can choose from the following:
Self-hosted platforms – installed on your own server
Hosted platforms – you "rent" a store on someone else's server
WordPress – convert a WordPress blog into a store with one or more plugins
Marketplaces – a "store within a store," or a niche website that allows sellers to create their own stores within a marketplace
Marketplaces are a unique option for new retailers. Popular marketplace websites include Amazon, Etsy, BigCartel, and Cafepress. Unlike other options, they do not require a merchant account, usually because you aren't directly taking payments. However, marketplace websites usually take a percentage of the money received for each sale to cover the cost of hosting you. Also, sites like this often are for only specific kinds of products—for example, Etsy is only for handmade or vintage items—which may limit your ability to utilize them.
In this guide, we'll be covering only self-hosted, hosted, and WordPress platforms, but feel free to explore marketplace options in your own time as another viable option for your business, or perhaps as a secondary source of online revenue. Many retailers turn to Amazon or eBay to create a second storefront once their own websites are up and running, so don't rule this option out completely!
Now that you've learned about the ecommerce platform options, let's explore a few so you can determine the best fit for your business.
Click the name of each type or platform to skip to that section.
Self-Hosted Ecommerce Stores
Self-hosted ecommerce stores are those that reside on a server that you purchase (or rent). They are often provided as software packages that you are responsible for installing, updating, and maintaining.
Self-hosted stores are ideal for larger companies who want full control over the functionality of their ecommerce website. The software is typically open source, meaning it can be modified and changed to suit the individual needs of the user. However, with a self-hosted site, you're on your own when it comes to problems.
Here are some of the more popular self-hosted options available.
Magento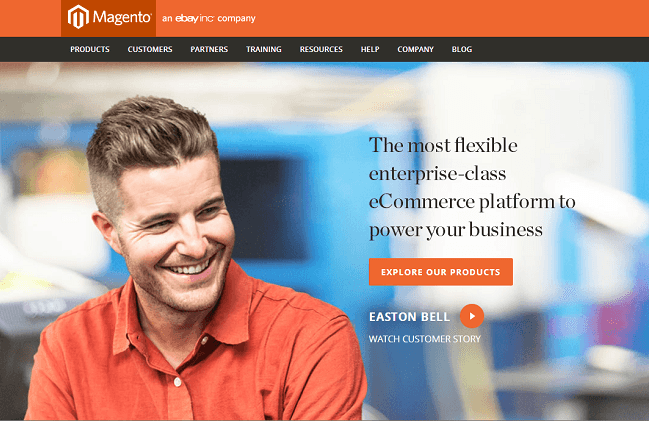 Magento is one of the world's most powerful—and well-known—content management systems. It's used by hundreds of brands both big and small, and due to its popularity, has its own marketplace for extensions that allow you to easily expand the capability of your store.
Magento's "Community Edition" comes at a cost that you can't beat: it's free. As long as you can install it, you don't pay anything for it. It also supports a huge variety of payment gateways (many via free extensions), and is very easy to integrate with a custom design or downloaded skin.
The biggest downside to Magento is that the learning curve is fairly steep, even for those who have used other ecommerce platforms before. The CMS has so many options that they may become overwhelming, especially for those who only want simple functionality. As a Magento user, you may find yourself frequently consulting the Internet for help… especially because the Community Edition does not come with any support whatsoever.
Having said that, once learned, Magento typically offers smooth sailing for those who choose it as their CMS. Since the Community Edition is free, there's zero cost associated with it, and the many features allow store owners to essentially "grow into it." By choosing Magento, you're essentially giving yourself the opportunity to add future functionality and flexibility without switching to a different CMS.
Magento is best for business owners who have the time and patience to learn a potentially complicated CMS, knowing that they will eventually value the many options the platform offers. If you're in a rush, and are willing to pay a little bit in exchange for a simpler system, you may want to look elsewhere.
OpenCart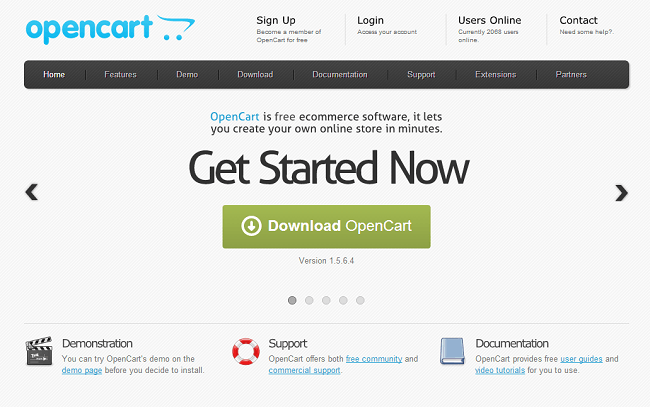 OpenCart is an open source (that is, with source code able to be modified freely) shopping cart that is free, feature-rich, and user friendly. It has a very simple administration screen, and allows new users to get up and running extremely quickly.
The biggest advantage OpenCart has over other CMS is its user-friendly interface. The system was designed to be as simple and easy to use as possible, making it an ideal choice for ecommerce startups or new business owners who don't have the time to learn a system like Magento. It supports many common ecommerce requirements, and also allows for hundreds of payment gateway integrations. There are also plenty of themes available.
Being this user-friendly comes at a cost, though. OpenCart isn't quite as sophisticated as other self-hosted CMS, and lacks some more advanced features. There's also not a great integration between themes and the CMS, meaning you may find yourself doing manually editing files to make even simple changes on your site. Finally, some users report that OpenCart's support is very slow, meaning you might be on your own if you run into issues.
If you want to get up and running quickly on your own server, and are able to find a theme that works for you with only minimal changes, OpenCart is a great choice for you. You may want to try the demo before committing, though, just to be sure that you will have all the features you need.
Zen Cart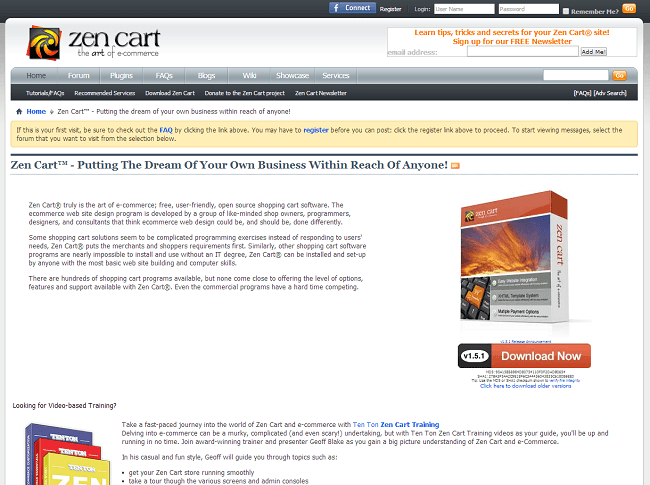 Zen Cart is a self-hosted ecommerce platform that has been on the market since 2003. Like the other options on our list, it's free, and is also open source. Due to its age, there is an overwhelming amount of documentation available, as well as hundreds of extensions and themes.
Like Magento, Zen Cart sports a ton of functionality. Since it's maintained by a community – not a single business entity – it has been constantly upgraded to support different needs and offer new options to users. There are also hundreds of plugins available to increase its functionality and support new payment gateways or other needs.
However, there are some common complaints about Zen Cart that you'll run into every time you read a review of it. The biggest complaint is that the CMS is outdated—both in looks and functionality. Its ability to support tasks needed for SEO is extremely low, and the admin interface looks, well, like it was designed in 2003 (and hasn't been updated since).
Another common complaint is that Zen Cart's updates can overwrite any custom development, meaning that you need to make backups before moving to the new version of anything – even plugins or themes. Also, some of the functionality seems very outdated, since you're required to choose "0" or "1" instead of "yes" or "no." This can definitely throw off anyone who isn't technically savvy!
Zen Cart is another good choice for anyone who desires a high level of functionality and customization without paying anything for their shopping cart software. However, the CMS is a little rough, and might take some getting used to – especially because it looks less polished than others on our list. But it is reliable, and may be the right choice for smaller stores that want a simple layout, or those who are willing to invest in custom development.
Hosted Ecommerce Stores
Hosted ecommerce websites are those that you do not set up or host yourself. These sites run on proprietary content management systems that are hosted by the companies you purchase your plan from. While self-hosted sites require you to purchase a server and download the CMS to put on it, hosted stores simply have you sign up, name your store, and pay for a monthly plan that includes the CMS, hosting, and maintenance.
A hosted store is usually a pretty good choice for anyone who is new to selling online, and isn't worried about any kind of custom development. Hosted platforms are a little limited in what they can support, and it's difficult to load any custom themes or plugins of any kind, but they're extremely fast and easy to set up.
Here are some of the best hosted ecommerce platforms out there.
BigCommerce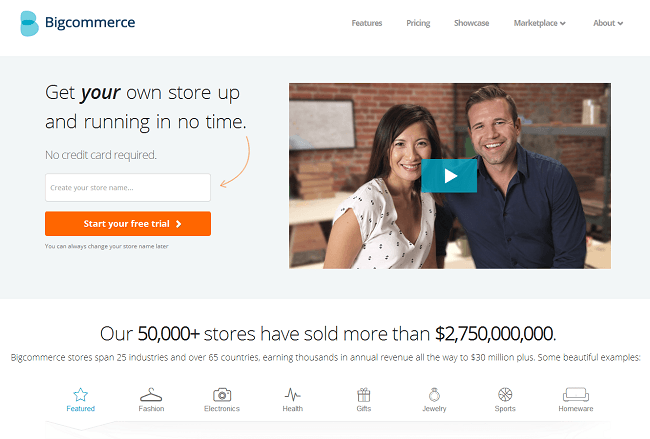 BigCommerce is one of the most popular hosted ecommerce solutions on the market. As of 2014, they claim to support more than 50,000 stores. As an "all in one" CMS, BigCommerce offers not only a shopping cart with the expected functionality, but also has built-in support for SEO, abandoned cart remarketing, mobile shoppers, coupons, and more.
This CMS is popular for a reason: it's the complete package. BigCommerce has a fairly easy to understand administration system that combines options and flexibility with a clean, modern interface. Also, the company has typically stellar customer service, and supports a huge variety of payment gateways out of the box. It's a great solution not only for new businesses, but also for those who have worked in ecommerce before and want to set something up easily and quickly.
There are a few downsides to BigCommerce. As you'll learn, a hosted platform requires money, and BigCommerce's pricing starts at $24.95 a month… but limits your products and storage space. To carry more than 1,000 products, you'll have to pay almost $150 a month. This does come with unlimited bandwidth and without any transaction fees, but this can still be a huge investment for a new business. Also, while you can customize your website's appearance via a built-in theme editor, it's extremely difficult to use, and can very quickly frustrate new sellers.
Having said that, it's hard to argue with a hosted platform that is still flexible enough to offer its own marketplace for themes, apps, and payment gateways. This is something you won't find on a lot of other hosted platforms. They also have recommended theme designers (or "premium partners") who can affordably create and install a custom skin for your store – again, fairly unusual for a hosted platform!
BigCommerce is a great choice for anyone just starting out with online sales. However, your monthly costs may rise fast if you have a lot of products, and you should be prepared to invest in a custom theme – or a developer – if you want to make any big visual adjustments.
Shopify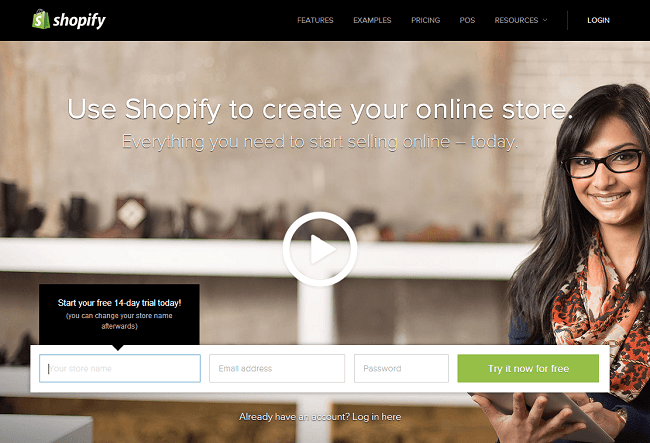 Shopify is another popular hosted option for ecommerce, powering over 100,00 stores. It claims to have all the features you want without any clutter, giving you the tools you need to get up and running without a ton of cost or time spent developing custom solutions.
What makes Shopify unique is its built-in credit card system. The CMS takes credit cards right out of the box – meaning you don't have to sign up for a payment gateway. Also, there are around a hundred professional themes available, and the administration system is clean and easy to understand.
At $29 a month for unlimited products, Shopify beats BigCommerce on pricing – at least on the surface. Unlike some other hosted competitors, Shopify charges transaction fees for each purchase. This can add up quickly, especially if you have a lot of sales. Also, you have to pay $79 a month for built-in functionality that most CMS support out of the box, like gift cards and reporting. This can be a huge blow to anyone who wants to keep an eye on their data without accessing Google Analytics every few minutes.
One potential complication of Shopify is that the CMS uses its own non-standard terms for just about everything. Categories are called "collections," for example, and there's a "tag" system that will probably confuse anyone both new to ecommerce or experienced with it. (At least products are called "products"!) Also, much like BigCommerce, the theme customization system is very confusing, and templates may take a long time to tweak even slightly.
Shopify is another extremely popular choice for those who desire a hosted shopping cart, and it's one of the most modern, clean CMS options on our list. Just be careful about those fees, because they can add up very quickly.
Volusion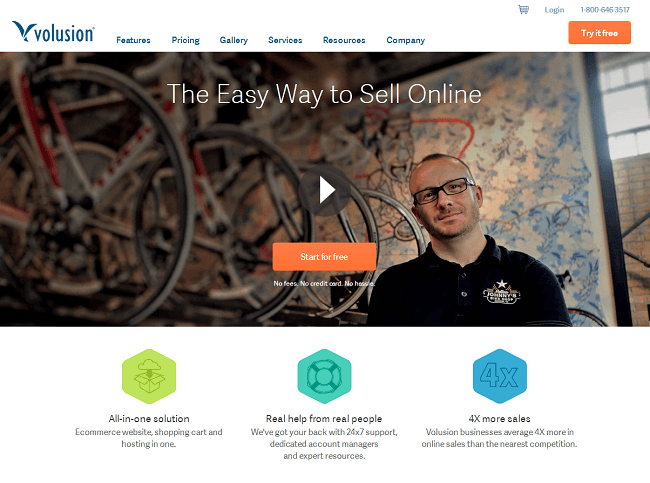 Volusion has been around since 1999, and has long been a leader in the field of hosted ecommerce solutions. With a claim of 99% uptime and stellar customer support, this CMS offers a lot of bang for your buck, combining reliability and functionality with beautiful, modern, and mobile-optimized website themes.
Many reviews of Volusion indicate that this CMS is great for anyone who wants full control over their site without needing to learn to code. There are a lot of SEO options out of the box, and the CMS is fully integrated with themes, allowing endless customization. There are a lot of themes available, too, and the cost to get a custom one developed is fairly low.
Compared to its competitors, Volusion's monthly pricing is very good. If you're starting a small store with less than 100 products, their "Mini" package is probably your best option: it's only $15 per month with unlimited storage and no transaction fees. However, your bandwidth is limited, and your store won't support reviews or product ratings. But adding this only costs another $20, and the "Plus" plan offers the same functionality as BigCommerce's 1,000 products page for far, far less.
There is one huge downside to Volusion, though: in what is probably a link building attempt, every page on your website has to include a backlink to their homepage – unless you pay an extra $20 per month to remove it. This may not bother some, but to anyone trying to build a brand name or make their website look professional, it's going to be a problem. Also, many complain of "hidden fees" that are discovered during the website build process, including necessary security requirements. Finally, reviews on customer service are mixed, indicating that it's not as good as the platform claims.
While cost-effective and beautiful, Volusion does have some drawbacks. If you're running a small store, it's probably a great choice for you. However, be aware that those hidden fees can quickly add up, and that required backlink might get annoying after a while.
3dcart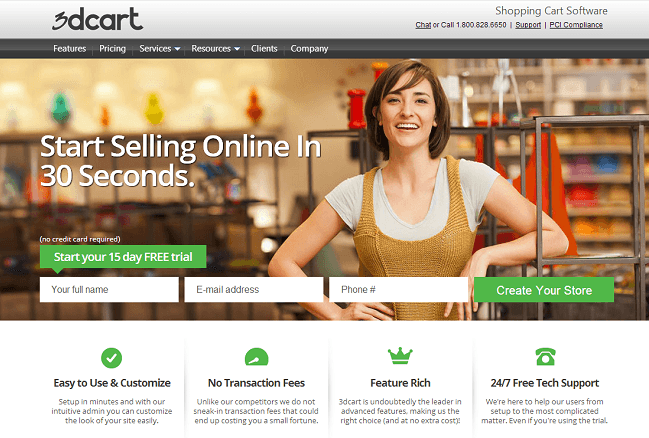 3dcart is the final hosted solution on our list. Offering a 30 day money back guarantee and 24/7 phone support, this platform's dedication to its customers definitely sets it apart. It has a huge list of supported payment gateways, and has "mCommerce" mobile templates that give you the option to instantly make any store shoppable from a mobile device.
3dcart's pricing is a little higher than its competitors, but it comes with some unique functionality out of the box. For example, you get some free ads with the "Mini" plan at $19.99 a month, and the "Starter" plan has built-in email marketing and daily deal support, something you really won't find elsewhere for less than $50 or so a month. Some packages also offer free domain registration, or extra reports and functionality. There's also a 15% discount if you pay your plan annually rather than monthly, which could save you a lot of money in the long run.
The biggest downside to 3dcart is that many of its built-in themes look a little outdated. You can see shades of this on the site itself—it's just not as modern as its competitors. This means you'll have to pay for a custom theme if you want something stylish. Also, 3dcart's plans limit products and bandwidth, so it's a slippery slope to paying more every month just for hosting. Finally, like a lot of other hosted solutions, 3dcart's options are limited, even if you pay for the highest tier, making it all too easy to "grow out of" your store.
3dcart is a solid, reliable choice for new ecommerce website owners, and they have great support with a money back guarantee. However, if you're looking for sleek and polished website design, you'll either need to invest in a custom template or look elsewhere.
WordPress Ecommerce Plugins
Although traditionally used as a blogging platform, some developers have come up with ways to convert a WordPress installation into a bonafide ecommerce store. This is accomplished through the installation of plugins that add shopping cart, checkout, and product page support.
WordPress stores are easy to set up, thanks to WordPress's quick installation process, but the addition of ecommerce drastically cuts down on the number of themes available. It can be difficult to find an attractive theme that supports a shopping cart and checkout page, much less makes your site look and feel like a store and not a blog. Having said that, it's still a cost-effective option for anyone who is getting into ecommerce for the first time.
Here are two plugins that can be used to convert a WordPress installation into an ecommerce website.
WooCommerce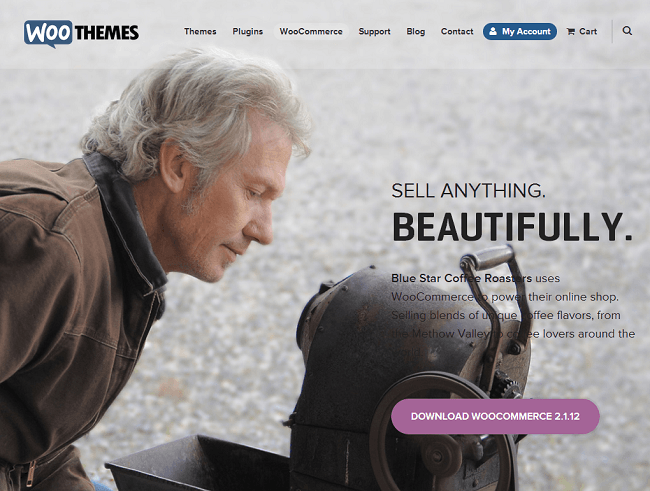 WooCommerce is a plugin that can be used on any WordPress installation. It has all the functionality of a hosted or self-hosted store, including reporting, payment gateway support, taxes, and marketing campaigns. The plugin is also free, meaning the only thing you'll pay for is the hosting of your WordPress installation.
WooCommerce actually has its own extensions – sort of like plugins for a plugin – that give you more options. Some of these extensions are paid, while others are free. Currently, the plugin supports 24 payment gateways (in the US) via extensions, but it's bundled with PayPal right out of the box. Surprisingly, it's only $79 to add some of the most popular gateways, like Authorize.net, WorldPay, and Stripe.
If you're looking for a theme that supports WooCommerce, they have 39 of their own for you to choose from. But if you can't find one, well… you might just have to look elsewhere, or pay for custom development. Between the possible desire for a different theme, the requirement of a paid payment gateway, and any other development your WordPress installation may require, this could drive up the cost of your store. However, these are all one-time investments – you won't pay any monthly fees to use the plugin or its extensions.
WooCommerce is a great choice for anyone who is already familiar with WordPress. The menus and options are intuitive, and the system is very clean and easy to understand, even for beginners. However, you may not want to pay each time you desire more functionality, even if there are no monthly fees. WooCommerce is a great choice for anyone satisfied with simple, out of the box solutions, but maybe not so much for anyone inexperienced with WordPress or who desires full control.
Shopp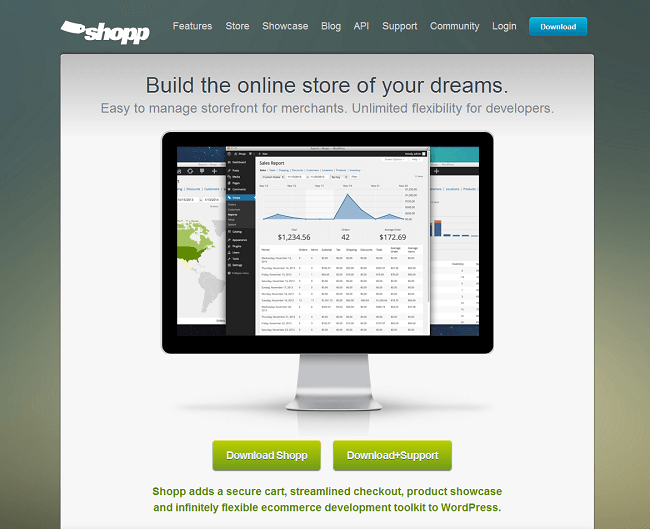 Shopp promises both an easy to manage storefront and unlimited flexibility for developers. Like WooCommerce, Shopp is a free WordPress plugin that supports shopping cart functionality, including coupon codes, taxes, and different payment gateways. It also sports some built-in SEO functions, including semantic markup and canonical URLs (a big plus).
Surprisingly, Shopp has an extension store of its own – but its add-ons are less expensive than WooCommerce. (For example, the Authorize.net gateway extension is $45 here, compared to WooCommerce's $79.) It supports different payment gateways, but just about the same number as WooCommerce.
There are two big downsides to Shopp. First of all, if you want an attractive, modern theme that supports it, you're on your own: the plugin doesn't have many to offer, and several of the themes look outdated or clunky. Second, if you want support for an issue, you'll actually have to pay them for it. Merchant support is $75 a year, while developer support is almost $300.
Again, if you're familiar with WordPress, Shopp may be a natural choice for your CMS. However, unless you're an experienced developer, you may run into trouble getting Shopp to look, feel, and act the way you want it to. While its extensions are certainly cost-effective, and you can't beat free for a plugin, you may eventually decide that a different CMS is a better choice.
Which Ecommerce Platform is Right for You?
There is no one answer to this question. Your ecommerce platform needs will vary based on the number of products you plan to sell, the amount of customizing you want to do, and the functions and features you want your store to support.
If you will only be selling a few products, and want to get up and running quickly, without investing a significant amount of time or money into your store setup, a hosted platform is probably right for you. WordPress is also easy to install, but you'll need to pay for hosting, and your theme options may be limited. Finally, if you will have a lot of products and want to have precise control over the way your site looks and works, we'd recommend choosing one of the self-hosted options on our list.
Also, keep in mind that there are plenty of other options out there for hosted, self-hosted, and WordPress ecommerce, as well as multiple marketplace websites. These are just a few of them. Some of the options we didn't cover may have higher fees, or may be more complicated and time-consuming to set up. So feel free to do some research to determine what the best fit for your new business is.
Can You Change Platforms Later?
If you start on a hosted platform but later decide you prefer the flexibility of a self-hosted store, or want to move from WordPress to another solution, you may be in for a bumpy ride. Changing platforms can be extremely difficult, time-consuming, and expensive – and it may result in undesirable downtime or a major redo of your storefront's appearance.
Ecommerce platforms all rely on different code and database structures. What works perfectly on BigCommerce may not function at all on Magento, and a WordPress store that relies on the WooCommerce plugin uses a completely different database than Highwire. Also, although there are some payment options and gateways that are prominent enough to be considered universal, you may find that your favorite checkout method simply isn't supported on a new platform.
If you find that you absolutely need to change your ecommerce platform, yes, you can. However, be prepared to operate your existing store while building the new one, and know that the process won't be easy. If you think you might "grow out" of a hosted platform eventually, or don't want to be tied down to WordPress forever, carefully consider your options before making a decision. It may be better to make a decision with where you want to go in mind, rather than where you are now.
Now that we've covered some ecommerce platform options and given you some ideas to consider, let's explore the initial setup of your online store. The next chapter will discuss important tasks that should be completed right away, walk you through the components of a product page, and talk about other assets that every great store should have.