The Definitive (and Free) Account-Based Marketing Guide for 2023
Account-based marketing, or ABM, is a business-to-business (B2B) marketing strategy where marketing and sales teams work together to attract and close high-value accounts. Most account-based marketing tactics focus on creating personalized experiences to generate leads and nurture them into clients. Keep reading to learn more about ABM in this account-based marketing guide!
Learn all about ABM in this account-based marketing guide
In this account-based marketing for dummies breakdown, you'll learn the following:
Keep reading to start building your ABM knowledge! For even more tips and tricks on how to market your B2B organization online, sign up for Revenue Weekly. You'll have excellent company — more than 150,000 other marketers use Revenue Weekly to maximize their digital marketing strategies.
What is account-based marketing?
ABM, also called account-based marketing, is a marketing strategy used by B2B companies to:
Align sales and marketing teams
Focus marketing budgets and ad spends on ideal clients
Attract high-value accounts
Nurture high-value accounts into clients
Typical traits of an account-based marketing strategy include advanced company targeting, personalized marketing and buying experiences, and marketing automation software. Businesses can use account-marketing tactics on multiple channels, from email to paid.
Account-based marketing vs. inbound marketing: What you need to know
Companies looking to use ABM often already use inbound marketing to promote their business, which leads to the question: What is the difference between account-based marketing and inbound marketing?
In account-based marketing vs. inbound marketing, the main difference is the way each approaches targeting:
Inbound marketing takes a broader approach to reach your target audience. For example, with strategies like search engine optimization (SEO), you'll attract various users in your audience, both qualified and unqualified.
Account-based marketing takes a narrower approach to reach your target audience. For example, with strategies like email marketing, you'll create personalized email campaigns for qualified accounts so you can nurture them more effectively towards conversion.
While different, both inbound marketing and ABM use tactics that attract people to your business. They help your company reach the right people at the right time, which is why both approaches are so successful.
What are the benefits of account-based marketing?
Like any good account-based marketing guide, this one outlines the benefits of ABM, which include:
Align your marketing and sales teams
Typically, sales and marketing teams work separately, which can cause issues. For example, marketing may drive dozens of sales leads, but few of these leads are qualified. That's where account-based marketing can help.
With ABM, your marketing and sales teams collaborate to:
Define your ideal client
Outline your requirements for a qualified lead
Determine your goals for account-based marketing
Develop your strategy for capturing new accounts with ABM
Besides using account-based marketing to align sales and marketing teams, companies will also invest in customer relationship management (CRM) software that integrates with marketing platforms. For example, Nutshell is a CRM application that integrates with MarketingCloudFX, a marketing suite.
Focus your efforts on your ideal client
Account-based marketing allows your business to focus its efforts on the most valuable accounts. That means your marketing and sales teams dedicate their time and resources to attracting and nurturing the most valuable clients.
With ABM, you're focusing more on quality vs. quantity when it comes to leads.
Maximize your marketing returns
Quality matters most when it comes to generating, nurturing, and closing leads. While you can sign-on dozens of new businesses each year, your company will often see the most value from those that match your ideal client the most.
For example, you may see:
Lower churn rates
Higher upsells
With these kinds of results, you can often expect a better return on investment (ROI) from ABM. In fact, 97% of marketers report earning a higher ROI from account-based marketing than other marketing strategies. With account-based marketing statistics like that, implementing an ABM strategy is an excellent way to drive more revenue for your business.
When should I use ABM?
Any company can use ABM. The question, however — should yours?
Enterprise-level organizations with 1000 or more employees tend to see the best results from ABM.
That's because these companies tend to serve clients that have multiple stakeholders, from department heads to c-suite executives. Every time these enterprise-level organizations go to close a deal, they must work with and nurture each of these stakeholders. Otherwise, they lose the sale.
With account-based marketing, these companies can create personalized marketing and buying experiences that nurture a potential account's stakeholders. These tailored experiences address each stakeholder's unique concerns and questions so the organization can close the sale.
What if your company isn't an enterprise-level organization? Should you forget about ABM?
No. While account-based marketing offers the most value to enterprise-level businesses, smaller companies can still use ABM with success. However, it's critical to understand when and how to use account-based marketing tactics so you can drive the best return for your business.
How much does ABM cost?
ABM prices range widely because they depend on the account. For example, some businesses may invest up to $65,000 on an account-based marketing campaign, while another company may spend $2000 to $5000.
How much your organization dedicates to ABM will depend on the following factors:
Target account
Product or service type
Competitors and their digital marketing strategy
Ad spend
If you decide to hire an account-based marketing agency, you'll also have to consider those pricing factors. For example, more experienced companies tend to charge more for their services than less experienced ones.
Read In-House Marketing vs. Marketing Agencies
3+ types of account-based marketing tactics you can use
Now that you've learned some of the basics of ABM in this account-based marketing guide, it's time to move onto your options. With account-based marketing, you can use various digital marketing strategies to reach and nurture your most valuable accounts and their unique stakeholders.
A few examples of the account-based marketing tactics you can use include:
In most cases, your ABM plan will use all these tactics to convert your target account. Typically, businesses will place most of their investment in Google Ads and LinkedIn Advertising campaigns since these deliver terrific results for reaching and nurturing your stakeholders.
Before you decide which account-based marketing tactics to use, though, you'll need to build your plan.
WebFX is a partner businesses trust.
Hear from HydroWorx, who saw a 236% increase in organic sessions with WebFX services.
Watch the Video Testimonial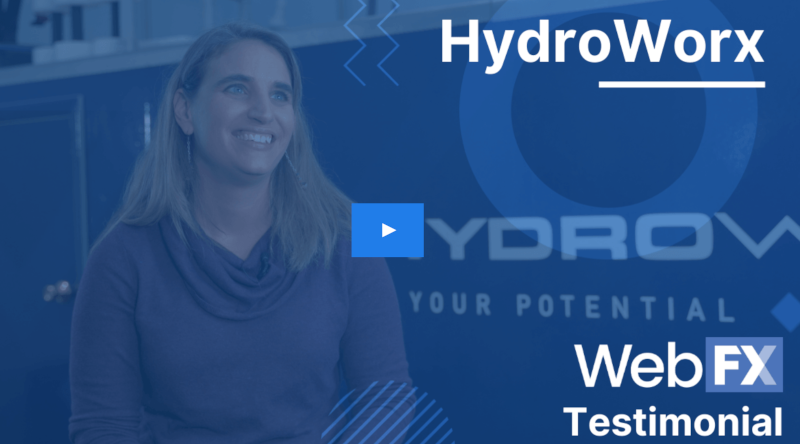 How to get started with your account-based marketing plan
Start outlining your account-based marketing plan by following these five steps:
1. Determine your ideal account or client
First, your business needs to create a mockup of your ideal account or client.
Get started by asking questions like:
How much does this client spend with us?
How many decision-makers does this client have?
What services or products (of ours) does this client use?
What is the client's company size, industry, and annual revenue?
How much time does this client require each month from our team?
In most cases, you'll want to coordinate with your sales or marketing team on developing your ideal account profile. Sales team members will likely have the most insight on which accounts make the best clients in both the short- and long-term.
For the best results, take your time at this stage of the planning process. It forms the foundation of your ABM plan, so it's worth the investment. Once you know which accounts you want to prioritize, you can start brainstorming how to capture them.
2. Learn your target account's decision-making process
As you've learned in this account-based marketing for dummies guide, ABM helps your business close high-value accounts by creating personalized experiences for the decision-makers behind an account, like a department head, executive, and associate team member.
For your account-based marketing plan to succeed, you need to understand each account's decision-making process. How do those decision-makers work together, for example, when researching, vetting, and choosing solutions like yours?
Keep in mind that you'll likely do this research for every account.
A couple of questions that can help you get started include:
Who are the stakeholders for this account?
What role and seniority level does each stakeholder occupy?
Which factors matter most (and least) to each stakeholder?
Which social media networks, like Twitter and LinkedIn, do they use professionally?
What concerns or questions do these stakeholders often have about your product or service?
Answering these questions will provide you with valuable information about how to educate, nurture, and earn these decision-makers' support. If you know what matters to them and how to reach them, you have the basis for an account-based marketing strategy.
3. Develop your ABM strategy
Next, you'll use your research from the previous steps to develop your game plan.
For example, you'll want to decide:
Which account-based marketing tactics you want to use
How much you want to spend on each tactic and for the overall ABM plan
What assets, resources, or tools you'll need to launch and manage the strategy
Who will lead, support, or contribute to the strategy
How you will track and measure each tactic's performance
When brainstorming account-based marketing strategies, it's helpful to break them into two parts:
Overall: The overall viewpoint looks at everything you're doing to nurture stakeholders and bring them into agreement about your business and its offerings. This view can help you see where account-based marketing tactics overlap or work together.
Stakeholder: With the stakeholder perspective, you look at everything you're doing to nurture individual stakeholders. For example, with Stakeholder A, you may have a dedicated email campaign planned.
As you're planning your ABM strategy, remember to research the cost of different digital marketing strategies. For example, if you're looking to launch a Google Ads campaign with Customer Match, check out the average prices of Google Ads before setting your ad spend.
When you research costs beforehand, you can create realistic budgets for your efforts.
4. Launch your ABM strategy
With your plan built and your account-based marketing tactics chosen, you can launch your strategy.
For the best results, take a proactive approach towards managing your ABM campaign.
As an example, if you're running ad campaigns, which is one of the most common ABM strategies, log in at least once a week to check their performance and make adjustments. The same practice applies to email marketing campaigns.
When you take a proactive approach to managing your account-based marketing strategies, you empower them to succeed. In comparison, setting up your campaigns and leaving them unmanaged risks significantly lower returns.
5. Measure your results and improve
One of the most critical points of this account-based marketing guide is measuring your results.
That's because tracking, monitoring, and measuring your results allows you to demonstrate:
How much revenue you generated for your company
How many accounts your ABM strategy helped close
How much ROI you generated from the marketing budget
And more
Essentially, you can quantify your company's ABM investment — and their investment in you.
You can use a various account-based marketing tools to measure your results, These include:
While these tools all provide valuable data, they don't offer easy access to that data. You have to log-in to one and then another, which becomes a hassle. In most cases, you spend more time compiling the data than analyzing it.
That's why many businesses invest in marketing automation platforms.
MarketingCloudFX is one example of a marketing automation platform. It's a competitive piece of tech because it uses artificial intelligence from IBM Watson and machine learning from Google to deliver data-backed insights into your strategies.
That means you can make smarter decisions about your account-based marketing tactics.
No matter how you decide to track, monitor, and measure your ABM results, make sure to do it. Skipping this step can make it impossible for you to show decision-makers your impact on the organization's bottom line.
5 account-based marketing best practices to follow
This account-based marketing guide walked you through the basics of ABM, but what else can you do to set your ABM plan up for success? Well, with these five account-based marketing best practices, you can take your strategy a step further:
Build Specific, Measurable, Achievable, Relevant, and Timely (SMART) goals for each ABM tactic
Establish processes or workflows for building, launching, and managing ABM plans
Use lead tracking tools and CRM software to monitor a stakeholder's journey
Go beyond personalizing content by name and personalize by location, pain points, and more
Include a call-to-action (CTA) every time, whether to download a guide or request a quote
Good agencies have more than 50 testimonials.
Great agencies have more than 100 testimonials.
WebFX has over 1000+ glowing client testimonials.
See What Makes Us Stand out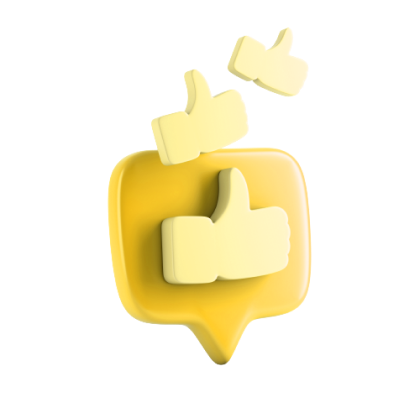 Drive (and close) more qualified leads with ABM
Whether you're an enterprise-level organization or small-to-midsized company, you can use account-based marketing to turn your most valuable leads into your newest clients. The key is a smart strategy driven by an experienced marketer.
At WebFX, we bring more than 25 years of experience to ABM. For perspective, we've used our custom strategies, advanced marketing tech platform, and full-service marketing team to help our clients earn more than 7.8 million leads — and over $3 billion in revenue — over the past five years.
Learn how we can help your business drive and close more qualified leads by contacting us online or giving us a ring at 888-601-5359 to speak with an experienced strategist about our custom account-based marketing plans!