How to Start a Company Blog
It isn't hard to set up a blog on a company's website. In fact, that's the easiest part of blogging. Blogging starts to get tough when you work on establishing yourself online.
You've answered "Yes" to "Does my website need a blog?" but gaining traction and an audience for your blog posts takes a lot of time and strategizing. However, it can be a major boost to your business, increasing traffic to your website and potentially even getting more conversions. And when you consider that it costs almost nothing to update and maintain, a successful blog is a great way to simply make money.
Establishing a blog involves a lot of thought, though, and it requires continued dedication to ensure the blog doesn't suddenly go dark and lose readers. If you're looking to start a blog on your website, then you're taking the first step to improving your company.
Before you start your blog
Before you make your first post, you need to cross a few items off of a to-do list.
1. Research keywords
First, make sure you know which keywords you want to target with every blog post and use those as post topics. Though not every blog post needs to be keyword-optimized (like a "get to know our newest team member" post), but anything relevant to your industry or competing with other blog posts should be.
If you have trouble finding keywords or topics, think about the terms that customers might use to find your website in a search engine. You can also research keywords on a variety of platforms to get a working list of blog topics for the future.
2. Create a calendar
Next, create a content calendar and plan to launch a new post on a regular schedule. The content calendar will help you stay on track. Plus, it allows you to divvy up responsibility for different posts to other members of your marketing team or company.
However, the key to creating a calendar is to actually follow it once it's made. One of the most common reasons companies stop blogging is because they go off the rails of the schedule. The more you stick to your publication dates, the better your blog will perform.
3. Write and edit before launch
Before you launch your blog, have some posts stockpiled and ready to go. Write enough posts to cover a week or two, so you can continue to work well in advance of your schedule and regularly post content.
Beyond that, it's also essential to have someone else read and edit your blog posts before launch. While editing can be a complicated process, it's essential to the success of your blog since it gets another pair of eyes on what you wrote. No matter how good of a writer you are, you should always have an editor to make your work even better.
4. Build hype
Last, announce when your blog will launch on social media to build an early readership. You can write a short post on Facebook, tweet on Twitter, and send an update to your email subscribers.
Spreading the word about your new blog will make sure people know what to expect. You don't want to surprise people with a new feature, and if they know about it ahead of time, you increase the chance that you'll have a decent readership on the first day.
We don't want to tell you about the work we do, we want to SHOW you.
View Our Portfolio

We've built over
Websites
in a variety of industries.
After your blog launches
Once you're launched, it's now your duty to keep up with posting and make sure everything you write reflects the personality and culture of your company. Plus, you have to get people to read.
Reach more customers with digital marketing
At WebFX, we know what it takes to reach and connect with audiences online, and we can help your company generate more sales and revenue with a custom digital marketing strategy.
1. Use social media
Just like how you initially built hype in your customer base, social media make it easy to tell your customers and followers that you've made something new. It also makes it easy for them to tell people that they know about your new blog post, which can get you more traffic and potential customers.
Social media also opens the doors to interacting with people who want to talk about your newest post. Generating conversation gives you a chance to directly interact with your customer base, giving them an experience with your brand and helping to improve your reputation.
2. Update your customers about your company
Blog posts don't always have to be about industry trends or keywords. You can also use your blog as a place for public relations and announcements. If you're expanding, hiring, or just showing customers a little behind-the-scenes action, you're still giving customers content that they want to read, even if it's not always about news.
3. Use different writers
When you're blogging, you can write every post yourself. But that could get repetitious, stressful, or boring, and all of those can destroy a fun and productive blogging experience.
Instead of taking it all on yourself, you can use additional writers from around your company or offer to take on guest bloggers. Both options give you more content for your website without pinning all the responsibility on you, and readers may enjoy seeing a fresh face on your site. Varying your writing staff is almost always a win-win!
Time to Level Up Your Sales
Our long list of services helps you grow every aspect of your business with marketing strategies that are proven to increase bottom-line metrics like revenue and conversions.
In the past 5 years, we've managed more than 12.9 MILLION transactions across our client base.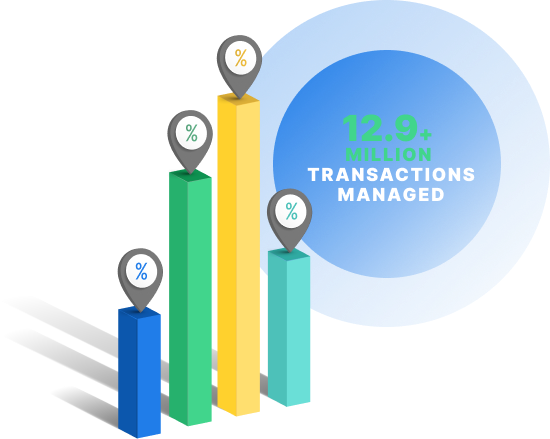 WebFX knows blogging
At WebFX, we have years of experience launching and managing results-driven blogs for our clients. When you partner with us, we'll research relevant keywords, create original content, and promote your posts on a variety of channels. Our team of Internet marketers, SEO specialists, and copywriters can create blog posts that generate buzz in your customer base and your industry as a whole, giving you the extra traffic and conversion potential that your company needs to grow.
Ready to start growing your business? Contact us today to talk about how we can blog for you!