How to Find Your Perfect Digital Marketing Agency
Digital marketing agencies are everywhere these days. They all say they can do the same thing for your business, too — incredible growth at a fraction of the cost of traditional marketing. But with so many options, how do you choose the right digital marketing agency for your needs?
At WebFX, we know the decision is daunting. That's especially true if you've never worked with digital marketing before.
So how can you be sure any digital marketing agency is worth their salt?
Check out the video below from Bill Craig, WebFX's president and founder, to learn how to do just that.
And don't forget, if you're looking for a digital marketing agency in Orlando, or a digital marketing agency in Philadelphia, WebFX is here for you!
Good agencies have more than 50 testimonials.
Great agencies have more than 100 testimonials.
WebFX has over 1,020+ glowing client testimonials.
See What Makes Us Stand out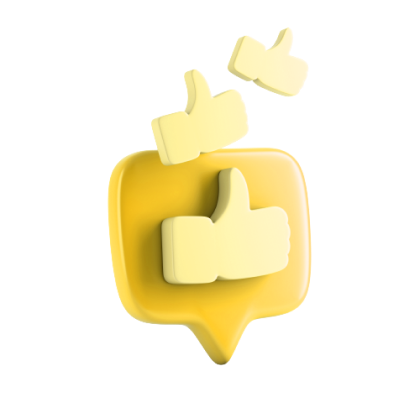 5 tips to choose the ideal digital marketing agency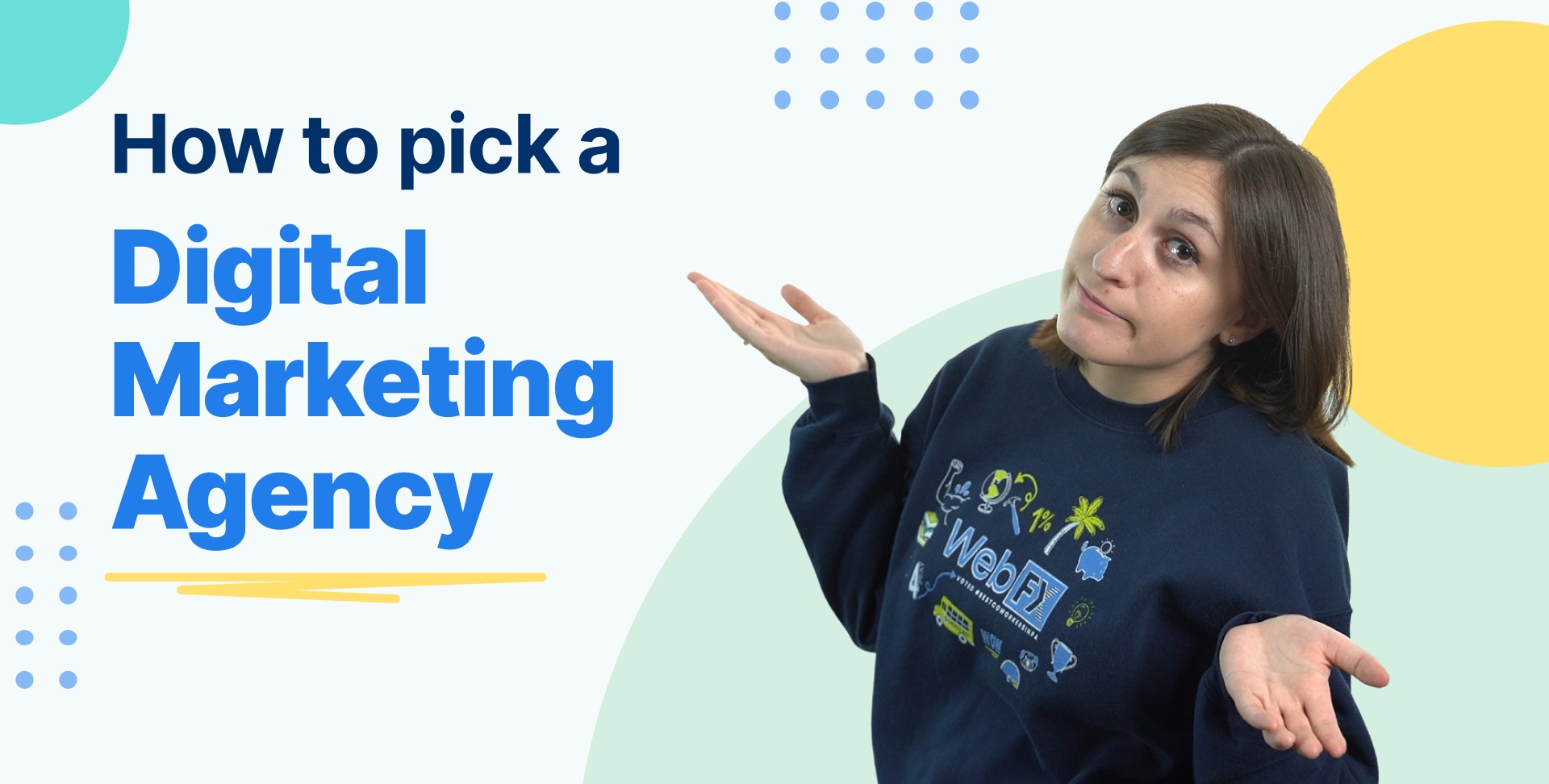 Breaking down Bill's points
Bill makes five big points in the video above. These points are all important guidelines to follow when you're looking at digital marketing agencies.
We'll break each point down even more below.
1. Does the agency rank in search?
This is the most important question on our list.
If a digital marketing agency is going to promote your business, they should be able to promote themselves as well!
After all, they're using the same marketing strategies for themselves that they'll use for you. So if they're struggling just to break into search results about digital marketing, can they really help you?
A quality digital marketing agency should be able to lead by example.
If an agency books itself as a content marketing specialist, their content should be unbeatable.
If they boast about their technical SEO, they should have every HTML tag necessary.
If they talk about building links, you should see them high in search results.
If you can't find evidence that of an agency's success based on its own merits, second-guess every claim they make. Think critically about them, and imagine how they might approach your business.
And if you can find a digital agency that outperforms another, look into them more.
2. Does the agency use its own tracking software?
Now that you've found an agency that's proven its worth, you can look into how they did it.
Most agencies should have a suite of tools that they either bought or created.
Bought tools are typically subscription-based services that run off of another company's servers. Those tools are subject to downtime whenever the proprietor suffers any kind of problem, which can make them unreliable.
Created tools are often hosted on the agency's own turf and in their own private servers. With that, a digital agency ensures their tools are constantly available at all the right times. And if there is ever a problem, the agency can address it first-hand instead of sitting on hold with a customer service representative.
So while an agency may not have 100 servers to host its robust set of tools, it may have a streamlined kit that helps them achieve success.
And if they do, they'll be able to help you succeed with it too — all from the comfort of their own physical business!
3. Does the agency consistently get new sales and leads?
This question is difficult to answer directly, but you can still figure it out with a few key points.
To determine whether an agency consistently earns new sales and leads, look at how much they've grown over the past few years.
You can do this by reading up on the size of their website, plugging their URL into a tool like SEO Checker, and more.
Looking at the size of an agency's website will tell you whether they have the time and funds to support an expanding website. If they do, then you know the agency is earning revenue from sales.
Tools like SEO Checker will give you a more detailed and technical view of an agency's site.
With our SEO Checker, you can see how well the agency uses SEO on its own site to attract and convert new customers.
If they have poor scores or lots of red flags, then you know to avoid that agency.
If they're really good at digital marketing, they should stand up to your scrutiny and the technical issues addressed in SEO Checker.
4. Does the agency have any testimonials?
Testimonials play a surprisingly important role in digital marketing.
With so many agencies out there, it's hard to tell which ones are worth your money and which ones just want to make a quick buck.
You can figure that out in a flash by looking at a company's testimonials.
Testimonials are on-site endorsements for an agency made by current or previous clients. These endorsements are always positive, and they should include the name of the client company at least.
They should also be long enough to give you a good idea about what the agency did and how they succeeded. It's also a great sign if you see testimonials mentioning specific services by name, date, timeframe, and ROI.
Most importantly, a good agency will have a lot of testimonials.
Shady agencies won't have any. If you find a digital marketing agency that can't back up its word with client testimonials, then it's smart to look somewhere else.
Agencies with a dozen (give or take) testimonials might just be starting. And if they're just starting, they may not have the experience or skill to get the results you want for your business.
Then, you have agencies with 50 or even 100 testimonials. These agencies are probably growing steadily, and it's almost certain that they do good, honest work.
Last, you have agencies with 300 or more testimonials. Typically, these agencies have stood the test of time and thrived in an industry with thousands of competitors.
Agencies that have 300+ testimonials are sure bets. They'll have the knowledge, experience, and background to drive new business to your website.
It's possible you'll pay a little more for these agencies, and that's to be expected. After all, you get what you pay for in digital marketing — although that can sometimes be a good thing!
5. Does the agency have enough experts to keep you up to date?
Finally, it's important to look at a digital marketing agency's headcount.
This may sound trivial, but an agency that only has 10 people won't be able to do as much work as an agency with 100, even working at maximum efficiency!
A good rule of thumb is that whenever you see a larger agency, you can feel more comfortable with their abilities to keep your site up-to-date and converting new customers.
Smaller agencies often hire generalists — digital marketers who try to do everything pretty well, but nothing spectacularly.
Larger agencies, on the other hand, can hire specialists — digital marketers who concentrate on one aspect of marketing and excel in it.
Then, whenever your business needs support or a new marketing initiative, you get the attention of someone who's paid to be the absolute best in that field.
That's a great feeling, especially when you're up against dozens of competitors in your city or industry!
Plus, a larger headcount means more service diversity. So when you partner with a big agency, you not only get specialists — you get more specialists with a wider range of talents.
All in all, that spells great things for the future of your company online!
Our digital marketing campaigns impact the metrics that improve your bottom line.
See More Results

WebFX has driven the following results for clients:

$3 billion
In client revenue

7.8 million
Leads for our clients

5.2 million
Client phone calls
Test WebFX for yourself!
At WebFX, our goal is to lead by example. We believe that earning results for ourselves is the best way to prove that we can earn results for our clients. Speaking of examples, if you want to see some fantastic digital marketing examples to inspire your campaigns, check out our blog post!
Apply these questions to us while you look at other digital marketing agencies! We're confident WebFX will come out on top. We're known as one of the best digital advertising firms around, and you won't be disappointed when it comes to our custom digital packages.
Contact us today to set up your custom digital marketing strategy!