Internet Marketing Services For Springfield, PA
If you're looking for an Internet marketing agency to partner with, you want one that really understands your business. The best marketing strategy is one that's tailored to your business's unique needs, goals, and processes, even though many agencies insist on moving forward with off-the-rack solutions.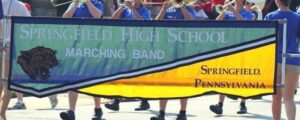 At WebFX, we specialize in crafting custom marketing strategies for local businesses. We're Pennsylvanians ourselves, headquartered in Harrisburg and just a couple hours away from Springfield and the rest of Delco.
To learn how we can help, keep reading, and give us a call at 888-601-5359.
What is Internet marketing?
It's absolutely necessary to understand what you're getting into before you sign on with an agency, which is why you should start your search by determining which Internet marketing strategies you need. There are as many specialty agencies as there are channels of online marketing available today, and you should try to find the one that's most closely aligned with your goals.
Where you have print marketing, radio advertising, and TV commercials under the umbrella of "traditional marketing," Internet marketing involves search engine optimization, social media marketing, and pay-per-click advertising.
Here's a brief rundown of the main Internet marketing avenues utilized by most businesses:
Web design and development
First impressions are important. This is especially true in today's world, where consumers decide in seconds whether they want to stay on your website or hit the back button and go straight to a competitor's.
Quality web design is a smart investment, and it's a requirement if you want to differentiate yourself from similar businesses online.
Search engine optimization (SEO)
A website alone doesn't help your business very much – you need potential customers to be able to find it.
SEO is the practice of structuring your website's various elements and content in a specific way so that your pages appear higher up in search engine results for specific keywords.
Our digital marketing campaigns impact the metrics that improve your bottom line.
See More Results

WebFX has driven the following results for clients:

$3 billion
In client revenue

7.8 million
Leads for our clients

5.2 million
Client phone calls
You won't see instant results with SEO, but a solid strategy can result in explosive growth months down the road.
Pay-per-click advertgising (PPC)
PPC advertising is perfect for businesses with both small and large marketing budgets. You start by designing ads that will be displayed next to search engine results, on social media pages, and on certain other websites. Then, as the name suggests, you're only charged if a user actually clicks on an advertisement. No matter how many people see it, you only pay when it's clicked.
This gives you a lot of control over your campaigns, and brings the potential for incredible returns on a relatively small investment.
Social media
Social media is often the lifeblood of local businesses. When people need a product or service, their first instinct is to search online. If your company has a thriving Facebook page, helpful Twitter account, great reviews on Google+, or any combination of those factors, customer are much more likely to turn to you first.
Social media also allows for direct communication between businesses and customers on a more personal level. If you handle this communication properly, you'll have more loyal customers than you know what to do with.
Why WebFX?
As we said before, we're just like you. We know the issues your business faces on a daily basis because we've dealt with them ourselves. We understand how local markets work, and we know how to build custom marketing campaigns specific to the Springfield area.
We've helped clients achieve continued success throughout PA, and we'd love to do the same for you. You might even recognize a few of the businesses we work with in and around the Delco area: we're partners with Chalmers & Kubeck in Aston, Healthcare Administrative Partners in Media, and National Fulfillment Services in Holmes.
Get started today
We are personally invested in the success of each and every one of our clients. If you're in the Springfield/Delco area and are thinking about exploring Internet marketing, WebFX is here for you. Contact us today for more information or a free quote!