Internet Marketing Services for State College, PA
Home to the University Park campus of the Pennsylvania State University, State College is a great location for business owners.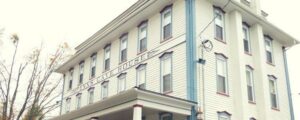 Academics, festivals, and of course, football games, keep families coming back and State College industries thriving.
Are you looking to take your successful State College, PA business to the next level? At WebFX, we've worked with hundreds of businesses across the state, and we're dedicated to making yours the happiest in Happy Valley.
Find out how Internet marketing can help you reach your most ambitious business goals. If you want to learn more, keep reading, and give us a call at 888-256-9448.
What is Internet marketing?
Internet marketing helps you reach new customers using various online channels.
By creating and sharing valuable content online, your business will reap the benefits of greater online authority and increase trust among site visitors.
Regardless of the size of your company, Internet marketing is a proven way to get results for your State College business.
Eight of the most common forms of Internet marketing include:
On their own, these strategies are powerful. And when combined, they can propel your business to new heights.
Our digital marketing campaigns impact the metrics that improve your bottom line.
See More Results

WebFX has driven the following results for clients:

$3 billion
In client revenue

7.8 million
Leads for our clients

5.2 million
Client phone calls
How can Internet marketing take my business to the next level?
Internet marketing is a perfect solution for any business with sights set on growth. And it's particularly valuable for small-to-medium sized companies looking to position themselves as market leaders.
Interacting with customers online can lead to increases in both sales and customer loyalty. It allows companies to expand their reach without exhausting their budget or draining employees. You can also generate leads and expand your client base by tapping into uncharted consumer markets.
Who uses Internet marketing in State College?
Abundance Wealth Counselors, LLC is a registered investment advisory firm. With only 14 employees, the company provides investment advisory services to 300 clients and is headquartered in State College, PA.
WebFX worked with Abundance to redesign their website, providing design, consulting, and development services.
Since partnering with WebFX, the company has received an abundance (no pun intended) of positive feedback on the look and feel of their site. We're happy to play a role in their continued success and customer satisfaction.
WebFX can help your State College, PA business
At WebFX, our team of SEO specialists, PPC account managers, social media marketers, and other Internet marketing professionals is ready to take your State College, PA business to the next level. We work with hundreds of businesses across the state of Pennsylvania, and we're a short 1.5-hour drive from State College if you want to meet in person!
Ready to grow your business online? Contact us today to create a customized Internet marketing plan tailored to your State College business!