The Beginner's Guide to Personalized Marketing: Creating Personalized Content
Once you've determined which segments of your audience you want to target, it's time to decide what kinds of marketing content you should personalize.
Table of Contents:
The Beginner's Guide to Personalized Marketing
As we mentioned in Chapter 1, site content and email are the two most effective places for personalization.
Site content
The basic goal of personalizing your site is to direct each of your visitors to the content that is best-suited to their needs.
For example, someone visiting your site for the first time will likely want general information about your company before anything else. Someone who has visited five times in the past week, however, is probably ready for pricing information and possibly a contact form.
This means that in order to meet each visitor's expectations and help them move through the sales funnel, you'll need to include a variety of different page types in your strategy, including informational pages, landing pages, and thank-you pages. Plus, each page should also have unique offers and calls to action.
Informational pages
The most important pages on any company's website are the ones that explain what you have to offer and what sets you apart from your competitors. Unfortunately, some companies provide very little content on these pages, and expect visitors to call them for more information.
If this is the case on your site, the first step to meeting your visitors' needs is to update these pages with in-depth information about your products and services. Ideally, you'll also create pages that demonstrate your abilities with content case studies, testimonials, and customer reviews.
Informative articles and blog posts are also great assets for your site, and if you've ever done content marketing, you should already have at least a handful of these.
Although you won't necessarily personalize the content on these pages, the personalized elements on your other pages (like links and CTAs) will direct visitors to them. And considering the goal of personalization is helping visitors find what they need, the first step in showing them the right content is actually having that content.
Your homepage
Once you've made sure that a page provides all of the necessary information for your visitors, you can start directing visitors to it directly from your homepage.
For example, let's say that you're marketing a construction company that works with both commercial and residential customers. You could create two different versions of your homepage and use firmographic data to show the right one to each visitor.
So if a user visited from a company computer, they'd see a version that looked something like this: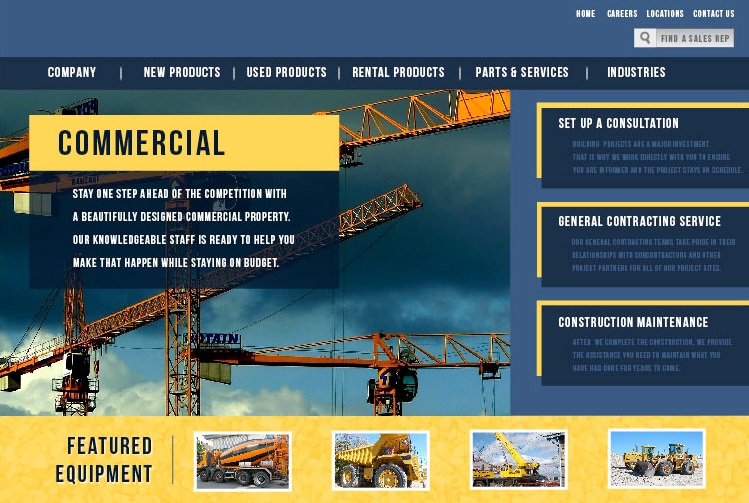 If they visited from a personal computer, on the other hand, they'd see a version like this: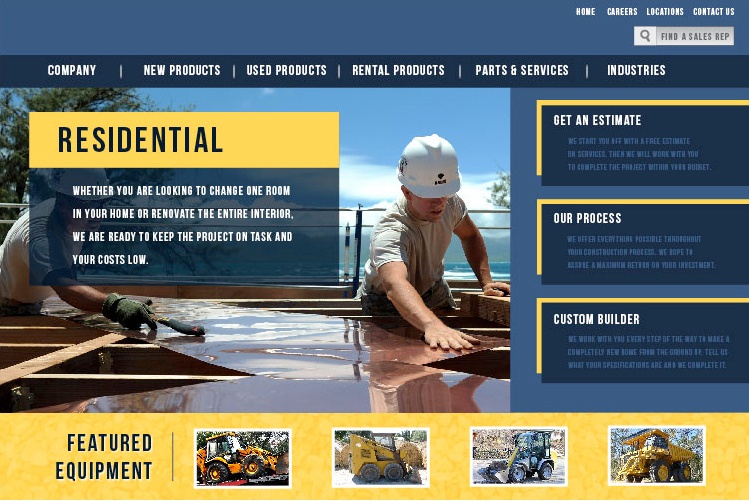 These two groups have different needs, and the two different homepages help address each. Of course, commercial services would be accessible to a user who lands on the residential version (and vice versa), but by showing them the most relevant content right from the start, you help them easily find what they want.
Landing pages
The goal of any landing page is to drive conversions, and there are many strategies to help you create them. But across the board, personalized landing pages are better at converting leads and generating revenue than their generic counterparts.
This is because when you personalize your landing pages based the information you know about a user, you eliminate the need for lengthy forms. Instead of asking for their location, industry, or company size, you can simply ask for an email address and use the firmographic data you already have to deliver the right information from there.
Calls to action
When a visitor arrives on your site, what action do you want them to take?
The answer to that question could be many different things (like signing up for an email list, making a purchase, or downloading a free ebook), but regardless of what it is, it should be immediately obvious in the form of a CTA.
In some cases, these CTAs are determined based on the content a visitor is reading. On our blog, for example, we include a CTA for visitors to subscribe to our marketing newsletter.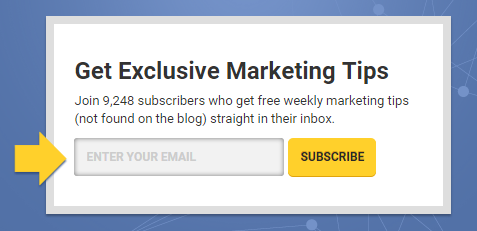 If someone is taking the time to read our blog posts about marketing, we can safely assume that they're probably interested in reading emails about marketing.
But in addition to placing CTAs on specific pages, you can also tailor them to individual visitors. This strategy is often even more effective – in fact, personalized CTAs convert 42% better than ones that are the same for all visitors.
When you base your CTAs on a visitor's past on-site behavior, you can encourage them to take actions that are relevant to their stage in the sales funnel.
For example, a visitor who has only been to your site once or twice may respond well to a CTA telling them to download a case study, while a visitor who has spent time on your site many times over the course of a few months will be more likely to respond to a CTA like "Contact us!" or "Get a free quote!"
Offers
In addition to encouraging visitors to take immediate action, you can also use a website personalization strategy to direct visitors to the products or services that are most relevant to them. This is the type of personalization that Amazon uses, as we referenced in Chapter 2.
When you show your visitors products tailored to their interests, you not only improve your company's chances of making a sale, but also the customer's on-site experience. In one survey, 75% of consumers said that they prefer brands that personalize their messages and offers.
If you run an ecommerce site and don't yet do this, it could be an extremely effective way to boost your sales.
Thank-you pages
You may think that the need for personalization ends once a customer converts, but that definitely isn't the case. After any action a user takes (whether that's a purchase, a form submission, or a download), you should direct them to a thank-you page.
Although often overlooked, having a great thank-you page can make a huge difference in what a visitor does after converting.
One option is to suggest additional content based on the action they just took, which can help them find even more products or information that interest them. Another is to simply create a unique way of saying thank you that reflects your company's brand and voice.
Since they've already converted in some way, your page doesn't need to be salesy or full of CTAs. But by presenting your company in a grateful, lighthearted, or even funny way, you can use it to strengthen your relationship with the visitor.
Emails
Personalizing an email used to just mean placing a subscriber's name in the greeting, but with the right automation software, you can now do a lot more than that.
Considering that personalized emails have 6X higher transaction rates, it's entirely worth it, too. Still, 70% of brands do not use them.
This means that even if you aren't using personalization as part of your strategy yet, you still have the chance to use it to get ahead of your competitors.
Today, many marketers use drip email campaigns to send emails to specific lists of users on a set schedule. These campaigns often look something like this: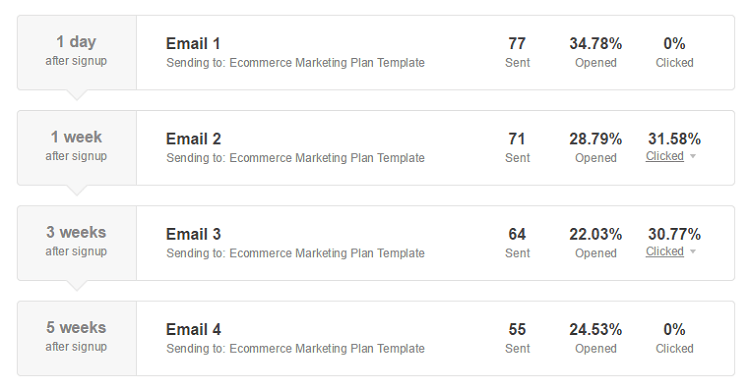 Although you can see relatively high success rates with these campaigns, the open rates often drop off for users that do not find the content relevant to them.
One of the best ways to address this is with lead nurture email marketing, which you may also know as "lifecycle email marketing". With this kind of strategy, you can alter your strategy for each individual user based on which emails they open, which links they click within the emails, and what actions they take on your site as a result.
This way, you can determine what each subscriber likes to see in your emails and customize your future messages to them based on that information. And with the right email marketing software, you can set these campaigns to run automatically.
Essentially, personalized email marketing allows you to deliver the right content at the right time to each of your subscribers.
Multi-channel personalization
Most of your leads won't convert after their first interaction with your company, meaning that you'll communicate with them through a variety of channels before they become customers. Your personalization strategy should take this into account.
For example, if a visitor signs up for your email newsletter after reading about a specific service, you can add them to an email list that is tailored to that service.
Abandoned shopping cart emails are another great example of this. They've become extremely popular among ecommerce retailers in the past few years, and they remind customers to return to your site.
One company that uses them effectively is Wayfair.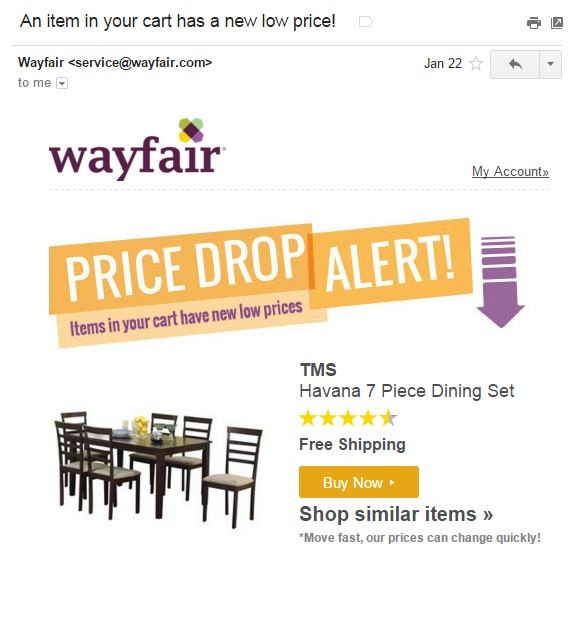 This email not only reminds the customer of a specific product they viewed, but also lets them know that it's on sale – a winning combination for any ecommerce retailer.
Earn a 20% greater ROI with WebFX