Rebrand Checklist: Your Ultimate Rebranding Marketing Checklist
Does your brand feel outdated, or are you looking to change your brand entirely? If so, it may be time for a rebrand. When you invest in a rebrand, you need a rebrand checklist. A rebrand marketing checklist will guide you through everything you need to do to refresh your brand.
On this page, we'll provide you with:
Reasons to need a rebrand
Types of rebrands
Your rebrand checklist
Why you need a rebrand
Are you trying to determine if your business needs a rebrand?
Before you dive into this rebranding marketing checklist, establish whether your business needs a rebrand.
Here are a few reasons to rebrand your company:
Outdated brand
The most common reason for wanting a rebrand is a stale brand. If you want to compete with your competition, you need to have a modern brand. A brand that seems outdated can prevent your business from performing its best in your market.
Changed product or service lineup
Did you change your products or services recently? If you're offering different products or services than before, you may need a rebrand. A rebrand will help you establish a new identity for your new products or services.
Revised company structure
Many brands will do a rebrand when the company structure changes. If you've recently merged with another company, acquired a new company, or branched off as your own company, you need a rebrand. A rebrand will establish your brand style or merge the two company identities.
Shifted market
If your business's market changed and your company is now at a disadvantage to compete, you may need a rebrand. A rebrand will help you re-establish yourself in your market and keep up with the changes.
Shared brand name
Sometimes, your company may share its name with another business. If you find yourself continually fighting that company for real estate, like in search results, it may be time to rebrand your business so you can stand out on your own.
If any of these reasons match your company, it's time to establish a rebrand implementation plan.
What type of rebrand do you need?
As you start to compile a rebrand checklist, it's essential to know that you don't always need to do a complete brand overhaul.
Let's look at three types of business rebrands:
Full rebrand
Visual rebrand
Brand refresh
1. Full rebrand
A full rebrand involves changing every aspect of your brand. This rebrand includes creating a new name, logo, and tone of voice for your company. With a full rebrand, you create an entirely new identity for your business.
Nike is a prime example of a full rebrand. When the company was founded, it was initially called Blue Ribbon Sports. Seven years later, Blue Ribbon Sports did a complete rebrand and became Nike.
In the process of this rebrand, Blue Ribbon Sports changed everything, from their color palette to their logo, to take on the new Nike brand name. If you do a full rebrand like Nike, you'll change nearly every aspect of your brand.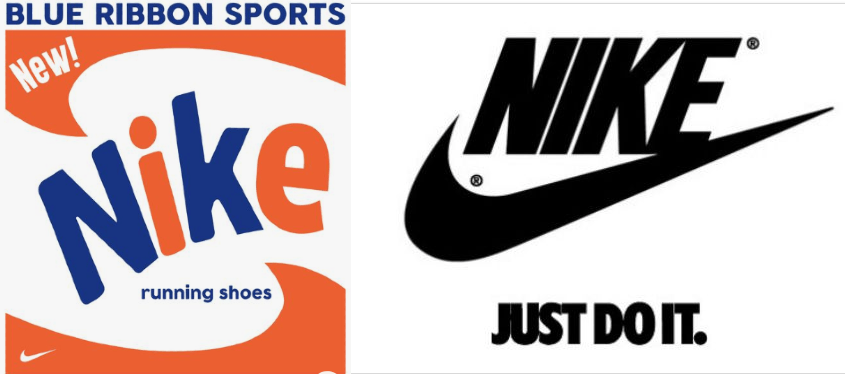 Choose a full rebrand if… you want to reinvent your company and establish a new identity. You should also do a complete rebrand if your business isn't standing out in a competitive landscape anymore and needs a boost.
2. Visual rebrand
You may not need a full rebrand for your business. You may still have core components of your brand that you want to keep, but you also want something fresh and new. If this describes your business, you might need a visual rebrand.
A visual rebrand involves creating a new:
Logo
Color palette
Visual identity
FedEx is an excellent example of a visual rebrand. Previously, their logo was red, white, and blue and said Federal Express. After a visual rebrand, it became FedEx. The color palette changed to purple and orange.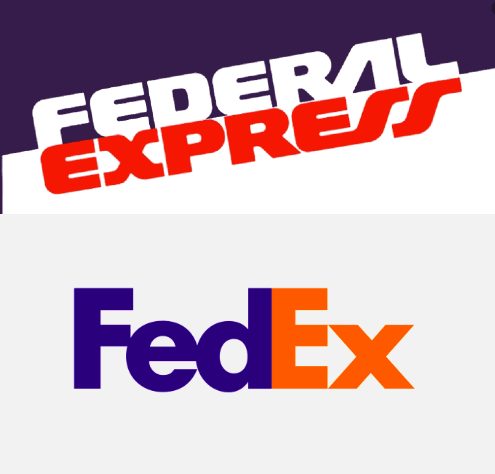 This example is an excellent representation of a visual rebrand. FedEx kept some core parts of their brand intact but changed other elements, like the color palette and logo.
Choose a visual rebrand if… you want to keep core parts of your brand but change much of the visual aspects. If you're looking for a style or color refresh, this is the best type of rebranding for your business.
3. Brand refresh
The last kind of rebranding option is a brand refresh. This rebranding is the least involved and is done gradually over time. With this option, you keep core aspects of your brand but give your brand a fresh face.
With this type of rebranding, you update the visual parts of your brand, but don't change core components of it.
Dunkin' is an excellent example of this.
With their recent brand refresh, they dropped the "Donuts" part of their name and opted for a darker orange for their logo. Dunkin didn't change their overall color scheme or font style. They simply gave their brand an update without changing much about their company.

Choose the brand refresh if… you want to keep the core components of your brand but give your brand an update.
Your rebranding checklist: Get started with your rebrand implementation plan
Are you ready to dive into rebranding your business?
Check out our rebranding checklist to get started!
✔ Determine your reviewal process
When it comes to your brand refresh checklist, you want to make sure you add a reviewal process to your list. It's crucial that, as you change your brand and implement the changes, you continuously review them and ensure your rebrand is the best fit for your business.
Have multiple people look at your new brand. Whether you have a sales team or engineering team or logistics team, get opinions on your rebrand. These different teams could provide insight or spot issues that you didn't.
You can also ask some loyal clients or customers for their opinion about your rebrand, too.
As stated previously, you must build a brand that works for your audience. By testing it with some of your customers, you can see where you may need to make changes to provide a better experience with your new brand.
Complete your rebranding checklist by setting up a reviewal process. A reviewal process will create an excellent opportunity for your business to perfect its rebrand.
✔ Audit your brand
The first item on your checklist is to audit your brand. A brand audit is essential, whether you're doing a full rebrand, brand refresh, or virtual refresh. It's critical to understand your brand as it stands right now so you can improve your brand for the future.
With a brand audit, you'll want to look at:
What's working for your brand
What's not working for your brand
Where you can improve or grow
By answering these questions about your brand, you'll have a direction for your rebranding efforts and avoid mistakes you made with your brand in the past. It will also provide you with opportunities and ideas for your rebrand.
✔ Establish who you are
Once you conduct a brand audit, you'll establish your brand identity. Your brand identity determines who you are as a company. When you create your rebrand checklist, include this item on your list.
If you're just doing a brand refresh, you may not need to re-establish who you are. It's still good, however, to remind yourself of the core aspects of your company.
When establishing who you are, identify the following:
Your brand name: If you're completely changing your brand name, create the new name. If you're shortening it or altering it, you'll want to document that, too.
Your mission: Your company needs to have a mission established. This mission should reflect what your brand wants to do or tries to do for its clients.
Your values: Your values are a core component of your business, too. These values are what you believe in as a company.
Your slogan: If you have a new slogan for your business, establish it in this section.
By establishing this information in your rebranding checklist, you'll have a concrete idea of who you are as a newly branded company.
✔ Know who you're trying to reach
Before you start diving into the other parts of this rebrand checklist, you must know who you're trying to reach. Your rebranding efforts will go to waste if you're not creating a brand that appeals to your audience.
You want a rebrand implementation plan that fits with your company's desires, but you also want to build a brand that your audience loves, too.
To ensure you're creating a brand your audience loves, you need to know who's in your audience.
Think about the typical types of customers that come into your store.
What defining attributes do they share? You'll want to document information like:
Age
Gender
Occupation
Socioeconomic status
Hobbies
Interests
And more
By establishing this information, you'll have a better idea of who's in your target audience.
When you create your brand refresh checklist, don't forget to establish (or re-establish) who's in your target audience. It will help you have a successful rebrand implementation plan that gets your audience to engage with your company.
✔ Set the logistics and legalities
A rebranding marketing checklist goes beyond design. One of the most important parts is the logistics and legalities of your rebrand.
When it comes to logistics, don't forget these two core aspects:
Plan how to communicate changes internally: It's easy to forget, in all the changes and redesigns, that your team needs to know your timeline. Before you dive too deep into your rebrand, establish when people will change things, like email signatures. You may also want to have a meeting with your team and present the new brand, so they understand everything.
Set deadlines and goals for your plan: If you want your rebrand implementation plan to succeed, you need to set deadlines and goals. Let your team know what you want to achieve and when you want it done. It will help your rebrand go smoothly. As for the legalities, keep these two ideas in mind:
Know how to and attain trademarks and copyrights: When you're rebranding, you want to ensure that you obtain the proper trademarks for your new brand. Don't forget to trademark or copyright any crucial parts of your rebrand so people can't take credit for your fresh, modern look.
Hire a lawyer to ensure you have the right paperwork: While this isn't a requirement, many companies will hire a lawyer to consult with them when they do a rebrand. You may not need to hire one, but it's something to keep in mind if you feel uneasy about whether you've completed and filed paperwork, like a trademark filing, correctly. As you create your rebranding marketing checklist, keep these logistics and legalities in mind. It will help you stay focused and set your rebrand on the path towards success.
✔ Plan the visual aspects of your brand
The next step on your rebrand checklist is the visual aspect of your brand.
At this part of your rebranding checklist, you want to establish how you want your brand to look.
Start by creating a style guide.
A style guide serves as a point of reference for anyone who works on rebranding and maintaining your business, like through social media posts, website images, and more. Overall, a style guide will help you keep things consistent, from your website to your pamphlets.
Your style guide should include information like:
Color scheme: When you establish your color scheme, you'll want to stick to three to four colors. Typically, you'll have your primary color, one to two accent colors, and a font color.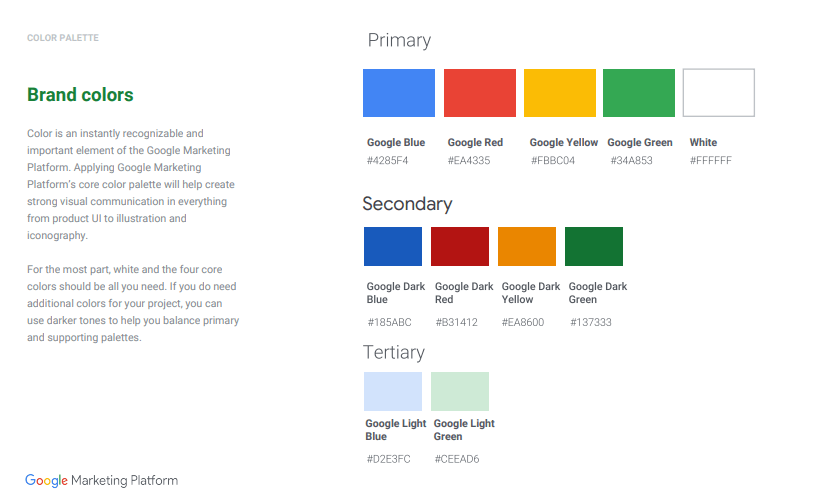 Logo: Determine your logo style and any different forms of your logo. So, if you have a larger, smaller, or simplified version of your logo, include all those versions in your style guide. Establish when and where to use those logos too.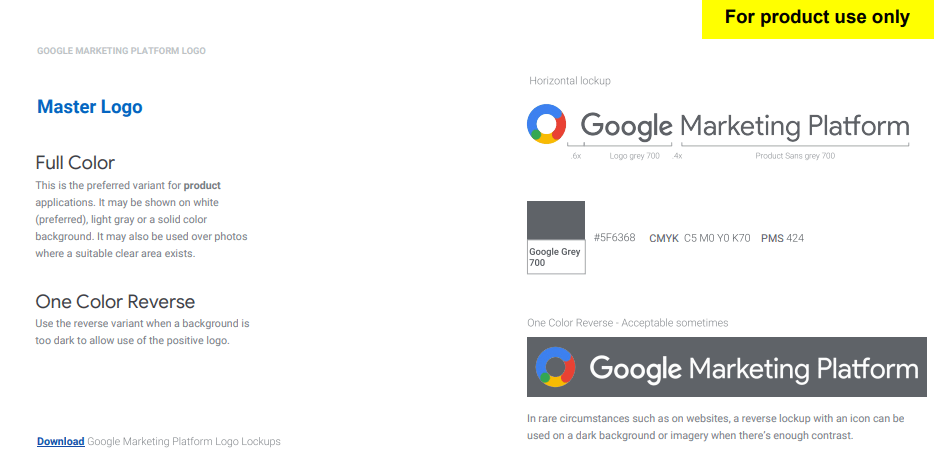 Typography: With your typography, you'll want to stick to one or two fonts. If you use too many fonts on your page, your page will look disorganized. Also, make sure you choose web-safe fonts so you can use them on your site without issue.
Photography and illustrations: An essential part of your site is the visuals you upload, like photos and illustrations. You'll want to have an established style for these types of visuals and describe what kinds of visuals are acceptable.
A style guide is a critical component of your rebranding marketing checklist. It will ensure that you have a cohesive implementation of your brand across platforms.
After creating your style guide, establish a priority list for updating or creating the visual aspects of your brand. Make sure you identify which elements are urgent and which features can get updated later.
For example, revising your website with the new brand look would take precedent over updating email signature graphics.
By establishing a hierarchy, you'll help your team prioritize the right projects for your rebrand implementation plan.
✔ Update your website
Your website is the heart of your online presence. To help showcase your new brand to your audience, you'll want to update your site first.
Update the visual side of your site
Take your visual style guide and implement the changes on your website. Make sure that your pages look consistent and fit with the new brand style.
If you'd like to talk about your custom web design needs, contact us online or call us at:
888-601-5359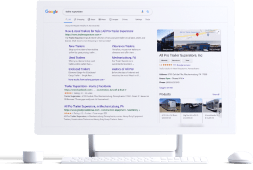 You'll also want to make sure that you update the URLs on your site. So, for example, if your previous address was something like oldbrand.com, you want to update that URL to your new address, like newbrand.com.
When you do a full rebrand, you'll want to purchase a new domain and set up redirects from your old site to your new website.
As you go through this process, you may see a drop in traffic for a couple of months, but it's completely normal and should bounce back once Google starts finding your pages again!
Throughout your website update, test your site and make sure everything functions properly. It's easy for things to get mixed up or broken when you're making significant changes to your website.
If you make mistakes in setting up redirects (or forgetting all about them), it could put you out of business and cause your site to suffer. To prevent this from happening, consider partnering with an SEO agency, like WebFX, to ensure the transition goes smoothly!
Analyze the technical part of your site
With the visual aspects of your website, you'll also want to update the technical aspect of your site. A big part of getting your site found in the search results is search engine optimization (SEO). When you do a website rebrand, you must analyze your SEO efforts to ensure they're still working for your site.
Keywords: First, you'll want to update the keywords you use on your site. This part of the rebrand checklist is critical. When you revamp your brand, you may target new keywords. As you update your website, you'll want to look for new keywords to add because they will help you reach relevant leads. Let's say you own a sports store and with your new rebranding, you're expanding your merchandise selection. If you were growing your store to include tennis supplies, you'd want to conduct keyword research and find relevant long-tail keywords for your page so you can target that market.
Page speed: As you implement your new brand, you'll want to ensure that everything you're adding to your site isn't slowing it down more. Site slowdown can happen when rebranding because you're uploading new logos and brand images to your site. To ensure you don't hurt your SEO, monitor your page speed to ensure it's not slowing down. You can use a tool like Google PageSpeed Insights to keep tabs on your site's load time. It will also help you diagnose potential problems on your site so you can fix them as you continue to refine your website.
✔ Update all your marketing channels
The next part of your rebrand checklist involves updating all your marketing channels. You'll want to ensure that everything you distribute, post online, or share matches your new brand style and positioning.
Traditional methods of advertising
You can start by updating any conventional means of advertising. These methods include:
Flyers
Handouts
Pamphlets/Brochures
Business cards
Newspaper ad templates
Billboard ad templates
And more
Make sure you have newly updated copies of all of these for when you officially launch your new brand.
Digital methods of advertising
Additionally, you'll want to update your digital advertising, too. If you're already marketing on other platforms, you'll need to switch your content over to the new brand.
Update digital marketing materials like your:
Social media profiles
Email newsletters and templates
Social media or pay-per-click (PPC) ads
Directories or other online sites that list your business
And more
By updating all these platforms, you'll ensure that everyone sees your new brand. It's a critical component of your rebrand implementation plan that will help you drive a successful launch of your new brand.
✔ Check everything for old branding
Lastly, review everything to ensure that your old brand is out and the new brand is in. There are dozens of places where you need to make brand updates, so comb through everything and make sure it has your latest branding and brand name.
Here's a list of places you'll want to check:
Your traditional marketing mediums
Your digital marketing mediums
Your invoices and checks
Your signage
Your interior design
Your computer logins
Your email addresses
Your file server
Your website
And more
By completing this rebrand checklist, you'll be on your way to launching your new brand successfully.
We don't want to tell you about the work we do, we want to SHOW you.
View Our Portfolio

We've built over
Websites
in a variety of industries.
Feeling overwhelmed by your rebrand checklist?
If you're overwhelmed by your rebrand checklist, you don't have to go at it alone. You can rely on a team of marketing experts to help you develop a rebrand implementation plan that allows your business to update its brand successfully.
At WebFX, we have the knowledge and expertise to help you complete your brand refresh checklist. With a team of 500+ experts, you can feel confident that we have the resources you need to launch your new brand.
Ready to get started? Contact us online or call us today at 888-601-5359 to speak with a strategist about how we can help you with your rebrand implementation plan.