The 5-Step Process of How to Use SlideShare for Marketing
As the Internet marketing industry grows, you have countless ways to market your business online. And even if you make it a priority to keep up with new channels and trends, it often requires some serious research to determine which one of them is worth your time and budget.
One of the channels that's gaining popularity among marketers recently is SlideShare. Although the platform itself has been around for years, its use as a marketing tool is relatively new.
On this page, we'll explain what SlideShare is and how to use it for marketing so you can decide if it's right for your business. If you'd like to speak with a specialist, you can reach us at 888-601-5359.
WebFX is a full-service Internet marketing agency that can provide custom marketing campaigns for your business.
What is SlideShare?
SlideShare is a site that allows users to upload and share slideshow presentations to share with other users. It doesn't have built-in tools for creating presentations, but it works with Google Slides, Microsoft PowerPoint, and Adobe PDF.
If you've never visited the site, you can check out our WebFX culture presentation as an example:
LinkedIn purchased the site in 2012, and their own SlideShare about what the platform is, provides a great overview.
As of January 2017, SlideShare had 70 million users. It's the world's largest presentation-sharing community and in the top 100 most-visited websites in the world.
Plus, their users are five times more likely to be business owners than the average social media user, meaning that if you operate on a B2B model, you can use SlideShare to generate leads.
Still, only 41% of B2B marketers use SlideShare for marketing. This may not sound like a small number, but when compared to the 94% on LinkedIn, 88% on Twitter, 84% on Facebook, and 72% on YouTube, it's clear that there's much less competition on SlideShare.
With fewer competitors, you'll have an easier time reaching your target audience. Plus, given that less than half of all B2B professionals are using it, there's a strong chance that you can become the best resource for your industry and related topics on SlideShare.
This means that unlike most platforms, where you're competing for attention with other businesses posting similar content, you have the chance to provide information that isn't yet available to SlideShare users.
How to use SlideShare for marketing
If you already have a content marketing strategy in place, SlideShare is a natural addition. Think of it as a new content format and approach it with a similar strategy as you do blog posts, articles, infographics, and other content on your site.
And even if you don't have experience creating original content for your site, you can take the following steps to get started on the platform and use it to attract new customers.
1. Repurpose successful content into SlideShares
Based on the research you've done for other parts of your Internet marketing strategy, you already know which topics your target audience likes. If you've already created pages that cover those topics and answer those questions, you can repurpose them into SlideShare presentations.
This strategy is particularly beneficial if a page on your site isn't ranking well for its target keyword in search engine results. SlideShare is an authoritative site, meaning that if you create a presentation based on content you've already written and upload it, it could outrank your original page — and your competitors.
That gives you the chance to reach far more potential customers than you currently do with that page. And if you include links to the original page for viewers who want additional information, you can increase the traffic to your site.
Even if one of your pages is ranking well, repurposing it into a SlideShare allows you to take up more space in search engine results pages. If your presentation and original page both rank on the first page for any given keyword, that means there's one less competitor on the page – and a higher chance of searchers clicking on your content.
2. Upload existing presentations to SlideShare
Presentations are a staple in the business world, and your employees have likely created dozens of them in the past year alone.
Presentations are often used for sales pitches, training sessions, company transparency, and more. People spend countless hours putting them together – only to forget about them once their presentation is over.
These presentations don't provide any value to your company if they're confined to someone's hard drive. But as long as they're a compatible format, it's easy to upload them to SlideShare.
With a few minutes of effort, you can transform forgotten files into marketing assets for your company. You continue to get value from them for months or years to come, even though they were only intended to be a one-time tool.
For example, one of the first SlideShares on the WebFX account is a presentation our team gave on mobile-friendly web design over four years ago. We uploaded it to the site shortly after, and it still receives more than 300 views per month.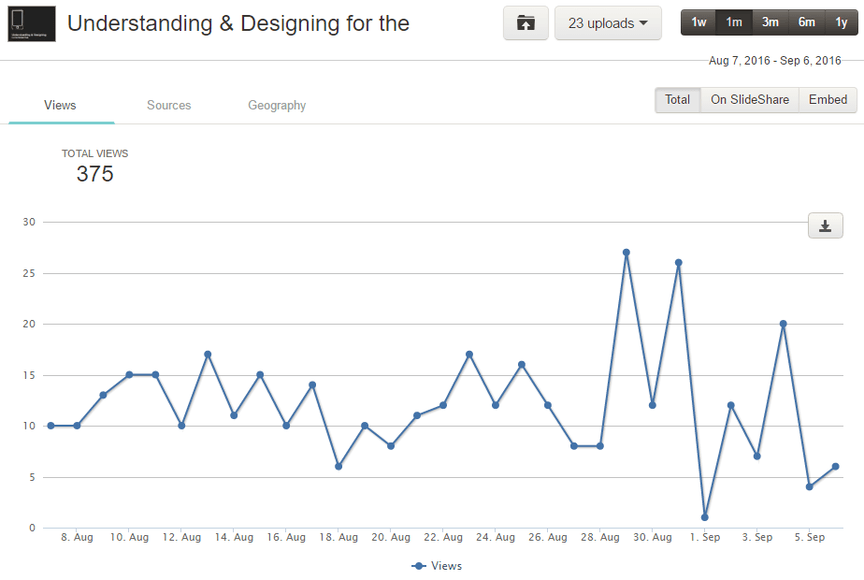 As a result, we reach 300 potential customers per month that we may not have reached otherwise – all because of a presentation we put together in 2012.
If you're looking for an easy way to get started on the platform, this is it. Collect a few presentations from members of your team (or select some you've created yourself), upload them to SlideShare, and you can start marketing in fewer than 10 minutes.
3. Include links to your site
When you create new SlideShares, you should include multiple links to your company's website.
As we mentioned earlier, uploading your content to the platform can help you reach new users and take up space on search engine results pages. But if you want your viewers to become customers, they need to be able to visit your site.
You don't want to overwhelm viewers with links on every slide, but at the very least, you should include a link at the end that encourages them to visit your site. You can also include links to pages with more detail on brief slides, and let viewers choose which information they want to learn.
4. Share your SlideShares on social media
Once you've uploaded a SlideShare, you can drive traffic to it by sharing it on social media.
As the owner of the platform, LinkedIn is an obvious choice, and it can help you reach a more professional user base. You can also share links on your Facebook page, Twitter account, and any other platform you use to encourage your followers to view your presentations.
5. Add your SlideShare presentations to your site
In addition to sending users to your presentations on SlideShare, you can also embed them on pages on your own site (like we did with one of our SlideShares on this page).
This adds an interactive element to your pages, and the visuals you include can often make your written copy easier to understand.
Tips for effective SlideShare marketing
SlideShare is a pretty straightforward platform, but using it as an effective marketing tool requires some strategy. As you create presentations to upload and share with your followers, there are a few best practices you should keep in mind for the best possible results.
We'll start with LinkedIn's own tips and tricks.
These are all great general guidelines to follow when creating a presentation for the platform. But to be a little more specific, we'll break down three of the most important tips.
1. Keep it simple
Unlike the pages on your site where you want to provide as much information as possible to your readers, SlideShare is not the place for wordy, in-depth content. A sentence or two per slide is plenty, and even then, you may be able to cut them down to shorter phrases.
Focus on compelling visuals and large text. Let users click through your slides and grasp the information without having to stop and read an entire paragraph at a time.
Large chunks of text are not only overwhelming to users, but require text so small that it can be difficult to read on the site. This is especially true for mobile visitors.
It's also a good idea to stick to one idea per page and use scannable formats like bulleted or numbered lists.
2. Make your presentations visually attractive
Although PowerPoint and Google Slides both offer standard themes that work for most presentation purposes, you want to get a little more creative with your visuals for SlideShare.
Unlike in-person presentations, where you can keep your audience's attention by speaking to and interacting with them, your SlideShare presentations have to stand on their own. The more visually interesting your slides are, the more likely your viewers will click all the way to the end.
Plus, the goal of these presentations is ultimately to attract new customers, so it's worth your time to make them look professional. In many cases, they'll be a potential customer's first impression of your business, and you want to make it a good one.
3. Include keywords when you upload your presentation
When you upload your presentation, you want to make sure that users can find it. One of the easiest ways to do this is by including keywords in the title, description, and tags.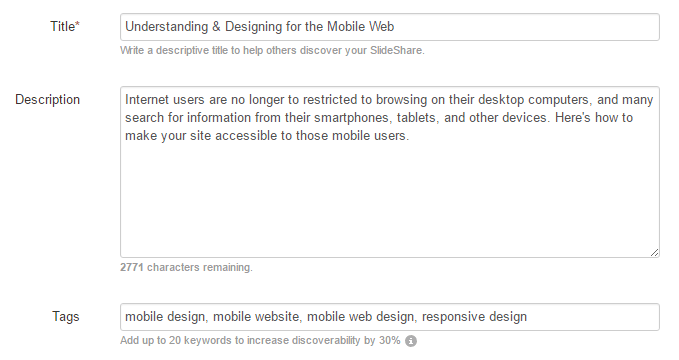 Filling out these fields only takes a few minutes and greatly increases your SlideShare presentation's chances of being found and viewed. SlideShare has its own internal search engine. So when people search the title, description, or tags that you used, your presentation will show up in results.
Want to start using SlideShare as part of your marketing strategy?
At WebFX, we make it a priority to stay at the forefront of the latest channels and trends in the Internet marketing industry. We research each one carefully and determine how we can use it to benefit our clients.
If you're interested in using SlideShare, we can help. Contact us today to speak with a strategist about how you can use SlideShare and other online channels to reach more customers and grow your business!