What Is Ecommerce Email Marketing and Why Do You Need It?
Ecommerce email marketing is the process of promoting an online store (and its products) to subscribers, which can include potential and existing clients. Types of ecommerce email marketing emails include shopping cart abandonment emails, promotional emails, and informational emails.
Even after decades of use, email is still one of the most reliable methods for communicating directly with people online. It's also one of the best places to market your ecommerce store. But what is ecommerce email marketing? Keep reading to find out more!
Your business needs an ecommerce email strategy
When you sell your products on your website through an online store, it's critical to market that store. Not only do you need to make people aware that you're selling, but you also have to persuade them to buy.
There are many ways you can market your store on the Internet, but one of the most effective methods is email marketing. Email has been around for a long time, but it's still one of the most frequently used means of online communication. That makes it perfect for marketing.
On this page, we'll answer all your questions about ecommerce email marketing, including:
What is ecommerce email marketing?

Why invest in email marketing for ecommerce?

What are best practices for creating an ecommerce email strategy?
Also, make sure you subscribe to Revenue Weekly — our email newsletter — to get more digital marketing tips from the agency with over 25 years of experience!
What is ecommerce email marketing?
Ecommerce email marketing is a strategy that involves sending marketing emails to potential customers through their inboxes. This strategy involves putting forms on your website where users can sign up for your emails voluntarily, and then sending emails to the people on that list.
Why do you need email marketing for ecommerce?
There are numerous benefits to using email marketing to reach your target audience. Here are a few of the biggest ones!
1. People use email regularly
To start with, email is an extremely reliable way to reach users. People spend between 10 and 60 minutes a week looking at emails. That means they're bound to see whatever you send them.
2. Email helps you reach interested users
Additionally, email is a fantastic way to reach people who are already interested in your company. Paid ads or social media posts might sometimes fall on some deaf ears, but if people are getting your emails, it's because they signed up for them voluntarily.
That means everyone getting your ecommerce marketing emails is already invested in what your ecommerce site has to offer.
3. Email lets you counteract cart abandonment
Cart abandonment — the act of people putting items in carts and not going through with their purchases — is a problem for every ecommerce site. However, you can counteract it by simply sending emails to people who abandon their carts, encouraging them to return and complete their purchases.
4. You can tailor emails to subscribers
Finally, email marketing is an optimal strategy because it lets you tailor your emails to individual users. Not every recipient will see the exact same email, so you can personalize them somewhat to make them more effective. We'll touch more on that later!
Partner with a team of ecommerce masters!
WebFX campaigns have delivered more than 12,936,451 ecommerce transactions in the last 5 years
Read the Case Studies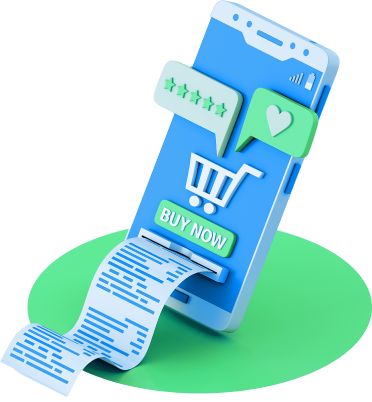 5 effective ecommerce email marketing tips
Email marketing isn't a complicated strategy, but there are still some things you can do to drive better results. Here are five tips for improving your ecommerce email strategy!
1. Segment your audience
Not every user who visits your site is the same. Different people will be there for different reasons — some might just come to learn a bit about your business, while others might hold an interest in one very specific product.
Your emails should reflect those differences. Rather than sending out catch-all emails to every single person that visits your site, consider segmenting your email lists — that is, dividing your subscribers into groups based on their interests or where they are in the marketing funnel.
So, you could send a product-focused email to someone who shopped around your store, while someone who only looked at your home or "About" page might receive a more general email promoting the different areas of your store.
2. Offer compelling lead magnets
As we covered earlier, the way to build out an email list is to get users to sign up voluntarily. But how do you do that? Ultimately, the best method is to offer different lead magnets to draw users' interest in receiving your emails.
For example, you could feature a call to action (CTA) on your website that tells users they can receive special offers from your online store if they sign up for your emails. Since you're offering a specific incentive, it will make more people want to subscribe.
Other possible lead magnets include:
Newsletters

Free product trials

Coupons off users' first purchase

And more!
Be sure that whatever lead magnet you offer, you send it out to the users who sign up for it.
3. Practice email personalization
Personalization is one of the best marketing tactics for boosting user engagement. People respond positively to marketing materials that are customized to their unique identities or interests, since that makes them feel more valued by you.
There are many ways you can personalize your emails. For starters, you can address users by name. Use email management software to easily set that up. You can send out a single email to multiple people, and the software will automatically add each subscriber's name to the beginning.
You can also target users based on interest. For an ecommerce site, email marketing is a great tool for targeting people who have started to make a purchase without completing it. That means you can send remarketing emails that focus on the specific items people left in their carts.
4. Center your emails around specific CTAs
Two things that are sure to hurt your ecommerce email strategy are disorganization and clutter. An email that lacks structure or is packed to the brim with content will overwhelm users and cause them not to click anything. For your emails to drive results, they need to be structured and organized.
To be more precise, you should structure your emails around specific CTAs that push users toward particular actions. Each email should have a clear purpose — an email that doesn't make it clear what it wants users to do will only end up confusing them.
For example, you could have a CTA that says, "Visit our online store for all your kitchenware needs!" with a button beneath it that reads, "Browse kitchenware" and takes users to the kitchenware section of your online store.
5. Write engaging subject lines
It's critical to write subject lines for your emails that will draw in users. No one will see your full email copy without first clicking on the subject line, so it needs to say something compelling to entice their clicks. Try to summarize the content of the email attractively.
For instance, you could use a subject line like, "[Recipient's name], don't miss out on this exclusive offer!" Or, if your email content is more informative, it might read more along the lines of, "How to improve your business functions in four simple steps."

Additionally, ensure your subject lines are accurate reflections of the email copy. Don't stick the word "sale" in the subject line if you don't include information about a sale in the copy. If you do, you'll frustrate users and cause them to unsubscribe.
Our digital marketing campaigns impact the metrics that improve your bottom line.
See More Results

WebFX has driven the following results for clients:

$3 billion
In client revenue

7.8 million
Leads for our clients

5.2 million
Client phone calls
WebFX knows email marketing for ecommerce
Need help setting up and launching your ecommerce marketing emails? Look no further than WebFX! With over 1020 client testimonials, we're the agency ecommerce sites trust to drive incredible results for their marketing.
With our email marketing services, you'll get help creating emails that attract users from across your website and keep them coming back for more. Just call us at 888-601-5359 or contact us online to get started today!