Tech

The Beginner's Guide to Effective Email Marketing: Email Automation and Drip Campaigns
The Beginner's Guide to Effective Email Marketing: Email Automation and Drip Campaigns
We mentioned automated emails back in chapter 4, but they're so important that we thought it would only be appropriate to have an entire chapter devoted to them!
Table of Contents:
The Beginner's Guide to Effective Email Marketing
Even if you're creating email campaigns that are manually written, designed, and sent, you can still harness the power of automated email to accomplish great things. Their purpose may range from moving leads through your sales funnel to educating subscribers over a multiple week period, but no matter what your goals are, you can count on automated emails to deliver some fantastic results.
How Email Automation Works
Automated email messaging — also called email drip campaigns — works like this:
You set up a special list for recipients who are going to receive your automated emails.
The emails are designed and written in advance. Each email is assigned to a time period — for example, "one day after subscribing" or "four weeks after signing up."
You add an opt-in process for this special list (either by placing a signup form on your site, or by using a process like email-gating on content like guides or whitepapers).
Opted-in subscribers receive automated messages on the timeline you set up.
Essentially, you create the content of these repeatable emails, set up a dedicated list, and wait for subscribers to opt in. The emails will be sent automatically, on the timeline you designate, and without any further intervention on your part.
Why Use Email Automation?
Email automation has a number of potential uses. It's not meant to replace all or even most of your email marketing campaign(s), but it can be a huge asset in several specific ways.
For example, you can set up an automated email campaign to welcome new subscribers to your store or service. If someone signing up for your messages may be brand new to your company, you can have emails sent to them several days apart that detail your best selling products, or offering a tutorial on using your service.
You can also set up long-term drip emails to start when someone downloads or accesses an "email-gated" piece of content. If you know that your guides or long-form content typically leads to a sale in the long run, you could try to speed up the conversion process by setting up automated emails containing similar content or additional advice. These emails may stretch over just a few weeks or even months.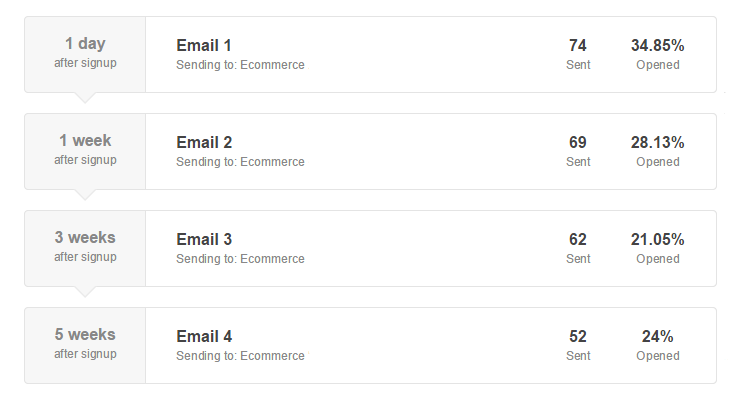 Finally, you can even set up "triggered" emails that automatically send when a subscriber does — or doesn't — do something. For example, you can set up cart abandonment emails that send short reminders asking a shopper to come back and finish their purchase. Or, you can even set up triggered emails that send product usage instructions when someone buys a particular product from your store.
Email automation is ideal for any kind of situation where communication with a segment of your subscribers can benefit you. It's also great for lists where you want to educate your subscribers or motivate action on a strict schedule.
How Automated Emails Can Lead to Revenue
Let's say you run an ecommerce store. You may have an email marketing program to promote your newest products or special sales, but you currently only send messages every two weeks. You may suspect that a series of "introductory" emails may make new subscribers or potential customers much more likely to buy from your store.
In this case, you could set up a series of three automated emails that occur three to four days apart. The setup would look something like this:
First email: sent immediately upon subscribing, contains a short bio of your store and a collection of your most popular products
Second email: sent three days later, thanks the subscriber for joining you, contains another selection of popular products
Third email: sent four days later, contains a special "new subscriber" coupon code for 20% off any order over $50
After the third email is concluded, no further emails will be sent to new subscribers on the automation list. However, these subscribers will then be shuffled into your "main" email list, and will receive your regular marketing messages.
It's easy to see how this could be profitable. Not only are you gently "easing" those new to your brand into your store's products, you're also making them feel welcomed and appreciated with a special coupon code. This can boost sales and be a better introduction to your email marketing than simply tossing them into your main list immediately.
On the B2B side, you could use automation to send subscribers opting into email from an email-gated piece of content a series of three emails like this:
First email: sent a few hours later, contains a personal "thanks for downloading" message and a contact name/email address at which someone can be reached with questions
Second email: sent three days later, contains a link to another related piece of content that might be helpful
Third email: sent a week later, contains an explanation of how your company's services can help the subscriber achieve their goals
Essentially, automated emails can help you move subscribers through your sales funnel, all the while reducing the amount of work you have to do to get them moving. So if your email platform supports automation, it's definitely worth considering how you can use it!
You're almost at the end of our guide to starting email marketing, and we hope it's been helpful to you! In this last chapter, we'll leave you with some valuable resources you can use to learn more about email, specific marketing methods, design, and much more.