Email Marketing For Magento
Email marketing is an integral part of a successful ecommerce site. If you're not building an email list, you're simply leaving money on the table.
If your ecommerce site is built using Magento, you're in luck – there are numerous extensions, strategies, and integrations available that make email marketing easier specifically for the Magento platform.
Call 888-601-5359 to speak with a strategist about email marketing plans from WebFX, or keep reading for to learn more about how you can start using email to generate more sales on your Magento site.
Picking an integration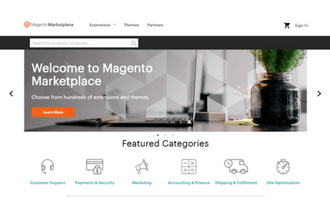 Most big email marketing software providers do integrate directly with Magento – you just have to pick one that you're familiar with, or that's specifically suited to your goals.
If you're not sure where to start, you can check out integrations from Mailify, Campaign Monitor, and Mailchimp.
Magento's "Magento Connect" serves as a sort of marketplace where you can browse almost every integration, plug, and extension that's compatible with your site. They have a specific section for email marketing, so you can easily poke around and look into all the awesome email extensions available for your store.
Magento integrates quite easily and efficiently with email marketing strategies – you might as well take advantage of it!
Magento data and email marketing
Magento provides you with more data than most ecommerce website platforms that you can instantly turn into awesome email marketing campaigns. Here are a few ideas to get you started:
Welcome new customers with a special email offer
This sort of email marketing can work wonders. Essentially, you add an email newsletter subscribe form to your Magento site and first-time subscribers get automatically added to whatever email list integration you're using.
You can then set up an automated email response that sends new subscribers a unique discount code for their first purchase! This is the perfect way to get new customers to buy much faster than they normally would.
Check up on customers who haven't purchased in a while
Using the awesome customer data that Magento provides, you can spin up an entire segment of your email list that's filled with customers who have bought in the past, but have been "inactive" more recently.
You can easily incentivize them to open their wallets back up with custom, email-exclusive offers and discounts. After these customers do buy again, you can encourage future purchases with another code that helps them save on their next order, too!
Wish list reminders
Mageno has a fantastic built-in wish list feature that allows customers to populate their "wish list" with exactly what they would like to buy (or receive!). You can then create a 'wish list' segment within your email marketing campaign manager using this Magento data, and send customers special deals and offers applicable directly to their wish list.
You really can't get more targeted than that – you already know exactly what they want to buy, and all you have to do is give them a little bit of a deal!
Send follow-up emails
Maybe you have a subscriber that never opened your first email, or maybe you have a loyal subscriber who simply hasn't visited your site in a while. "Trigger" emails that are sent after a certain period of customer inactivity (or other criteria as per your definition) are an excellent way of jogging a customer's memory and getting them back on your site and buying ASAP.
Boost your revenue today
While Magento does make it easy to move data directly from your site into an email marketing list, you'll still need a solid email strategy to be successful. It's important that your Magento email marketing strategy is well-planned, because improper configuration, spammy emails, and other issues can quickly affect your business in a very negative way.
If you're looking for professional help when it comes to setting up an integrated email marketing strategy with your Magento commerce site, we'd love to help! At WebFX, our expert team of Internet marketers has been working with Magento-based ecommerce sites for years. We know exactly what it takes to get an email marketing campaign up and running with your Magento data ASAP, and we want to help you succeed.
Contact us today for more information or a free quote!